The latest Zwift update is now available on all platforms: Mac, PC, Android, iOS, and AppleTV.
Not sure if your Zwift install is up-to-date? Here's how to check >
This update doesn't include much that's newsworthy, but Zwift tells us the next few months will see some fun features released! Here are the details of today's update…
Pace Partner Updates
The UI for joining Pace Partners from the new Home Screen has been updated. Now, instead of clicking on one box to bring up a popup of all active Pace Partners, we have them as a row of options:

Additionally, each Pace Partner tile shows which route they're riding, average speed and w/kg, and how many riders are currently in their group (although these numbers don't seem to be entirely accurate at this time). Pace Partners are sorted from easiest pace to toughest, left to right.
PC/Mac users may need to click and drag to see Pace Partner tiles that aren't visible off the right of the screen. You can also use your keyboard's arrow keys to scroll through the tiles.
Where Are They Now?
If you click a Pace Partner's tile, their current location shows up on the map (see red arrow). This is a handy feature that lets you know what you're getting yourself into!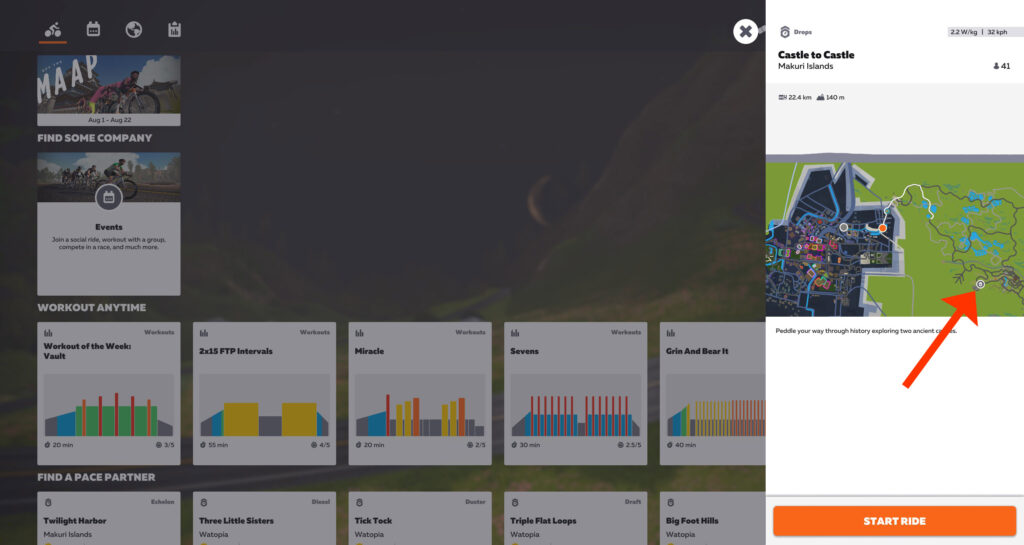 Note: Pace Partners are scheduled to graduate out of FutureWorks in September. This will entail additional changes to pacing and names – read this recent post for details.
Auto Screenshot Improvements
The update notes say "Auto-screenshots are now smarter, capturing your notable moments such as getting a new PR or claiming a segment jersey."
For those of us who like ride photos, this is a significant and welcome improvement over the random auto screenshot that was taken during each ride! Zwift tells us that basically anytime you get a banner popping up at the bottom of your screen, an auto screenshot should be taken. Additionally, a screenshot should be taken if you set a segment PR, claim a leader's jersey, or set a new FTP.
This should make the Strava feeds of Zwifters much more interesting.
One important note: to enable auto screenshots on PC/Mac, you must have the "Image Uploading" option in your settings set to "Always". Otherwise, Zwift will not snap any auto screenshots.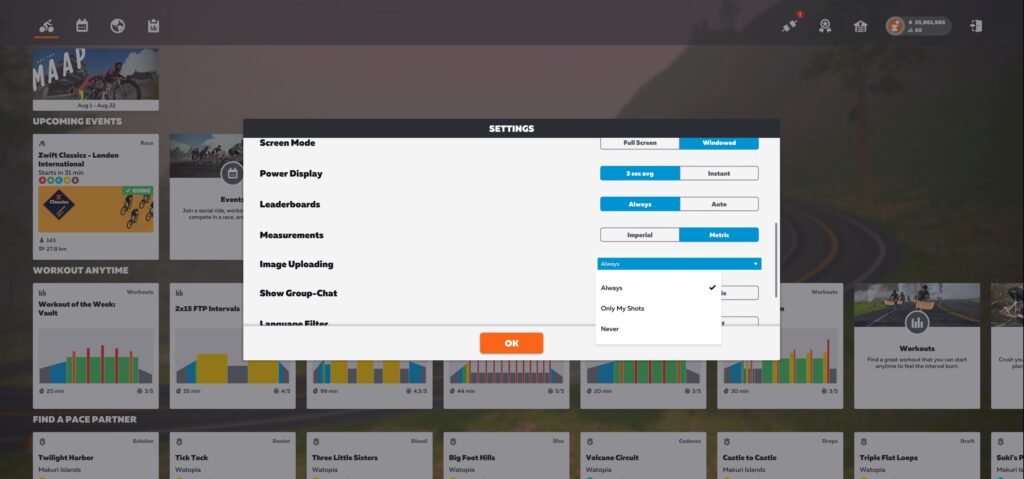 New HED Wheels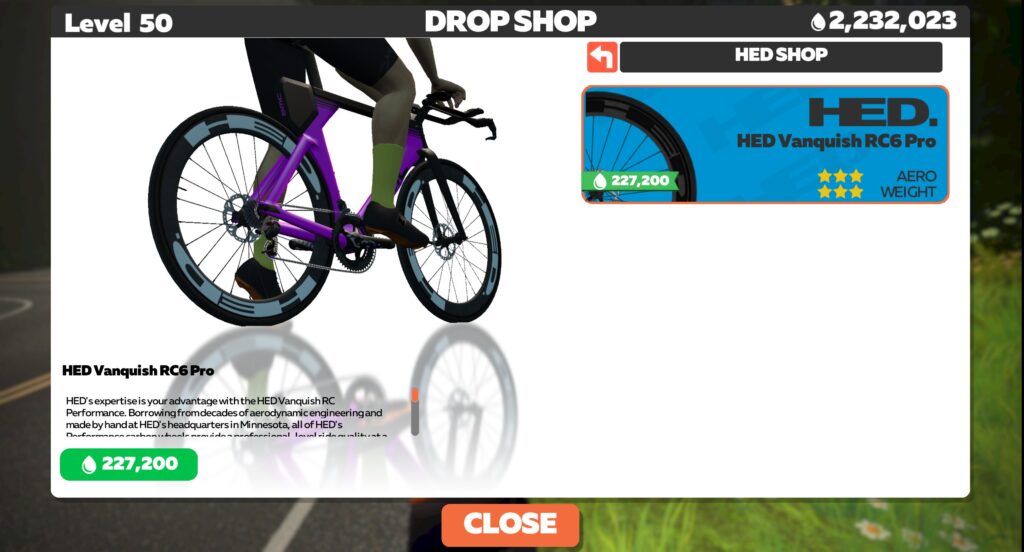 The HED Vanquish RC6 Pro wheels have been added to the Drop Shop. Rated 3 stars for aero and weight, they cost 227,200 Drops.
We're testing them now to see how they stack up against other wheels in game, and will publish results when available.
OS Deprecations Rolled Out
As announced back in May, today's update removed Zwift game and Companion app support for some older iOS and Android operating systems.
The following operating systems will no longer function:
• Zwift Game Client: Android 7 & 8, iOS 12, macOS 10.12 & 10.13
• Zwift Companion App: Android 7 & 8, iOS 11
This list of operating systems is slightly different from what Zwift had communicated back in May. Namely, they've added macOS 10.12 and 10.13 to the list of operating systems the Game Client will not support, and they decided to let iOS 12 continue to work for the Companion app.
New Leg Snapper KQOM Segment
Innsbruck's Leg Snapper has become an infamous climb for race events, and this update turned it into an official KQOM segment.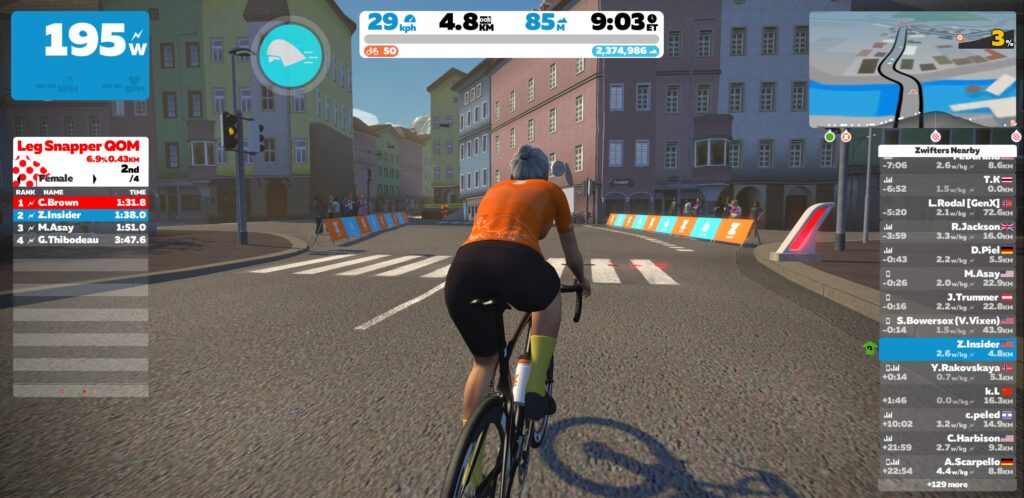 The segment is a bit shorter (starting a few meters later and ending a few meters earlier) than our existing Leg Snapper Strava segment. And while we'd love to create a segment that matches this new KQOM, Strava is preventing us from doing so, saying the segment is too short: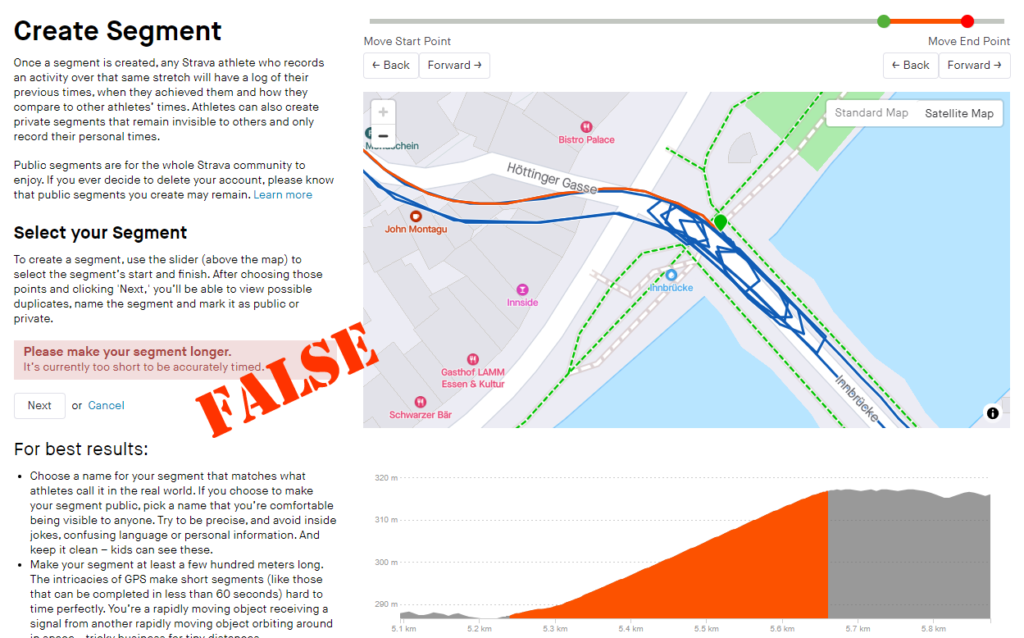 Which is, of course, ridiculous. The segment is around 430 meters long, and in the past Strava simply required segments to be at least 300 meters. It appears they've increased their length requirements, even for virtual segments like Zwift where GPS data will always be accurate.
It's worth mentioning once again that requiring a minimum segment length without taking gradient into account is especially silly, since a 400-meter uphill segment is far from "short".
We're reaching out to Zwift+Strava to see if there's a way to get the segment created.
More On the Way
This update, and the last several updates, have been pretty light in terms of new features. But we've had some in-depth talks with Zwift in the past few weeks and can assure you that they've got some fun stuff coming in September and October.
This summer has seen a lot of experimenting and development, and the fruit of that work will be released soon. Stay tuned!
Bug Fixes and Misc Improvements
Here's Zwift's list of fixes and improvements included in this update:
Fixed issue where riders may spawn off the road when resuming an activity
Fixed missing text from user profile screen
Fixed an issue where users were riding alone when using mobile data.
Fixed an issue where some intersection buttons would not respond in Zwift Companion
See notes on this update release in the Zwift forum >
Questions or Comments?
If you spotted any other changes or bugs in the update, please comment below!