The latest Zwift update is now available on all platforms: Mac, PC, Android, iOS, and AppleTV.
Not sure if your Zwift install is up-to-date? Here's how to check >
This update includes new bikes, TT tweaks, the arrival of the kicking fence, and various other tweaks and fixes. Here are the details…
New Bike Frames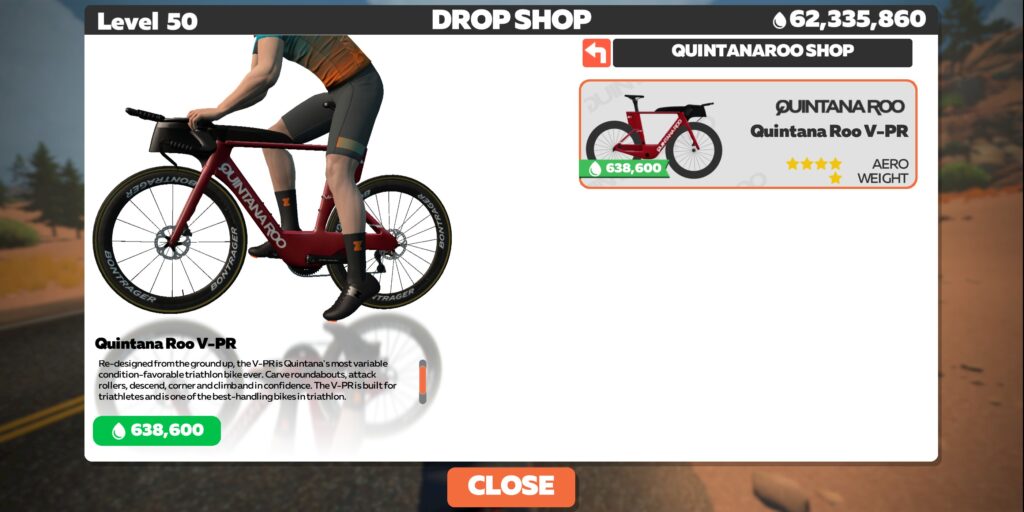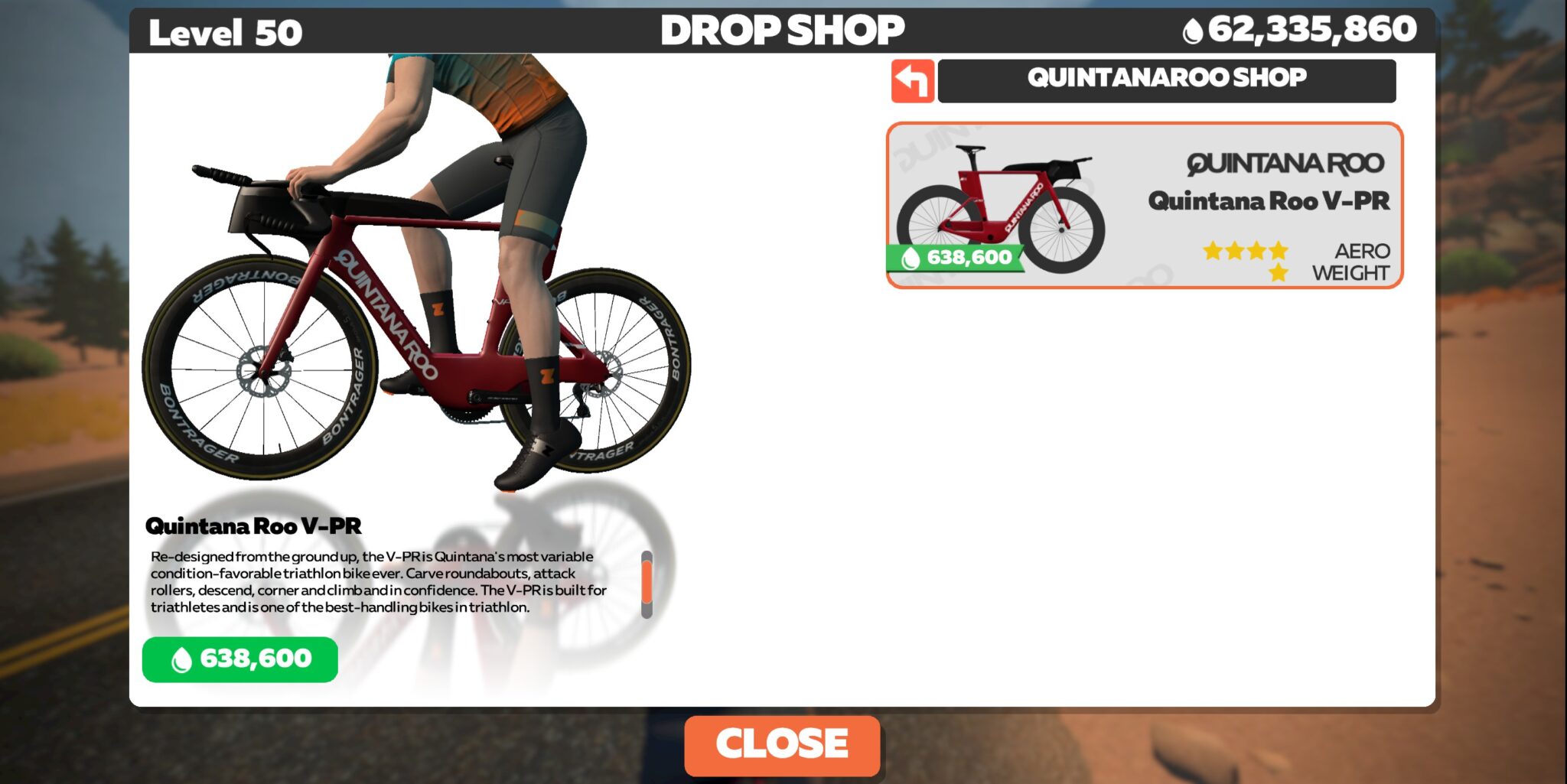 Four new frames have been added to the Drop Shop:
Ventum NS1 (Road): 638,900 Drops, Level 15+ required, rated 3 stars for aero, 3 for weight
Quintana Roo V-PR (TT): 638,600 Drops, Level 16+ required, rated 4 stars for aero, 1 for weight
Giant Revolt Advanced Pro (Gravel): 298,200 Drops, Level 14+ required, rated 2 stars for aero, 3 for weight
Liv Devote Advanced Pro (Gravel): 298,200 Drops, Level 14+ required, rated 2 stars for aero, 3 for weight
While none of these new frames look to be top performers, we're testing them now and will publish results when available.
Homescreen Tweaks and Rollout Notes
Zwift's notes for this update mention that "multiple fixes and tweaks were made to the new homescreen."
Zwift has rolled out the homescreen to all PC and Mac users at this point, and has begun rolling it out to iOS and Android. AppleTV's status is unknown.
Some users have asked why the homescreen rollout has taken so long (going on 6 months since it first rolled out to initial PC and Mac users). While we agree that the rollout has taken much too long, we can also confirm that Zwift has a list of bug fixes and improvements they're working through on the new homescreen UI. They rolled it out to an initial audience iOS and Android users and received a lot of feedback from that initial small rollout. Our guess is they're focused on improving the iOS and Android experience before rolling it out further.
As for the much-requested "Ride with" feature, a recent forum post says "This iteration of the new home screen lacks the 'Ride with…' feature for the time being. We are actively working on bringing it back for all OS platforms so you can join another Zwifter as on the legacy home screen. We thank you in advance for your patience."
"Share to Club" Dropdown
A new dropdown menu added to the End Ride screen allows you to attach your activity to a particular Club: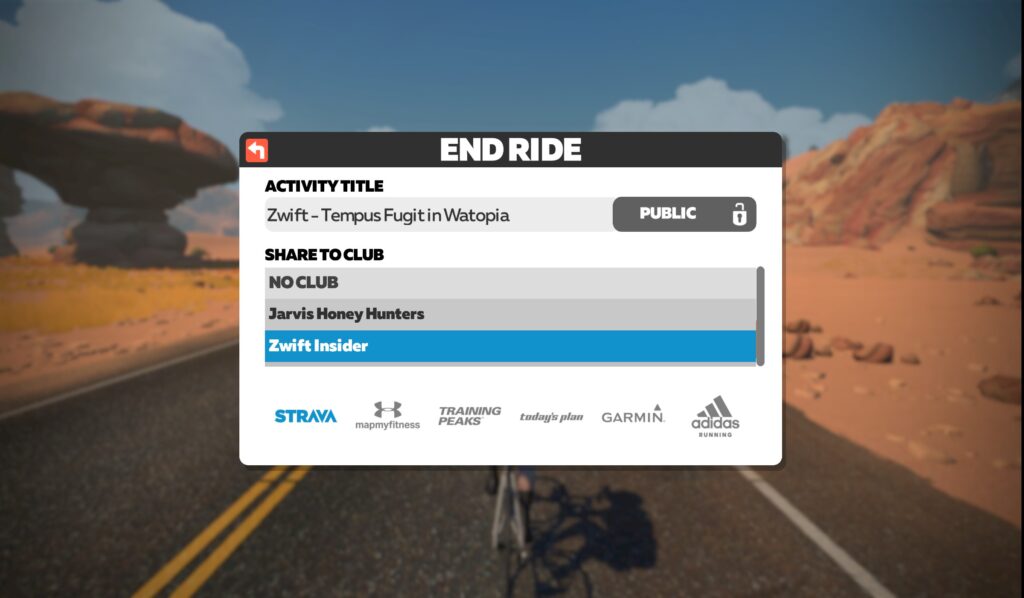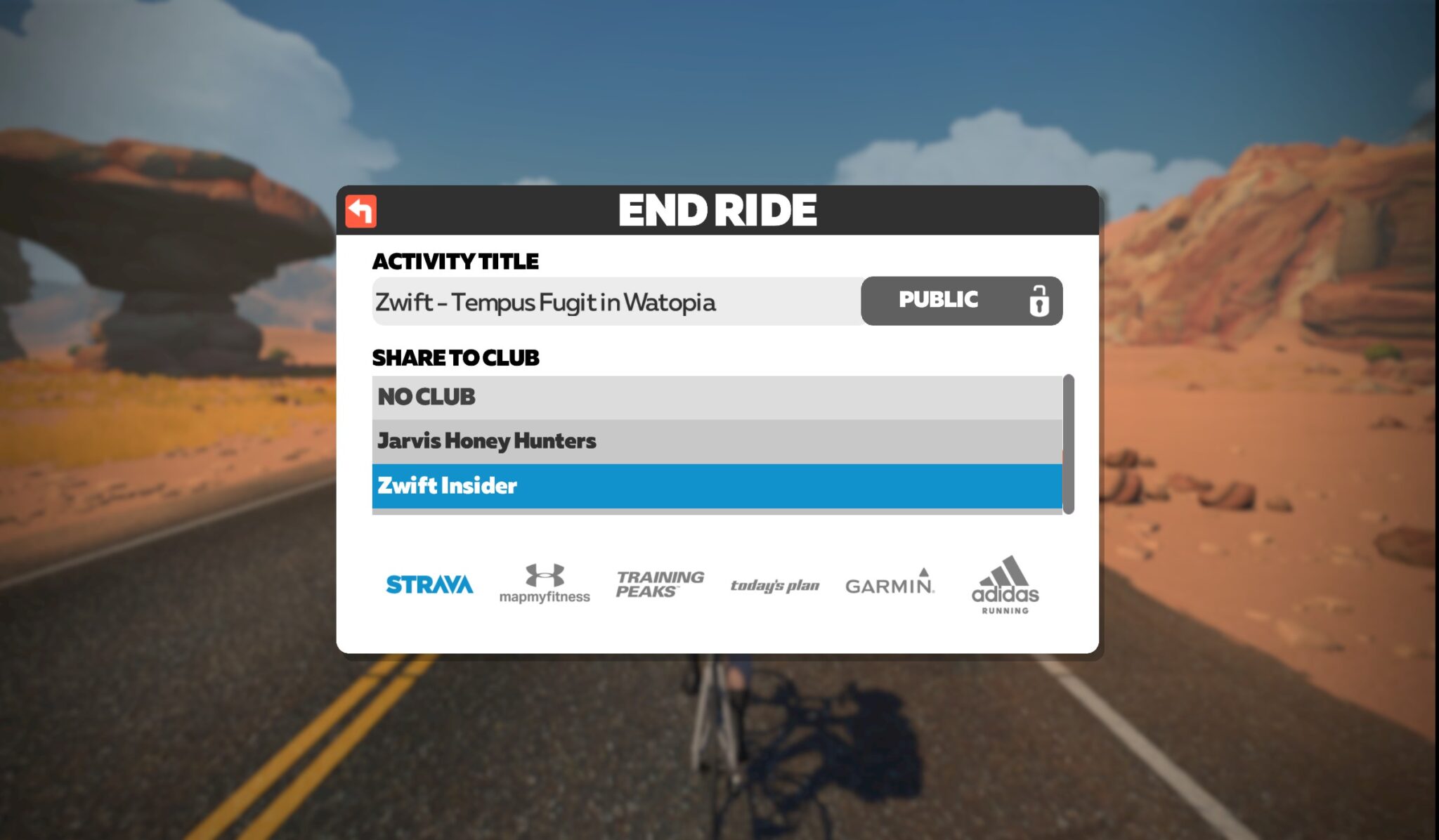 "Sharing" your ride with a Club essentially tags that Club in the activity, giving the Club "credit" for the activity. So what's the point?
While this feature isn't currently live, initial early iterations of Clubs included a leaderboard/tracker showing total Club miles ridden, etc. We expect that feature to return, and we hope it includes more advanced metrics to give Club owners better insight into their members' activities, and perhaps stir up a bit of competition between Clubs.
Pace Partner Change: No More Color Changing
According to James Bailey at ZHQ, Pace Partners will no longer change color when their power numbers dynamically shift on gradients.
The Pace Partners joining dialog on the homescreen will also show consistent colors, although it still shows their power numbers in real-time, instead of their "standard" power. This will be fixed in a future update, so you'll be able to easily see all the Pace Partners and their typical power output.
Ride Leader Fence: Now With More Kick!
We reported on this last week, but today's update includes further improvements to the ride leader fence. According to Zwift, they've made "the 'kick' feature now usable on all routes and available for use in events that want it."
Today's update includes improvements to how the fence appears when you approach intersections. These improvements, incidentally, will also carry over to the arches used in structured workouts.
TT Improvements
Time trial event reminders "now show time until your personal start time rather than time until the event starts." So instead of joining the start pens then waiting around for your time to start, you can ride longer in your warmup before joining the start pen. Excellent!
Zwift tells us this is just the start of additional improvements to the TT and TTT experience. That's great to hear!
Phased Rollout: 90-Day PRs
Based on a fresh forum post from Flint at ZHQ, we now know that Zwift is moving from displaying 30-day segment PRs to 90-day. This is a phased rollout, so not everyone will see it right away.
Bug Fixes and Misc Improvements
Here's Zwift's list of fixes and improvements included in this update, with notes in italic from us:
Fixed a bug that caused Zwifters to earn half stars for short intervals in a workout. Is there anything worse than finishing an interval properly, but only earning half a star?
Fixed issue with critical power curve display after doing a workout.
Fixed issue where intersection arrow buttons on Zwift Companion would flicker for a moment at each intersection.
Fixed an issue when showing remaining distance for a given lap in a lap based event on Greatest London Flat route.
Runners will now have workouts listed on the new home screen.
"View entire plan" link added back to "Next Up" training plan popup.
Workouts of the week for upcoming weeks added.
See notes on this update release in the Zwift forum >
Questions or Comments?
If you spotted any other changes or bugs in the update, please comment below!