The latest Zwift update is now available on PC, Mac, and Android, with iOS and Apple TV releases coming quickly as usual. The update includes a change to Meetup messaging, a new training plan that targets Zwift race prep, a new FTP Ramp Test, improvements for minors, and more. Let's dig into the details…
Not sure if your Zwift install is up-to-date? Here's how to check >
Meetup Messaging
Meetup-Only View was introduced in early May, allowing any Zwifter to organize a Meetup where only the event participants were visible on course. With today's update, Zwift further separates Meetup traffic from others on course, making it so all Meetup messaging is hidden to those outside of the Meetup.
So Meetup participants will see group messages sent from other participants of their Meetup. But those outside the Meetup won't see those messages. Meetup users will only see messages from participants of their Meetup: they won't see messages from anyone outside the Meetup.
On a related note: messages from group rides still appear to Zwifters who are free riding/running nearby. We're not sure why Zwift has set it up this way, but we confirmed today that it's still happening.
New "Zwift Racing" Training Plan
We're seeing more and more riders deciding to only race indoors, due to a variety of factors like convenience, cost, and safety. Of course, the COVID-19 crisis has also driven numerous cyclists to Zwift racing, because there is simply no other place to race!
Today Zwift released its first training plan specifically targeting the demands of Zwift racing. Simply called "Zwift Racing", this 6-week plan was created by coach Shayne Gaffney. Zwift says this about the new plan:
This plan was developed for beginner/intermediate Zwifters, since Advanced and Elite athletes likely have some form of coaching or personalized plan.
The plan features 4 to 5 workouts per week and includes race simulations, sweet spot, and race start work to prepare users for anything a Zwift race will throw at them. The plan builds throughout its course and features a rest week at the halfway point and a final taper week to ensure you are firing on all cylinders before a Zwift race.
It prepares you for all types of Zwift races, but more specifically longer/hilly courses.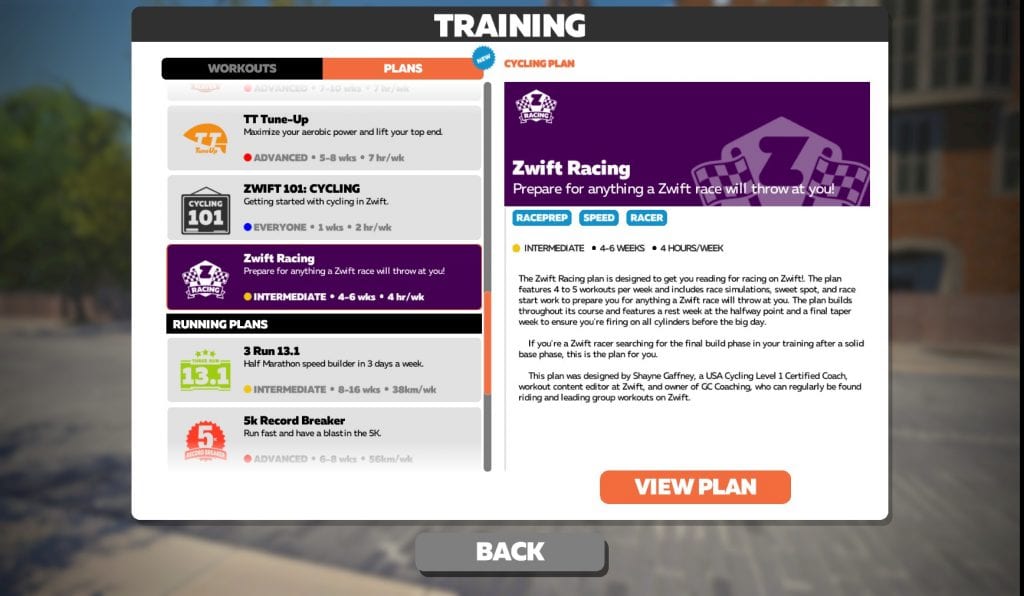 Ramp Test Lite
Zwift released its original ramp test in March 2019. It has proven quite popular, allowing Zwifters to estimate their FTP without a soul-destroying all-out 20-minute effort. But some riders had issues with the ramp test – specifically, smaller, lower-power riders. This is because the ramp test begins at 100 watts and increases in increments of 20 watts every minute. If you're a rider with an FTP of, say, 160 watts, that doesn't give you much of a "ramp!"
Today's newly-released "Ramp Test Lite" takes care of that problem. Zwift says this test is for lighter (under 60kg) and more novice riders. This test begins at 50 watts, and increases in increments of 10 watts. Much more doable!
Find it under the "FTP Tests" category in the workouts menu.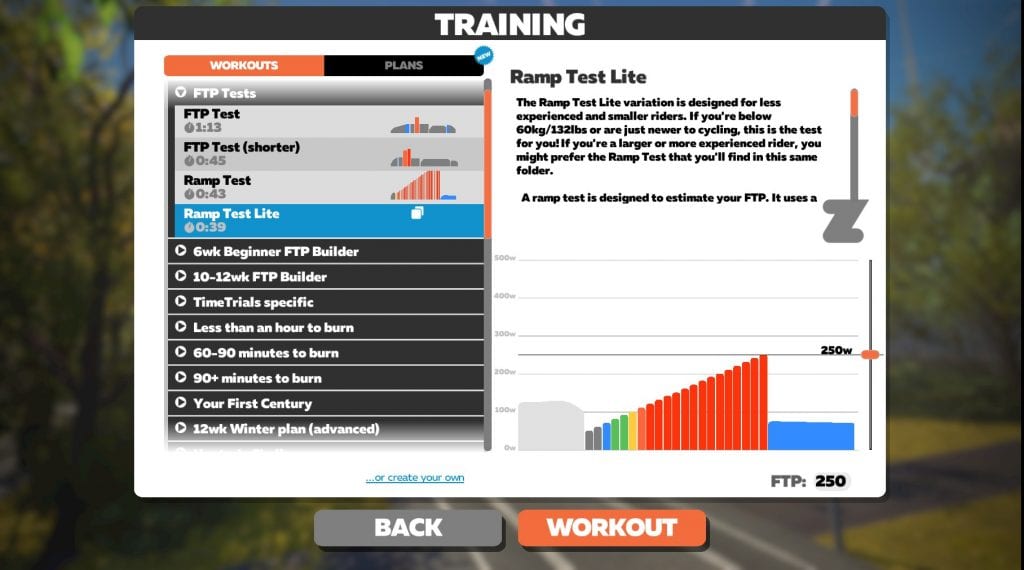 Minor Weight
Here's a change that will make a lot of kids (and parents) happy. Zwift made a change so minor accounts can set their weight below 45kg and have their speed be accurately calculated in game!
Before this change, minor accounts were able to set their weight lower that 45kg, but game physics and the w/kg in the right-hand menu still calculated as if their weight was 45kg!
We're not exactly sure how Zwift has set this up, but our test account (for a 13 year old) allowed us to move the weight down to 33kg with accurate w/kg displaying. It's possible that the minimum weight scales based on age, so an 8 year old would have a lower minimum weight than a 13 year old. But without more test accounts on our end, we can't confirm that. Comment below if you can help clarify how it's working for your kid.
New Steamroller Powerup
A new event-only powerup has been released to "spice things up on dirt courses." According to the release notes posted by Wes, "The Steamroller powerup will make any bike ride smoother on dirt for a short time." But we've also heard from other sources within Zwift that this powerup optimizes rolling resistance regardless of what wheels/tires you are using and surface you are on.
So if you're on a mountain or gravel bike riding on pavement, your tire will go as fast as a road bike tire on pavement. Conversely, if you are on a road bike riding on a dirt road, your road bike tire will go as fast as it would on regular paved roads.
It sounds like this powerup is targeted toward events in the Jungle, although it would also be useful on the dirt patches near the fishing village. This will add another interesting strategic choice to Zwift races!
Bike Choice
Before today's update, events which forced riders onto a mountain bike or TT bike didn't allow you to select which MTB or TT rig to ride. That's changed now, so you can equip any mountain bike or TT bike in your garage for use in a MTB or TT bike only event. Just select the bike of your choosing while warming up in the pens.
Bug Fixes
Wes' notes also include a lengthy list of bug fixes, which is always good to see. We won't list them here, but you can click the link below to see the full list. Keep squashing those buys, HQ!
Read/discuss Wes Salmon's full release notes >
Questions or Comments?
Post below!