The Republic of Uganda, considered 'The Pearl of Africa', is a country the size of Utah with a population of over 42 million. It straddles the equator, with Kenya to the east and the Democratic Republic of Congo to the west.
Attracted to Uganda by the beauty of its terrain, wildlife, and friendly people, Sam Mutton and his wife Chloe settled there in 2019 and founded Joy for Children Cycle Tours.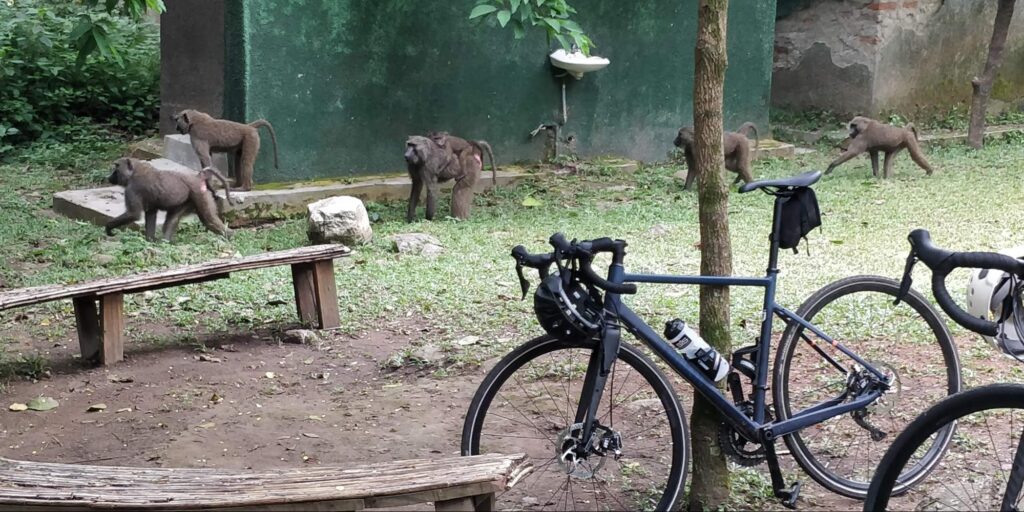 Sam (see Strava profile) is a passionate road cyclist, and his cycling tours are a way to share this hidden gem and raise much-needed funds for their foundation, Joy for Children and Communities. The foundation focuses on community development projects that empower and provide for women, children, and youth in some of the slum communities in Kampala, Uganda.
For Sam and Chloe the concept is simple: "Ride your bike, have the experience of a lifetime, and know that all money is going directly to charity. What is not to like?"
Uganda's Tumultuous Relationship with the Bicycle
For its citizens, unfortunately, little is simple and there is much not to like about the perception and usage of bikes in Uganda. Introduced in 1903 by the colonial government, bicycles were considered a mark of prestige, replacing the 'stretchers' used to transport Chiefs and Kings. Soon thereafter, bikes were adopted by traders as essential tools in the transport of cash crops and goods.
When the car arrived, however, bikes were abandoned by the influential upper class, reinforcing the belief that the bicycle is a tool for the poor. This idea has remained firm in present-day Ugandan society.
The negative stigma surrounding bicycle usage is evident in the Ugandan government's lack of consideration in infrastructure planning, safety, and education. The road conditions are not conducive to cycling, rendering the bicycle more of a load carrier than a means of transportation or exercise. Roads in Uganda are not bike friendly, with no provisions for cyclists, leaving little option but to compete for road space with motorists.
On top of this, role of bicycles in Ugandan society is non-existent in education curriculum, and the cost of an adequate bike is even more disproportionate.
Riding a Bike is Dangerous in Uganda
Motorists regard themselves as having the right to the road, and this negative attitude, when combined with reckless driving and lack of knowledge of traffic rules for cyclists, creates a deadly situation. Statistics show a vastly disproportionate share of cycling fatalities compared to pedestrians and motorists.
Zwifting from Necessity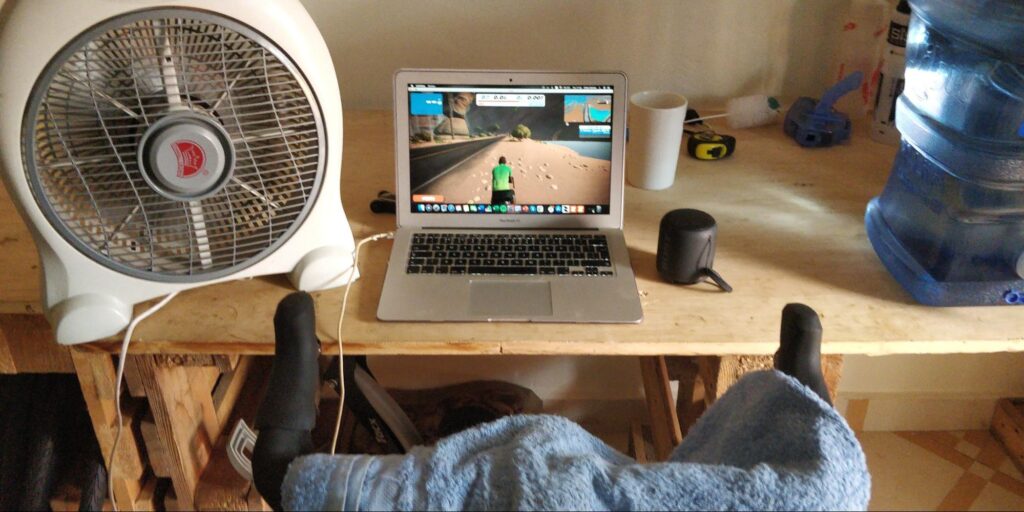 These horrifying facts, and the terrible pollution which made Sam sick when riding outdoors near his location in the city of Kampala, prompted him to go to great lengths to acquire a trainer and begin riding on Zwift. It was an epiphany for Sam, who explains, "Having managed to get a turbo trainer here in 2019 I began riding on Zwift and showing my Ugandan friends, all of whom had never seen anything like it."
Sam realized there was an untapped resource in the incredibly fit and talented 'athletes' in Uganda who lacked the knowledge, resources, government support, and opportunity afforded to those in neighboring countries.
His plan now is to utilize Zwift as a platform for training and development, from the ground up, of a competitive Ugandan cycling program.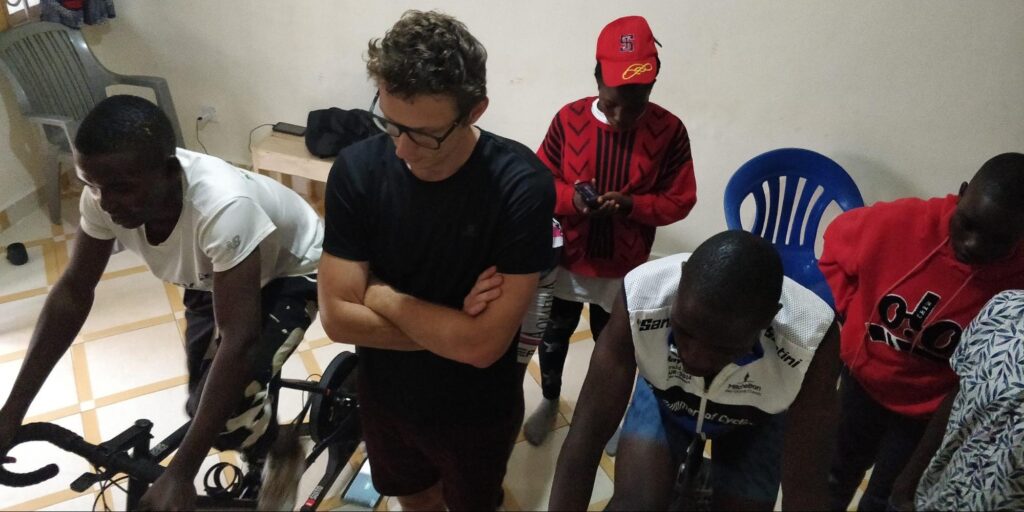 Zwift Solves a Problem
By providing coaching on the foreign concept of training with a power meter, Sam is confident in the limitless potential of the program, excitedly stating, "We believe that Zwift is a great opportunity to promote Ugandan Cycling to the world and for our riders to compete against the best."
Sam presently trains three male and several female riders at their center in the northern part of the capital city of Kampala.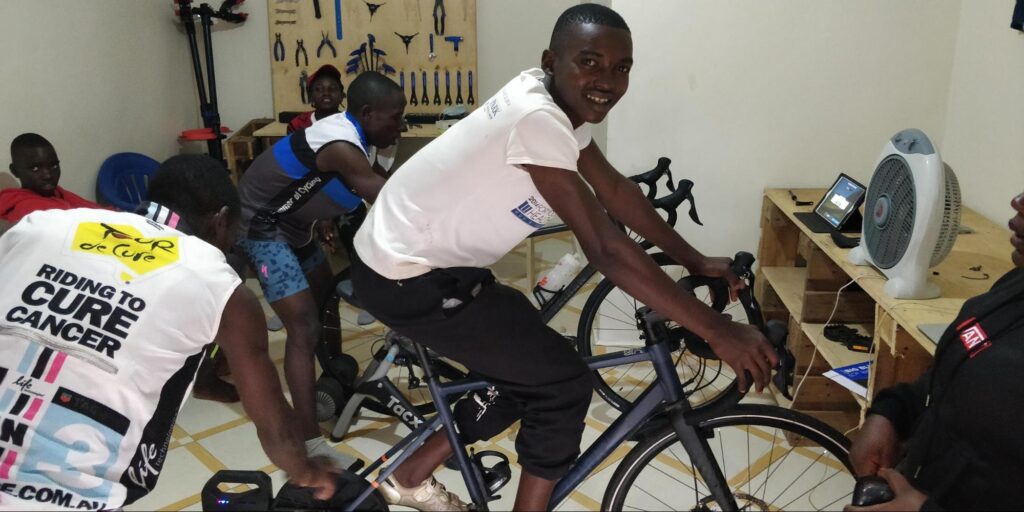 Equipped with 3 to 4 trainers of various makes donated by benevolent cycling enthusiasts, athletes travel from as far as 3 hours away to train. "We don't have a single rider over 63 kilos," states Sam, "and one recently did 4.5w/kg for twenty minutes."
The course isn't always that smooth for the team, however.
Due to the lack of safe and adequate roads to train, the team is limited to one outdoor training session per week in the outskirts of Kampala. There they find stretches of road suitable for training, where the riders often are forced to share a bike. Once or twice a year Sam packs up his team and heads to southwestern Uganda, where they are able to train at altitude (2450m above sea level) on the best roads in the country. But travel and hosting are costly.
Hotspots and Generators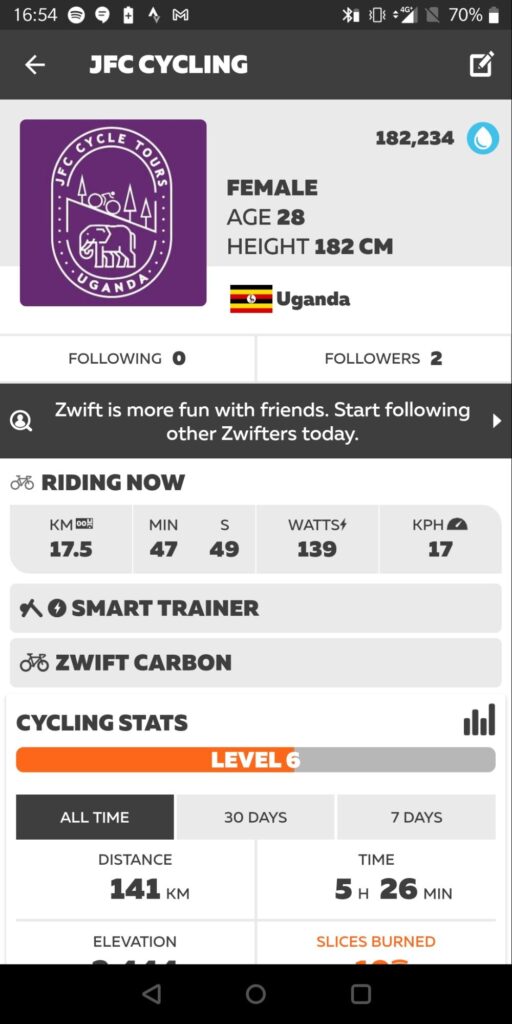 Therefore the team relies upon Zwift for the vast majority of its training. An unstable power supply and spotty Internet forces the team to use phone hotspots and rely upon their Tacx Bushido which doesn't require power.
Sam reports, "We are trying to make ourselves as 'power free' as possible" and ranks a generator and good Internet as tops on their wish list. Sam is excited by the prospects and certainly has lofty goals.
Tremendous Potential
The Ugandan Olympic team is a force in long distance track events, with Stephen Kiprotich winning the London Marathon in 2012, amongst many other successful athletes and results. "The physical ability of many of these athletes would be perfectly suited for cycling, especially as climbers," Sam proclaims.
Unfortunately, Rwanda is currently the most developed East African nation with regards to cycling, forcing Ugandan athletes with promise to leave the country for dreams of being noticed.

Sam dreams of the opposite, saying, "As we grow I want to use our training center to promote and build a National Cycling team on Zwift." This will start with hosting the first Zwift Uganda National Championships to develop and showcase talent.
"The ultimate is to utilize Zwift to get a Ugandan to qualify for the road World Championships, and one day participate in a Grand Tour."
That is one confident 'muzungu' (a term used by Ugandans to refer to a person of foreign descent). And it seems like a sound plan to me. Ride On!
How to Help
Would you like to play an important part in the history of Ugandan Cycling? Joy For Children Cycling Tours and the Ugandan Zwift training center rely solely upon the donation of equipment and funds for their operation. You can make a difference!
Learn about getting involved >
Questions or Comments?
Share below!