Tour de Zwift 2020 is shaping up to be the biggest, most exciting series of Zwift events in history. The group rides will be gigantic and fun as always, but the biggest news of this tour is Zwift is running races alongside the typical TdZ group rides.
And it's not just open, categorized community races being held. Zwift has also organized a Pro-Am Invitational Race Series where each stage's world will be raced by top pros and amateurs the day before the stage opens for the rest of the Zwift community.
Schedule
The Pro-Am Series races will happen at 11am PST/7pm GMT the day before each new stage begins. There will men's races and women's races alternatively between each stage.
Here's the full 7-stage schedule:
Stage 1 (London): 11am PST/7pm GMT Jan 11 – women's race
Stage 2 (Innsbruck): 11am PST/7pm GMT Jan 15 – men's race
Stage 3 (Watopia): 11am PST/7pm GMT Jan 19 – women's race
Stage 4 (Bologna): 11am PST/7pm GMT Jan 23 – men's race
Stage 5 (New York): 11am PST/7pm GMT Jan 27 – women's race
Stage 6 (Richmond): 11am PST/7pm GMT Jan 31 – men's race
Stage 7 (Yorkshire): 11am PST/7pm GMT Feb 4 – women's AND men's races
Where to Watch
Zwift has created a page where the live streams of each race will be available – see it at zwift.com/video/tour-de-zwift-live.
Races will also be broadcast on Facebook via the Zwift Live.
Here are the recorded streams of completed races:
View Men's Race Results >
View Women's Race Results >
Rules
Here are the rules in the event description for the first race of the series:
---
NAME FORMAT
Racer's team name must be placed in square brackets after the racer's last name and can be entered into the last name field in-game. For instance, Mary Wilkinson racing for Team Turbo may use the name M. Wilkinson [TRBO] or Mary Wilkinson [TRBO]. Riders who do not use this format will be disqualified.
TEAM KIT
It is mandatory to race in your team kit. Failure to do so will result in disqualification.
Zwift National Champion kits are not allowed. All riders must race in their team kit.
Time trial helmets are not allowed. Disqualification for using a Time Trial helmet.
BICYCLES // WHEELS
Zwift concept bicycles (aka "Tron" bicycle) are not allowed. Disqualification for using a Zwift concept bicycle.
Time Trial bicycles are not allowed. Disqualification for using a Time Trial bicycle.
Disc wheels are not allowed. Disqualification for using a disc wheel.
---
Zwift Insider's Comments about the Rules
The most interesting rules in the list above are those restricting the use of certain bikes, wheels, and helmets. Most of those rules simply prevent riders from using equipment normally seen only in TT events: disc wheels, TT helmets, and TT frames.
The TT helmets, in our tests, haven't impacted speed at all. But the disc wheels certainly do, with the Zipp 858/Super9 wheelset being the fastest wheelset on Zwift for flat/rolling routes, and the Zipp 808/Super9 being the second-fastest.
The TT frames, likewise, are more aero than standard road frames, and thus faster in a solo effort. But they don't let you draft, so winning in a Pro-Am race with a TT frame is going to be challenging.
It's possible some of these rules (the TT helmet rule especially) are because of the optics: that is, it just looks silly to have someone wearing a TT helmet (or using a disc wheel, or riding on TT bars) in a road race.
Eliminating the Tron makes sense as well, since the only way to keep pace with a Tron bike on flat races is with one of the fastest frames coupled with a disc wheelset.
The net effect of these rules is to level the playing field significantly in terms of virtual equipment. The fastest setups available for flat races under these rules will use one of these frames:
Specialized Venge S-Works (level 33+)
Felt AR (level 34+)
Cervelo S5 (level 25+)
Trek Madone (level 20+)
Coupled with one of the fastest wheelsets:
Zipp 858 (level 37+)
ENVE SES 7.8 (level 39+)
ENVE SES 8.9 (level 31+)
Zipp 808 (level 13+)
The 4 frames listed turn in essentially the same times on our flat tests. The 4 wheelsets listed are separated by only 4 seconds on a ~50 minute flat test.
Any Zwift racer worth their chamois should be at a high enough level (20+) to access a fast setup, so no racers will be at a significant disadvantage due to their virtual bike.
Scoring
The Pro-Am Series isn't just about who crosses the finish line first. It includes a points-based team and individual competition which includes sprint and K/QOM arches.
Here's how the scoring works:
First 20 riders score points at the finish. Points are awarded as follows: 20-19-18-17-16-15-14-13-12-11-10-9-8-7-6-5-4-3-2-1
First 10 riders score points at each K/QOM and Sprint arch. Points are awarded as follows: 10-9-8-7-6-5-4-3-2-1
Teams
This is an invitation-only race, so Zwift has reached out to amateur and pro teams. Here are the women's teams who participated in the Jan 19th race: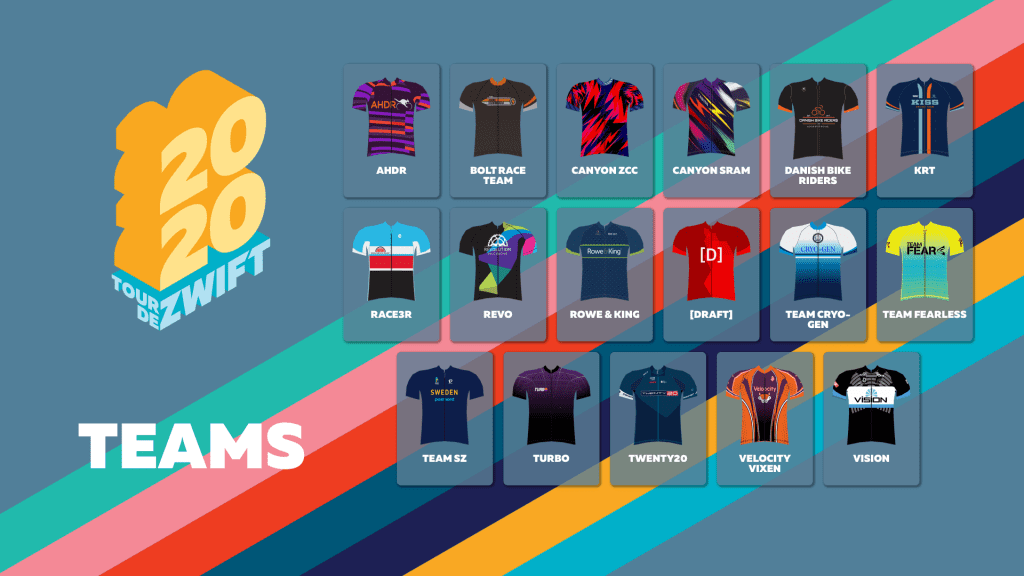 And the men's teams, for the Jan 23rd race: