Last Saturday's set of Tiny Races was a fun mix of custom Watopia and Makuri Islands routes. Some climby, some flat, some dirty! The most surprising, perhaps, was the Makuri Islands Valley to Mountaintop (3.5km) race because of how much the pack strung out through the early dirt of the Golden Forest. A very attritional race!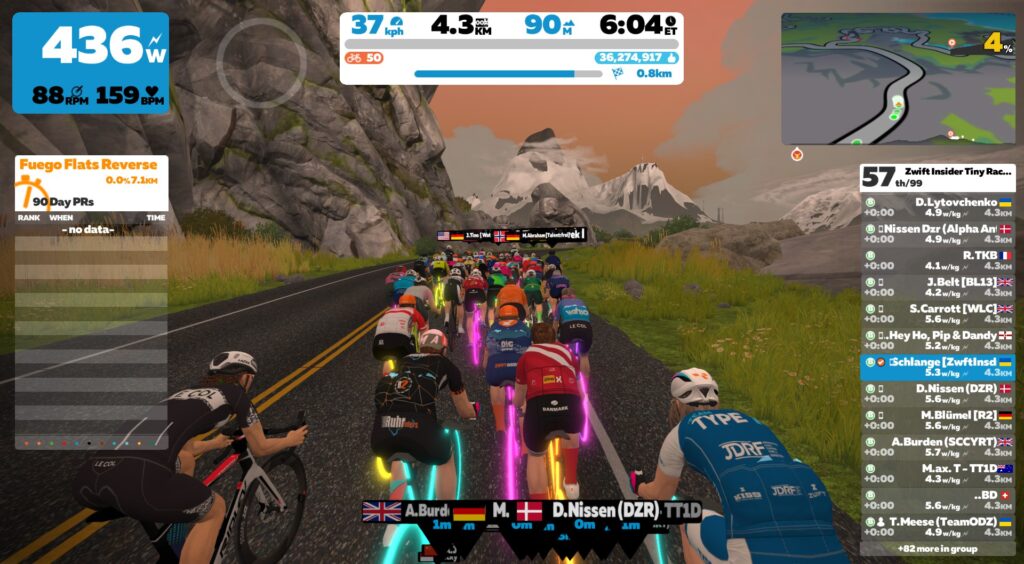 Congrats to Last Week's Winners
A: Jun Kamotora (TMR)
B: Magnus Wiklund (eSRT)
C: Paul Smith (ART)
D: Emil Syvertsen-Fox (V)*
A: Thomas Thrall (NeXT pb Enshored)
B: Rodrigue Mandrillon (NCT)
C: George Esplin-Jones (OTR)
D: Daniel DS Biking (SZR)
A: Thomas Berry (BL13)
B: Sam Atkinson (TBR)
C: Mark Ridings (DIRT)
D: David White (EVO)
* The Colossal Bath Salts took 1st for the Ds, but has an inaccurate age on ZwiftPower so we gave the win to Emil, the 2nd place finisher.
This Week's Routes
This week has two 1-lappers to start off the hour, then two custom-length routes to finish.
Here are photos so you can see the precise location of the Richmond custom finish line:

Sign up at zwift.com/events/tag/tinyraces
Join a Chat & Chill Cooldown Event
Immediately following each hour's racing, we've scheduled 30-minute "Chat & Chill" events where riders from all categories can spin out their legs together and have some fun chatting about how it all went down. The events haven't been created yet, but when they're done you'll be able to find them at:
Sign up at zwift.com/events/tag/tinyraces
ZwiftPower Results
Zwift displays preliminary race results in game when you cross the line, but points are computed after all four races finish, with final results on ZwiftPower. (We have to press a ZwiftPower button to compute results manually, so if your rankings don't show up right away, just be patient.)
Riders will earn points based on finish position in each of the 4 Tiny Races. The category winner of each week's series is the rider with the most points across their timezone's 4 races. Here are the links for each timezone's results on ZwiftPower:
Questions or Comments
Post below!