IMPORTANT: some sort of Zwift bug is causing riders to be routed incorrectly for race 3 this week. We are unable to change the route within 6 hours of the event, so the bug remain in all zones.

Because of this, we are removing race 3 from the final points calculation. Riders are still required to finish race 3 in order to do race 4, but race 3 will not count for points.
Last week's Tiny Races were tough, with hard climbs splitting the field in every race. But if it doesn't kill you, it makes you stronger… right?
Pictured below: my race #2 (Richmond UCI Reverse) in two frames. In the first I'm ecstatic because I survived the first climb in the front group. In the second, 400 meters later, I've been dropped by the front pack thanks to the punch-in-the-face second climb and its 20% max gradient: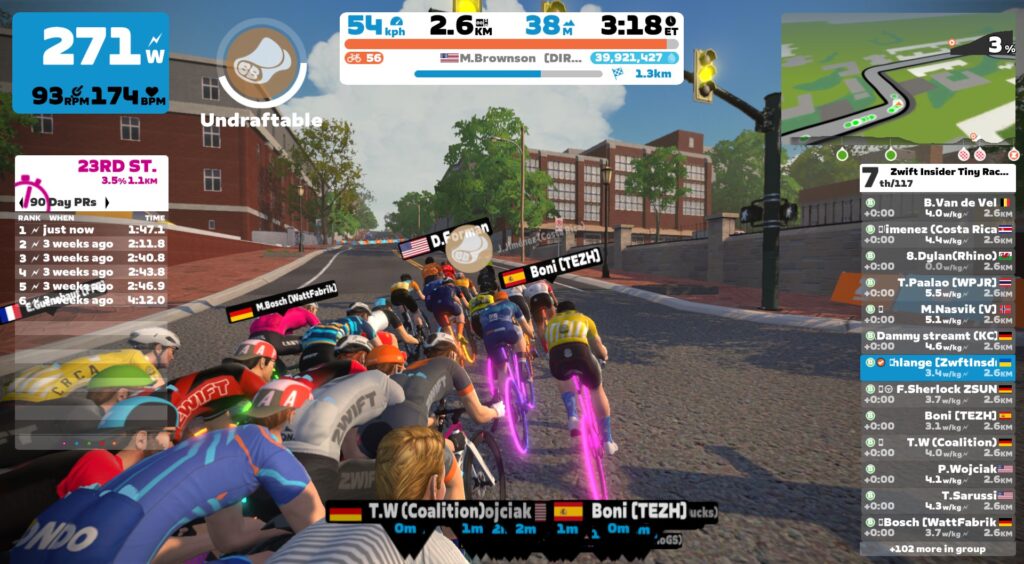 This week we're doing another Worlds prep weekend, then we'll be doing some special race events on Zwift's new Scotland map, probably starting next weekend!
Last Week's Results
Overall Winners
A: Ingo Reichart (KC)
B: Darren Shiels (Team CLS)
C: Adrián Van Landbertsrode (Coalition)
D: Dennis Nielsen (DBR)
A: Bruce Rayer (Alpha)
B: Chris Hoelzl (WattFabrik)
C: No Draft Graham (FloridaVelo)
D: Sammy Tijsmans (BZR)
A: Daniel Erman (AHDR)
B: Sam Atkinson (TBR)
C: Justin Klinefelter
D: Sean Lowry (DIRT)
Women's Winners
A: Kurai Uma
B: Sandrine Etienne (Foudre)
C: Maria Wiklund
D: Duonporn Daffner (Race3R)
A: none
B: Alice Lethbridge (S4W)
C: Julia Hargreaves (S4W)
D: Julie Brownbill (BAKPDL)
A: none
B: Anna Rogers (REVO)
C: Patrina Brennan (eSRT)
D: Catherine (NZBRO)
This Week's Route(s): Worlds Prep Redux
With UCI Esports Worlds coming in February, we've once again chosen routes that will serve as good training for anyone taking on the punchy 3-race Worlds competition.
Not racing Worlds? Come out anyway: there's enough Tiny Race suffering for all!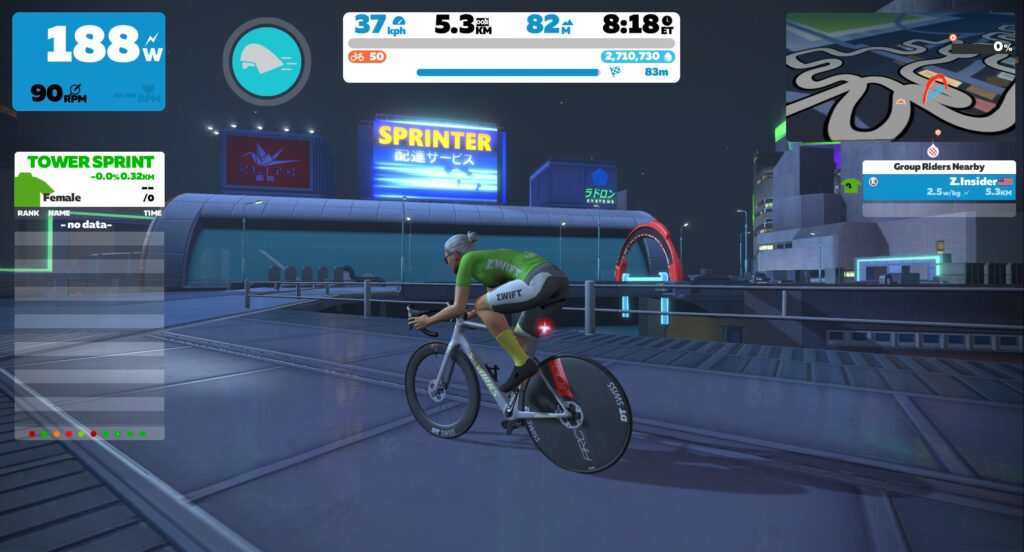 Sign up at zwift.com/events/tag/tinyraces
ZwiftPower Results
Zwift displays preliminary race results in game when you cross the line, but points are computed after all four races are finished, with final results on ZwiftPower. (We have to do some data processing on our side to compute results, so if your rankings don't show up right away, be patient.)
Riders will earn points based on finish position in each of the 4 Tiny Races. The category winner of each week's series is the rider with the most points across their timezone's 4 races. Here are the links for each timezone's results on ZwiftPower:
Rules
Tiny Race rules are simple. Four races, four rules:
You must have a ZwiftPower account, because final results are processed by ZwiftPower (learn how to sign up)
No skipping then returning. These races are meant to be raced as a set of 4. If you need to leave early, that's fine… but once you miss a race in your hour's set of 4, don't come back and race another or you'll be disqualified from that race since you rested while others were racing! (Example: racing only races 1 and 2 is fine. Racing 1, 2, and 4 is not – you will be DQ from race 4. And if you race 2, 3, and 4, you'll be DQ from all those races, since you skipped race 1!)
Heart rate monitors are required for podium finishers
ZPower/Virtual power is not allowed. Smart trainer/smart bike or power meter required.
Join a Chat & Chill Cooldown
Immediately following each hour's racing, we've scheduled 30-minute "Chat & Chill" events where riders from all categories can spin out their legs together and have some fun chatting about how it all went down. Find them at zwift.com/events/tag/tinyraces.
Questions or Comments
Post below!