Last week's Tiny Races saw, for the first time ever, three different riders finish with a perfect record, winning all four races! Those riders were:
Simen, who cleaned up in the Zone 1 A group, is currently ranked 2nd in the world on ZwiftPower. Impressive!
Here's a look at last Saturday's winners, and this week's Tiny Race routes.
Last Week's Results
Overall Winners
A: Simen Nordahl Svendsen (Kalas eSRT)
B: Chris Hoelzl (WattFabrik)
C: Evan Plouhinec (HEX)
D: John Feehan
A: B B (iSetta])
B: Bob McGlue (INC)
C: David Hivey (ART)
D: Ian Breslin (TFC)
A: Jason Mount (VCRT)
B: Örjan Brink (eSRT)
C: J P (DIRT)
D: Boris Buster
Women's Winners
A: Laura Šimenc (Wahoo Le Col)
B: Kurai Uma
C: Nadine (WattFabrik)
D: Miho Shibata
A: none
B: Tammy Costain (Optimum)
C: Anne Vincent (ECF)
D: Hilde Rong (Vikings)
A: none
B: Justine Calder (COALITION)
C: Danielle Slaton
D: Lori Harasem (HERD)
This Week's Route(s): Uphill Finishes
This week is for the w/kg powerhouses, as every race ends on a climb. And we're not talking about quick uphill sprint finishes – each route ends in at least 2-3 minutes of climbing.
These are all new routes, too. Never before seen in the Tiny Race series!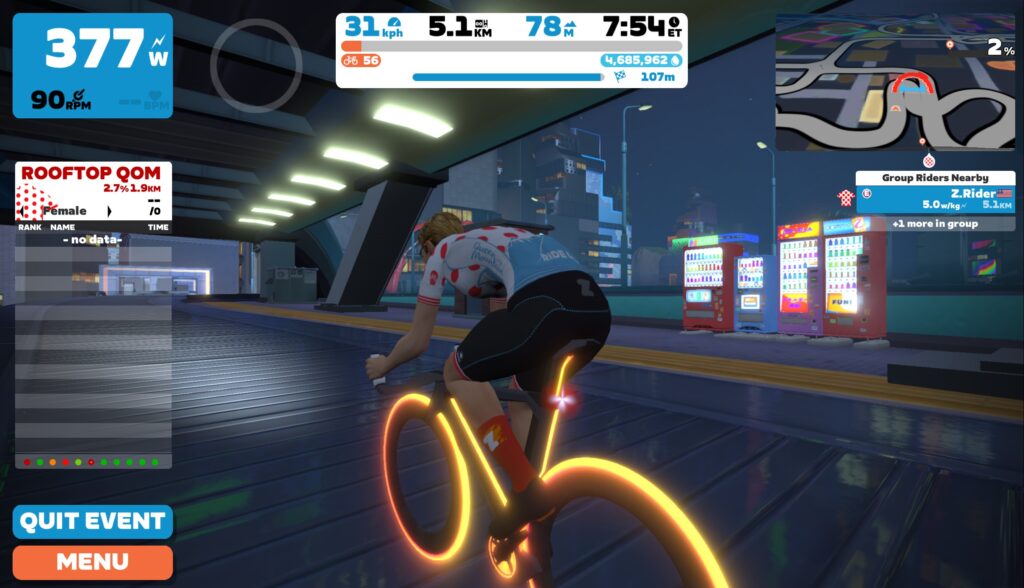 Sign up at zwift.com/events/tag/tinyraces
ZwiftPower Results
Zwift displays preliminary race results in game when you cross the line, but points are computed after all four races are finished, with final results on ZwiftPower. (We have to do some data processing on our side to compute results, so if your rankings don't show up right away, be patient.)
Riders will earn points based on finish position in each of the 4 Tiny Races. The category winner of each week's series is the rider with the most points across their timezone's 4 races. Here are the links for each timezone's results on ZwiftPower:
Rules
Tiny Race rules are simple. Four races, four rules:
Join a Chat & Chill Cooldown
Immediately following each hour's racing, we've scheduled 30-minute "Chat & Chill" events where riders from all categories can spin out their legs together and have some fun chatting about how it all went down. Find them at zwift.com/events/tag/tinyraces.
Questions or Comments
Post below!