Many Zwifters use Strava as their main fitness tracker, dumping outdoor activities as well as Zwift sessions into it so everything is in one place.
But when a new Strava segment is created for a Zwift road/route you've ridden in the past, chances are your old activity won't be matched up against that segment. Why is that, and how do you get it to match? That's what this article will answer.
Intro to Strava Segments
Strava has lots of features, but its "segments" are arguably its most popular feature. Users can save an activity, then create a "segment" covering all or part of that activity's roads. If that segment isn't marked private then it's public, and anyone else can complete that segment and get ranked on the leaderboard.
Segments let you automatically track your own times on specific roads/routes, competing against your old self as you strive for new PRs. And segments let you compete with others too if you'd like!
The Weirdness of Strava Segments + Zwift
Strava segments for Zwift roads have always behaved a bit differently than they do outdoors, probably because Strava's system wasn't built with the idea that tens of thousands of people would be riding the same segments each day.
Here are a few oddities about Zwift Strava Segments:
Segments can be flagged as hazardous, even though they're on virtual roads
There is only one Strava account currently allowed to create public Zwift Strava segments. And that account belongs to Zwift Insider! Read more about the history behind this >
Segments must be at least 300m long. The limit used to be ~170m, or 0.1 miles, but Strava lengthened it a few years back. This may make sense outdoors, where GPS data may be a bit spotty. But on Zwift, GPS data is rock-solid, since it's simulated. We'd love it if Strava would allow for shorter Zwift segments, so we can finish creating segments for each Alpe du Zwift turn!
Strava's "Local Legends" feature only works for a handful of Zwift segments. Read more about this >
When a new Zwift Strava segment is created, Strava doesn't always pick up older activities that match the segment.
Let's unpack that last point…
Old Activities + New Segments
With outdoor segments, you can create a fresh public segment and Strava will go back in time to find matching activities from everyone who has ridden that segment over the years. Cool, right? (I just did this today, in fact – let's see if my KOM holds!)
But if Zwift Insider creates a new public Strava segment for a stretch of Zwift road, Strava doesn't go back to find old matching activities. Or at least, it doesn't go back and find all past matches.
I haven't figured out exactly what's going on this regard, but from what I've seen, the longer the route, the less chance Strava will go back and find matching activities. For example, today I created a short test segment on a popular stretch of Watopian road. Within 30 minutes, Strava had found over 1000 matching activities, dating back at least 2 years.
But I've created longer segments for established routes, and very few matching activities are found, even after days for Strava to process the new segment.
Our guess is this is related to the processing load required to pore over millions of Zwift activities, which is a much larger job compared to IRL activities in a given region.
Getting Your Old Activities to Match New Segments
And so we arrive at the point of this post: how do you get your old Zwift activities to match up with Strava segments created after the activity occurred?
Strava has a "Refresh Activity Achievements" option in its desktop version. Logically, this would do the trick. But it doesn't!
And you used to be able to change the activity type to something else, like Surfing, then back to Virtual Ride, to force a refresh. But that doesn't work anymore.
Nope. The only ways to reliably force Strava to match your activity to newer segments are:
Re-upload your activity. This is best done via your web browser.
Crop your activity. This can be done easily via the smartphone app or desktop browser version. Just shorten your activity by 1 second, save the change, and presto! (This is the easiest solution, in my opinion).
Here are some screenshots showing how to do each of these via your web browser:
Re-upload Your Activity: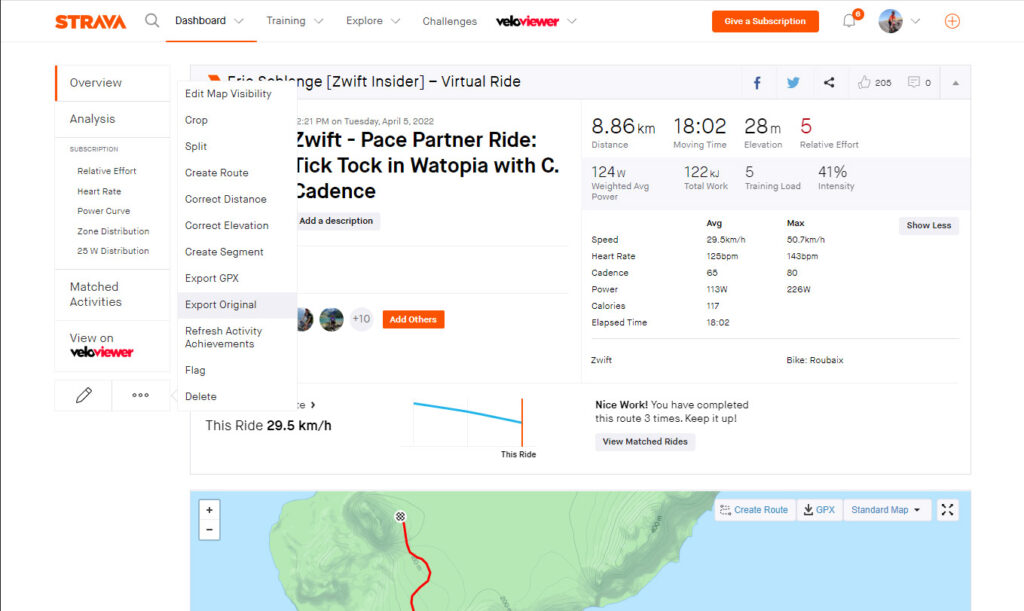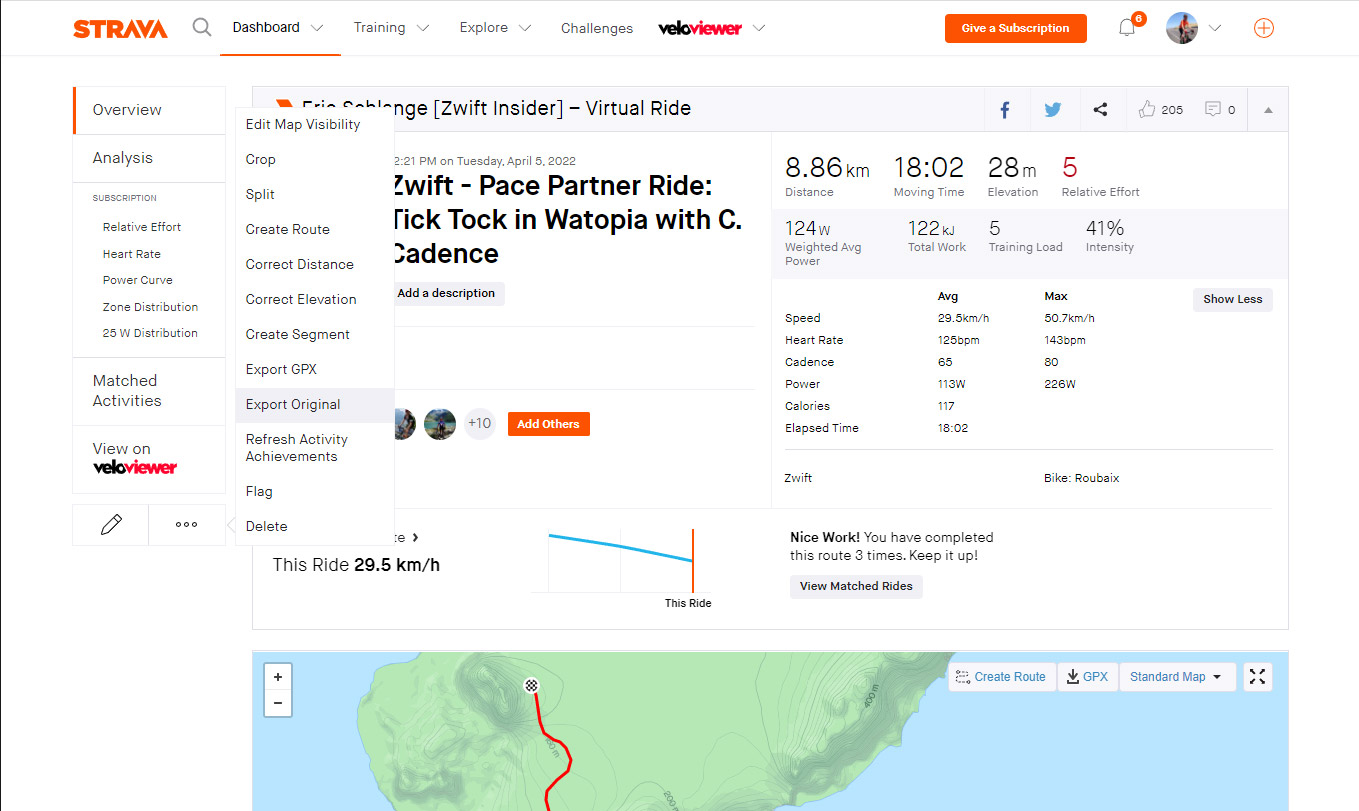 Cropping Your Activity: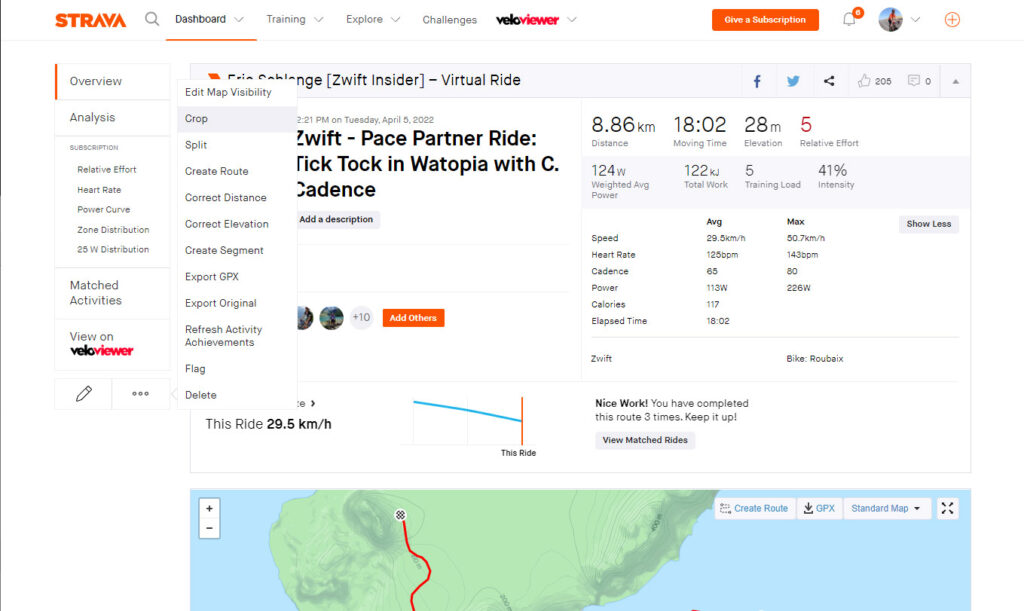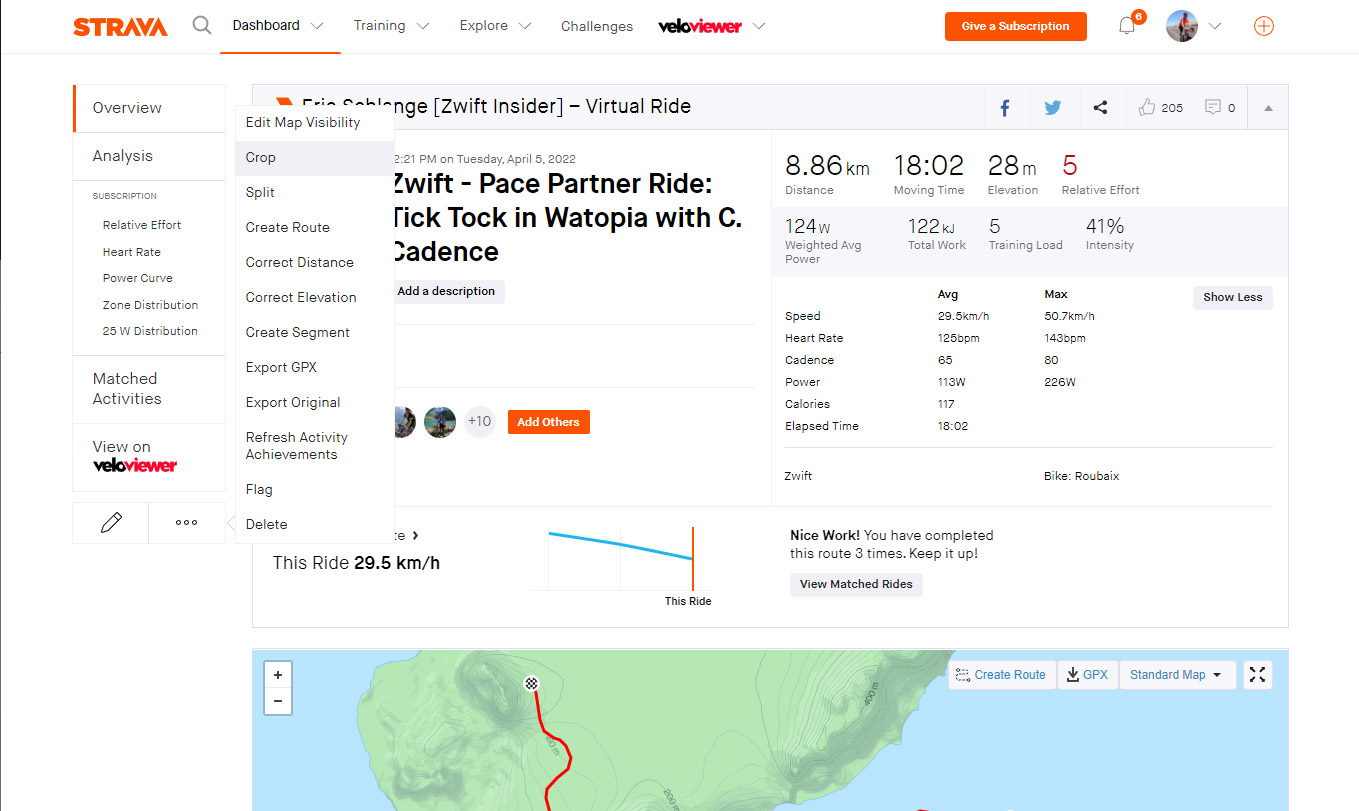 Questions or Comments?
Share below!