First, a Bit of Backstory
Back in April 2020, Strava announced they would be making major changes to Zwift Strava segments, to "remove clutter and noise so athletes can experience the segments that matter the most."
At that time, Strava swapped quite a few user-created segments to "private" so only the user who created the segment could see it. They appeared to backpedal a bit after the initial "culling," with a lot of user-created segments still being visible in the weeks following their announcement.
Since that date, to the best of my knowledge, all segments created by Strava accounts other than Zwift Insider have been marked as private segments – Zwifters have no option to make a segment public. (This is why we've only seen Zwift Insider segments on the France and Paris maps – they were released after Strava made this change.)
Today: All Non-Zwift Insider Segments Hidden
I woke up this morning to several emails from Zwifters wondering what was going on with Strava segments. One rider said, "I rode for an hour in Watopia, and Strava only popped up with three segments. They were all Zwift Insider verified, and they were all hidden!"
It appears Strava flipped a switch overnight, marking all Zwift segments as private unless they were created by our Zwift Insider account.
To give you an idea how dramatic this change is, here are snapshots of the segment list from a particular activity – first in April 2018 (before Strava's initial culling), the second from today after Strava's final culling: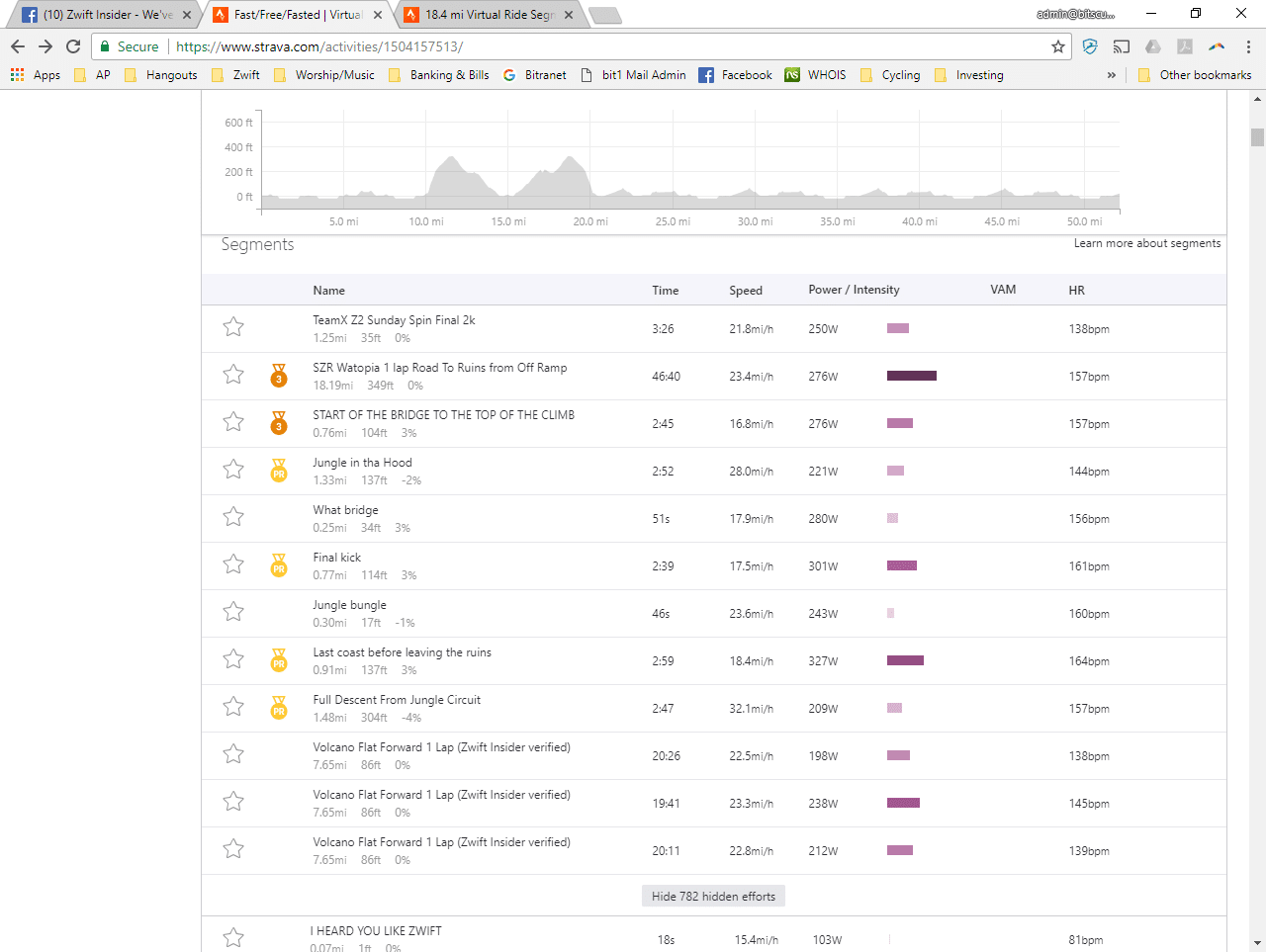 For some Zwifters, this will be a welcome change. But I also understand why others would be bugged by it, especially if you've been tracking progress on particular (non-ZI) segments.
(And for all the Zwift veterans, the legendary "first attempt. very intens" segment appears to be hidden once again, visible only to that long-time Zwifter who created it many years ago.)
No More (Zwift Insider verified)
As I was composing this post, I refreshed a ride just in time to catch Strava in the act of renaming all the Zwift Insider verified segments, removing the "(Zwift Insider verified)" portion of the segment name.
Got an email from Zwift's Wes Salmon just minutes later:
Hey Eric,

Quick note about some changes Strava is making for Zwift segments … since all the official segments you've created are now sanctioned by Strava, they are removing the (Zwift Insider Verified) since all Zwift segments are now default verified (by you). 🙂

The URLs should not change, just the titles.
An understandable change, although it a bit of a bummer for me, since having the segments tagged with Zwift Insider was a good way to remind folks to visit this website. The segment list will certainly look cleaner now…
Got Segment Suggestions?
With only Zwift Insider segments showing up, the segment list in Strava is indeed quite short for some rides. I don't plan to re-clutter it, but I do think there is room for some additional segments across key portions of Zwift's maps.
To that end, I'm working on creating a set of segments for the Epic KOM as I type this. This will include (for example) segments from the start of the forward and reverse climbs to the top of the Radio Tower. Not official in-game segments, but useful and interesting nonetheless. Here's what I created so far today:
I will add these segments to this page which lists all Zwift Insider-verified Strava segments.
If you have suggestions for segments beyond the official ones we've already created, please post them in the comments below. If your segment idea seems like a sensible one, I'll do my best to get it created!