Back in September, Zwift announced plans to release "gamified" steering-required races on Repack Rush and Crit City. Late last week they made good on the promise, adding the first test events to the calendar.
The Gamified Race Experience
What are the new races like? Well, I can tell you this: it's not the Zwift racing you're used to. These events are short, hectic, and… gamified! Watch Nathan Guerra take on a gamified Crit City race and get rolled at the line by his wife:
About the Courses
The two race courses use new gamification elements:
Blue Boost Pads: increase your speed by 10kph
Red Hazard Pads: decrease your speed by 15%
Green Time Deductions: remove 0.2 seconds from your overall time (available on Repack Rush only)
Boost Powerup: increases your speed by 10kph with each charge, and can be used twice per charge (available in Crit City only)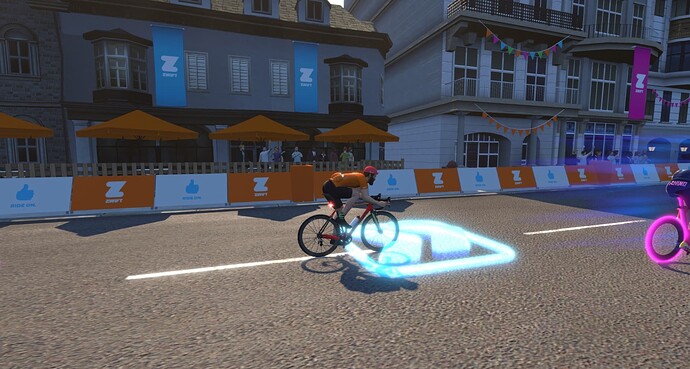 The gamified Crit City course covers The Bell Lap route, but with some changes. First, you get the new "Boost Power Up", at the lap banner, which gives you two boosts. Make sure you use both each lap, or it won't refresh at the lap banner!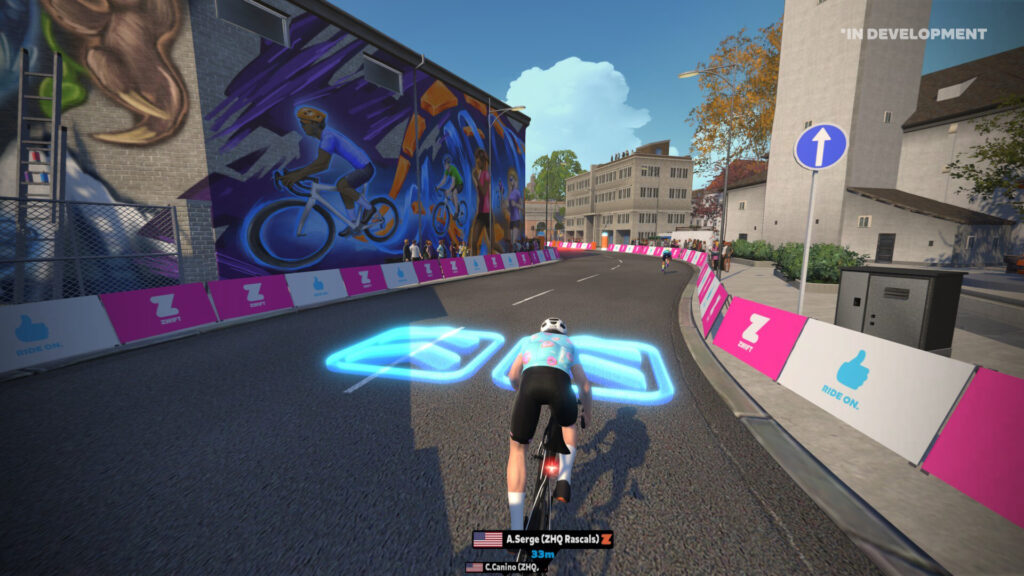 Crit City also includes blue boost pads (which speed you up) and red hazard pads (which slow you down). Some of the pads move back and forth, and some swap from red to blue and back again!
Lastly, you can use the entire road (not just your lane) in the newly gamified Crit City, so you can really cut corners when steering.
Repack Rush is a very short (2.8km) route that was launched as a steering test route back in June 2023 when Zwift released their Play Controllers. Like the gamified Crit City course it includes boost pads and hazards… but Repack Rush also includes time bonuses.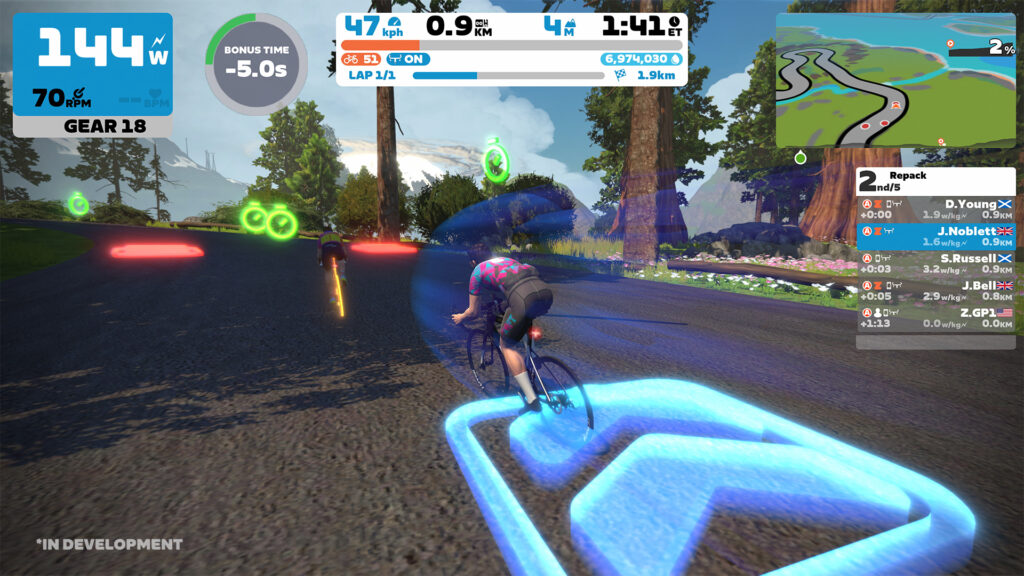 This is the first time we've been able to do multiplayer events on Repack. They'll be short, hectic races! But the winner isn't necessarily the rider who crosses the line first. The game will calculate your time deductions, then display a leaderboard of final results when you cross the line!
Steering Required
You must have a steering device paired to Zwift to participate in these events. The list of compatible devices includes:
Zwift Play
Elite Sterzo Smart
Elite Rizer
Wahoo KICKR Bikes
Jetblack Smart Turn Block
Schedule of Events
Although the event description says they'll be available through December 10, Zwift's calendar currently shows them scheduled through the end of the year. Events are on the calendar three times daily apart from Mondays.
Daily event times:
8:30am UTC/3:30am EST/12:30am PST
6:30pm UTC/1:30pm EST/10:30am PST
11:30pm UTC/6:30pm EST/3:30pm PST
Route rotation:
Tuesdays: Crit City
Wednesdays: Repack Rush
Thursdays: Crit City
Fridays: Repack Rush
Saturdays: Crit City
Sundays: Repack Rush

See all upcoming gamified events at zwift.com/events/tag/steeringonly
Feedback Wanted
Zwift is holding these as test events so riders can share feedback on their experiences. To leave feedback, please head over to this forum post.