The stage 4 finish in the men's Virtual Tour de France was a thrilling finale to a hard-fought race. With a reduced pack of only eight riders which included two pairs of teammates, the final kilometers probably would have played out differently if the race was outdoors where these top-level pros have much more experience. But here on Zwift things are a bit different – powerups come into play, physics are tweaked, and you don't have the precise positioning and immediate feedback afforded to outdoor racers.
What makes this finish interesting is the interplay between riders as some execute their finish perfectly and others make missteps. Let's dig into an analysis of the final minutes of Sunday's men's stage 4.
---
As expected, the final climb up the Petit KOM was the decider for many riders, thinning the herd from ~30 racers to just 8. This front pack of riders crested the top of the climb with a 6-second lead on any chasers, and they would stay away for the rest of the race:
Craddock (EF, #43)
Madouas (Groupama-FDJ, #82)
Ovett (Israel Startup Nation, Polka-Dot Jersey, #91)
Turek (Israel Startup Nation, #94)
Shultz (Mitchelton-Scott, #112)
Gogl (NTT, Green Jersey, #161)
Valgren (NTT, Yellow Jersey, #162)
Clark (Trek-Segafredo, #174)
Meter by Meter
1000m: Gogl activates his draft boost powerup from the back of the group and powers off the front of the group at 8+ w/kg with Valgren on his wheel. They quickly gap the group by perhaps 15m, although Ovett responds quickly, coming around the group to grab Valgren's wheel. Then almost as quickly as it started, both Valgren and Gogl "sit up" and rejoin the group.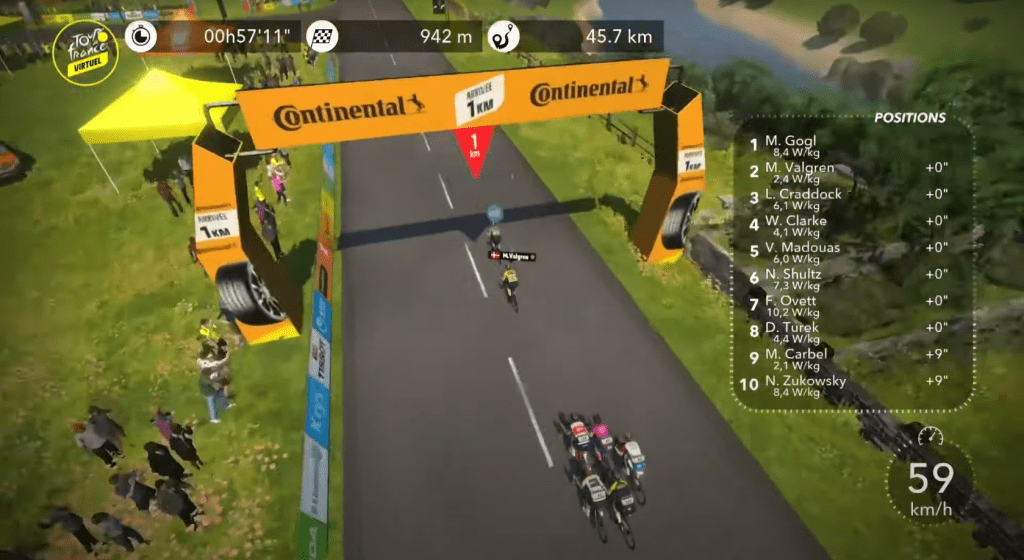 758m: Turek activates his burrito powerup from the back of the group, then powers through the pack to the front.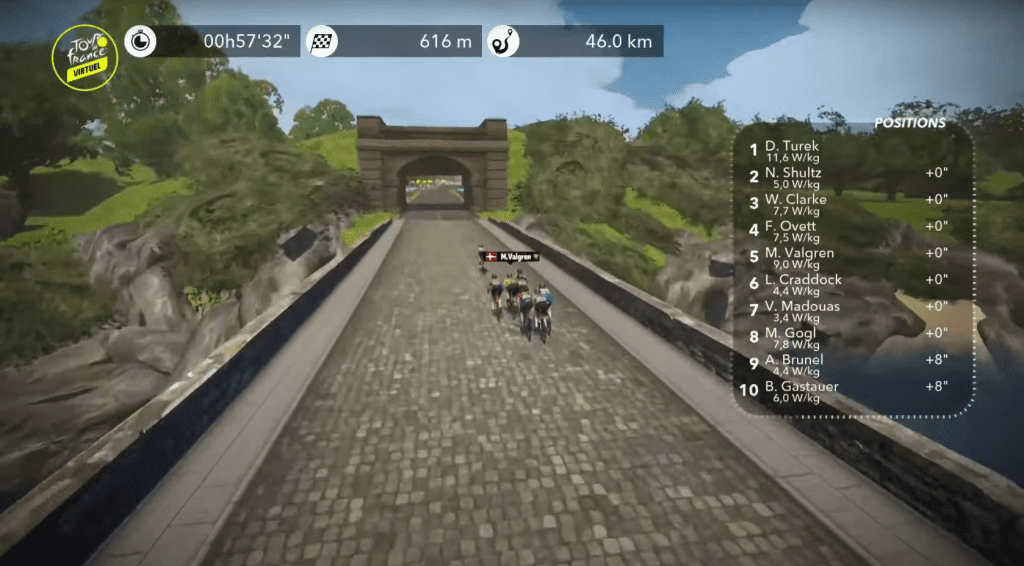 658m: Turek, with his burrito powerup still active, is the first rider to hit the cobbles of the bridge, attacking off the front at 11+ w/kg. (It's marginally easier to put time into your opponents with an attack on cobbles, since rolling resistance is higher on Zwift cobbles than tarmac. Cobbles or other slow-rolling surfaces in Zwift behave like a false flat in terms of attackability.)
He manages to create a small gap by the 600m mark. His teammate Ovett wisely sits in the pack, making the others put in the work to reel him in. Turek's move here is a smart one, softening the legs of his competitors heading into the final sprint so his teammate Ovett has a better chance at a win.
508m: Clarke activates an aero powerup, powering off the front and creating the biggest gap so far. But can he stay away to the line?
430m: Madouas activates his draft boost powerup. This is a smart move, but he could have activated the powerup around 8 seconds earlier and still had it active all the way to the line. Every little bit counts, and the draft boost gives 30s of increased draft – a big help in a pack sprint!
300m: (Somewhere around here, Ovett and Shultz activate their aero powerups. They aren't visible on-screen when they do so.)
150m: Clarke is on the front but flagging as his aero boost runs out. Valgren is ~30m behind him and still pushing hard, but with no powerup.
75m: Ovett with his aero boost active comes around Valgren, passing Clark just a split second later. Shultz is in 4th with an aero boost active.
40m: Shultz passes Clark. He'll pip Valgren at the line as well, taking 2nd on the day.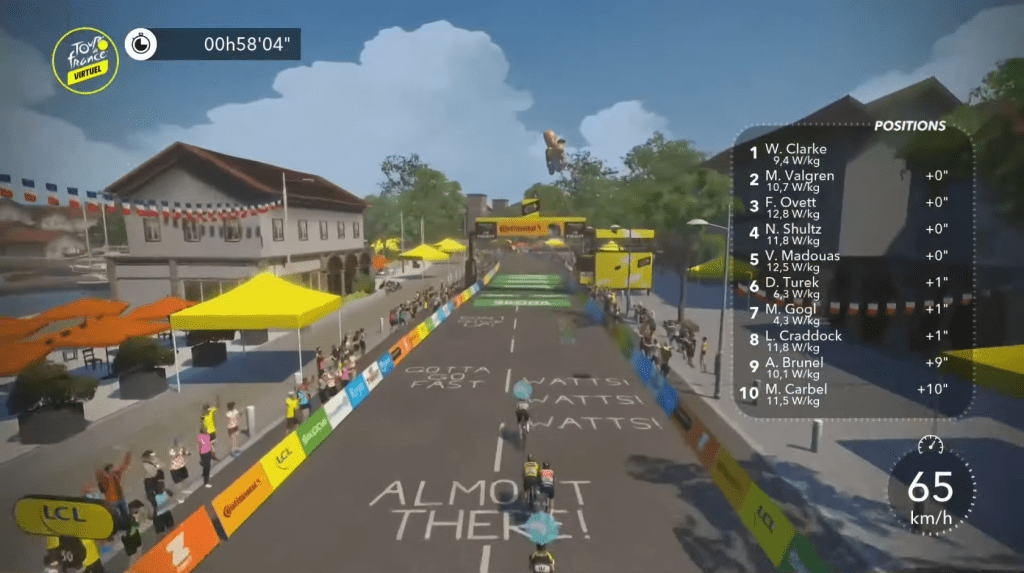 0m: Ovett crosses the line ~15m ahead of the next contender. His perfectly-timed aero boost powerup runs out just as he crosses the line.
Finishing Order
Ovett (Israel Startup Nation, Polka-Dot Jersey, #91)
Shultz (Mitchelton-Scott, #112)
Valgren (NTT, Yellow Jersey, #162)
Clark (Trek-Segafredo, #174)
Madouas (Groupama-FDJ, #82)
Craddock (EF, #43)
Turek (Israel Startup Nation, #94)
Gogl (NTT, Green Jersey, #161)
Ovett played this finish perfectly, chasing down the initial attack from NTT, then sitting in and conserving until just the right time. Shultz also rode the finish smartly, sitting in the wheels then activating his powerup to maximum effect. Valgren put in a massive effort, and even used his teammate Gogl for a bit of a leadout in the final seconds – but he jumped early, and had no powerup to help him in those crucial final seconds.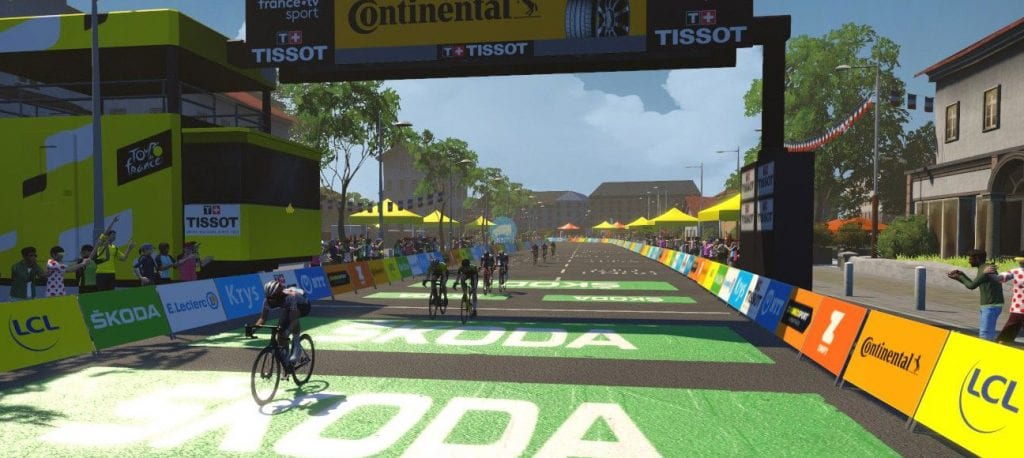 What Might Have Been
Sprint finishes in top men's races on Zwift often start from way out, and this after a hard run-in in the final kilometers. (Today's sprint for the men began ~100m earlier than the women's sprint on the same course.) Did Clarke jump first and go long on purpose? Both his legs and his powerup ran out early, suggesting he mistimed the finish.
The rider who jumps first rarely wins. It's the cagey, patient riders like Ovett and Shultz who are usually able to take the win with a well-timed powerup and burst of sprint power in the final ~200m.
Could NTT have played this differently, with better results? Probably. Gogl's odd abbreviated attack at 1km seemed like a slipup on his part. Did he mistake his van powerup for an aero boost? Both he and Valgren may have been better served if Gogl had used this powerup in the final sprint, chasing down whoever jumped first in the sprint, keeping Valgren on his wheel for the sprint leadout. Nevertheless, NTT finished strong in this stage, building on their commanding lead in the overall team GC as well as other classifications.
Watch It
Watch the full race broadcast here >
Questions or Comments?
Share below!