Stage 4's finish, like many sprint finishes in cycling, was a lesson in timing – both in terms of sprint power and powerups. And while it's easy for me to watch the replay and make comments in hindsight, it is also fair to say that one team in particular could have played their cards differently in order to change the entire outcome of the race. Here is my analysis of the final minutes of Sunday's stage 4 of the women's Virtual Tour de France.
---
Riders had fought to stay on the front as the initial pack of 63 starters was whittled down mile after mile. Coming over the top of the final climb up the Petit KOM we had Lowden (Drops) first, with Stephens (Tibco), Henderson (Sunweb), Gigante (Tibco), and Dixon (Tibco) quickly catching her. With just 3.8km to go, this group had a 4-second lead on a chasing group consisting of Brennauer (WNT Rotor), Kasper, Tacey (Drops), Dygert (Twenty20), Bujak (Alé BTC Ljubljana), Lippert (Sunweb).
With three riders in the front group of five, Tibco would have been well-served to work hard to stay away from the chasers. But that didn't happen, and the chase group closed the gap, forming a finishing pack of eleven who would contest the final sprint for stage 4 honors:
Stephens (Tibco, #1)
Dixon (Tibco, yellow jersey, #2)
Gigante (Tibco, #3)
Lowden (Drops, polka-dot jersey, #64)
Tacey (Drops, #62)
Dygert (Twenty20, #41)
Henderson (Sunweb, #92)
Lippert (Sunweb, #93)
Brennauer (WNT Rotor, #121)
Bujak (Alé BTC Ljubljana, #143)
Kasper (Parkhotel, #152)
Meter by Meter
1000m: Lippert activates her burrito powerup and moves through the pack to the front, but never attacks. This move doesn't help her at all, and perhaps even hurts as now her opponents know that she has no powerup left. Perhaps she thought the burrito lasted longer than 10 seconds, and she intended to attack off the front?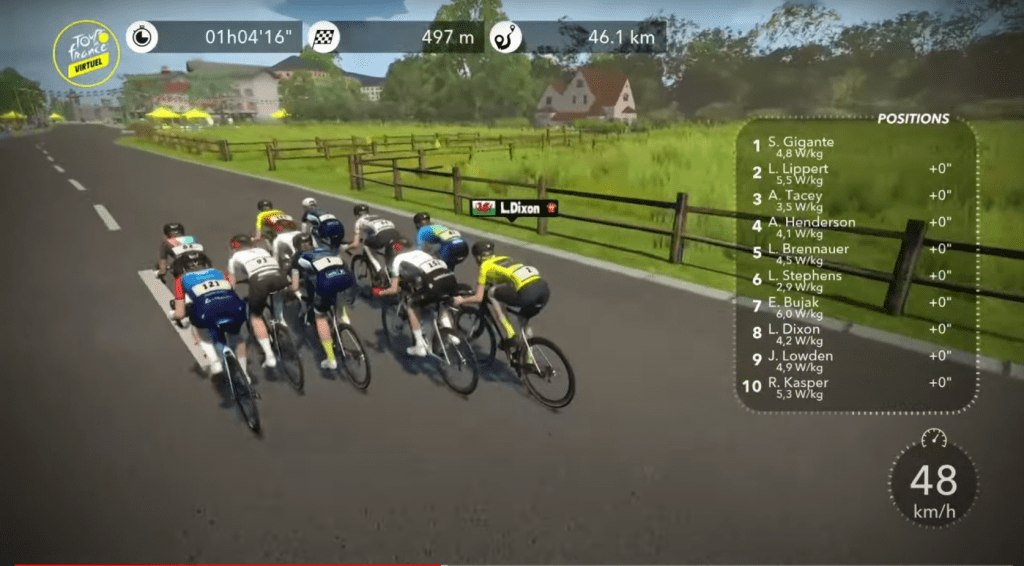 339m: Burrito dropped by Henderson, who is on the front of the group. (This is the first powerup dropped for the final sprint, and it begins a cascade of powerups. Within 4 seconds of Henderson dropping her burrito, all riders who have powerups will have activated them.)
333m: Brennauer activates her burrito. Dixon's avatar gets out of the saddle and begins to sprint.
299m: Kasper activates her aero. Dixon comes around the front (Henderson) and activates her aero.
269m: Tacey activates her aero along with Stephens. There are now four riders with active aero powerups. Two of them will finish on the podium.
240m: Lowden activates ghost from near the back of the pack.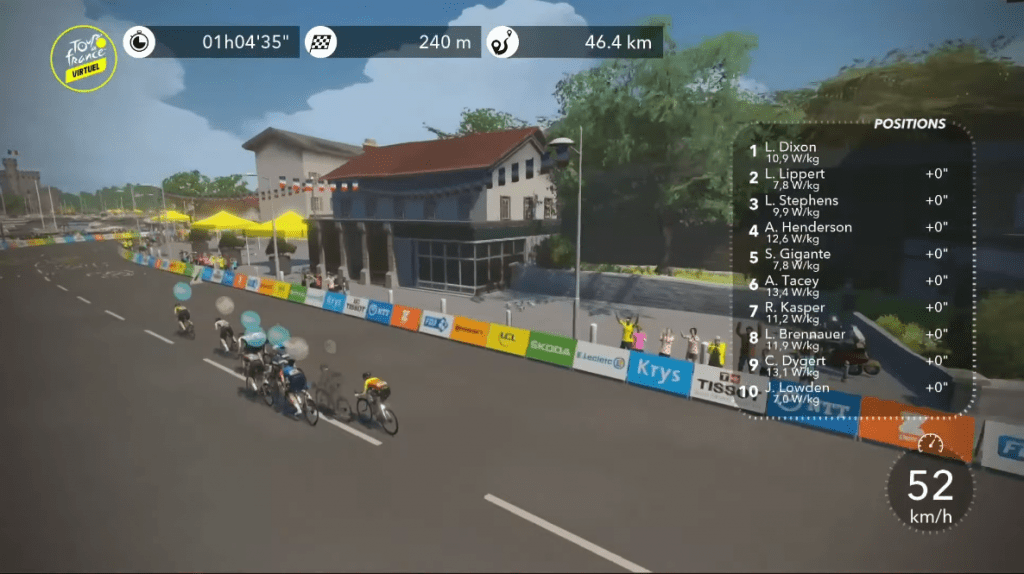 150m: Dixon is off the front, and Henderson 5m back has used a burrito powerup, so the riders 5m behind Henderson are working with a decreased draft effect. This is a big chance for Dixon and Henderson, if they can stay away to the line.
100m: Tacey powers around a rider and onto Henderson's wheel. Riders are now strung out single file, charging toward the finish in this order: Dixon, Henderson, Tacey, Kasper, Dygert, Stephens. Dixon's power is beginning to fade, dropping from ~11.5 w/kg to ~9.5 w/kg.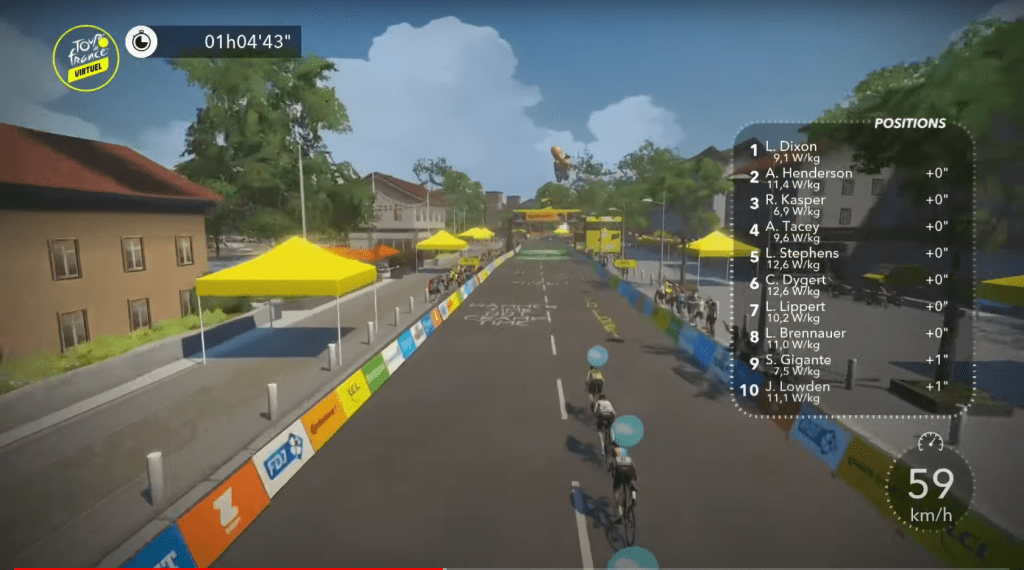 50m: Henderson comes around Dixon as Dixon's aero runs out. But Dixon's sprint effort had already run out, so slightly better powerup timing probably wouldn't have helped here. Super strong effort from Henderson here – remember, all she had was a burrito, and it's long gone!
15m: Tacey passes Dixon, then Henderson. Her aero powerup is still active.
5m: Tacey's aero runs out – perfectly timed. Her momentum carries her further past Henderson and Dixon for the clear win.
0m: Stephens passes Dixon at 12 w/kg to take third at the line. Her aero powerup runs out perhaps 15m after crossing the line. Could she have activated her powerup a bit earlier, and gone a bit earlier, for a better result? Quite possibly. (In the video at 269m you can actually see Stephens' avatar stand up to sprint, then sit down and activate her aero powerup, then stand up to sprint again. Perhaps she had to activate it herself, and couldn't do it while sprinting. This may have cost her a placing!)
Finishing Order
Tacey (Drops, #62)
Henderson (Sunweb, #92)
Stephens (Tibco, #1)
Dixon (Tibco, yellow jersey, #2)
Dygert (Twenty20, #41)
Kasper (Parkhotel, #152)
Brennauer (WNT Rotor, #121)
Gigante (Tibco, #3)
Lippert (Sunweb, #93)
Lowden (Drops, polka-dot jersey, #64)
Bujak (Alé BTC Ljubljana, #143)
Tacey should be commended for her well-timed sprint. Henderson was super-powerful, getting second with no aero powerup. And Stephens came from behind to nab third, but may very well have gotten second with slightly better timing.
Three riders went into the sprint with no powerups: Gigante, Bujak, and Dygert. Dygert's fifth place shows that she is more than just a TT champion – she can sprint!
What Might Have Been
By my calculations, if Tibco had worked together to stay away from the chasing group after the Petit KOM, they would now be in first place in the Team Overall General Classification, having garnered 9 more points (worst-case scenario) than they actually came away with in this stage. They would also have extended their lead over Drops for the General Time Classification, since Tacey wouldn't have caught the front group and taken the win.
Why they didn't do this is the confusing question. It appeared up the Petit KOM that they were working hard to beat up their opponents' legs and split the pack, so it seems sensible to capitalize on that break once it happened.
Watch It
Watch the full race broadcast here >
Questions or Comments?
Share below!