Tacx NEO
Direct Drive Trainer

The original NEO is still revered by many in the Zwift community. When it arrived on the scene with its amazing, calibration-free accuracy it caused a real stir. The fact that it included built-in cadence, functioned without being plugged in, included a downhill drive simular, and eventually included innovative road feel just increased the allure of the most expensive trainer on the market at the time.
It has since been replaced by the Neo 2.
Key Specs
MSRP: $1599 USD
Accuracy: +-1%
Flywheel: Virtual
Max Wattage: 2200 W
Max Incline: 25%
Where to Buy
This trainer is no longer in production, but you may find a good deal on used or old stock.
More Details
Brand:

Tacx

Year Released: 2015 (No longer in production)
Axle Compatibility: 130/135mm quick release (12x142 thru axle compatible with adapter kit)
Does not require calibration
Weight: 21.5kg
Cadence: Built in
Communication: ANT+ and Bluetooth
Cassette Included: No
Physical Dimensions: 575 × 750 mm (22.6 × 29.5 in)
Overall Rating

4.7 stars
based on 60 reviews
Easy setup
93%
Accurate power
90%
Realistic inertia
85%
Well-built
90%
Helpful support
23%
Portable/storable
33%
Quiet
92%
Budget-friendly
0%
Simply the best from PatilZ December 22, 2020 


I'we had he 1st gen TACX Neo now for 40 moths. The over-all built quality is excellent, it is a bomb proof do it all indoor trainer.
It is quiet, has a road feel, simulates seriously steep gradients, simulates downhill and displays accurate power readings (against Favero Assioma pedals) easily without any calibration needed. Although being incredible stable, it swings few degrees, which is good if you use a carbon machine as a trainer bike. Not that it makes rocker plate unnecessary, you still want to have one for the real feel.

Like every trainer, Neo needs some regular maintenance. And this is probably the only con with Neo. No need to change driver belt, it doesn't have on, but occasional internal cleaning is. Neo has two bearings and someday you may need to change them. And then you need special tools, which may be hard to find. Especially on weekends just before a scheduled Zwift Fondo, when you will hear that rattling noise coming inside the Neo.

Easy setup Accurate power Realistic inertiaWell-built Quiet
Best bang for your buck from Captain Marvel October 11, 2020 


Easy to use/setup, flawless for 3 years now, totally recommend this trainer, worth every penny!

Easy setup Accurate power Realistic inertiaWell-built Helpful support Quiet
No need to upgrade from K.Lee xpd September 30, 2020 


There are a lot of good smart trainers from $700-$1,000 for riding Zwift, but if you can afford it I recommend the Tacx Neo or its newer versions. It just works without the calibration hassles and is as good or better than all the other smart trainers in the market. I also really like the Road Feel feature—it really gives you a realistic feel of riding over cobbles and wooden planks without beating you up.

Easy setup Accurate power Realistic inertiaWell-built Quiet
Just working from jglink September 28, 2020 


The unit is just working without issues; at least after upgrading from the EDCO to a Shimano Hub.
Road Feel: I always disable the Road Feel because 1) I don´t like cobbles whether in the real or virtual world 2) I fear that the fast frequency changes which produce the road feeld cause stress on the trainer

But there are 2 points I don´t like on the NEO:
- if riding slow frequency / high gradient, the flywheel slips a bit
- not compatible with Kickr Climb

Easy setup Accurate power Well-built Quiet
The only trainer that can be using forever. from Jas0nc September 27, 2020 


Once I got my neo, I have never consider other trainer or upgrade. It has all u needed for zwifting. If it still works, I will use it forever.

Easy setup Accurate power Realistic inertiaWell-built Quiet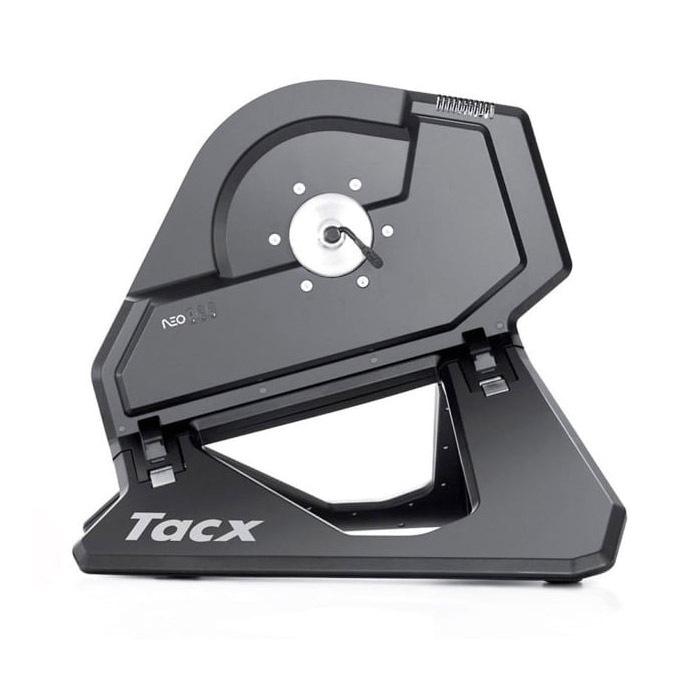 Own this trainer? Post a review!
Simply the best from PatilZ December 22, 2020 


I'we had he 1st gen TACX Neo now for 40 moths. The over-all built quality is excellent, it is a bomb proof do it all indoor trainer.
It is quiet, has a road feel, simulates seriously steep gradients, simulates downhill and displays accurate power readings (against Favero Assioma pedals) easily without any calibration needed. Although being incredible stable, it swings few degrees, which is good if you use a carbon machine as a trainer bike. Not that it makes rocker plate unnecessary, you still want to have one for the real feel.

Like every trainer, Neo needs some regular maintenance. And this is probably the only con with Neo. No need to change driver belt, it doesn't have on, but occasional internal cleaning is. Neo has two bearings and someday you may need to change them. And then you need special tools, which may be hard to find. Especially on weekends just before a scheduled Zwift Fondo, when you will hear that rattling noise coming inside the Neo.

Easy setup Accurate power Realistic inertiaWell-built Quiet
Best bang for your buck from Captain Marvel October 11, 2020 


Easy to use/setup, flawless for 3 years now, totally recommend this trainer, worth every penny!

Easy setup Accurate power Realistic inertiaWell-built Helpful support Quiet
No need to upgrade from K.Lee xpd September 30, 2020 


There are a lot of good smart trainers from $700-$1,000 for riding Zwift, but if you can afford it I recommend the Tacx Neo or its newer versions. It just works without the calibration hassles and is as good or better than all the other smart trainers in the market. I also really like the Road Feel feature—it really gives you a realistic feel of riding over cobbles and wooden planks without beating you up.

Easy setup Accurate power Realistic inertiaWell-built Quiet
Just working from jglink September 28, 2020 


The unit is just working without issues; at least after upgrading from the EDCO to a Shimano Hub.
Road Feel: I always disable the Road Feel because 1) I don´t like cobbles whether in the real or virtual world 2) I fear that the fast frequency changes which produce the road feeld cause stress on the trainer

But there are 2 points I don´t like on the NEO:
- if riding slow frequency / high gradient, the flywheel slips a bit
- not compatible with Kickr Climb

Easy setup Accurate power Well-built Quiet
The only trainer that can be using forever. from Jas0nc September 27, 2020 


Once I got my neo, I have never consider other trainer or upgrade. It has all u needed for zwifting. If it still works, I will use it forever.

Easy setup Accurate power Realistic inertiaWell-built Quiet
Great Tool for Indoor Workout from Quel September 27, 2020 
Well-built
Very Smart from Utility September 27, 2020 


Excellent trainer - have done around 20k km so far on Zwift & Sufferfest with no durability issues. Power tracks well (although it appears to track slightly lower than my Wahoo Kickr). The electromagnetic perks are more realistic downhills and simulated cobbles/gravel which are a nice touch. Have really enjoyed using the Tacx Neo so far!

Easy setup Accurate power Realistic inertiaWell-built Quiet
Tacx Neo 1 from dacult September 26, 2020 


Ridden more than 28.000 km on Zwift, and some Tacx Reallife Videos. It still runs without any problems.

Easy setup Accurate power Realistic inertiaWell-built Helpful support Portable/storable Quiet
Best Tacx Neo ever made 😉 from lammy September 26, 2020 


I have this unit for a few years now, and although I also own a Neo 2T I just get back to the good old original Neo 🙂

Easy setup Accurate power Realistic inertiaWell-built Quiet
Neo 25 September from Paco Rubio September 25, 2020 


Very good trainer, silent, His powermeter is incredible, very happy with my Neo.

Easy setup Accurate power Realistic inertiaWell-built Helpful support Quiet
The OG & super accurate from ldinsdale September 25, 2020 


This was a huge upgrade from Vortex & the lack of calibration makes for easy setup. Login and away you go!

Road feel is nice, but on heavily cobbled courses can be wearing!

The quietness of the Neo is awesome, although you'll probably have fan noise that negates this!

Against the Kickr, just lacks in the smoothness of the flywheel, which is why it's a 4/5.
Built well.
Very reliable.

Easy setup Accurate power Well-built Quiet
Tacx Neo from gtom September 25, 2020 
Easy setup Accurate power Realistic inertiaWell-built Quiet
My first direct drive Trainer from Pete September 25, 2020 


For several years I am riding on Turbo Trainers now.
Initially, I started with a "mechanical" Tacx where you could only change the resistance.
Next step was a Tacx Fortius with Tacx real live videos for several years.
Then I heard about Zwift.
Since this on was not compatible with Zwift, I had to go for a new trainer.
Because I still wanted to be able to use my existing rlv videos, I stayed with Tacx.

The Neo is great. It is really quiet and offers lots of power.
For me, the resistance is sufficient in nearly all situations.
Only on very low cadence and going up the radio tower in Zwift,
you sometimes feel the glitch from the magnets.
This has been addressed with the newer version of the Neo.
Roadfeel is great as well.

No need to upgrade until something really new and cool will appear.

Easy setup Accurate power Realistic inertiaWell-built Portable/storable Quiet
Tacx Neo is great from Frank September 24, 2020 


Solid silent trainer

Easy setup Accurate power Realistic inertiaWell-built Helpful support Portable/storable Quiet
A miracle of enjoyment from roemer September 24, 2020 


What not to like about this smart trainer? Extremely silent, very well built, easy to fold (store), nicely designed, and working in excellently in dialogue with Zwift. AND it can move a bit when you cycle. Its hinges are allowing some movement so you don't need a platform with springs and all that (to put smart trainer on) to mimic reality outdoors where you bike does move all the time. And I like the support of Tacx Neo a lot. I had some issues in the beginning with the magnets slightly touching the steel wheel at times. Tacx did send me a set to open the device and it was easy fixed. That brings me to the point that the Tacx is also very durable, you can ride many many miles on it (it is also used to test chains and for that they ride 50.000 kilometres on a Tacx with the help of a motor connected to it, and even than it never fails!

Easy setup Realistic inertiaWell-built Helpful support Quiet
Soak solid from Jonnywipeout September 23, 2020 


Original generation of the neo is bulletproof!
Heavy, but quiet, accurate and easy set up

Easy setup Accurate power Realistic inertiaWell-built Quiet
Tacx Neo – my first, and so far only ever, trainer. from goose September 22, 2020 


This thing is built to last. It's going to out survive me, coronavirus and probably even the cockroaches. 5 years old and 0 problems. If only I could say the same about children.

If it does ever break, I would have no hesitation in updating to the new model. But I'm more likely to break than it is.

Easy setup Accurate power Realistic inertiaWell-built Portable/storable Quiet
The old and trusted Neo from Seldenrijk September 21, 2020 
Easy setup Accurate power Realistic inertiaWell-built Helpful support
Gold standard of Smart Trainers from Taicho Cyclist September 21, 2020 
Easy setup Accurate power Realistic inertiaWell-built Portable/storable Quiet
Great trainer from Richardh September 20, 2020 


Bought this when they first came out and first I thought that it was very overpriced but after using it my mind was changed. It was worth every penny. I really like the road feel on Zwift as it gives me an incentive to go harder when I hit the cobblestones and the bike slows down. Now I think it was worth every penny. And it is extremely quiet.

Easy setup Accurate power Realistic inertiaWell-built Quiet
Tacx Neo after 18 months of indoor training from alext September 20, 2020 


I use the first generation of TACX Neo since 18 months for my indoor training and I am very satisfied with it.
Here are my pros and cons for it:

Pros:
- relatively quiet
- accurate power without any calibration needed
- stable plattform
- swings a few degree during sprints
- "Road-Feel" feature in Zwift is definitely a nice thing to have
- ability to simulate steep gradients (up to 20 %)
- Updates are easy to perform via the TACX trainer software
- simulates downhill sections in ZWIFT

Some cons:
- even if it is a "quiet" trainer it doesn't mean it is silent (especially during harder intervals or sprints)
- does not work with the kickr climb
- not very budget-friendly

Easy setup Accurate power Realistic inertiaWell-built Quiet
Riding the test of time from A. Marcu September 18, 2020 


Bought it November 2016 and I'm still riding it with no issues, noises, problems, or troubles. I love that it works with and without power. It's solid on my Rockr plate, never drifting or moving. That also means it's impossibly heavy. Accuracy is spot on. I've got a set of PowerTap P1 pedals on my bike. The Tacx Neo and the P1's are almost identical in power (watt) comparison. It's a great, always ready-to-go trainer. I'm going to ride it into the ground before I upgrade again.

Easy setup Accurate power Realistic inertiaWell-built Quiet
I have no reason to want a new trainer – for now. from Pickleman September 17, 2020 


I've been pretty happy with the NEO. My first smart trainer. I haven't had any notable problems with it. Works when I need it to, Delivers the resistance I need.

Power readings differ from my outdoor bike, but different power meters, Neo and Quarg. Not an issue. The trainer is about delivering my workout.

Easy setup Realistic inertiaWell-built Quiet
Great trainer from Richard UK September 16, 2020 


I upgraded from a standard trainer and could not be happier. Easy to use. No calibration required and yet is very accurate and consistent. The smart trainer works great with the likes of Zwift whether doing a workout, a race or just liking cycling around the Zwift world having the trainer change the resistance for you to simulate the hills. It can take a few seconds to react but i think it works well. If you've been using a 'dumb' trainer then you'll love this as makes the indoor experience far far far more enjoyable.

Easy setup Accurate power Realistic inertiaWell-built Quiet
Great Smart Trainer – Recommended from Zed September 16, 2020 


Great smart trainer - almost noiseless (I had a Kickr on loan and that was much louder) and very reliable. Has been running now multiple times a week for two years at least. Not very portable - no handle (like the Kickr). Its heavy and not the easiest to fold up. I just drag it out of the way. Also it does not have any leveling feet so you need a flat horizontal floor or you may have to use shims! It does flex a bit so riding is more comfortable than if it were ridgid. Overal I love my Neo and when it finally dies on me I will probably get the latest version of the Neo - Unless Zwift comes out with some mega trainer...

Easy setup Accurate power Realistic inertiaWell-built Quiet
Tacx Neo from Zark September 16, 2020 


Very quiet, does not need calibration, well built, looks good, great road feel feature, accurate, simple.

Easy setup Accurate power Realistic inertiaWell-built Portable/storable Quiet
Tacx Neo from gremlin September 16, 2020 


Excellent trainer that is easy to set-up. They only thing that disappointed me was the road feel feature doesn't work.

Easy setup Accurate power Realistic inertiaWell-built
Tacx Review from Cabriola September 11, 2020 


It doesn´t fail to connect with my MacBook, in almost 2 years hasn´t developed strange sounds, Hasn`t got too hot. Expensive but worth the price.

Easy setup Accurate power Realistic inertiaWell-built Quiet
No comment from ElChino September 11, 2020 


I absolutely love this trainer. It's very stable, makes just a little bit of sound and is very accurate. Almost immediate response to the zwift program and makes the training great joy.
Together with Zwift is this a setup I'm never want to miss during cold days!

Easy setup Accurate power Well-built Portable/storable Quiet
Tacx Neo long term review and journey… from Neil MG September 10, 2020 


Over 8,000km and almost four years. A great trainer and much loved straight out of the box. Lots of positives, as it's one of the best. Road feel was fun in the beginning, but like most Zwifters', I believe, soon got turned off and forgotten. Main negative is that one day it simply stopped working! I am an engineer and so took it apart to see if I could repair it. Just stripping and rebuilding fixed it, but didn't expose the problem! From a faceboook page, I can see that there have been lots of failures and little or no support outside warranty. Also no parts availability other than bearings. That means it is considered disposable by the manufacturer, which is bad for both the consumer and the environment.

Easy setup Accurate power Realistic inertia Quiet
Tacx NEO (Version 1) from Ryan September 9, 2020 


I bought a Tacx Neo (version 1) trainer in September 2015 after my Tacx Bushido gave up the ghost. I, personally, gravitate towards Tacx. It is 5 years down the line and it has covered 43,000km in Zwift. So far.

One word to describe the Neo - BRILLIANT.

Definitely not cheap compared to the Bushido I had, but then again, you get what you pay for. The direct drive is worth the money. No slippage. No calibration. Get on the bike and ride. Problem solved.

It's quiet. Very quiet. In fact the only noise that I notice is the sound of the chain.

And then you can put the power down. If memory serves it can handle 2,200 Watts. Far more power than I can generate, or most people, other than guys winning sprint stages in the Tour de France maybe.

I tried the "road feel" out. Works fine. Very well in fact, but I tend to ride without it. I prefer a smooth ride on the trainer.

Accuracy is spot on as well. I've got a set of PowerTap P1 pedals on my bike, and the Neo vs. the P1's tends to be extremely close in power comparison. 1 or 2 Watts difference.

All in all, absolutely Top Class trainer.

Easy setup Accurate power Realistic inertiaWell-built Helpful support Quiet
perfect trainer from Grafwilhelm12 September 9, 2020 


Easy to pair. Does everything I need. I like the road-feeling when being on Zwift.
Unfortunately no more firmware updates since Tacx launched the Neo 2.
Some features in the Tacx Training App were made "Premium" a year after I bought the trainer, I think this is not fair selling a device with features and then later on cancelling the free access. But that's the only minus point.

Easy setup Accurate power Realistic inertiaWell-built Portable/storable Quiet
Neo is the best….. from Clashman-sWe September 9, 2020 


Sise to side movment, silent, powerfull, road feel, <1% off on power, heavy (stands still), foldable, did I mention silent...

Easy setup Accurate power Realistic inertiaWell-built Helpful support Portable/storable Quiet
Love my Neo! from Catez September 9, 2020 


I've now done over 20k km on my Neo without so much as a missed beat. Just love it. Super reliable, super quiet and super cool! Just the perfect trainer. Originally had a Wahoo Kickr but no regrets in switching. I have observed however (in various forums) a view that customer service has tanked since Garmin brought Tacx; hasn't affected me and v much hoping it stays that way!

Easy setup Accurate power Realistic inertiaWell-built Helpful support Portable/storable Quiet
Rest-in-peace from Osquar September 9, 2020 


This was the first... very first version of the Tacx Neo (not to be confused with later 2 or 2T). It was bought when Zwift era just started and proved to be one of the best items I've ever spent my hard-earned Swedish kronor on... until one night little more than 3 years later when it just stopped working...
It turned out that the fan on the upper part, stopped spinning because of some dirt or something, because I stripped it down and used the vacuum cleaner to suck something out of it... the fan is somewhat integrated, so you can't just switch it for a off-the shelf fan... or maybe you can, but it looks like a after-market-graphics-card-integrated fan, so I didn't try... Now it started working again, but to not waste any time, I've upgraded to the new Neo 2T which identical in feel and functionality, so there is not much difference... (not to mention the bigger cables internally or less icy-feel on high-torque) but that does not matter. The old Neo, was sold and rest-in-peace... best equipment I ever layed my hands on...

Easy setup Accurate power Realistic inertiaWell-built Quiet
Good, solid direct drive trainer from myemailjunx September 9, 2020 


Accurate power & no lag. Good trainer for intervals & Zwift racing. Developed a plastic creaking when standing after a year. Virtual flywheel creates more realistic road feel on downhills by assisting power. Virtual flywheel adds too much resistance to compensate for vast power differences during sprinting.

Easy setup Accurate power Portable/storable
Tacx Neo from mhrayne September 9, 2020 
Accurate power Realistic inertiaWell-built Quiet
Tacx Neo review from Thomas. September 9, 2020 


I invested in the original Tacx Neo in 2018 while recovering (impatiently) from a bicycle crash in which I fractured my elbow and face, and required shoulder surgery. To keep costs down and style high I paired the trainer with a mint 80s "Crescent" Swedish road bike.

The Tacx Neo has been great from the beginning. Relatively quiet, easy to set up and wonderful not to be constantly calibrating etc.

The road feel feature is fun, and rather clever - but I found myself turning it off when wanting to race or for a quieter Zwifting experience.

Overall, a good trainer - especially for its time.

Easy setup Accurate power Well-built Portable/storable Quiet
Runs trouble-free for almost 4 years from TSUNE_chung September 9, 2020 


Quiet and super smooth ride feel. Tacx neo road feel is awesome in Zwift

Easy setup Realistic inertiaWell-built Quiet
Strong and reliable trainer from Peroodav September 9, 2020 


I'm using the Tacx Neo for almost 2 years now, 2 or 3 times per week and I have no special complain about it.
The trainer is strongly build and the power is quite accurate (I compared with a pair of Powertap pedals).
I like the small balancing of the trainer and also the road feel feature, the rides are more realistic.

Easy setup Accurate power Realistic inertiaWell-built Portable/storable Quiet
good with weaknesses from Thorsten September 8, 2020 


Very good road feel. Quiet, but not significantly less quiet than my old Elite Qubo Fluid. Loud freewheel. Freewheel body easily dented. Strange hissing sound in beginning had to be fixed by Tacx. Cobble simulation nice toy but makes it louder.

Easy setup Accurate power Realistic inertia
Great trainer from DanW September 8, 2020 


Very good direct drive smart trainer. I used to have my mountain bike set up on it but longer Zwift rides on an indoor trainer were uncomfortable using my mountain bike. So now I put my Tour Easy recumbent bike on the trainer and the seat is more comfortable.

Easy setup Accurate power Realistic inertiaWell-built Portable/storable Quiet
A member of the family from wjsmith September 8, 2020 


Since 2017 this Neo has done the job brilliantly with only a few glitches along the way.

The upside:
- very quiet especially if you keep your chains newish and even better if chains are waxed.
- very accurate - somewhat sadly, after a cheaper Vortex told me I could be a Neo-pro!!!
- no plug in needed to run it (although cruise mode needs power outlet)
- handles the big gradients perfectly
- smooth and fast transitions on ERG mode
- very easy to maintain if you have the "tool"

Some issues:
- occasionally will skip a bit in a sprint
- the original freehub was rubbish until Tacx provided a redesigned one

Hard to justify upgrading to Neo 2T but I guess after 70,000 kms might have to start thinking about it!

Easy setup Accurate power Realistic inertiaWell-built Helpful support Quiet
My not-so-short road to a perfectly working Neo from OliverS73 September 8, 2020 


Let's start with introducing myself: My name is Oliver, I'm a cyclist from Duesseldorf in Germany. I began cycling as a sport about 28 years ago. At first on a road bike, then followed mountain bikes, currently I've got both.

Before buying the Tacx Neo I've used a Tacx Satori (non smart). As most of you might know, it's really hard to motivate oneself on these - today antiquated - trainers. I didn't use it that much. Besides, it was loud.

At the end of 2017 I first seriously considered buying a direct-drive trainer. I looked at several reviews, message boards and Youtube videos. I short-listed the Tacx Neo, which had just received an update (2018 model 2800), and the Wahoo Kickr 2017.

I don't have a powermeter and wasn't planning on doing anything competitve with the trainer (to be honest, Zwift was news to me then), so a specified accuracy of 1% or 2% didn't factor into my decision. I was more interested in features like roadfeel and bigger simulated gradient. Points for the Neo. Ultimately I decided against the Kickr because of the noise. In video reviews it sounded like a vacuum cleaner. Measurements said the decibel were similar to the Neo but that frequency was awful.

So, in January 2018 I visited a local sports shop which advertised a discount on the Neo. It didn't go well. Actually, not at all. They didn't have any(!) smart trainer in the shop. They even refused to order one there, because "if I didn't take it then, it would just collect dust in the shop". This kind of service is quite typical for German shops, you often get the impression they just don't want you to buy there. They told me to order one myself from their webshop. I was quite peeved and told them I'd be ordering from Amazon instead. And that's what I did.

I paid EUR 1.259,00 and a few days later the Neo arrived. There wasn't anything to assemble, it was ready-to-go straight out of the box. My roadbike uses quick-release hubs, so I didn't need an adapter.

Quickly I installed the cassette and put the bike on the trainer. Expecting to be enthralled I was appalled. There was horrible creaking everywhere. I was considering returning the Neo.

Well, instead I tried applying lube to anything that even remotely looked movable, especially the hinges. It helped, but I wasn't content. Nonetheless, I started using the trainer.

Back then I wasn't interested in Zwift and subscribed to the Tacx videos. These were actually great. I was mostly interested in clinmbing so I downloaded all the classics. Only, under load the creaking returned. Meanwhile I had done some research what might cause that. On my own I found the worst culprit: The silver disc on the non-drive side of the Neo. Under load it touched the plastic casing. So I applied grease around it and that worked quite well. Later I also had the idea to tighten the screws which connect the two halves of the plastic casing. Not my best idea. I over-torqued some. Actually, I think the Neo's outer construction is really cheap. First, I would've gone for a metal casing, not plastic. Both halves rubbing against each other caused creaking. Second, the screws had only plastic nuts.

After some cursing I decided to replace most of the screws with threaded screws and "real" metal nuts on the outside of the Neo. Easily done. I drilled through the casing and put the new screws in. Before that I applied grease the edges of the casing. I now had eliminated most of the creaking. Some creaking still occured when leaning to a side, so I put some pieces of rubber into the hinges. And that was that. I finally had a quasi-silent Neo. To clarify: What I've just described in a few sentences actually took place over several months.

In 2019 Garmin bought Tacx and subsequently a lot of the training videos were removed, probably because of privacy concerns. Well, some of the videos returned after editing, many didn't.

Jump to 2020. Garmin/Tacx had severe server problems so it wasn't possible download videos. Additionally, there was very little new stuff. So I decided to give Zwift a try. That was back in February. After the trial period I subscribed there and cancelled my membership at Tacx.

That coincided with the emergence of the Corona virus. In my region there wasn't a lockdown in relation to solo sports. Nonetheless I had more activity on Zwift than on the road. Today I'm nearly level 30 with an all-time distance of 5.094 km (addionally about 4.000 km on the road).

That brings me to the next point: According to Strava I've ridden 11.120 km on the Neo altogether. Except for some greasing of the freehub I didn't have to perform any other service tasks. All bearings still run smoothly. Since I've got the Neo 1 (or Neo OG as it's called in the FB groups now) I'm in the lucky position to be able to buy a tool for the ratchet ring in case I have to replace a bearing. Although the DT Swiss tool is rather expensive here in Germany, about EUR 55,00.

Some weeks ago I decided to build a rocker plate. I went for the silent-block design because that would add further vibration dampening. That's another point: The Neo runs very silent, but at high speed, especially on the big ring, there're very pronounced vibrations. These are stronger on the right side. That's due to the construction of the Neo and can be alleviated by adding a second o-ring to the axle. Still, I think it's a design flaw. Now with the rocker plate, I've got "real" side-to-side movement, not being limited by the 3 degrees of the Neo. That also had the effect that the Neo basically doesn't have to move anymore or only very slightly. So the rest of the sounds like an occasional clunk or crackling (probably when over-extending the 3 degrees movability) were eliminated.

Coming to the end. Except for the creaking I never had any problems with the Neo. Is it accurate? I wouldn't know for sure since I don't have anything for comparison. Although, with the Tacx software it's possible to import GPX-files. I uploaded some of my real-life tours and compared the times. There was one Strava segment where I had basically the same time on the Neo as on the road and that was good enough for me. Actually, there is no way to do anything about it, because you can't calibrate the Neo. That has to be done at the factory.

Since then Wahoo made the Kickr 2018 (which I might've bought had it been available in January 2018) and now the Kickr 5.0. I'm very happy with my Neo (and glad I've got the OG and not the model 2 or even 2T after everything one hears). Since Garmin doesn't offer any repairs for out-of-warranty devices (quite asinine) and don't provide spare parts even to dealers, I will go for the Kickr 5.0 should my Neo ever break down. But until then I see no reason to move to another trainer.

To sum it up:

pro:
- Except for vibrations the Neo is very silent.
- Road feel.
- Gradients up to 25%.
- Accuracy.

con:
- Cheap plastic casing, very prone to creaking without greasing.
- Compatibility with disc-brake frames could be better (no own experience)

I hope this story/review provided some insight and information.

Easy setup Accurate power Realistic inertia Portable/storable Quiet
Neo 1 from matsaadde September 8, 2020 


Had my Neo 1 for over 3 years and never had a problem.

Easy setup Accurate power Realistic inertiaWell-built Portable/storable Quiet
Still Great from TimC340 September 8, 2020 


Accurate, no calibration, reliable, downhill drive, road feel (ok, it's not for everyone), and - unlike the Neo 2T - easy to replace the bearings when they eventually wear out. Which they will, on all trainers. The Neo also allows a degree of 'rock' which helps the ride feel, and you almost certainly won't reach its power or gradient limits. Available secondhand for silly money now, it's still up there amongst the very best trainers.

Easy setup Accurate power Realistic inertiaWell-built Quiet
A Flagship Trainer from Richard September 8, 2020 


Very reliable, accurate, durable trainer. The small amount of movement adds considerably to the comfort. Over 9000km of virtual miles, it has performed flawlessly.

Easy setup Accurate power Realistic inertiaWell-built Portable/storable Quiet
A perfect indoor cycling experience from RJ September 8, 2020 


The setup was a breeze, even though I needed to install a Campy cassette. The bluetooth paring was flawless and quick. Connecting it to the Zwift App was totally painless. The trainer is quiet and a joy to ride. Definitely not the least expensive smart trainer on the market, but it was well worth the price.

Easy setup Accurate power Realistic inertiaWell-built Quiet
Indoor training Is a game changer👍 from Psychohol September 8, 2020 


I have had my Tacx Neo for about 3 years and it has worked perfectly every time. It is super quiet and sturdy with accurate readings and very realistic road feel. Having the ability to ride indoors during 7 months of winter in Canada is a game changer👍

Easy setup Accurate power Realistic inertiaWell-built Helpful support Portable/storable Quiet
Neo the original top-dog from Jimmy September 8, 2020 
Accurate power Realistic inertiaWell-built Portable/storable Quiet
Great trainer. A little over priced. from Markb September 8, 2020 


I selected this trainer above competitors mainly because of the "road feel" feature. It is actually a bit annoying. I rarely use it. Otherwise, a top notch trainer. I have about 8000 miles on it and the only problem was a noisy bearing I replaced recently. Very quiet.

Easy setup Well-built Quiet
Tacx Neo from davidpch September 8, 2020 


The trainer is great in every aspect, except for one: power accuracy. If the flywheel speed is below 20km/h the accuracy is good, within 2% from crank-based power meters. If the speed increases to >30km/h the accuracy drifts to 5-6% below regular powermeter!!
The companies announcing accuracies within 1% should be held accountable for wrongful advertisement. The support from Tacx also leaves a lot to be desired....

Easy setup Realistic inertiaWell-built Quiet
Neo silent and powrful from 666 September 8, 2020 
Easy setup Accurate power Realistic inertia Quiet
Great Long Lasting Trainer from Jon C. September 4, 2020 


Have been riding on it for 3 years, and only had one minor issue when the main freewheel bearing died, Tacx support (admittedly pre-garmin) was great and sent a whole new flywheel unit for me.
The trainer is incredibly accurate, and quiet, the reaction time to changes in power/elevation is almost non existent.

Easy setup Accurate power Realistic inertiaWell-built Helpful support Portable/storable Quiet
Awesome trainer!! from andrew_gajda September 4, 2020 


Quite simply the standard by which all trainers are measured. No calibration required with the Neo, few moving parts to break. Almost silent. Road feel is a nice touch! Accuracy is great. A little movement with the bike which is nice.

Easy setup Accurate power Realistic inertiaWell-built Quiet
Tacx NEO 1 doing his job like a working horse from tobisnet September 4, 2020 


Use it for years now without any problems. Accurate and reliable. Love it!

Easy setup Accurate power Realistic inertiaWell-built Quiet
Great but not perfect from AndyJ September 3, 2020 


I think the strengths of the original Neo are well known. Accurate, no calibration (I can not emphasize how much I appreciate this) and that slight sway to reduce that feeling of being locked in.

I'm now going to point out some niggles but let's be clear in the main they are minor. Not the easiest to switch between quick release and thru axle. The fact the thru axle is an after market purchase and expensive. Also it did not fit my bike with the disc brake rubbing. On the positive Tacx sent out a spacer to solve this issue for free, so good customer service. While the trainer is quiet it does develop some odd creaks and noises related to the swaying motion and the flywheel rubbing. These can come and go and various fixes are available to google online.

Ride feel; I don't have experience of riding multiple trainers so don't feel I can make a comparison to other trainers but I have no issues with it. I like the driven downhill flywheel and it does make the transition from a downhill into a flat more realistic, even if sometimes a disadvantage in a Zwift race as you don't get a spike in power when reapplying. I understand when people say that putting power down in a sprint can feel soft and harder to peak, but I'm not a sprinter, though I do seem to lack that jump in power I think that is more me than the trainer.

Overal I would highly recommend the trainer but since it is now been replaced twice by the Neo 2 and 2T I doubt anyone is buying anything but a second hand model. Mine has held up well so I would feel happy recommending if you can pick up a bargain but with the usual caveats about second hand anything.

Easy setup Accurate power Realistic inertia Helpful support Quiet
Tacx Neo – great from Harryema September 3, 2020 


Great smart trainer, it is very quiet, has road feel, and super stable. Even though its discontinued now it's a great smart trainer to get used on the cheap. NO calibration makes it easy to setup and use ASAP. I don't have any negatives about it besides the fact that it was quite pricey new (but discontinued now so you can get it pretty cheap used).

Easy setup Accurate power Well-built Quiet
Tacx NEO from harryroberts September 3, 2020 


Amazingly quiet. NO Calibration Required. If you haven't had a trainer that doesn't require calibration then you don't know what you are missing. Rocks side to side just a little which is awesome.

Easy setup Accurate power Realistic inertiaWell-built Helpful support Quiet
The original gold standard from eschlange August 27, 2020 


This was the first direct drive trainer I ever bought, and I still own it—Monica rides it now. It's basically worked without a hitch for four years.

My one complaint: I don't like the simulated flywheel feel on the Neo at low speeds, when compared the KICKR I'm used to. It feels like pedaling thru mud to me. Not as realistic as the KICKR.

But it's got road feel, near-silent operation, zero calibration, and great accuracy. A super trainer.

Accurate power Well-built Quiet