Tacx NEO 2
Direct Drive Trainer

Tacx's first update to its incredible Neo trainer features improved cadence sensing, left/right power measurement, better axle compatibility, and stronger+faster electronics for a more responsive and reliable ride. Tacx also reduced the price by $200, which was a welcome change!
The Neo 2 has since been replaced by the Neo 2T.
Key Specs
MSRP: $1399.99 USD
Accuracy: +-1%
Flywheel: Virtual
Max Wattage: 2200 W
Max Incline: 25%
Where to Buy
This trainer is no longer in production, but you may find a good deal on used or old stock.
More Details
Brand:

Tacx

Year Released: 2018 (No longer in production)
Axle Compatibility: 130/135mm quick release (12x142 and 12x148 thru axle compatible with adapter kit)
Does not require calibration
Weight: 21.5kg
Cadence: Built in
Communication: ANT+ and Bluetooth
Cassette Included: No
Physical Dimensions: 22.6" x 29.5" (575 x 750 mm)
Overall Rating

4.6 stars
based on 30 reviews
Easy setup
83%
Accurate power
87%
Realistic inertia
83%
Well-built
77%
Helpful support
37%
Portable/storable
40%
Quiet
97%
Budget-friendly
3%
It just works from don October 15, 2020 


Road feel is interesting and adds some variety to training.

The only issue is that my frame with chain stay mounted di2 battery does not clear the neo's support wings. I have to detach the battery holder. The other smart trainers would have more clearance. The bike frame would not clear on the original Neo, and even on this one there is only a few mm clearance. (Bike is Specialized S-Works Shiv)

Easy setup Accurate power Realistic inertiaWell-built Quiet

Not for the Point 1's from Simon September 29, 2020 


The TacxNEO 2 trainer is a reasonable but not suited if you are a heavier rider, or as I say a Point 1 (of a tonne).
If you are heavier, you may get slippage at high incline low cadence.
Support for thru axle road bikes supplied, however does not get supplied with a cassette.
Exceptionally quiet which was the primary aim in my case and the glowing lights are a bonus, especially in a dim room.

Easy setup Accurate power Realistic inertia Helpful support Portable/storable Quiet
Great! from RobGZ September 27, 2020 


I really love my Tacx Neo2. I bought it about a year ago. I chose this one, because I liked the way you can move the bike a little bit side to side. And also because it seemed to me the most quiet trainer. I never had any problems in 200 hours of riding on Zwift. I would definately recommend it to anyone!

Accurate power Realistic inertiaWell-built Quiet
Tacx Neo 2 from 007prodrigues September 23, 2020 


The box screws break quite regularly and the warranty takes a long time

Easy setup Realistic inertia Quiet
Just celebrated on-year anniversary with the NEO 2 from stevenfcpa September 23, 2020 


I just finished my first year using the NE0 2. This is my first smart trainer after coming off of a 20+ year old Cyclops dumb trainer. When I initially purchased the NEO, I had some issue fitting my bike, a 2017 Trek Domane SL 6 Disc on the trainer, as the footprint of the case made it so that the disc brakes rubbed against the unit. After contacting support, they sent me the required 2.7mm spacer necessary to solve that issue. So far, I have had no issues with the trainer whatsoever. I predominantly use it while connecting to Zwift and use an aftermarket Ant+ Dongle on my desktop computer. The only connection issues that I have found have been when there are other Bluetooth devices trying to connect which can interfere with the slope operation of the trainer. I keep the trainer plugged into a power strip that I turn off after each ride as has been recommended, and have had no issues so to speak.

Easy setup Realistic inertiaWell-built Quiet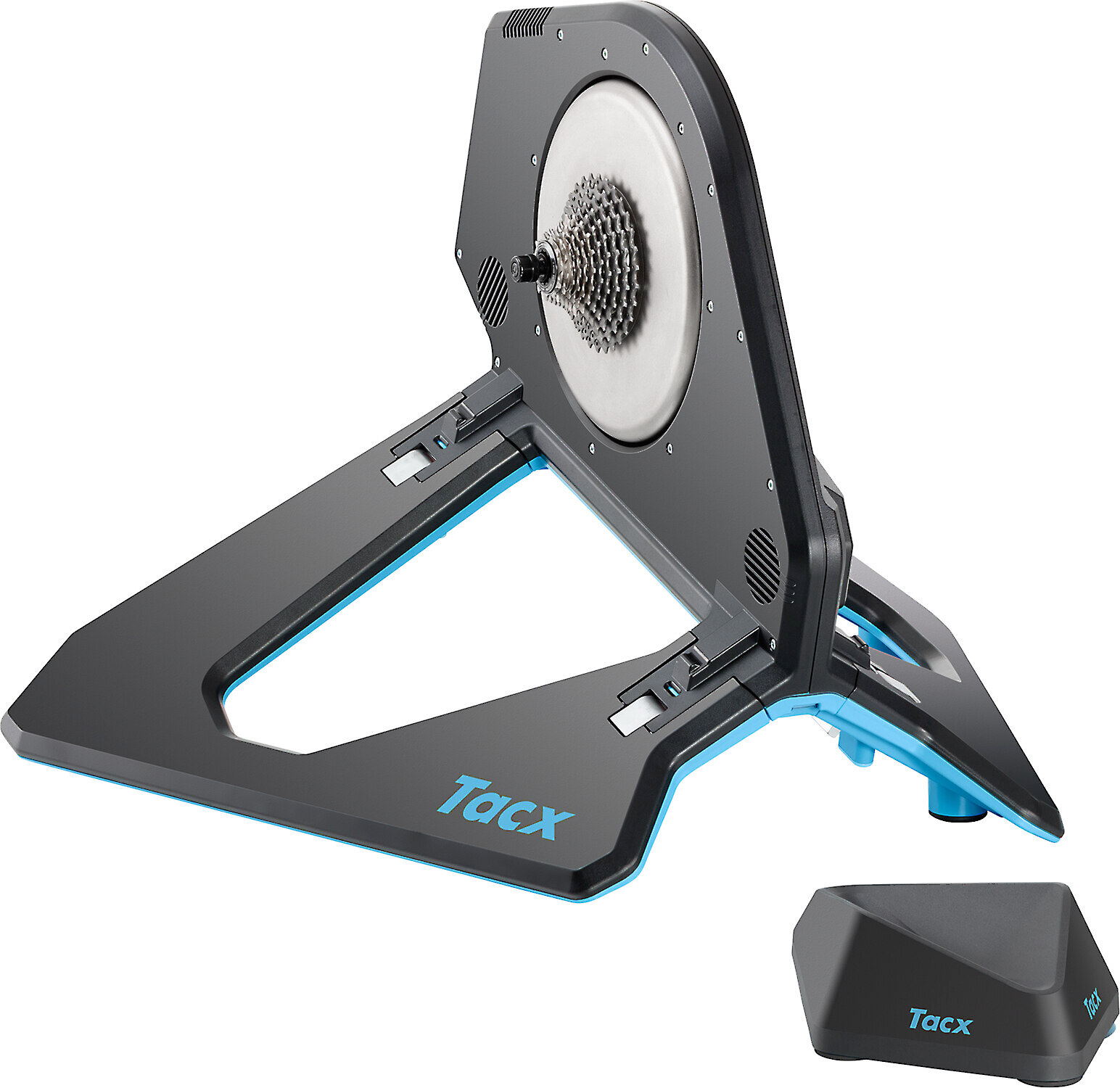 Own this trainer? Post a review!
It just works from don October 15, 2020 


Road feel is interesting and adds some variety to training.

The only issue is that my frame with chain stay mounted di2 battery does not clear the neo's support wings. I have to detach the battery holder. The other smart trainers would have more clearance. The bike frame would not clear on the original Neo, and even on this one there is only a few mm clearance. (Bike is Specialized S-Works Shiv)

Easy setup Accurate power Realistic inertiaWell-built Quiet

Not for the Point 1's from Simon September 29, 2020 


The TacxNEO 2 trainer is a reasonable but not suited if you are a heavier rider, or as I say a Point 1 (of a tonne).
If you are heavier, you may get slippage at high incline low cadence.
Support for thru axle road bikes supplied, however does not get supplied with a cassette.
Exceptionally quiet which was the primary aim in my case and the glowing lights are a bonus, especially in a dim room.

Easy setup Accurate power Realistic inertia Helpful support Portable/storable Quiet
Great! from RobGZ September 27, 2020 


I really love my Tacx Neo2. I bought it about a year ago. I chose this one, because I liked the way you can move the bike a little bit side to side. And also because it seemed to me the most quiet trainer. I never had any problems in 200 hours of riding on Zwift. I would definately recommend it to anyone!

Accurate power Realistic inertiaWell-built Quiet
Tacx Neo 2 from 007prodrigues September 23, 2020 


The box screws break quite regularly and the warranty takes a long time

Easy setup Realistic inertia Quiet
Just celebrated on-year anniversary with the NEO 2 from stevenfcpa September 23, 2020 


I just finished my first year using the NE0 2. This is my first smart trainer after coming off of a 20+ year old Cyclops dumb trainer. When I initially purchased the NEO, I had some issue fitting my bike, a 2017 Trek Domane SL 6 Disc on the trainer, as the footprint of the case made it so that the disc brakes rubbed against the unit. After contacting support, they sent me the required 2.7mm spacer necessary to solve that issue. So far, I have had no issues with the trainer whatsoever. I predominantly use it while connecting to Zwift and use an aftermarket Ant+ Dongle on my desktop computer. The only connection issues that I have found have been when there are other Bluetooth devices trying to connect which can interfere with the slope operation of the trainer. I keep the trainer plugged into a power strip that I turn off after each ride as has been recommended, and have had no issues so to speak.

Easy setup Realistic inertiaWell-built Quiet
If you can still get this with the 20% discount, it's unbeatable value… from Mr. Pink September 23, 2020 


Pre-pandemic, the Tacx NEO 2 was shipping from many suppliers with a circa €300 discount on the 2T. With that sort of price-shaving for little loss in features, it's unbeatable value. I've done 5,000km on Zwift with mine since purchase without one single issue (so I can't comment on Garmin's support re: this product, but contrary to general perception, I've had nothing but 5* service from them on mine and my partner's wearables). Power calibrates automatically, and you don't get the suspect power spikes and troughs my Wahoo-using friends have complained of. In short, it's been fantastic and while pricey, worth every single cent - something I'm sure I'll be even more certain of as we move into winter.

Easy setup Accurate power Realistic inertiaWell-built Helpful support Portable/storable Quiet
Best splurge ever from BMc September 21, 2020 


New to smart trainers I went to shows & local bike shops to see demos & try out a what was available. Then I read LOTS of reviews, looking at reliability, quality (repairs), features & accuracy, cost and when would these go on sale. 🙂

Not being a racer I figured power accuracy +\- 1, 2, or 5 % was the least of my concerns as long as it was consistent. Tacx Neo 2 power is consistent with my Zwift rides for the past year and relatively close to the estimated power I get on Strava. I know this isn't scientific but whether on tired ride days or on felt fantastic ride days my power comparisons were acceptable to me. After a year I am confident in my Tacx Neo 2 power readings.

Features I looked for: ease of setup, calibration, realistic inertia, belt vs magnetic, power (electricity), sway movements, footprint, ease of storage, incline, road feel. The Tacx Neo 2 looks super, but it is a little awkward to handle, due to a lack of, well, no handles. Folded up the wings can be used pick up this heavy device but it is difficult to carry for any distance, say, from the car to a race warmup cool down area...but I'm not a racer, soooo... just getting it downstairs (already out of the box) was uncomfortable. If you gotta travel put it back in the box. 😉 If your priority is the need to put it away in between rides, it's doable, but other brands may be easier. Still, the Neo folds up nicely and doesn't take up very much space that way. Installing the cassette was easy, even though I needed extra tools. Double-check the spacer requirements for your specific cassette, Tacx has good instructions online and paper documentation was included. GPLlama has a great video on how to make your trainer quieter, so watch that BEFORE you setup! The footprint appears to be larger but it's just in the look of the design. You're gonna need about 2 feet wide of space no matter which trainer you use. My favorite feature is no calibration required! This is due to the magnetic drive, instead of a belt. It is also practically silent, especially after adding extra grease before installing a new cassette. Another awesome feature is "no electricity needed". Electricity provides "downhill" inertia and that definitely helps provide realistic downhills, but the mag drive doesn't require electricity so you can still ride on a Tacx if you take it to warmup / cool down at a race. The Tacx Neo 2 has a little "give" so it feels realistic when sprinting out of the saddle and is less stressful for longer training rides. Tacx Neo 2 has a feature called "road feel" which you can turn on or off, if your training app supports it. It's really cool at first to "feel" the cobblestones and boardwalks and dirt roads, but after the novelty wore off I rarely use it anymore. Still it is very cool!

Finally, price, reliability & repairs: If you can wait till a Black Friday Sale or mid-year sale you can save 10 to 20 %. My Tacx Neo 2 went for just over 2,000 miles before I had an issue with a skewer. NOTE: do not plant your foot on the pedal before mounting. This isn't a horse and the skewer isn't designed for that type of weight stress. Swing a leg over just like you do on your outdoor rides then get into the pedals. The skewer bent and the whole thing fell over completely. Fortunately no damage to the trainer but the skewer needed to be replaced. The axle didn't break but the ridges were damaged and Garmin quickly sent a replacement skewer and axle parts. Always inspect the bike dropouts even if you're moving the trainer slightly. Ensure a solid connection regularly!

Overall, after testing other brands I decided on the Tacx Neo 2 and it is still my best pick. Most importantly: Ride on!

Easy setup Accurate power Realistic inertiaWell-built Helpful support Portable/storable Quiet
Almost flawless from TomyTomyRunRun September 19, 2020 


I bought this trainer a year ago to replace my Wahoo Kickr Snap. It's day and night. The direct drive brings a real plus in reactivity and the fact of not having to perform a calibration is appreciable. The operation is very quiet and it simulates descents well. LEDs color the ground with different colors depending on the power level developed and a vibrator simulates the vibrations when driving on cobblestones or gravel. It can operate autonomously but in this case it will not simulate descents. Only negative point: When using a bicycle equipped with disc brakes, the rear brake caliper is in contact with the housing of the home trainer which causes scratches and limits left / right oscillation.

Easy setup Accurate power Realistic inertia Portable/storable Quiet
Excellent trainer, fast responses, easy to update from rmac September 16, 2020 


My Tacx Neo2 has been excellent. It is compatible with every indoor training app I've ever tried (Zwift, TrainerRoad, SufferFest, Road Grand Tour, Tacx Training App) and has performed flawlessly on all of them. I personally really enjoy the Road Feel feature when freeriding on Zwift or the Tacx App films as this lends more realism and feedback to my training and fun.

Easy setup Accurate power Realistic inertiaWell-built Quiet
Tacx Neo/Neo2 from fsg September 16, 2020 


Interesting details Tacx Neo. Superb and exciting riding experience with unique issue. Two year warranty. At 16 months cadence/rpm chip stopped working properly. After three emails, try this, try that, send file, Tacx concurred, sent upgraded Neo2, no charge. Surprisingly 16 months using Neo2, same cadence/rpm chip issue occurred. Couple emails to tech support discussing issue, try this, try that, usual diagnosis stuff. During email communication another Neo2 computer chip controlling grades and road feel went out. Regardless of bike gear there was no difference in pedaling difficulty/inertia. Tacx apologized and immediately shipped new Neo2, currently in the mail as I write this review. Wonderful tech support, pleased with company. I use computer brain smart trainer extensively, 17,700 km in the past two and half years.

Realistic inertia Helpful support Quiet
TACX NEO 2 from JOJO56 September 16, 2020 
Easy setup Accurate power Realistic inertia Quiet

Not without disappoinment from Will3tt September 16, 2020 


I absolutely loved setting up and using this trainer when it first arrived. The underneath is lit with LED lighting that changes color based on your wattage output is a nice touch. I was also impressed with how quiet the trainer was, and the novelty of the road feel when crossing wooden structures or cobble.

I was dissatisfied with how the electromagnetic tension would slip when I would hammer into a sprint it feels like the wheel is slipping on ice. I have been able to hit 1250 watts on the Tacx Flux without any negative effects and was disappointed in the NEO 2 which I perceived as an upgrade.

The next disappoinment is with reliability. I have about 6 months riding (4-6 hours/week at most) and there is a gyrating noise when the chain is in the middle of the rear cassette gears which is really disruptive when the other gears are relatively quiet. I am currently awaiting a tool from Garmin to extract the flywheel and perform a possible fix. Not what I expected for such an expensive piece of kit that is still under warranty.

Easy setup Accurate power Helpful support
As quiet and reliable as it gets from cmcneese September 16, 2020 


This is so nice for the pure quiet in operation. No need to even worry about calibration is great for a minimal effort setup. The virtual flywheel does feel "different" when compared back to back with other flywheel based trainers. But you get used to it relatively quickly. The additional features like powered coasting and "Road Feel" may be minimal features, but the add to the immersion within Zwift.

Easy setup Accurate power Realistic inertiaWell-built Portable/storable Quiet
Well worth it from mydogsleepswhileiride September 16, 2020 


Going on 4th virtual season and am so pleased I invested in this trainer. Easy setup out of the box. Solid. Accurate power readings. Realistic feel. Only complaint(s) is that it does not come with a cassette and is a bit bulky to move...but these are minor and do not deter from the overall experience. The gold standard. Pricey but worth it.

Easy setup Accurate power Realistic inertiaWell-built Helpful support Quiet
Tacx Neo 2 Review from Moby September 14, 2020 


Cadence problems with upgrading firmware

Easy setup Accurate power Realistic inertiaWell-built Helpful support Portable/storable Quiet
Good but not great from christopherhaguei September 10, 2020 


I had an Neo gen 1 trainer but when I moved overseas, I decided to get the Neo 2 for my new apartment and leave my Neo 1 behind for use over vacations back home.

It is OK but there are some issues:
Pros:
1) quiet! Like the Neo 1 it is quiet
2) Good resistance: Whether on TrainerRoad or Zwift, the resistance is strong and consistent. Alp de Zwift feels like 10% incline
3) Erg mode workouts are perfect: Erg mode in small ring and mid cassette are great. TrainerRoad workouts are excellent and spot on power. Power lines up with my P1 pedals within the margin of error and are consistent (in my case 3-6 watts)
4) Real road like feel which makes the roads and course in Zwift engaging

Cons:
1) There is a power discrepancy when racing. Erg mode is fine regardless of gearing but a difference in power readings arises in free ride on zwift especially when I start pushing the watts in races. I just use my power pedals for power now and I am fine.
2) There are occasional dropouts on ANT plus (BTE works fine) which do not occur on any other platform but Zwift. This could be a unit thing or a computer thing

Easy setup Realistic inertiaWell-built Quiet
Awesome from PikeNL September 9, 2020 


I love this spinner and to date no real problems. I've used the Tacx Neo 2 in the off season and rain days religiously for about two years now and it is still going strong. I highly recommend this spinner. If I had to pick a down side it would be these two things. The adaptor for bikes with disc brakes seems a bit like an after thought so I wasn't quite comfortable putting my high end bike with disc on this spinner. Secondly, the costumer service seem to be through email only. It is fast and helpful but I prefer to talk to someone who can walk me through what needs to be done. There might be a a customer service number but I couldn't find it. Beside that I can't say enough good things about the spinner.

Easy setup Accurate power Realistic inertiaWell-built Portable/storable Quiet Budget-friendly
Best Trainer Ever!!! from SteveMac87 September 9, 2020 


I bought the Tacx Neo 2 in July 2019 after doing online research and on the recommendation of my local bike shop. It was, and still is, one of the best items I have ever purchased! Easy to set up, but you may want to keep it in one place as it isn't light, but that is a plus as it isn't going to move however much power you put through the pedals.

After joining Zwift, my use ... and enjoyment ... of the Tacx Neo 2 went through the roof. It is amazingly quiet, very responsive in ERG and in free ride modes, impressively accurate for power and cadence (both checked through other sources) and is still performing well after a lot of use over 13 months.

It has now been superseded by the Tacx Neo 2T, but I am more than happy with my Neo 2 and will continue to enjoy using it for the foreseeable future!

If you find one to purchase at a second hand price, then snap it up!

Easy setup Accurate power Realistic inertiaWell-built Quiet
Saved my winters from Kirk September 9, 2020 


Tacx Neo 2 + Zwift saved my winters. I found the stationary bike/elliptical at the gym boring enough that it was hard to keep it up.

The Neo 2 has worked well for me. I have had two issues with it. Neither of them have made me reconsider my choice. 1. It took a minor adjustment (with good advice from customer service) to get it set up correctly with my disc brake calipers, but all the parts needed were in the box. 2. I have had an occasional communication issue with Zwift, where Zwift loses controllability of resistance and the road feel. This happens, I think, when the trainer has been left connected (to Zwift via Apple TV) for too long. It has stopped happening since I started closing the Zwift app after every session and reconnecting the trainer before every session. This has not been a major problem.

I really enjoy the "road feel" and the "descent" simulation. Eighteen months and 3,000 winter miles later, I'm still extremely happy with my choice of trainer. I'm very glad that I had the system up and running a year before the coronavirus hit us. It was great to have an alternative ready to go when the quarantine happened.

Easy setup Accurate power Realistic inertiaWell-built Helpful support Quiet
Super Trainer from schroder1981 September 8, 2020 


Very pleased with this trainer.

Easy setup Accurate power Realistic inertiaWell-built Helpful support Portable/storable Quiet
Going Strong After One Year and Close to 3,000 Zwift Miles from ajg September 8, 2020 


This trainer has made riding indoors on Zwift fun, well realistic. I use it in conjunction with my MacBook Air and have had no problems with it.

Features I like - The road feel when hitting cobbles or going across wooden bridges at slow speed will jar you at first. It's a gimmick, some people may not like it but it does keep the ride interesting. It works seamlessly in ERG mode with Zwift. The trainer has lights underneath it that will change color as you increase your watts. It's a subtle change but noticeable. The platform itself is rock solid. The unit is heavy and has a heavy flywheel. It folds up for easy storage or as in my case moving to a new house. It does have accurate power. I have a power meter on my good road bike and the readings on the TACX and my power meter are nearly identical.

Things I don't like - Nothing major. I have had a couple of times where I would not get a signal to my computer, I don't know if my house suffered a power outage or I hadn't used the unit for a while (it was in the summer and I was riding outside a lot). Anyway, I had to unplug the unit for a minute or two and plug it back in to reset everything and then it was fine. So it wasn't really an issue. It was probably pricier than other units, but having local bike shop support was important to me.

As for setup, my local bike shop had me bring in my computer and we set up everything quickly at the shop. It was painless. It did not come with a cassette, bike has an Ultegra Group-set, but the bike shop said that a 105 would work fine and it does.

Overall, I love it and I hope I haven't jinxed myself by giving it a good review.

Easy setup Accurate power Realistic inertiaWell-built Helpful support Portable/storable Quiet
This trainer saved my life from phamcam September 8, 2020 


Hi while in lock down in Melbourne Australia this machine allowed me to ride and be challenged over this very difficult period. I ride most days ether group rides, races or work outs. Without this I would have gone nuts! Neo to Apple TV , easy to set up and use. The experience keeps me challenged. Glad I purchased it keeps me sane and enables me to still ride.

Easy setup Accurate power Well-built Quiet
Neo 2 from Bgillmer84 September 8, 2020 


I bought a Tacx Neo when they came out and loved the fact how quiet it was. I had a serious accident on the bike 3 years ago and have used the Neo partnered with Zwift to rehabilita and now train. The road feel and ability to change over different surfaces on zwift just adds to the experience when you are engaged in either a group ride or race.

Accurate power Realistic inertia Quiet
SIlent and smooth from Landyman September 8, 2020 


12 months on, my TACX Neo 2 is going strong. Direct drive is quiet and responds well to gradient changes and wattage output.
Vibrating pedals - quirky realism does come a little tiresome when do multi laps on the Champs Elysees - then again, I should get out of my garage more.

Buy it if you get the chance.

Accurate power Realistic inertiaWell-built Quiet
As Good As It Gets! from BPDitty September 8, 2020 


The Neo 2 is my first smart trainer and it is amazing! Prior to buying the Neo 2 I was not an avid cyclist and had a simple fluid trainer which did not get much use mostly because it was boring. From the minute I unboxed it from the quality packaging I could tell it was the right choice, solid build quality and easy to setup. Getting my road bike on was easy just drop the cassette on the trainer and I was off. I was very impressed on my first Zwift ride, it was quiet the resistance was smooth and then I hit some cobbles and felt every one it was magic. Like I said I was not an avid cyclist I rode 150 miles total the year before I got my Neo 2. In 6 months with it I have rode close to 2500 miles on Zwift, I have joined a team and am still just as impressed as the first day. It has completely changed my fitness!

Easy setup Accurate power Realistic inertiaWell-built Quiet
Best trainer from legsteve September 8, 2020 


Works very well

Easy setup Accurate power Well-built Helpful support Portable/storable Quiet
Tacx NEO 2 from misoyu September 8, 2020 


The NEO Tacx2 trainer is the best trainer. It is easy to pack and re-pack. I love this portability, so it can travel the world with me. You get the real world feel of the roads. It is sturdy. I love this trainer. It is worth the price.

Easy setup Accurate power Realistic inertiaWell-built Portable/storable Quiet
great trainer from staituk September 8, 2020 


i bought this trainer last year before the Neo 2T came out, the thing i like about the Neo is is magnets and not belt, although i have thought about changing to the Kickr, as there seams to be less hassle fitting bikes with disc brakes

Accurate power Well-built Quiet
great trainer from Doron V. September 4, 2020 


Very accurate, reliable and quiet trainer.
Very easy to configure (plug & play) and fun to use it.

Easy setup Accurate power Well-built Quiet
Solid as a rock from dchandisingh August 27, 2020 


I upgraded to this from my Vortex, and in doing so lost about 30W from my FTP. Overall, much better than the wheel-on trainer; more accurate, quieter and it can simulate steeper gradients. It also doesn't need power to work.

Easy setup Accurate power Realistic inertiaWell-built Portable/storable Quiet