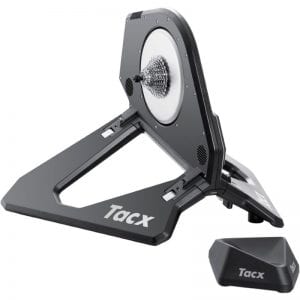 Last week Tacx released a major firmware update for their flagship Neo trainer which allows it to emulate the "feel" of various road surfaces such as cobblestones, plank bridges, and gravel.
This is made possible by the Neo's innovative motor which adjusts the resistance on your rear cassette 1000 times per second. Because the adjustments can be made so rapidly, various "surface profiles" can be utilitized which give you the pedal feel of different surfaces.
Here's what Tacx says about it:
Road surface simulation
The NEO is the only trainer with road surface simulation, allowing you to experience the feeling of riding on cobblestones, gravel, off road or other types of roads, all while you are indoors. You feel the vibrations of the road surface in your legs, exactly the way it would feel outdoors. This entirely new feature can be used with some Tacx Films when you ride in our virtual worlds and with Zwift.
This feature simply makes Zwift more immersive, and that's a beautiful thing. Of course, you have to be pedaling to feel the surface emulation: unlike riding outdoors, you won't feel the various surfaces when you are coasting, and you won't feel the different vibrations through your seat or handlebars.
What do Users Think?
The reviews I've seen thus far have been quite positive. Some Zwifters, however, have requested the ability to turn the feature on or off because they want the smoothness of an indoor ride.
Here is an thorough review from DC Rainmaker >
Is this a Kickr Killr?
The Neo's main competition is Wahoo's Kickr (although Cyclops' new Hammer will also begin competing in this space soon.) While many people love the Kickr for its rock-solid reliability, it simply isn't capable of this level of road surface simulation since it uses a belt system for resistance.
Will Neo's new road feel capabilities unseat the Kickr as (arguably) the most popular high-end trainer? Probably not, but anyone who doesn't yet own a high-end trainer and is looking for an immersive experience will certainly be attracted to the Neo. Because of this, I predict Wahoo will release some major Kickr firmware updates or a new Kickr version soon.
Tacx's video introducing this new feature:

Everyone's favorite Lama Shane Miller discussing the new feature:

Tacx Neo Intro Video: