Tacx Flux Smart
Direct Drive Trainer

Following the success of Tacx's first direct-drive trainer (the Neo), the Flux was released in 2016 as a mid-budget direct-drive smart trainer - sort of a "Neo Lite". It was the first direct-drive smart trainer to hit the market, paving the way for the Wahoo KICKR Core, Elite Direto, and other trainers in the sub-$1000 price range. The original Flux was replaced by the Flux S.
Key Specs
MSRP: $749.99 USD
Accuracy: +-5%
Flywheel: Virtual
Max Wattage: 1500 W
Max Incline: 10%
Where to Buy
This trainer is no longer in production, but you may find a good deal on used or old stock.
More Details
Brand:

Tacx

Year Released: 2016 (No longer in production)
Axle Compatibility: 130/135mm quick release
Requires Calibration
Cadence: Built in
Communication: ANT+ and Bluetooth
Cassette Included: No
Overall Rating

3.5 stars
based on 26 reviews
Easy setup
85%
Accurate power
58%
Realistic inertia
35%
Well-built
50%
Helpful support
15%
Portable/storable
4%
Quiet
50%
Budget-friendly
65%

Stay away from Kbro7ca March 4, 2021 


Trainer started out ok. It was way quieter than my fan drive machine. Since starting it has gotten much louder and less smooth. At 20 months I started to have serious problems. Both the belt and freehub deteriorated. The service and support through Garmin was underwhelming. Do a thorough review at LBS just before the warranty ends or choose another trainer. With all the money I've spent over the years I'll replace with another make and model.

Easy setup Budget-friendly
Tacx Flux review from jack September 30, 2020 
Easy setup Accurate power Well-built Quiet Budget-friendly
Three years of use from oliver.peacock September 23, 2020 


I've had no problems with my trainer after three years of regular zwifting.

It feels ok to ride, nice and solid. I've had it rocking in a few sprints but I've never been worried that it may tip.

I did find the accessories expensive, a thru axle adapter should be standard in my opinion. I then had to pay for an xdr freehub adapter when I upgraded to sram axs.

Easy setup Accurate power Well-built Quiet Budget-friendly

Broke – poor customer service from LeeO September 21, 2020 


Power would cut out when pushing hard. Customer service replied at first but then just ignored me. Would not recommend.

Accurate power Quiet

Nice but a bit too much torque required from Jacquouille September 19, 2020 


Good smart trainer, the price is a bit high for 2016. The torque when reistance change is a too much for me. I kind get me out of the saddle

Easy setup Quiet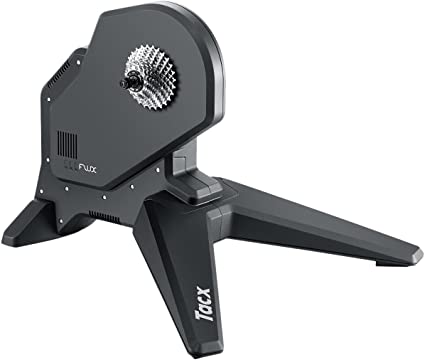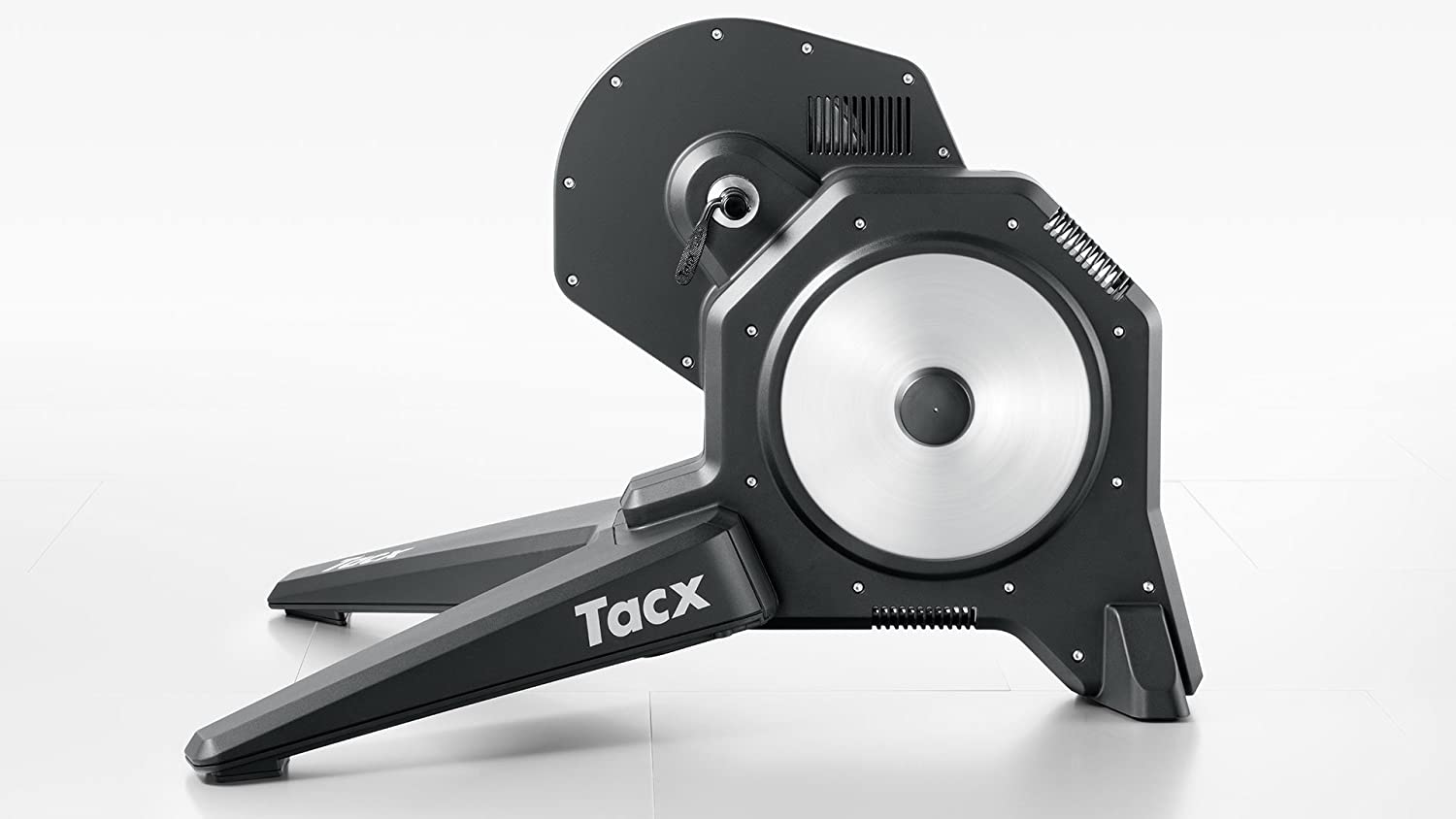 More Tacx Flux Smart Reviews
Own this trainer? Post a review!

Stay away from Kbro7ca March 4, 2021 


Trainer started out ok. It was way quieter than my fan drive machine. Since starting it has gotten much louder and less smooth. At 20 months I started to have serious problems. Both the belt and freehub deteriorated. The service and support through Garmin was underwhelming. Do a thorough review at LBS just before the warranty ends or choose another trainer. With all the money I've spent over the years I'll replace with another make and model.

Easy setup Budget-friendly
Tacx Flux review from jack September 30, 2020 
Easy setup Accurate power Well-built Quiet Budget-friendly
Three years of use from oliver.peacock September 23, 2020 


I've had no problems with my trainer after three years of regular zwifting.

It feels ok to ride, nice and solid. I've had it rocking in a few sprints but I've never been worried that it may tip.

I did find the accessories expensive, a thru axle adapter should be standard in my opinion. I then had to pay for an xdr freehub adapter when I upgraded to sram axs.

Easy setup Accurate power Well-built Quiet Budget-friendly

Broke – poor customer service from LeeO September 21, 2020 


Power would cut out when pushing hard. Customer service replied at first but then just ignored me. Would not recommend.

Accurate power Quiet

Nice but a bit too much torque required from Jacquouille September 19, 2020 


Good smart trainer, the price is a bit high for 2016. The torque when reistance change is a too much for me. I kind get me out of the saddle

Easy setup Quiet
Good smart trainer from GT September 16, 2020 


This trainer has worked well and is more than sufficient for my needs. It has a power limit of 1500w which is beyond me and the incline limit of 15% is more than enough. This unit always works and is quite enough that it is not a problem.
It seems to be accurate enough for my training needs.
I have noticed that if I calibrate this during a ride then the power reading can be high and I need to power off and then back on the unit to get the power reading to be accurate.

Easy setup Accurate power Well-built Budget-friendly

Good entry level direct drive trainer but more or less outdated from oellgaard September 16, 2020 


Very decent home trainer, but model issues with driving belt. Aside from that, good entry level direct drive trainer, but technology has improved vastly since its release.

Easy setup Well-built Quiet Budget-friendly

Smart training 3.0 from M.J. September 12, 2020 


My first smart trainer. A bit to loud. Easy use. Bought a NEO T2 after one your was the step from 3.0 to 4.0 😂.

Easy setup Accurate power Budget-friendly
Tacx Flux from jedlambert79 September 9, 2020 
Easy setup Realistic inertia Helpful support Quiet
Works Great from JC33323 September 9, 2020 


I've had this trainer for about 18 months or so and have not had any issues with it. It was easy to set up and is relatively quiet

Easy setup Accurate power Realistic inertiaWell-built Helpful support Portable/storable Quiet Budget-friendly
Good result for 1.5 years from drhmm1 September 9, 2020 


So far no problems with this trainer outside of occassional minor noise issue. Noise never stays, only infrequent and short lived.

Easy setup Accurate power Well-built Quiet Budget-friendly
Tacx flux, 10k km from russellbrooks1 September 9, 2020 


The trainer is a great introduction to direct drive smart turbos. It's quite noisy and I've had issues with the belt that resulted in me replacing it myself (a cheap and easy job). But otherwise a really solid and reliable trainer to facilitate fitness gains.

Easy setup Accurate power Budget-friendly

Tacx Flux Smart from Libor Tomáš September 9, 2020 


Velké zklamání s tímto trenažerem, z důvodu, že reklamace hned za výměnu za nový kus - špatný ořech, výměna proběhla v pořádku, po půl roce jízdy v něm začalo skřípat, pískat... opět reklamace a tentokrát vrácení peněz z důvodu častých reklamací a stažení z prodeje

The " moody" trainer from Ingo September 8, 2020 


Depending on the day the trainer would adjust in ERG mode, or it would fluctuate - loosing ERG. Interfered with by other wireless/Bluetooth devices. Noisy belt. Cheap smart trainer and build down to the price.

Easy setup Budget-friendly
Tacx Flux: the ultegra of trainers from paris.roubaix September 8, 2020 


Not cheap but certainly cheaper than the neo without compromising quality and functionality

Easy setup Accurate power Realistic inertiaWell-built Budget-friendly

okayish back then from kai.nehm September 8, 2020 


It's a solid device and was one of the first affordable smart trainers.
Had no belt issues, but several dropouts. Placing the ANT+ antenna directly under the Flux solved that almost completely.
Beside that, the Flux is hard to move around, louder than current trainers and you can't use long cages.
If you find a cheap one from a trusted source, it should still be a solid option for low-budget.

Budget-friendly
Great mid budget trainer with ok stability from Pepe September 8, 2020 


I´ve had this trainer for 2 years and it has not given me any issues. ERG mode will sometimes not achieve perfect simulation of intended watts but it does a good job of balancing out over a long period of time. Very few times does it not connect to my computer but a reset often does the trick.

Easy setup Realistic inertiaWell-built

Second Tacx Flux running well after 2 years from DGreaves September 8, 2020 


The first Tacx Flux I purchased starting making srceeching noises of what sounded like the belt drive rubbing on the casing. The local Tacx agent replaced straight away with another unit that has been running great for the past two years. There is a slight belt noise for the initial 4-5 minutes, but once wormed up this completely goes away. The flux responsed well to power output and the ERG mode functions well.

Easy setup Accurate power Helpful support Budget-friendly
Flux great entry level indoor trainer from Jimmy September 8, 2020 
Accurate power Well-built Quiet Budget-friendly
The TACX Flux S from Dave Watkins September 8, 2020 


Works very well. Easy setup and have no problems. I am happy with the unit.

Easy setup Accurate power Realistic inertiaWell-built Quiet
Excellent trainer for a reasonable price from etienne.leclerc September 8, 2020 


Very happy with this trainer. Bought it second-hand for a very reasonable price.
Only downside is that calibration on zwift does not work (need to use tacx app).

Easy setup Accurate power Realistic inertiaWell-built Quiet

Not bad for the money from Sam September 8, 2020 


I've had this trainer for almost three years now and it's done a pretty good job. It's the first smart trainer I owned and haven't had significant problems with it. The ERG mode can be a bit choppy and it looks like more modern trainers don't suffer from this problem as much.

Easy setup Well-built Quiet Budget-friendly

Budget direct drive from 666 September 8, 2020 
Easy setup Accurate power Realistic inertia Quiet
Tacx Flux Smart from zaza September 7, 2020 
Easy setup Realistic inertiaWell-built Budget-friendly

Terrible from andrew_gajda September 4, 2020 


I had three of these. All broke within 4 weeks of purchase. They had the same belt squealing fault. Save your money and buy something that works.

Easy setup

Solid for a while from Richie Sheerin September 3, 2020 


Solid trainer for about 18 months then the resistance unit gave up, a common issue on their first models. Was changed under warranty to the Flux S.

Easy setup Accurate power Realistic inertia Helpful support Budget-friendly