Released in Zwift's February 2022 update, Electric Loop is a flat, short circuit similar to Twilight Harbor, but in the opposite direction.
Route Basics
Length: 8.9 km (5.5 miles)
Elevation: 29 m (95')
Lead-In: 0 km ( miles)
Map: Makuri Islands
Start & Finish
Begins and ends at a virtual arch near the Neokyo Harbor
Achievement Badge: 170 XP
Route Description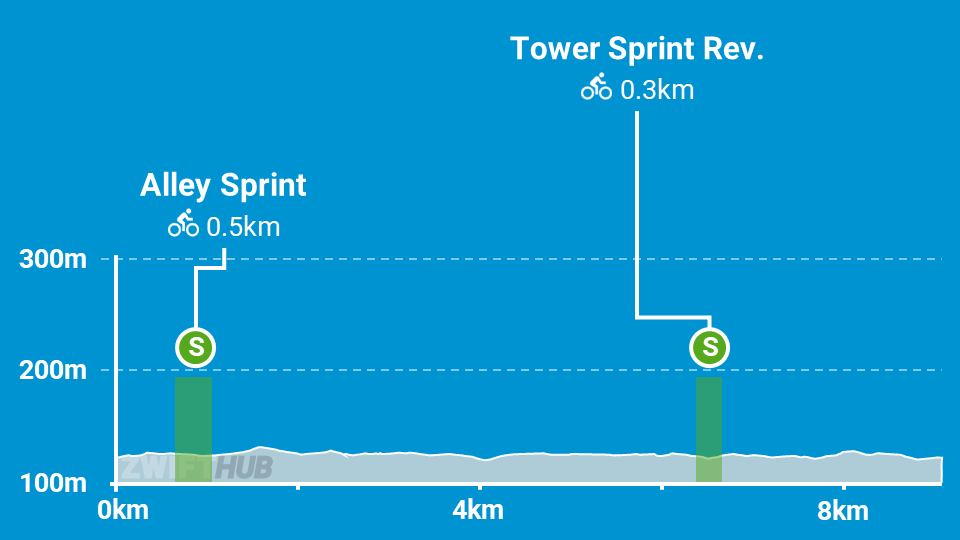 Route profile by ZwiftHub – the place to plan and track your route achievements!
We begin at Neokyo Harbor, quickly entering the Alley Sprint as we weave through the outdoor market. Once that sprint is finished we make our way across town beneath the Neokyo Railway and into the Arcade before turning around to come back to the Harbor.
On our way back to the Harbor we'll hit the Tower Sprint. Then it's time to ride along the Canal and finish up our loop.
Ridealong Video