Editor's note: Monica is undertaking the "Couch to Route Hero" challenge of riding all 67 "free-ridable" Zwift routes (and getting all the badges) in 11 weeks. Each week she shares her story of the previous week's struggles and accomplishments. Follow along on her journey, take the challenge yourself, and be sure to give her a Ride On if you see her on course!
---
If I had written this article on Tuesday afternoon it would have just said "I don't want to do this anymore." The rest of the page would have been blank. Of course, that wouldn't make for a very encouraging read, plus I had easier rides later in the week. So I am here with a full write up!
The Rides Lined Up
6 more badges were added this week for a total of 42! All of the 1 bidons are officially done. Only 25 routes left!
I rode 119.89 miles with 7,829 feet of climb in 8 ½ hours on my bike this week. Mercy!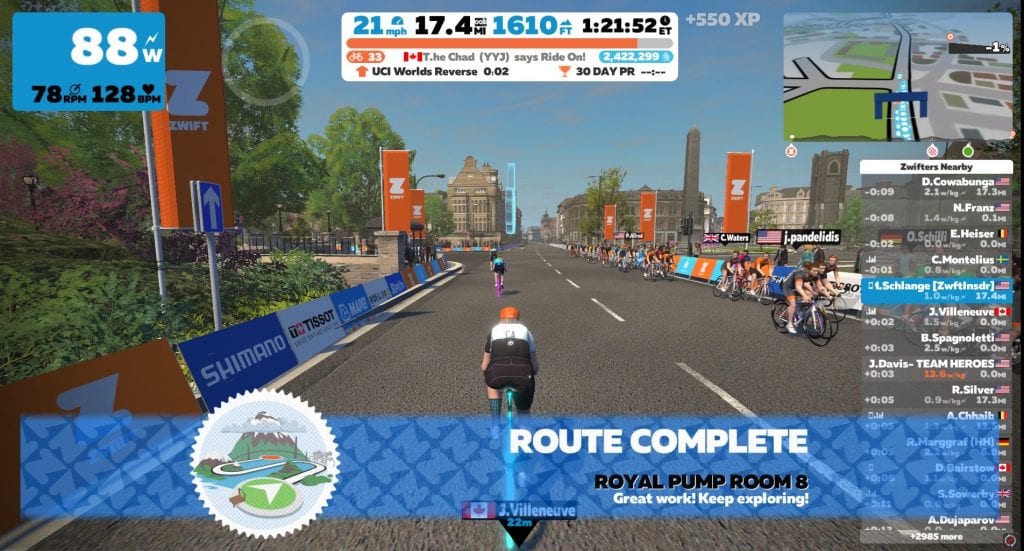 Routes completed:
The PRL Half
As you may have guessed The London PRL Half is what made me want to quit this quest. (Quite encouraging to those of you who haven't ridden it, I'm sure!) It's 4 laps of the London Loop, which means climbing Box Hill 4 times! I chose to do this route for my 4 bidon day, even though there are easier 4 bidon routes to do. I knew that in the coming weeks when I'm doing 5+ bidon routes I wouldn't want to ride this one, so I got it out of the way early.
The first 3 laps weren't actually that bad. I put on some lively music and tried to keep a steady pace in Zone 3. I ended up improving my time up Box Hill each lap by just a bit. Things were going swimmingly!
As I started the last loop I realized I needed to be at a meeting sooner than I thought. And I knew I had more oomph in me than needed for just one last lap so I pushed myself to the max. It wasn't my best idea.
The great part about this push is that I got a new 30-day PR up Box Hill (42 seconds faster than the lap before) and I also got one on the London Loop (by 16 seconds)! As I was descending Fox Hill though it became abundantly clear that I had given everything I had. My lower back all the way down to my left knee was hurting, some of my toes were numb, my neck ached and I had no energy in me. The problem is, the start/finish banner wasn't the end of the route! You have to ride to the Surrey Roundabout, and then go under the banner in The Mall to really be done! I didn't save anything for all of that. There was a lot of pain and whining at the end of my ride!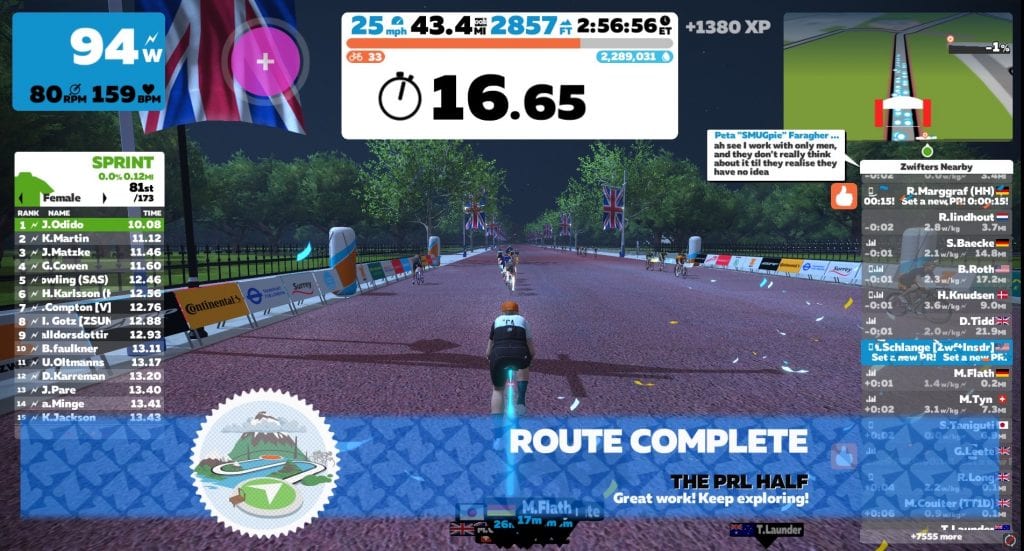 Here's what I'm trying to say, friends: Save a little something for the last part of the journey (and don't forget what time your meetings start)!
The Encouragement from the Community
Every ride I was on this week had someone sending me an in-game message asking what route I was doing and encouraging me in some way. It was INCREDIBLY motivating! And also distracting, which is perfect!
If you've ever found it quiet and lonely on some of your rides just send an in-game message to those around you asking them what route they're doing. Or ask if there are others who are also wanting to chat. It's likely someone else could use the personalized community time too!

Coming Up Next
Has anyone noticed yet that week 7 includes TWO 5+ bidon routes? This may be the last article I ever write, depending on how those go. I have decided I'm not quitting, so unless I flat out die on the bike I'll be back here next week with an update!
How about you?
I LOVE hearing from you all! How many route badges do you have now? Have you done the PRL Half? If so, how did it go for you? What tips do you have for others?