Monday: A Rough Start
Week three being coached by Rowe & King did not start as planned.  A brutal training session which consisted of 5 minutes @ 360 watts, 4x, didn't go as expected as the ERG mode on the trainer did not function.  This meant that on my recovery period, the resistance was stuck, resulting in me pushing the pedals at a staggering 29 rpm! (Read more about this "Spiral of Death" in All About ERG Mode in Zwift).
To fix this, I had to do a manual reset of the trainer which involved jumping off the bike and pulling the plug out.  The session was literally a fail. 
My second ride of the day was a Zone 2 ride in my Monday's Mountain Massif TT event.  Staying in Zone 2 during a race was a challenge.  I stayed on plan for 10 minutes, until the base of the climb, then my competitive streak overruled my brain and I found myself racing up the climb.  I initially thought I would just push for 5 minutes, but then 20 minutes later, I was still pushing.  Due to the failed session earlier, I felt obliged to push and "catch up" on the failed effort of earlier.  After I crested the top of the Radio Tower, I returned to the original plan of Zone 2, knowing full well that I had completely "gone rogue" with the session.  I fell into the classic trap of trying to catch up on a missed or failed session and it's just impossible.  Once that session is gone, it's gone.  This is just one of the challenges of following a plan: sometimes things just don't go to plan and trying to compensate, like I did, can have detrimental effects which will not resurface until later.   
A Long Tuesday
Tuesday's session was the longest interval session I have ever done in my life, lasting 1 hour and 50 minutes!  The session consisted of a warmup and 3 x 20-minute blocks at 320 watts, with a 5-minute recovery between sets and finishing with 5 x 30-second blasts at 450 watts.  Realising this was basically 20-minute time trial efforts, I switched to my fastest TT setup and began my session.  By the time I completed it, I had amassed 74km on Tempus Fugit. 
The 20-minute interval sessions were long, and what I thought during the session was how this was basically 3 time trials on the Tempus Fugit track and how last year, I wasn't producing that power for 1 lap. Certainly not 3 times!  This just highlights that Zwift does get you fitter, if used consistently.  I was elated when I completed the session. This is what I had been missing.
Rest Day?
My rest day didn't happen and was the second time I had not followed the plan.  This reflects the realities of life.  Some people miss sessions due to work and in my case, I did an extra session because I was riding to research an article for Zwift Insider!
Thursday with Castelli
Thursday was an easy ride with Castelli as planned. This ride has become my regular lunchtime ride.  It breaks up the workday nicely and leaves me going into my afternoon meetings refocused.  There is a lot to be said for having a proper lunch break.
Friday Mountain Massif TT
With two easy rides in the previous two days, I was excited to see what I could do in my Friday Mountain Massif TT.  However, I failed to perform.  I was never really in the race, in fact – down on power from the start and with 2km from the end, the legs gave out.  This is where my failed Monday Mountain Massif TT session came back to avenge me along with the additional unplanned rides.  I had no option but to accept my fate with dignity.  It was my own fault, I should have rested.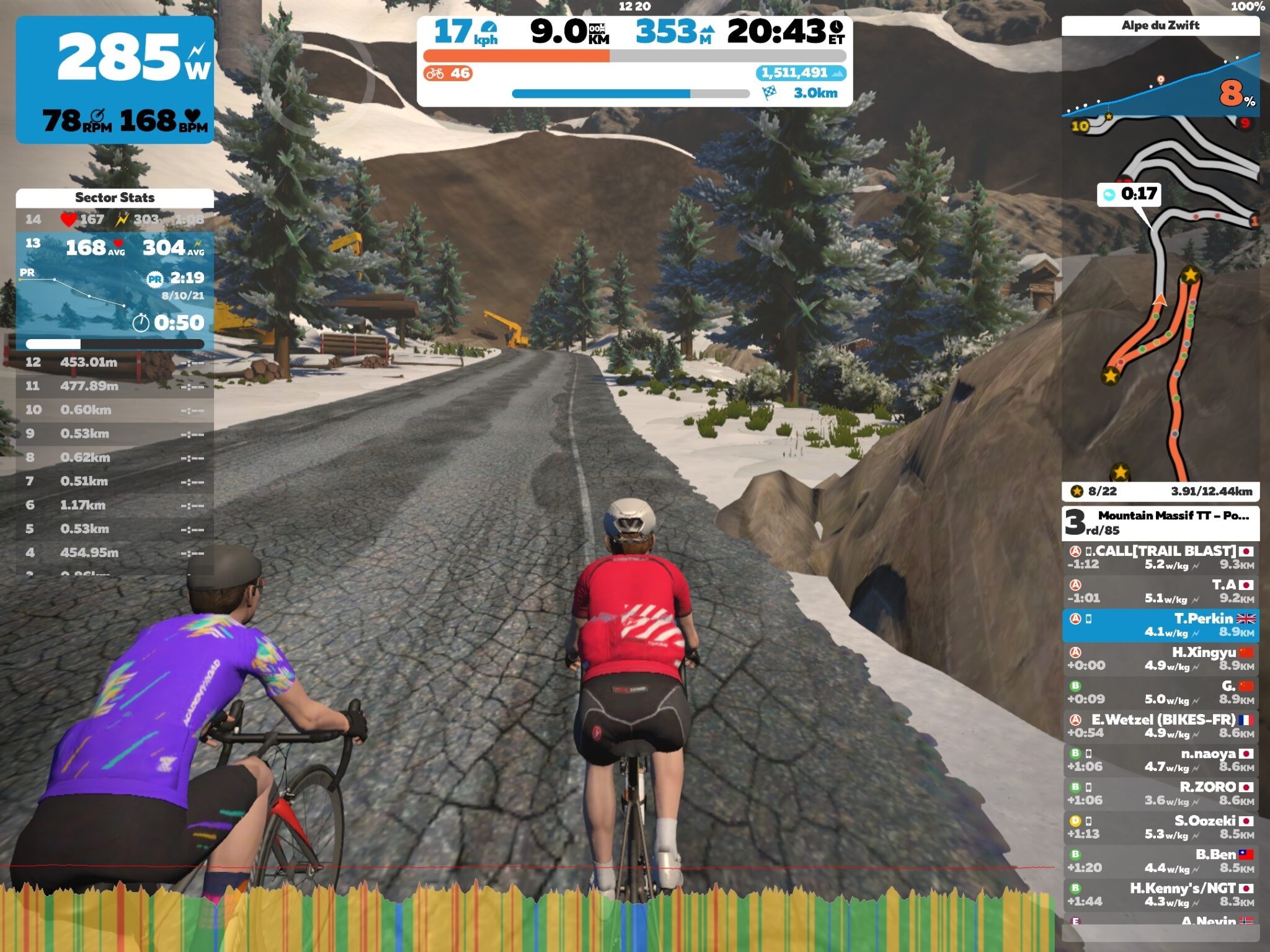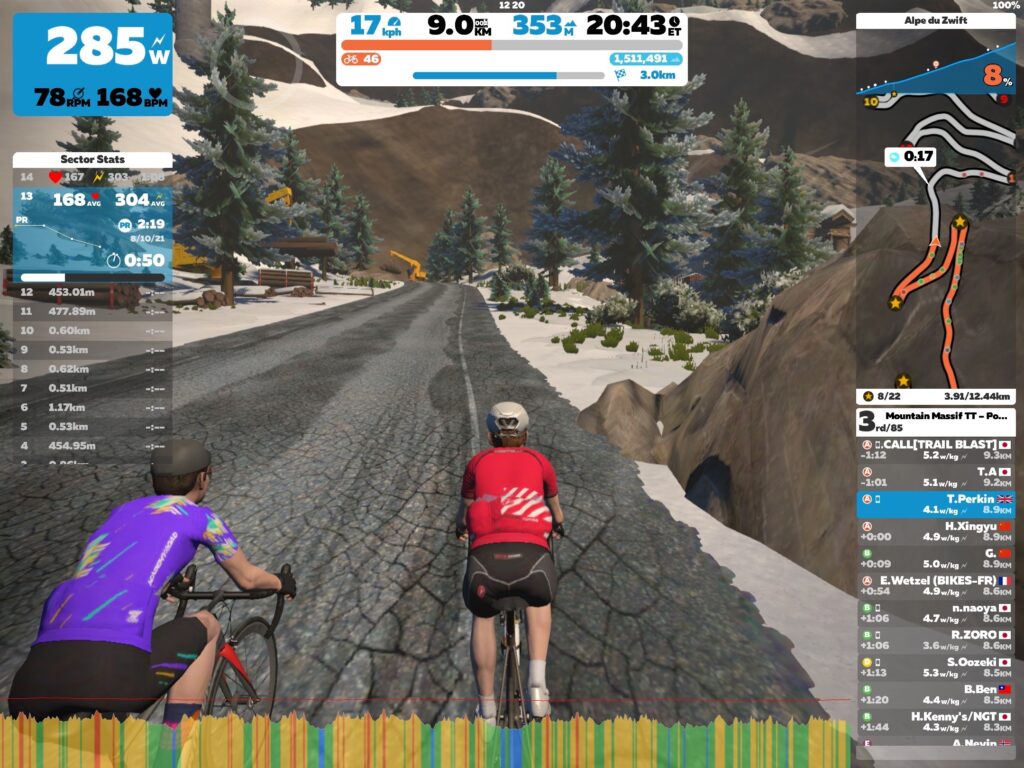 Saturday Endurance
Saturday's endurance ride with the R3 Endurance Academy saw us tackle the Four Horsemen route, I'll confess, both mind and body were not really willing but it was the camaraderie of the group that inspired me to ride.  I learned that it's the only long route on Zwift which descends the Alpe du Zwift and after 3 hours and 3 ascents of the big climbs in Watopia over 73 kilometres, I got off the bike.  But the day wasn't finished there. 
I felt like I literally had time only for something to eat before I was back on the bike for the "Ride with Reggie" charity event.  49 kilometres later, I had finished.  I struggled round, but interesting chats with a host of fellow Zwifters kept me going. 
Solo Sunday
I rounded off Sunday with an easy ride on Zwift. Not a group ride, just a simple solo effort around Titans Grove and Tempus Fugit.    I finished with 11 hours 50 minutes and 370km clocked up and TSS of 1242.     
Wrapup with Coach Matt
Discussing my progress with Matt was reassuring.  He noted not to worry about Friday's failed attempt in my race and we talked about how plans are good on paper, but then we have to be flexible in the real world.  For me, the danger is training too much.  Week four will certainly involve a couple of rest days to get my sharpness back in time for a weekend of racing. 
Through my training data, Matt has been able to observe the issues with fatigue and adjust the plan accordingly, something which I would have ignored and pressed through.  In this case, it certainly pays to listen to the experts. 
My overall feeling is that I am being pushed to a new level.  The innovative and different interval training is tough but I understand the long-term benefits and I am having the sensation that despite the fatigue, when I am fresh, I will be reaching new peaks.  I just have to stay on plan and manage that recovery.