If you've done much racing on Zwift, you've probably encountered some sort of "mechanical" along the way. We've all heard of power meter batteries dying, Internet connections dropping, or someone unplugging their smart trainer mid-race. Heck, after almost 8 years on Zwift I've seen some crazy stuff! Like the guy whose bike came off his wheel-on trainer mid-sprint, pitching him forward and into the garage door, breaking his arm. Or the cat who unplugged the trainer. Or the sweat drop that shorted out the ANT+ dongle.
There are lots of potential points of failure in a Zwift setup. Sometimes you can come back from those failures and finish your race… and sometimes the failure means your race is over.
I recently saw a mention of a "mechanical" with such an interesting conclusion that I needed to hear more. So I reached out to the racer and his team for the full story. Enjoy!
---
Matt Humphrey is no stranger to Zwift racing. A level 42 Zwifter with 280+ races under his belt, this B-cat racer performs consistently well thanks to his solid 338W (4.2W/kg) 20-minute power.
On the morning of September 1st, he was gearing up to race stage 4 of the Chasing Red series with his teammates. (This 18-stage series is part of the yearlong Chasing Tour calendar and is meant to be a "virtual Vuelta".)
"Everything was 'as usual,'" Matt told me. "I warmed up on the volcano with Jon Morin and joined the pens with 4:00 min to start. The Chasing Racing team discussed the usual race issues and got pumped to start. I started cranking because the starts are always fast. Then the screen froze at 0:01."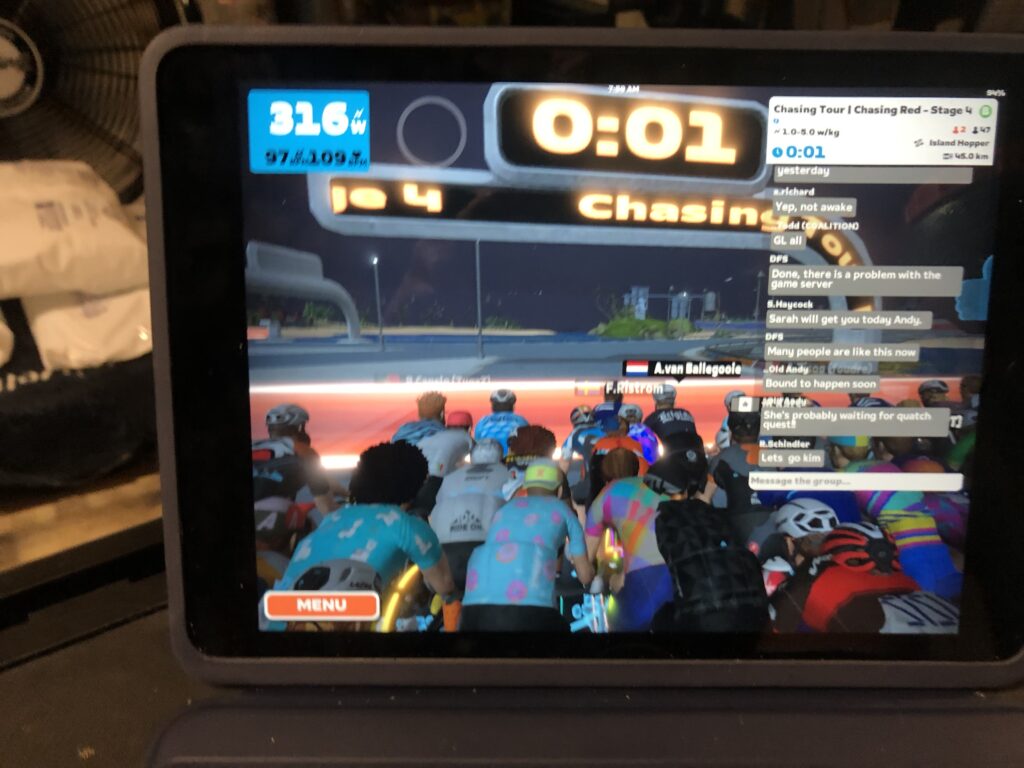 His screen was frozen at the start line, but "I kept pedaling hoping it would come back," Matt says. He didn't want to abandon; finishing the race was important on several levels. He was there to work as a domestique for his team's GC contenders, so racing at a different timeslot was a non-starter. He also knew he needed to finish with a decent result to stay up in the rankings for Chasing Red and the overall season!
He asked over Discord, "Can anyone see me? I am riding blind!" and three teammates all confirmed that yes, his avatar was in the peloton and visible. Teammate Jon Morin (who is also the organizer of the Chasing Series) says, "These races start really hard, so it's not the best time to chat when you are trying to breathe. We told Matt to just keep pedaling, thinking maybe it would unfreeze, and he did."
Matt switched over to the Companion app on his phone and could see himself as usual – he was the triangle and his team were orange dots above the other riders: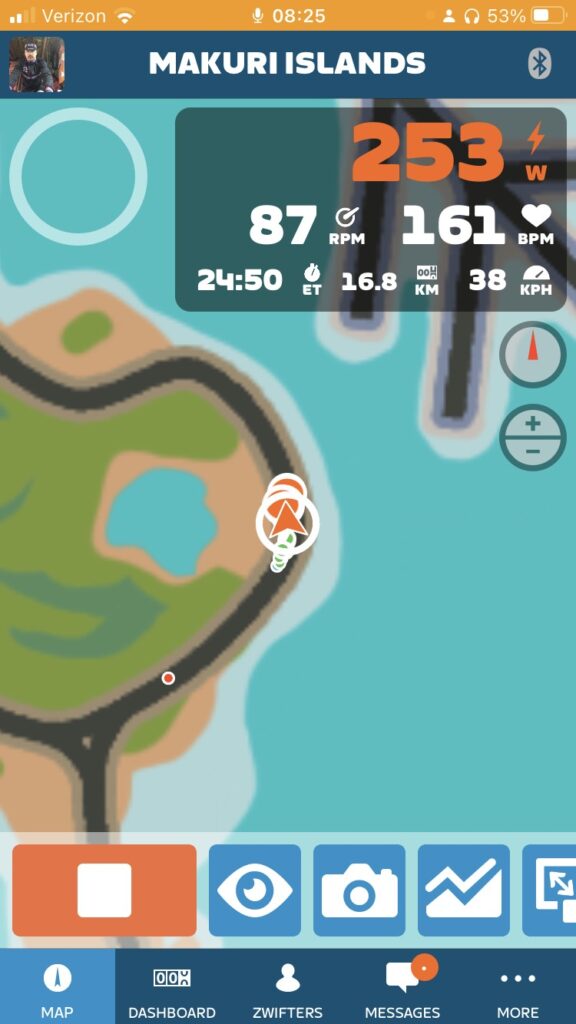 He and his teammates soon realized they could salvage his race, if they worked together.
Matt explains what happened next: "There was a small split between John and Sarah's group and Clive and Chad's group. I was in the middle. Jon and Sarah pushed forward to get me in the draft and we worked up to Clive, Chad, and Stephan H. to form a well-working peloton."
They were racing multiple laps of Makuri Islands' Island Hopper, which includes a key short climb each lap. Jon shares, "A few moments made me laugh like hearing him desperately asking when the heck the end of the climb was and if we were near the top yet. I can't imagine riding without visuals and then your bike just gets infinitely harder and you have no clue when it's going to end. Sarah did the coaching up the climb."
Teammate Sarah Olimb says, "We had one decent hill on the course that was the biggest challenge. Matt started to slide off the back and was losing connection to the group. I yelled at him 'you need to push now!' and boy did he!"
The team continued working together for the duration of the hourlong event. Sarah explains, "Every minute, one of us would update Matt on his position in the pack, telling him to increase or decrease the watts, or in some cases steer left or right. Jon kept an eye on the course ahead and alerted when there were going to be any technical sections."
Jon, for his part, was concerned about how it all would end. "I was a little worried that Matt would finish the 1 hour+ ride and not be able to save the event." But he kept his worries to himself.
Toward the end of the race, teammate Jon Telfer (who had finished with the lead A's) took over. He fan viewed Matt and guided him through the finish, helping him to hold off an attack from behind.
In the end, Matt crossed the finish line in 11th place… and was able to save his activity!
Teamwork Makes the Dream Work
"What was special about this situation was that the Chasing Team set aside personal ambitions to help me out," Matt says.
Anyone who has participated in team sports understands it's those sacrifices in the midst of adversity that create amazingly strong bonds between teammates. Like an enemy vanquished by a company of soldiers, Matt's "mechanical" brought a close-knit team even closer together.
"It was a great team bonding experience," Sarah says. "We say in the Chasing Racing team all of the time how thankful we are for our small, tight team. There's never any hesitation to help each other out, and this was the ultimate example."
Related Post: Teamwork at Morning Grind Fondo Race #10 >
Your Thoughts
Got any fun stories of Zwift teamwork to share? Comment below!