This week's Zwift Racing League event was, for me, the toughest of the season so far. Held on France's Casse-Pattes route, the ironically-named Petit KOM proved decisive, and although my team put up a good fight, we didn't come out on top this time around.
Here's how it all unfolded from my point of view, racing with the DIRT Roosters squad racing in Division B3 of the EMEA W zone.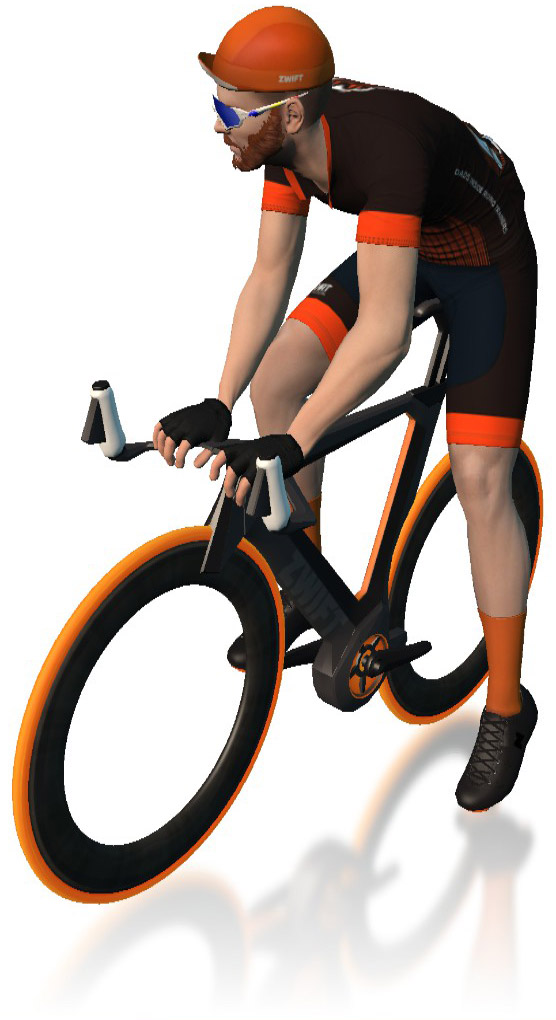 The Warmup
My typical pre-race ritual was executed as usual. Beet juice (liquid dirt) a couple of hours before the race, then three pieces of caffeine gum (100mg of go-go juice per piece!) an hour before, and PR lotion on the legs before kitting up.
Then it was time to kit up and awaken the legs and heart by spinning with the C. Cadence groupies. 30 minutes or so with a few sprints to get the heart rate up and I was ready to go.
I went with the the Tron bike for this race, as I knew the Petit KOM would be my big challenge, so I wanted a bike that climbed better than a super-aero disc setup.
The Start: Feeling Good
Everyone knew the first minute or so would be nuts, as we had the combination of the always-fast Zwift race start and a sprint intermediate just up the road. For my part, I figured this is where most of the FTS times would be set (free legs, big pack) but I was also a bit nervous about the pack stringing out and me getting gapped off the back.
So I stayed near the front of the group. In fact, we had 4 Roosters right at the front of the pack heading into the sprint, so I went hard, chasing both FAL and FTS. I was 5th over the line, but didn't even rank in the FTS. In hindsight, I clearly played it all wrong! I should have started mid-pack, then sprinted through. This probably would have earned me a higher ranking both in FAL and FTS.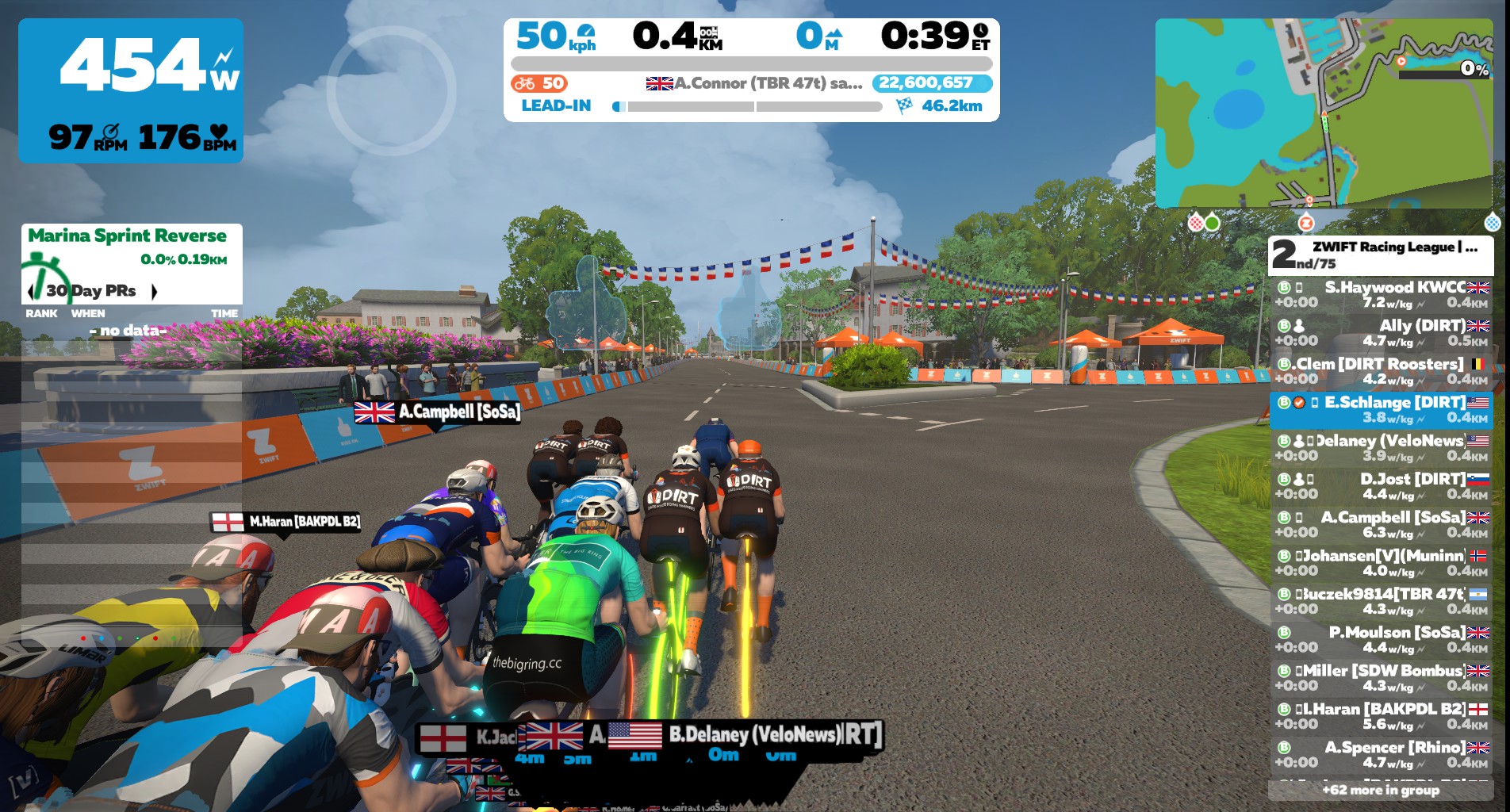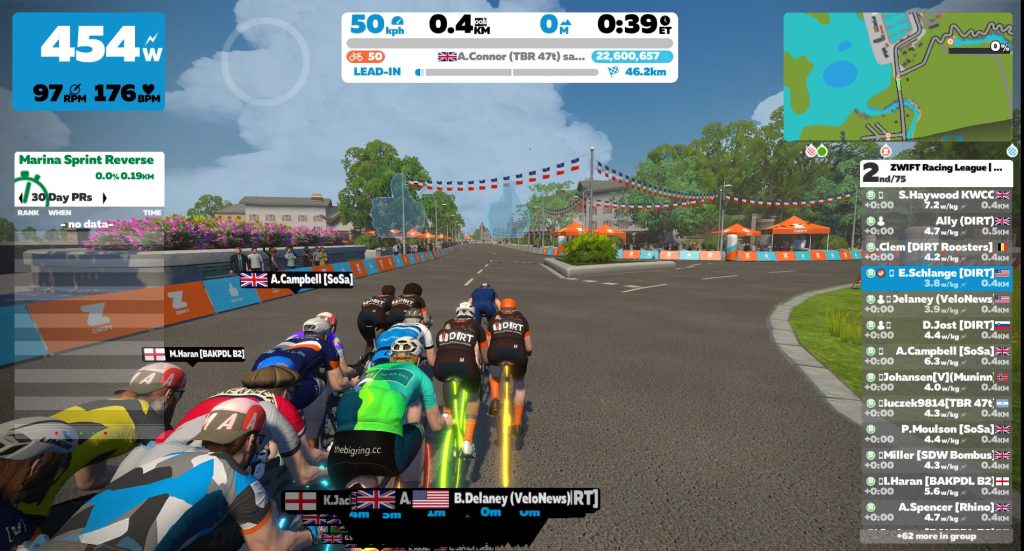 After the sprint things settled in nicely, which was nice after averaging 503W over the first 70 seconds. A pile of riders got dropped i that hard start, whittling the peloton down from 75 to around 45.
Next up: the Pavé Sprint. This intermediate was awarding FAL points only, so I just wanted to mind my position in the pack, starting from a few riders back then (hopefully) surging through to cross the line first with the help of my Van powerup. I ended up jumping off the front earlier than planned (I put my head down and went too hard) but it earned me 2nd place, with teammate Clem taking 1st.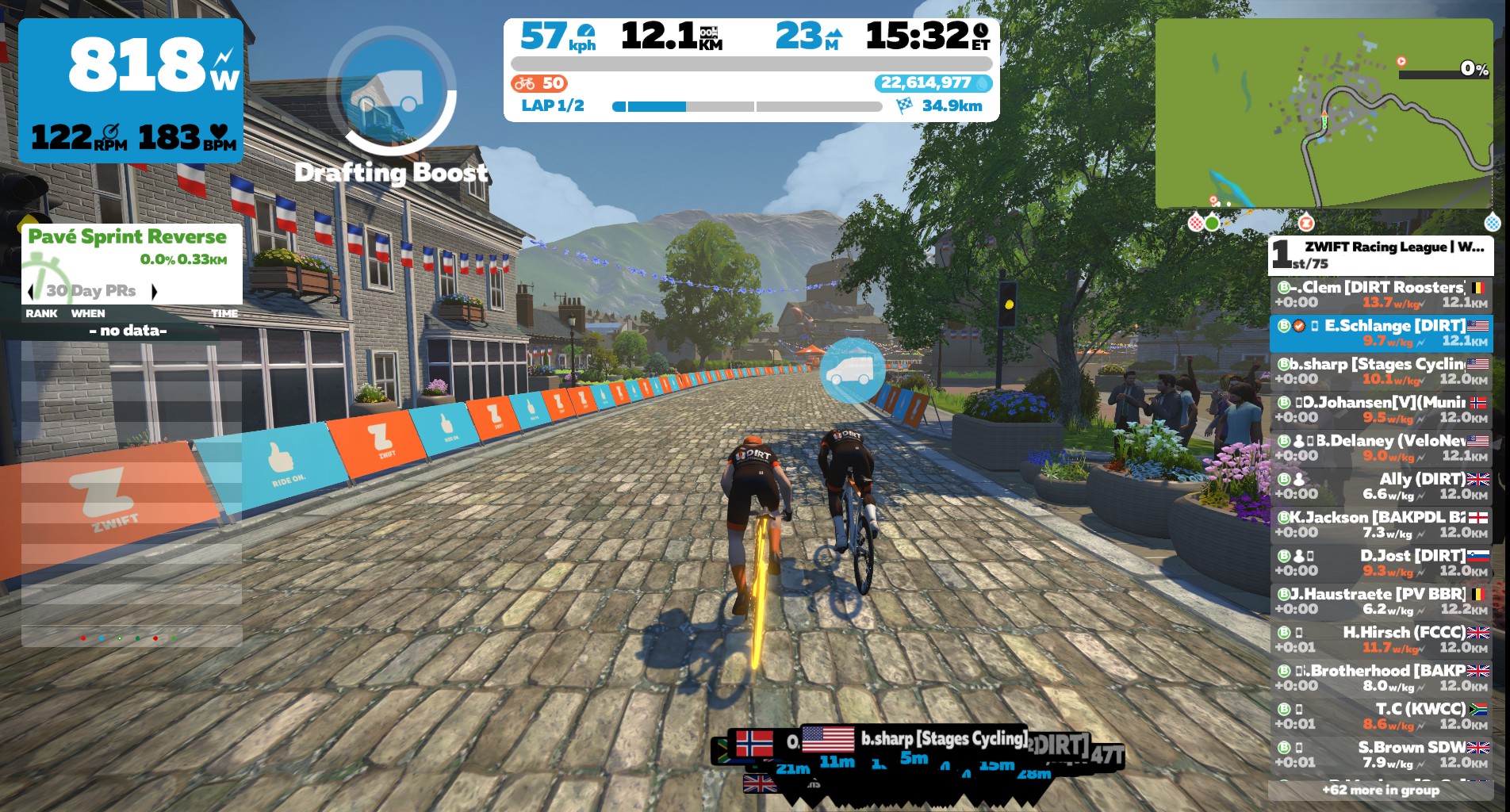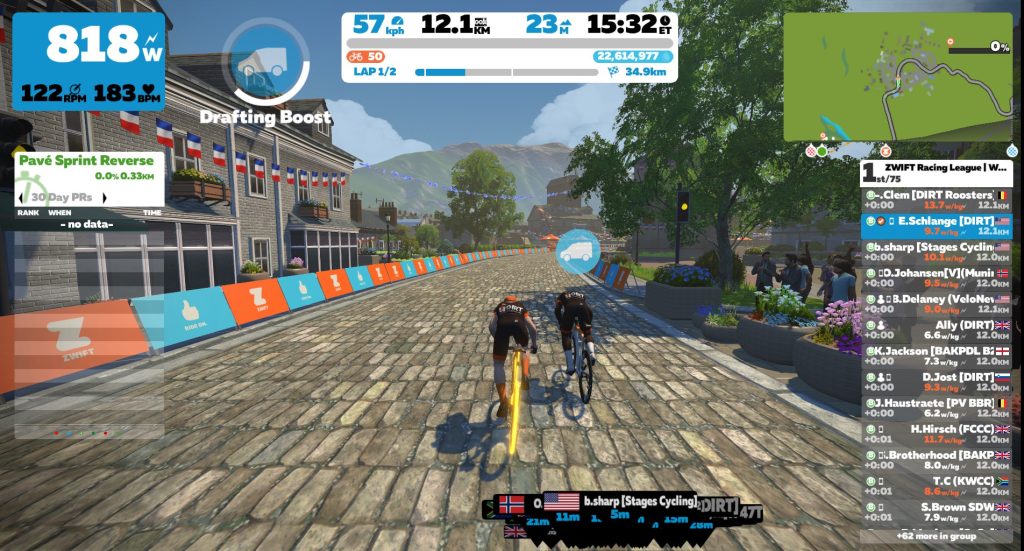 A quick rest and it was time for the Aqueduc KOM. For this segment I just wanted to maintain a good position in the pack so I wouldn't get dropped. I had no aspirations of earning points here, since I was trying to take it easy so I had legs for the Petit KOM just up the road.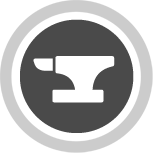 I had an anvil powerup in my pocket, which I deployed as we began descending from the Aqueduc. This worked well, except in the part where it didn't! There are two spots that turn slightly uphill on this descent, and having extra weight was not helpful. But overall, the anvil did help me descend a bit quicker.
The peloton regrouped – only around 26 riders left – and we hit the lower slopes of the decisive Petit KOM.
Petit KOM
I'd been dreading this climb, knowing there were several strong climbers in our race who I just can't quite hang with on climbs that are long and/or steep enough. The Petit KOM is both long and steep enough. But I resolved to give it all I had to stay with the front, hoping against hope that I'd be able to contest some sprint points for the second lap.
At the start of the climb we had three roosters in the pack: Clem, Ally, and myself. Then the zigzags began, and Ally and Clem drifted off the back.
Not good. Not good at all!
I suddenly felt a surge of mental pressure. I'd been thinking newly-recruited Clem would be our strong man, making it over the climb easily. I was the third or fourth guy on our team in terms of making it over the Petit KOM in the front pack… or so I thought. But here I was, the only one hanging with the front.
And I was barely hanging. As the zigging and zagging continued, I began to drift off the back. I put in a really big dig to come back, but I was absolutely on the limit as ten stronger riders upped the tempo and strung it out even further. I glanced up and saw my heart rate reading 195 (my HR max is 189). Was that just a glitch? Let's hope so…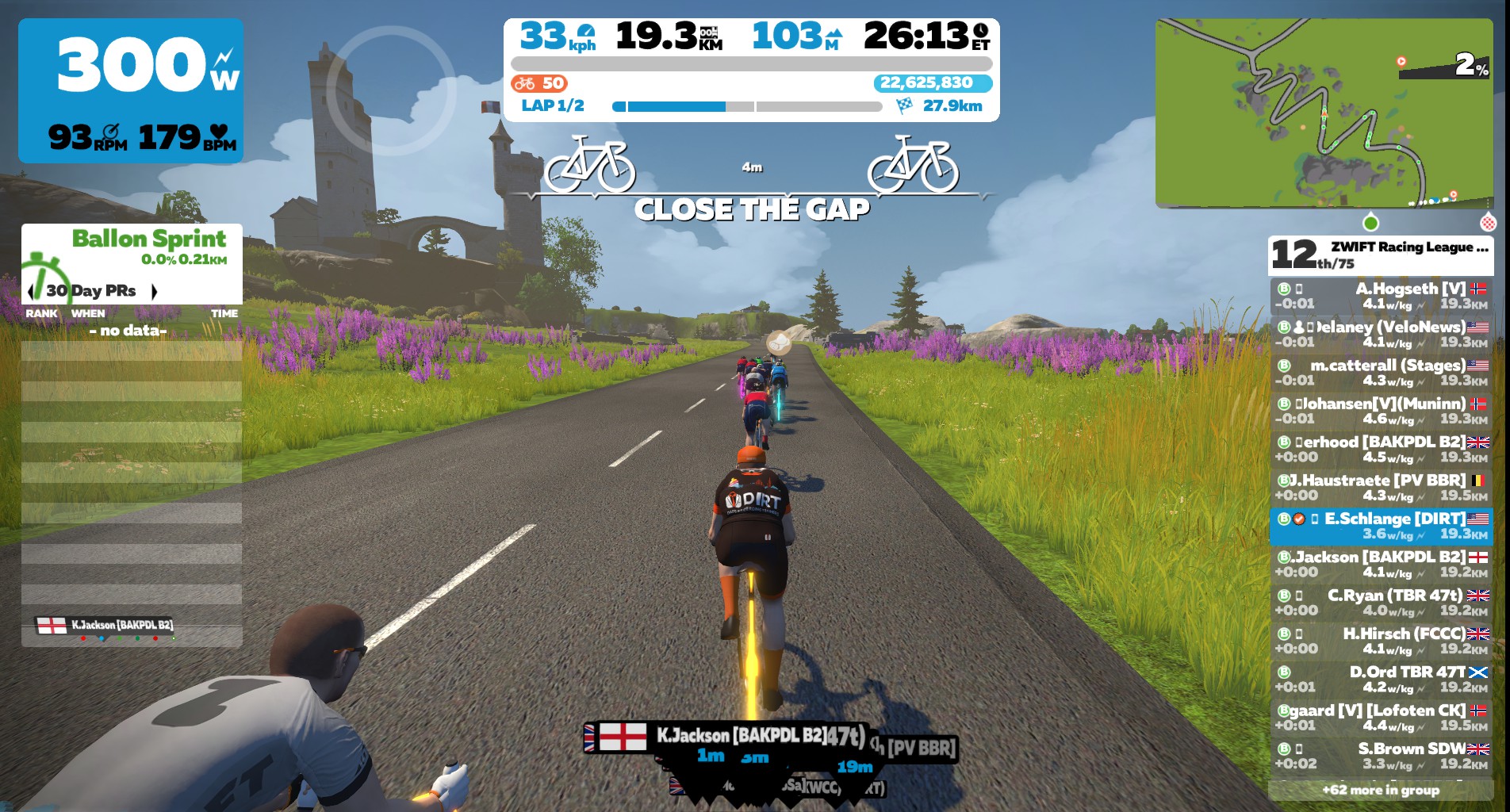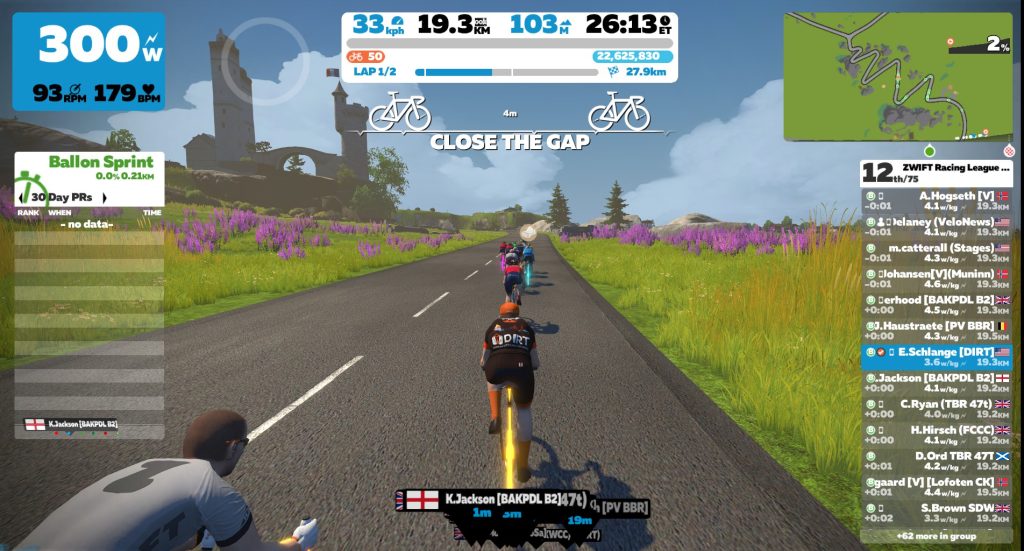 I came over the top in 14th, got an anvil, and used it on the descent, regrouping with a few riders ahead and behind to form a chase group of 7 pursuing the front pack of 11. I was disappointed in being dropped – but not surprised.
Sitting In
Most of lap 2 was just me taking it as easy as possible. We were catching the larger group up the road, and the riders behind weren't catching us. With 11 riders ahead we had no hope of FAL points, and I certainly wasn't grabbing FTS points after that Petit KOM effort.
So I set my mind of recovering as much as possible while hanging with my chase group, then sprinting strong at the end for maximum finishing points. I knew WTRL gave the same finishing points to 11-15th place, I all I had to do was finish 4th in my pack. But I didn't want to leave it to chance, either.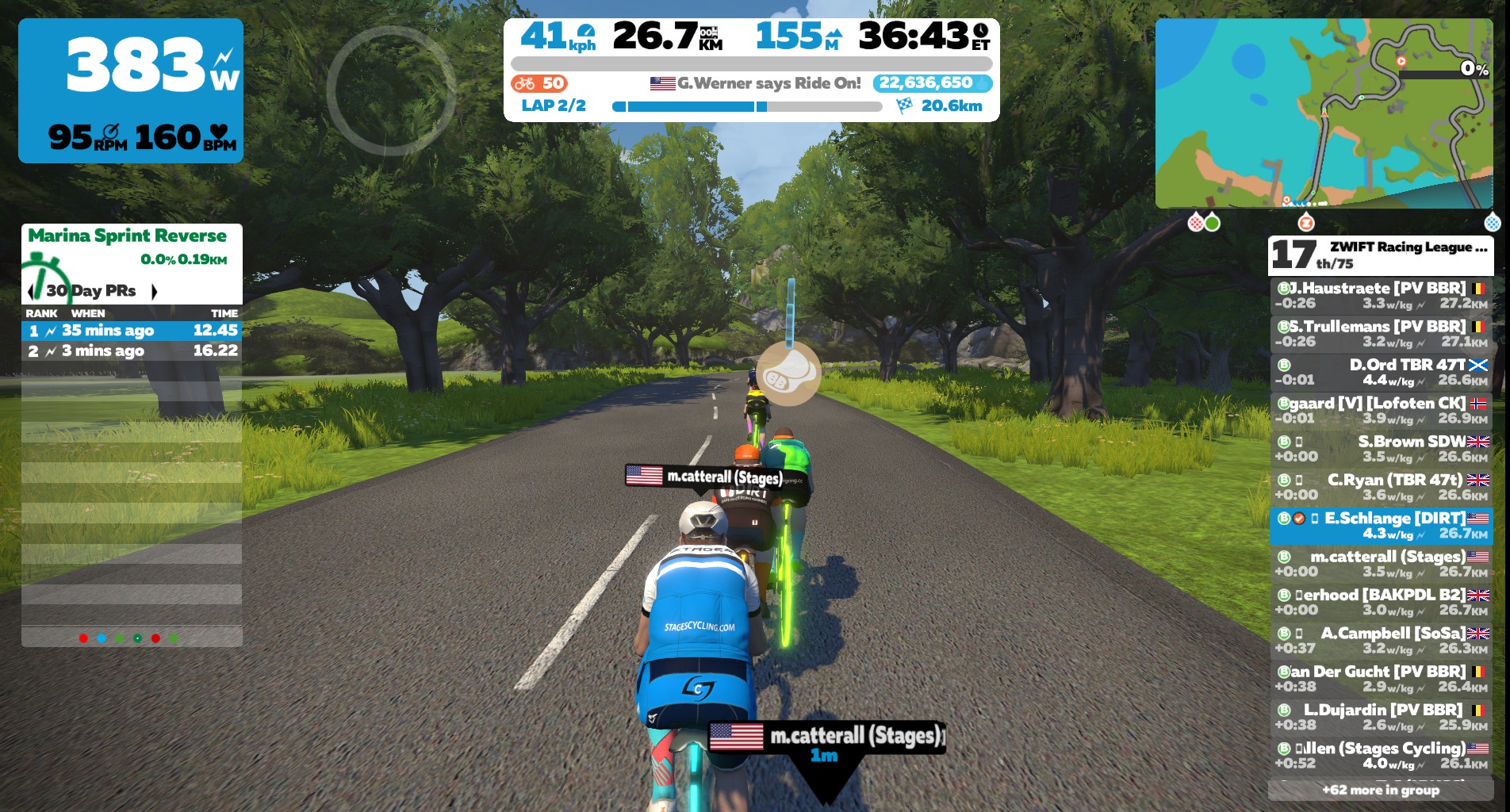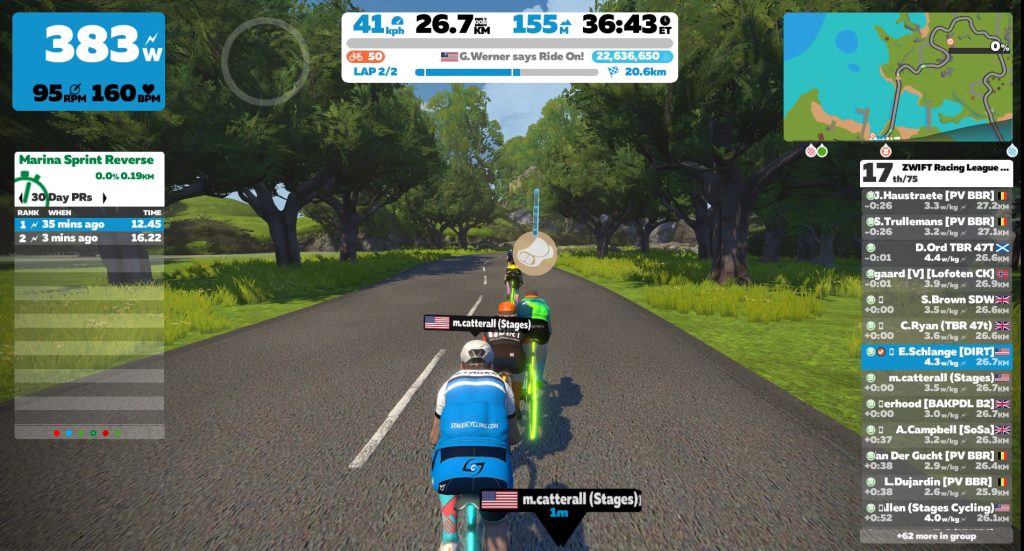 Nothing too remarkable happened as we spun our way around France. From time to time riders in our group would put in a dig and go off the front, but most of us just sat in and watched them get pulled back.
The second Petit KOM was tamer than the first. I averaged 20W less this time around, but it was still a hard effort thanks to the two TBR riders keeping the pace high.
I got a van powerup at the final banner. Perfect! Time to recover for the final sprint.
The Finish
Our pack of seven was still intact heading into the finish. C.Ryan (TBR) was there with me – we seem to be very similar riders. And Hogseth (Vikings) – another rider I often find myself next to -was just up the road, having been dropped from the front group.
I sat in with our group. Nobody attacked long, but just before the start of the final sprint the only Viking in our group (Nergard) went off the front, so I followed on his wheel and activated my van powerup, sitting in for a few more seconds before slingshotting to the front and going all-in to the line.
I crossed the line ahead of the rest of my chase group, giving me 12th place.
See my ride on Zwift.com >
See my activity on Strava >
See race results on ZwiftPower >
Watch Full Race Recording
Team Result
Without a single rider in the front pack of 11, we knew the Roosters weren't taking 1st this week. The Vikings looked like they had it, with three riders finishing in the top 11.
We knew we had some strong intermediate sprint showings, and 4 riders in the top 27. We hoped that would be enough for second place, which would put is in an overall tie with our rivals, the Vikings.
Somehow, we pulled it off – second place.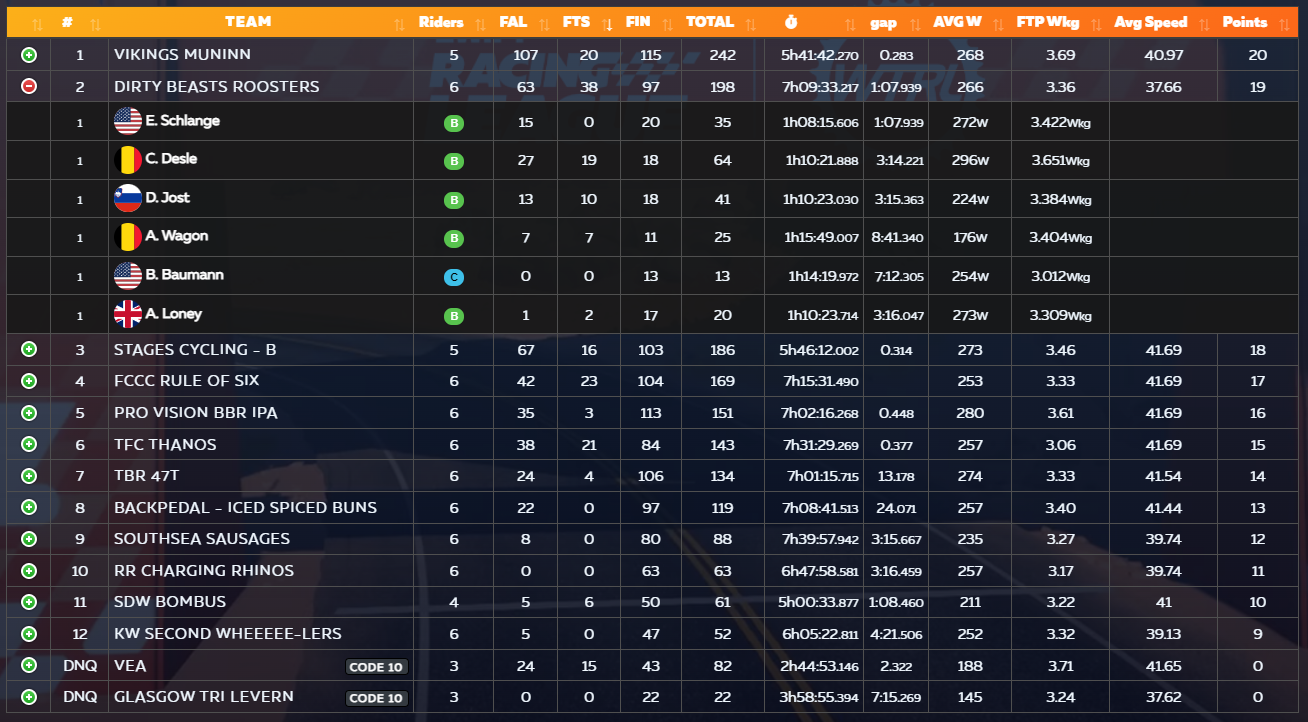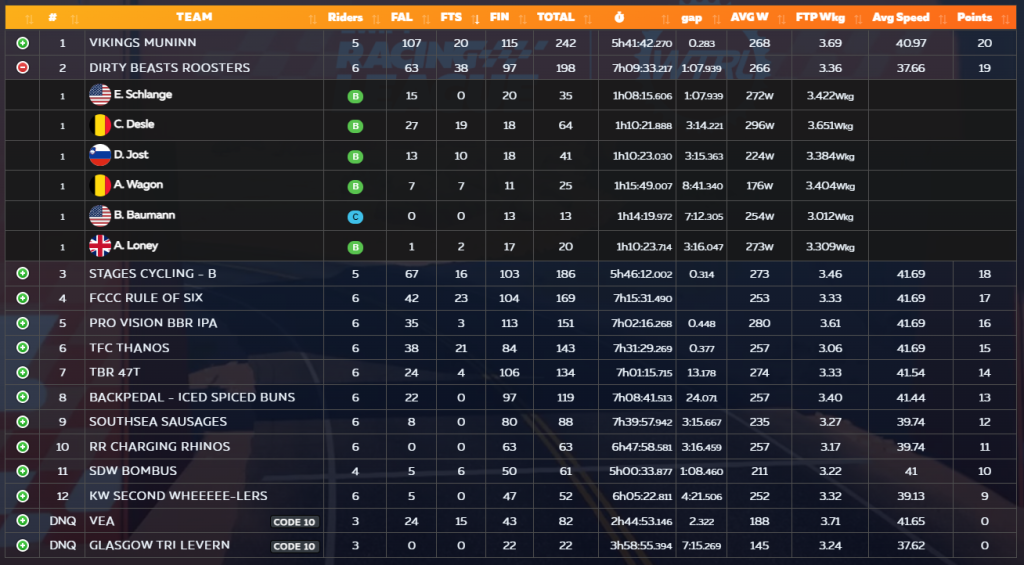 This was a rough week for the Roosters, before the race even began. Thomas, our strongest rider, was out with Covid. Team captain Antoine, typically a strong climber, had been off the bike for a week and half on vacation, and was feeling under the weather.
Overall, second place was a result we were pleased with.
Takeaways
Hindsight is 20/20. Clearly I should have approached the first Marina Sprint differently in order to grab FTS points. Heck, I could have chosen a full-aero setup (Cervelo + Disc) and still made it to the end in the same place, but with faster sprint times.
In the end it was a hard-fought battle, and the Vikings rightly came out on top with their strong climbing performance. And although I finished first in my team, I was only third in terms of points earned. And that's a good thing, because we wouldn't have slipped into second place otherwise.
Well done to all. See you next week!
Your Thoughts
Did you race ZRL this week? How did it go for you and your team? Share below!