Tuesday was the third race of ZRL Season 5, but thanks to a broken first race and being out of town for the second race, this would be my season debut. And I was stoked, because although I knew the racing would be painful on NYC's never-flat Park Perimeter Loop, I felt I had a good chance of hanging with the front pack to the finish while grabbing some sprint points along the way.
But bike races never seem to go the way we plan. And ironically enough, on the very day Zwift Insider published Luciano's PowerDowns post, I would experience my own personal PowerDown. Let's get to the story…
The Warmup
Since this was my first race of the season, on a course where I foresaw a decent result, I was careful to do everything I could to be prepped heading into the event:
Recon race in the days before, just to refresh my knowledge of the route
Easy(ish) effort the day before (rode with Boone on Climber's Gambit, where he unlocked his Tron bike!)
Plenty of sleep
A clean, carby oatmeal breakfast
Beet juice two hours before the race
Caffeine gum – three pieces, one hour before the race. That's 300mg of go-go juice coursing through my veins!
PR lotion on my legs about 45 minutes before the race. More bicarb=less burning.
A nice 30-minute warmup with the C. Cadence crew
Even though my lungs didn't feel 100% (thanks, Omicron), the legs felt good and I was ready to race.
The Start
The start wasn't too crazy – ZRL racers have gotten smart, with most learning there's no point in attacking hard on a flat start when there's a key climb just up the road.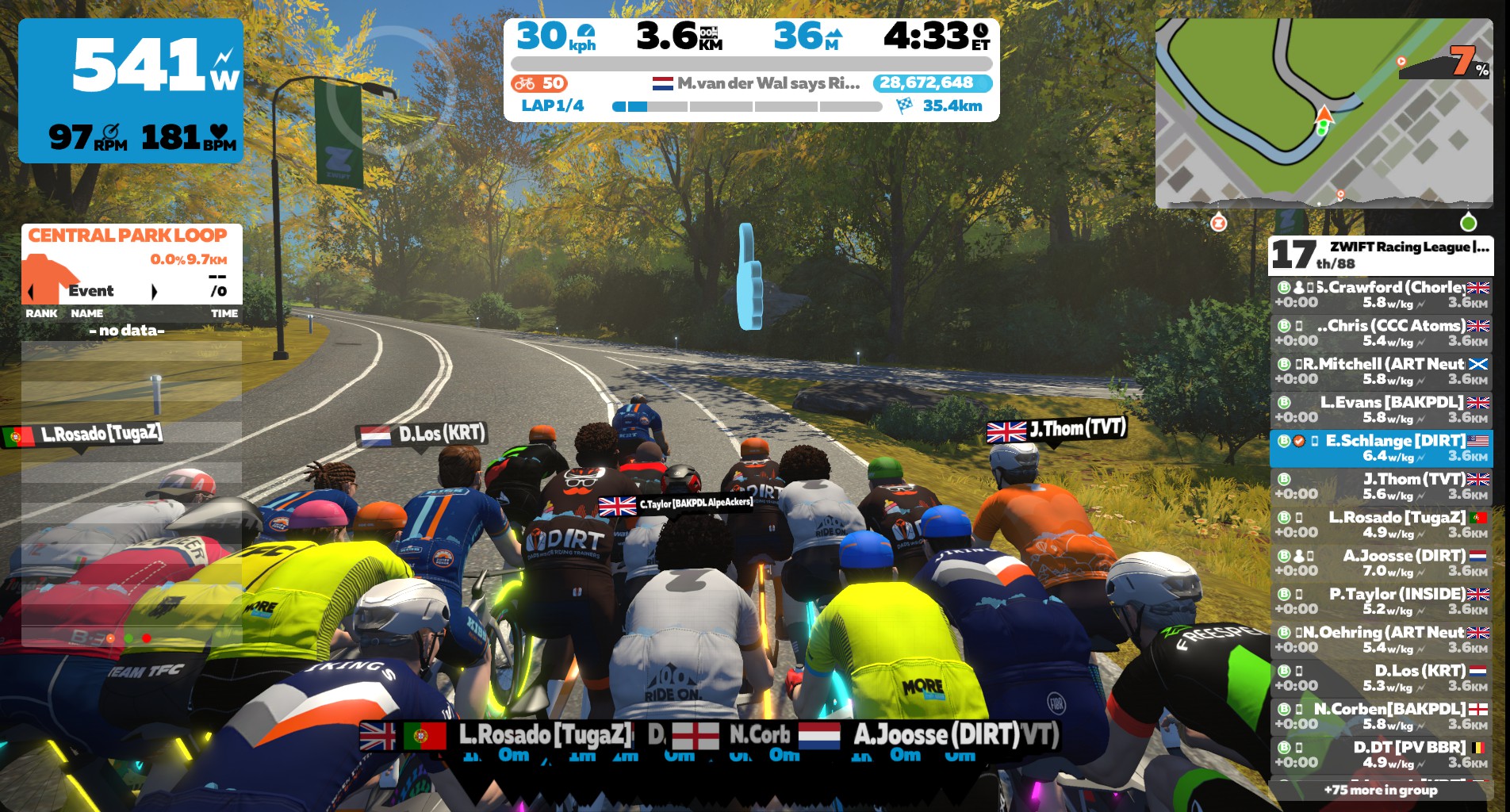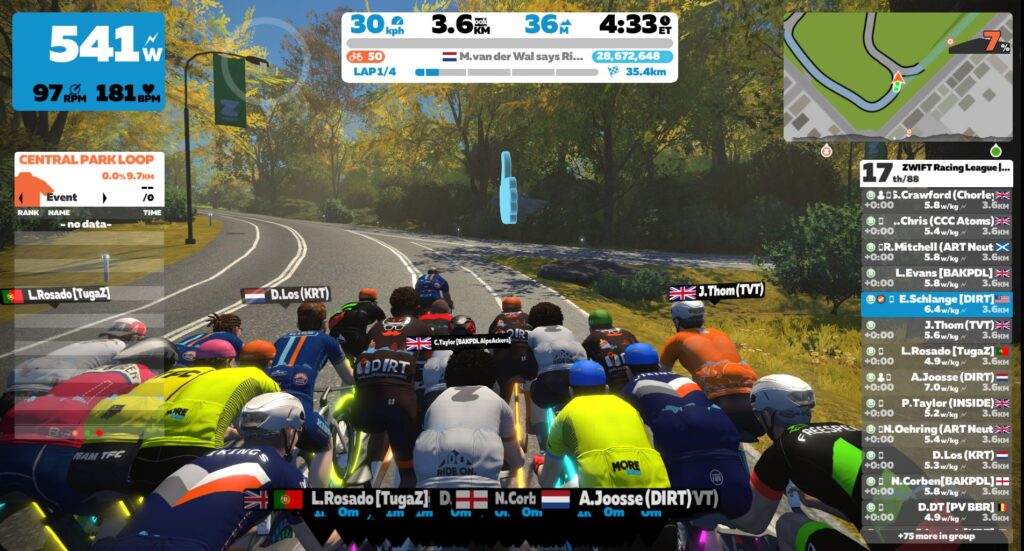 That first time up Harlem Hill would see the first selection of the race, I was sure. So I tried to maintain a good drafting position a few bikes from the front for the slack initial section, then I hammered on the steeper finish, reaching the top with just a handful of riders ahead.
Making it over the first climb in the front group put me at ease a bit. In the recon race I'd done over the weekend (which was a large field with all categories combined) the pace had been crazy up Harlem Hill, and I got dropped on the second lap. But it looked like I might just survive in the front group of today's race.
My plan was to go for FAL points on the first sprint, but riders attacked from way out, and when I started hammering, the top-end power just wasn't there. So I sucked wheels and recovered. I'd be chasing finish points today.
The PowerDowns
I made it over lap two's Harlem Hill in the front group, which had been whittled down to ~45 riders. Although I didn't feel like I was on the rivet, my heart rate was higher than normal (another Omicron by-product?) so I told my team I'd be taking it easy on the sprint, just surfing the wheels to stay in the front pack.
Then disaster struck.
As we began climbing the short kicker into the sprint, I saw my avatar sliding backward quickly in the pack. I instinctively began hammering harder, thinking they were just jumping a bit faster than planned… but I still slipped from the front of the pack to the back in just a few seconds.
I got out of the saddle and started hammering for all I was worth to get back on.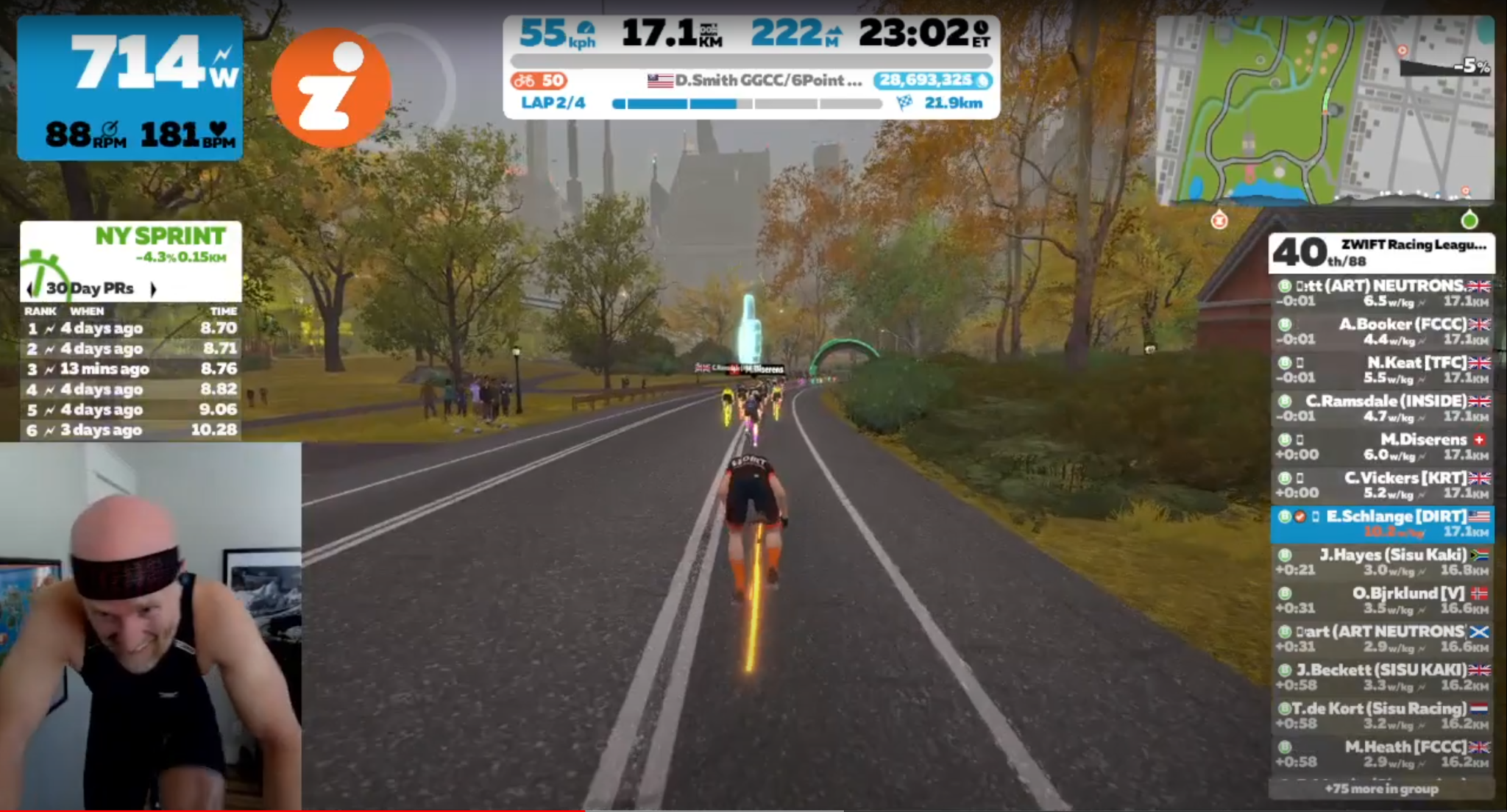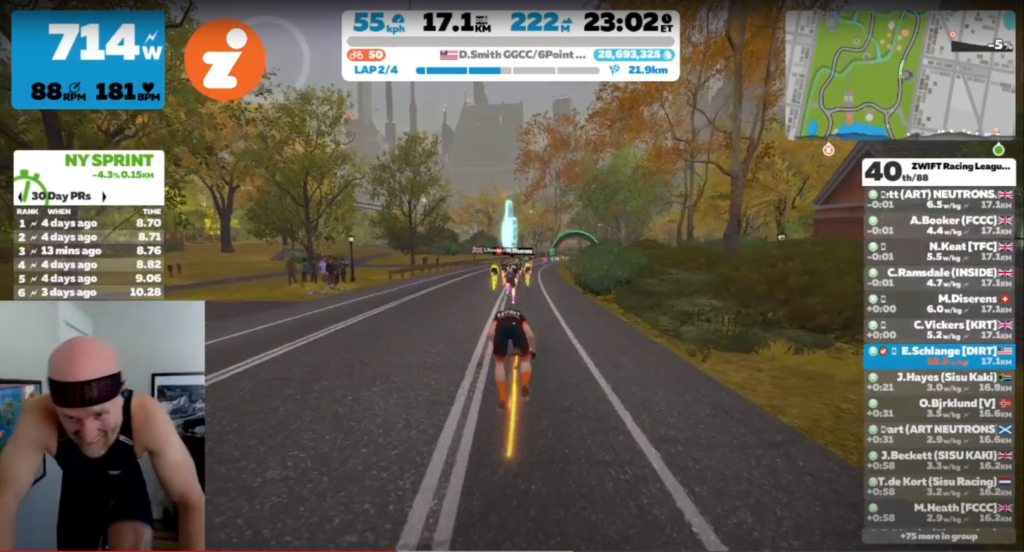 Somehow I managed to catch back onto the pack just after we passed through the sprint banner. Then, a second surprise – my avatar kept flying through the pack, all the way to the front, even though I had eased off the power considerably!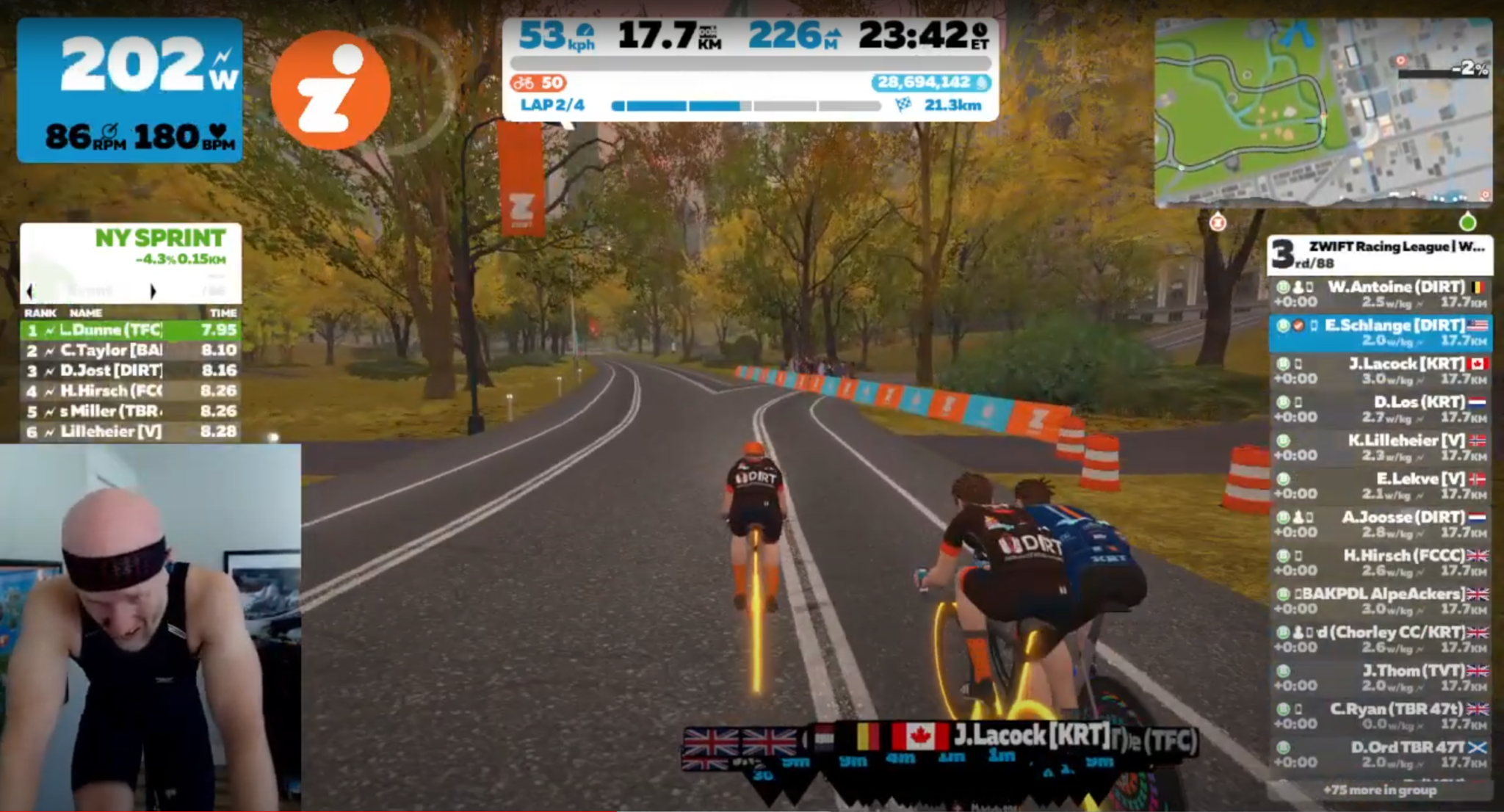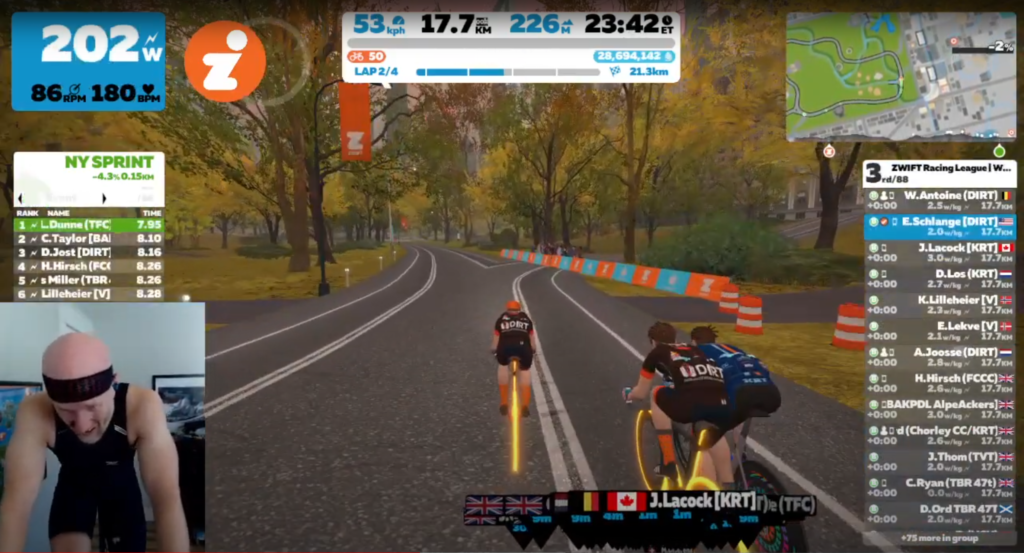 Call it race brain or whatever you'd like, but at this point, I hadn't realized anything was actually wrong. I figured I had just miss-timed the sprint, then chased back to the front of the group thanks to my excellent fitness.
But then the pack started flying past me again. And as I hammered the power, my watts were showing much lower than they should. Glancing at the numbers, it felt like the watts on screen were about 1/2 of what they should be!
The pack flew past. The unplanned efforts to chase back on had sapped my legs. I was dropped from the front group.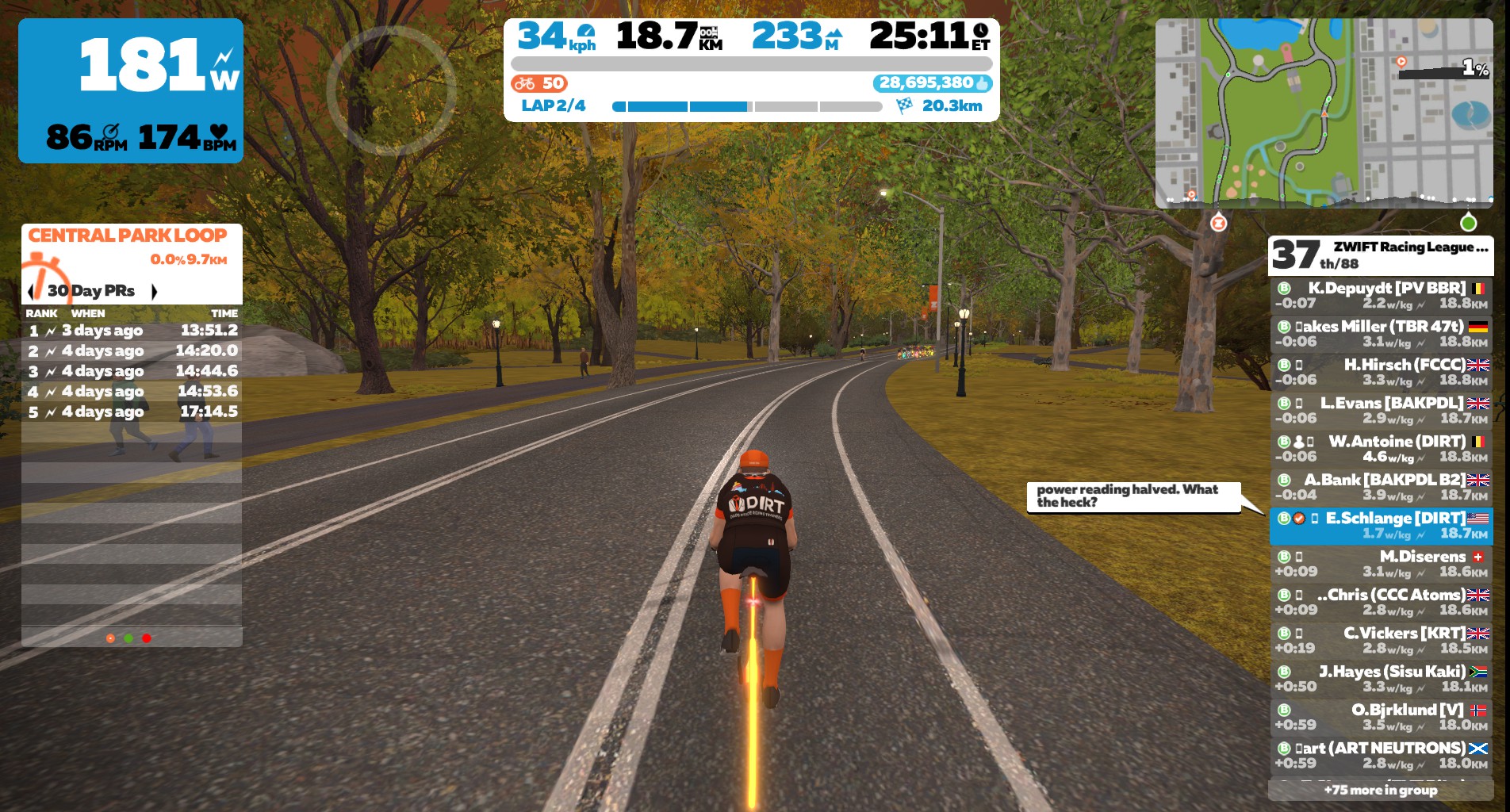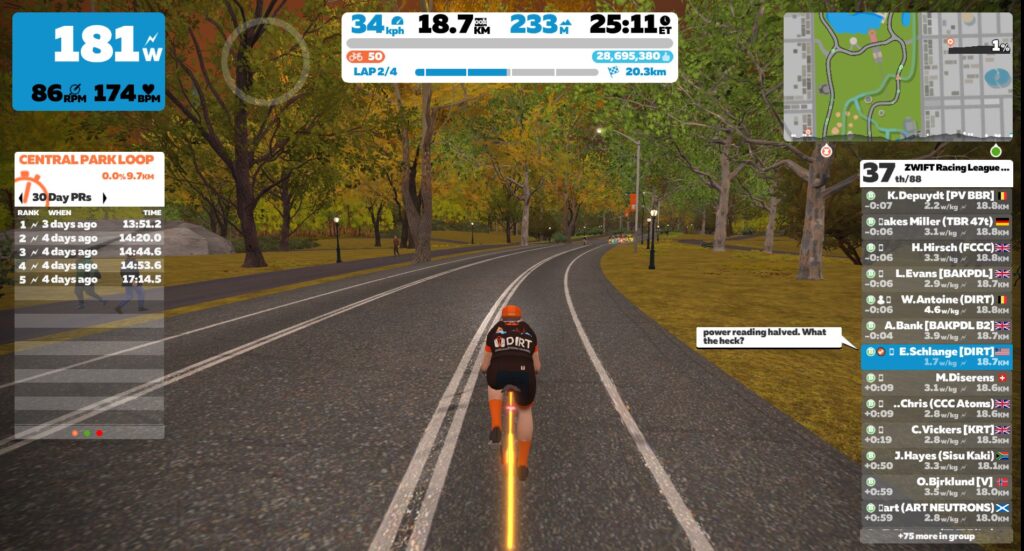 Hitting the "A" Brake
The same problem happened once more at the start of lap three as I revved up the watts to grab the wheels of two riders who were chasing the front group.
I'd had enough – I pulled the parachute and hit "A" to confirm that I was paired correctly. And I was – my Wahoo KICKR was paired via Bluetooth, as usual.
Since I was riding alone, with a sizeable group 30 seconds behind, I decided to pair my Assioma Duo pedals as my power source to see if it improved the situation. Then I took it easy and waited for the group to catch me. This group represented places ~40-60, and I sat in with them for the remaining two laps. My power numbers seemed just fine.
The Finish
The finish of this route is always painful, with its slight uphill start then a steep pitch to line. I've lost many races in the final 50 meters of NYC!
With an aero powerup in my pocket, I sat in the wheels for the flatter section, then activated the powerup and hammered as it got steep. I finished second in the pack, but a disappointing 35th overall.
See activity on Zwift.com >
See results on ZwiftPower >
See activity on Strava >
Watch my race recording
Final Result
In the end, the finishing positions of the Roosters were much worse than we had anticipated. But our saving grace (once again) was an abundance of sprint points. We took first place overall, despite my best efforts: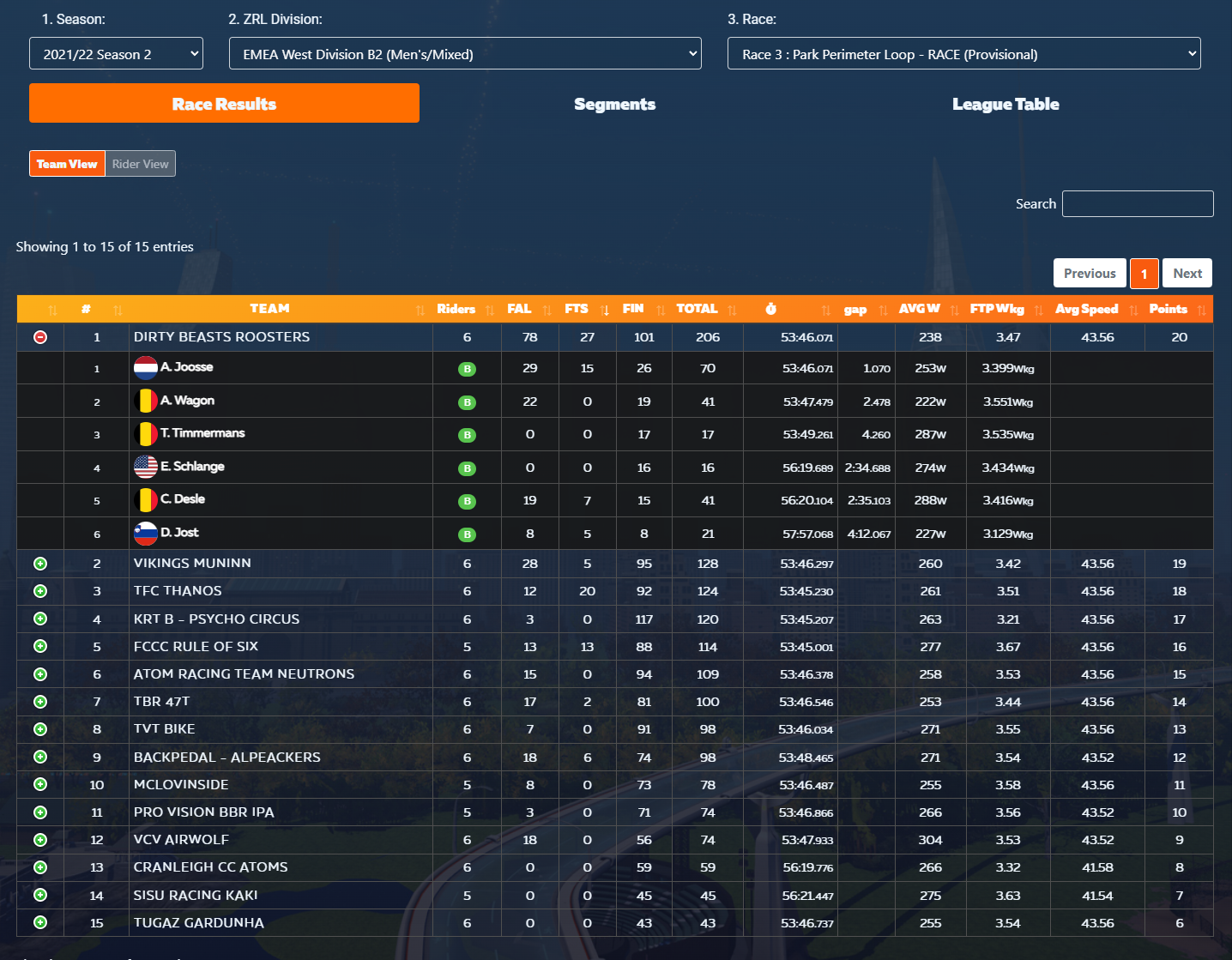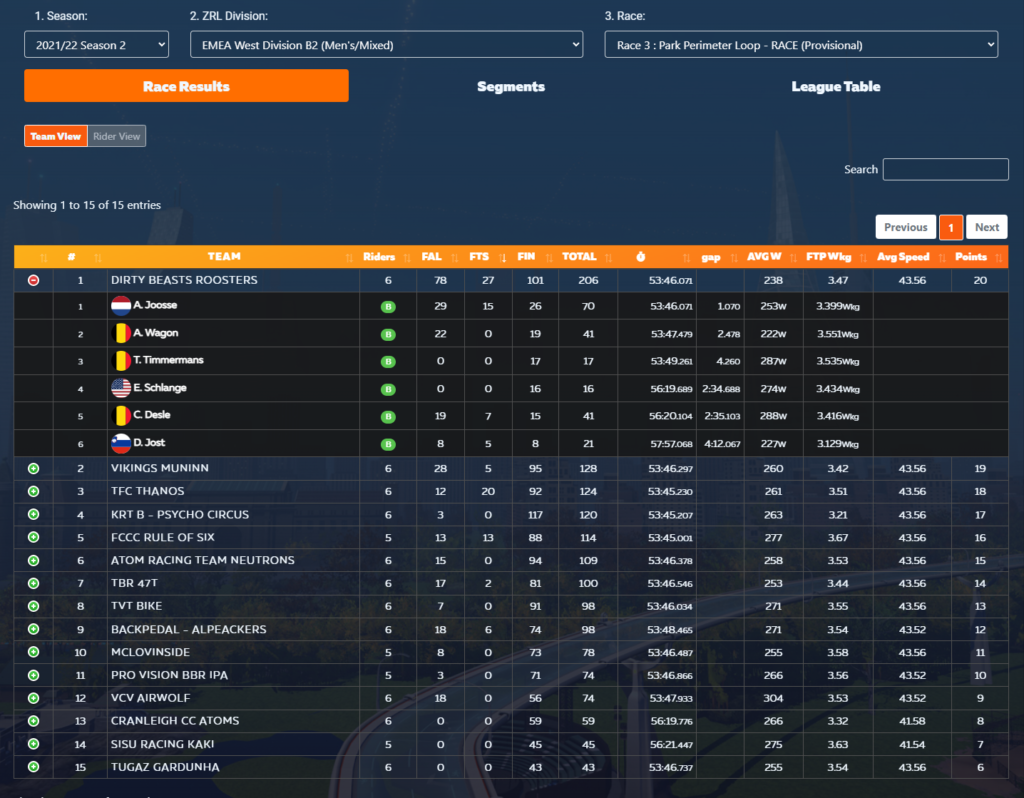 What Happened to My Power?
I went into investigation mode once I'd recovered from the race. Uploaded my dual recording to ZwiftPower (see it here), analyzed my log file using Zwiftalizer (no drops detected), watched my race video, and even reached out to Shane Miller and Wes Salmon for their input on what could have gone wrong.
Not knowing how Zwift processes power data programmatically, I'm can't say exactly what went wrong. But looking at my dual recording data tells me why my power numbers seemed off. Note: my primary power source at the start of the race was my KICKR v5, and I was recording the power from my Assioma pedals to my Wahoo Bolt computer as the backup source.
Below you can see the key section of my dual recording chart from ZwiftPower (purple is the KICKR, blue is the Assiomas). You can see the power numbers are in sync with each other initially, but around 2350 the KICKR's numbers begin lagging behind the Assiomas. And it gets worse as time goes on!


This time sync issue continues until things magically fix themselves around 2660, just before I pulled the plug and swapped my power source in Zwift to the Assiomas.
So there was some sort of power reading delay either on my KICKR's side, or on Zwift's side. That's why, when I began hammering up that first pre-sprint climb, my numbers didn't respond. The delay looks to be around 15 seconds, which is an eternity at a key moment in a Zwift race!
So when we hit that little climb, I started hammering, but Zwift didn't "see" or process my increased wattage until ~15 seconds later. That was enough time for the group to drop me – but then when they eased up after the sprint, my sprint watts were finally being processed, which is why I zoomed to the front even though I wasn't pushing the pedals at that point.
Then the pack started swarming past me again, and I started hammering… but my power was still delayed, so the hammering didn't take effect until 15s later. After I'd been dropped a second time.
Delayed power is a really confusing thing. I don't think I've ever experienced it before, and I definitely didn't understand what was happening in the heat of the moment.
I'm curious: have any of you dealt with delayed power issues on Zwift? Comment below if so!
Takeaways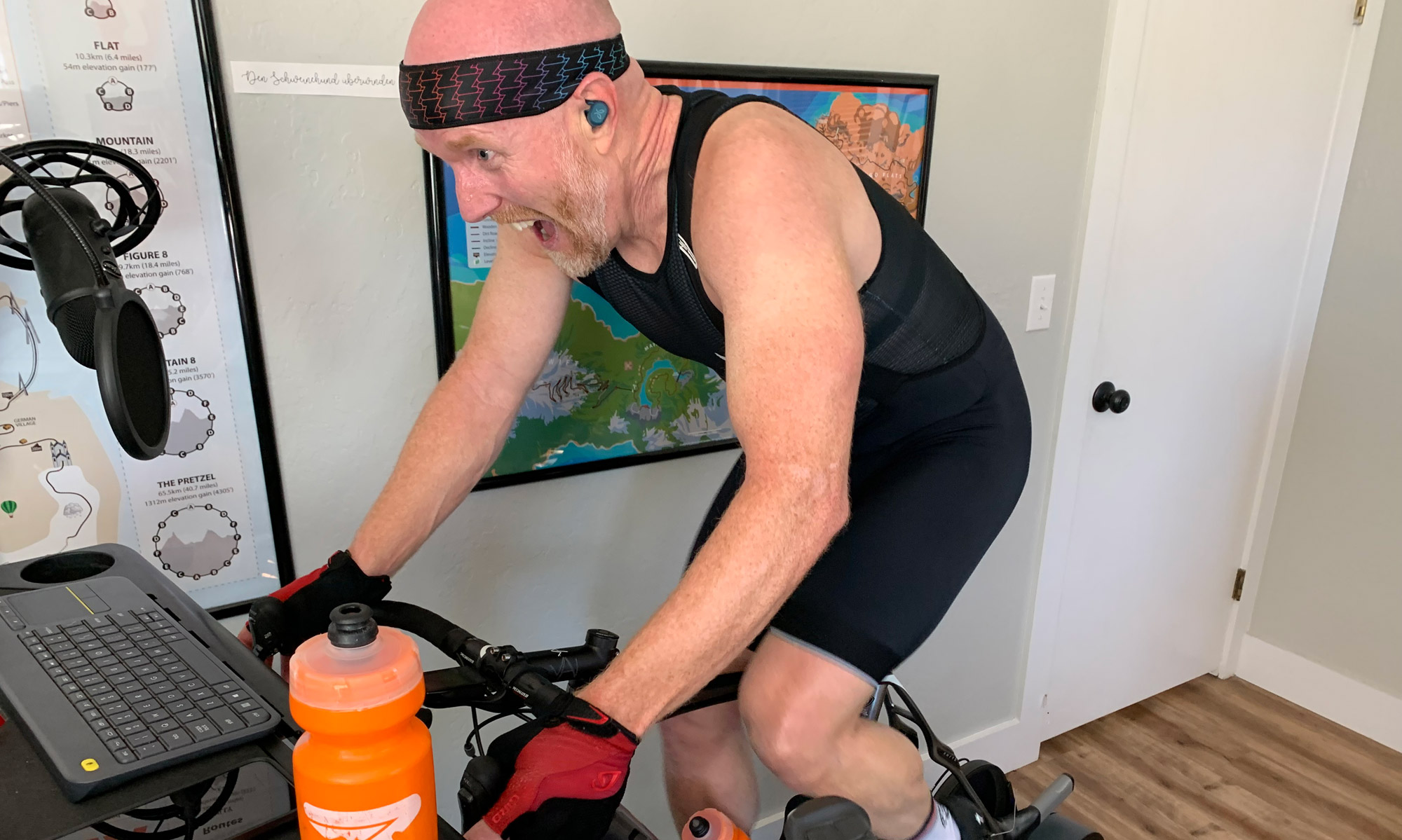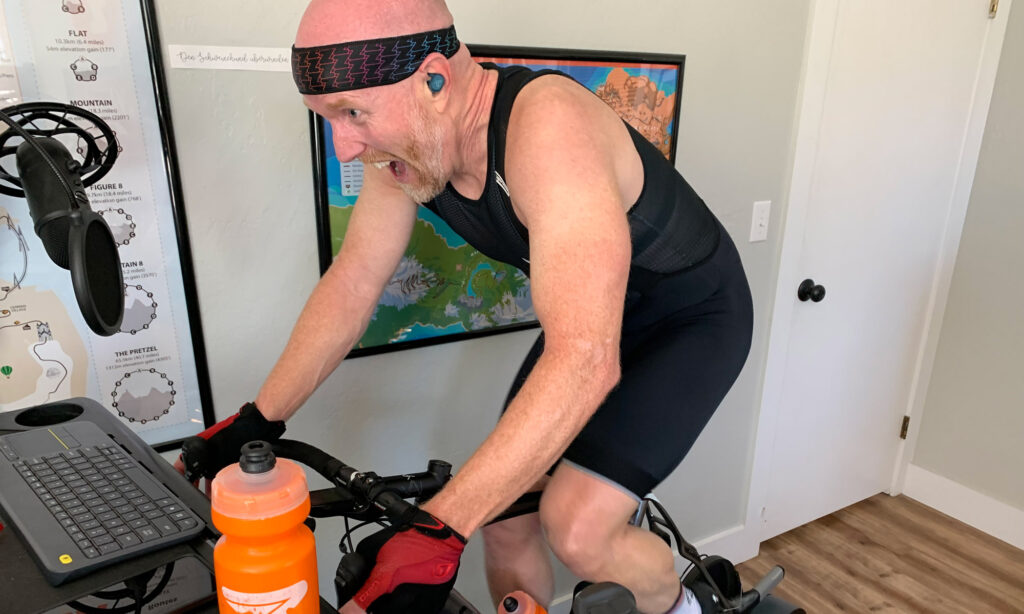 First: I'm still feeling some effects from having Covid two weeks ago. It felt like a very mild flu to me, but it seems to still be impacting my breathing and power somewhat. Not a huge amount, though, and I comfort myself with the knowledge that half the racers on Zwift are probably dealing with the same thing.
Second: never give up. Even when you feel like your race is lost, it's not about you. Keep working to get as many points as possible for your team, no matter where you're at in the race. Your team might just win, and if you gave it your all, you're a part of that win.
Third: I need to figure out what happened with my power numbers. And that frustrates me, because I'm really at a loss as to what can be done to make sure this situation doesn't repeat itself.
Your Comments
Any advice to help me fix laggy power? And how did your ZRL race go? Share your comments below!