This race was a bit different from most I'd been doing… but it was a welcome change. Instead of 60+ B riders on a ZRL course or Crit City, it was a small pack on two laps of New York's Astoria Line 8 route.
The pack was small, the race was short (23km)… and I'll try to keep this short, too. Let's get to it!
Start + Lap 1
The race start was easy enough, and our pack of 9 B's quickly started ticking off the miles as we made our way around Central Park.
Just 1.1km in, an A rider named Duffin came flying up from behind, through our pack, then eased off to sit in. I'm not sure what the story was with Duffin – he seemed to disappear occasionally, then reappear. Perhaps internet connection issues? But Duffin would play a part in how the race unfolded, so I wanted to mention his arrival.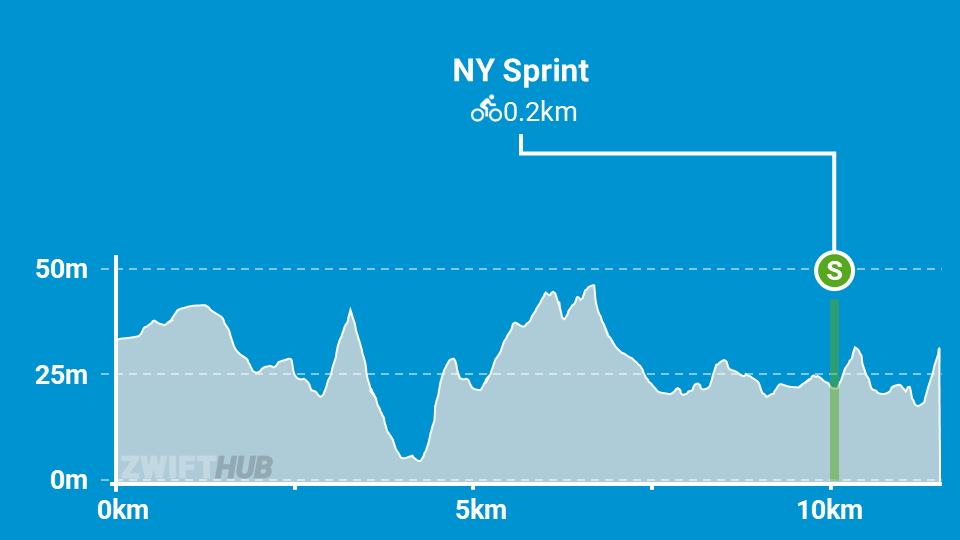 I knew the Astoria Line 8 route well, having raced NYC's ground-level roads many times. I particularly like this route, as it includes the punchy Harlem Hill section to the north. This is a great place to put in digs and drop riders. And that was exactly my plan.
We descended Harlem Hill, then began climbing up the East Drive climb (I'm not sure if locals have a better name for it). That's when I launched my attack, going off the front hard. Only two B's followed: Curtiss and Machala. Duffin, our lone A passenger, also hung on. And we caught Cross, another A, at the top of the climb.
Now the question was: could we stay away from the 6 chasing B's? With two A riders sitting in, and probably the three strongest B's, I figured we had a good chance. We kept pushing on and I watched the gap to the riders behind slowly dwindle from 5 seconds to 2. But then a rider named Ferreira jumped across to our group, and the gap began to stretch out again.
7 seconds… 10 seconds…
Ferreira was on the front pushing hard, and by the time we crossed the lap banner the chase group was 30 seconds behind. They'd given up.
Lap 2 + Finish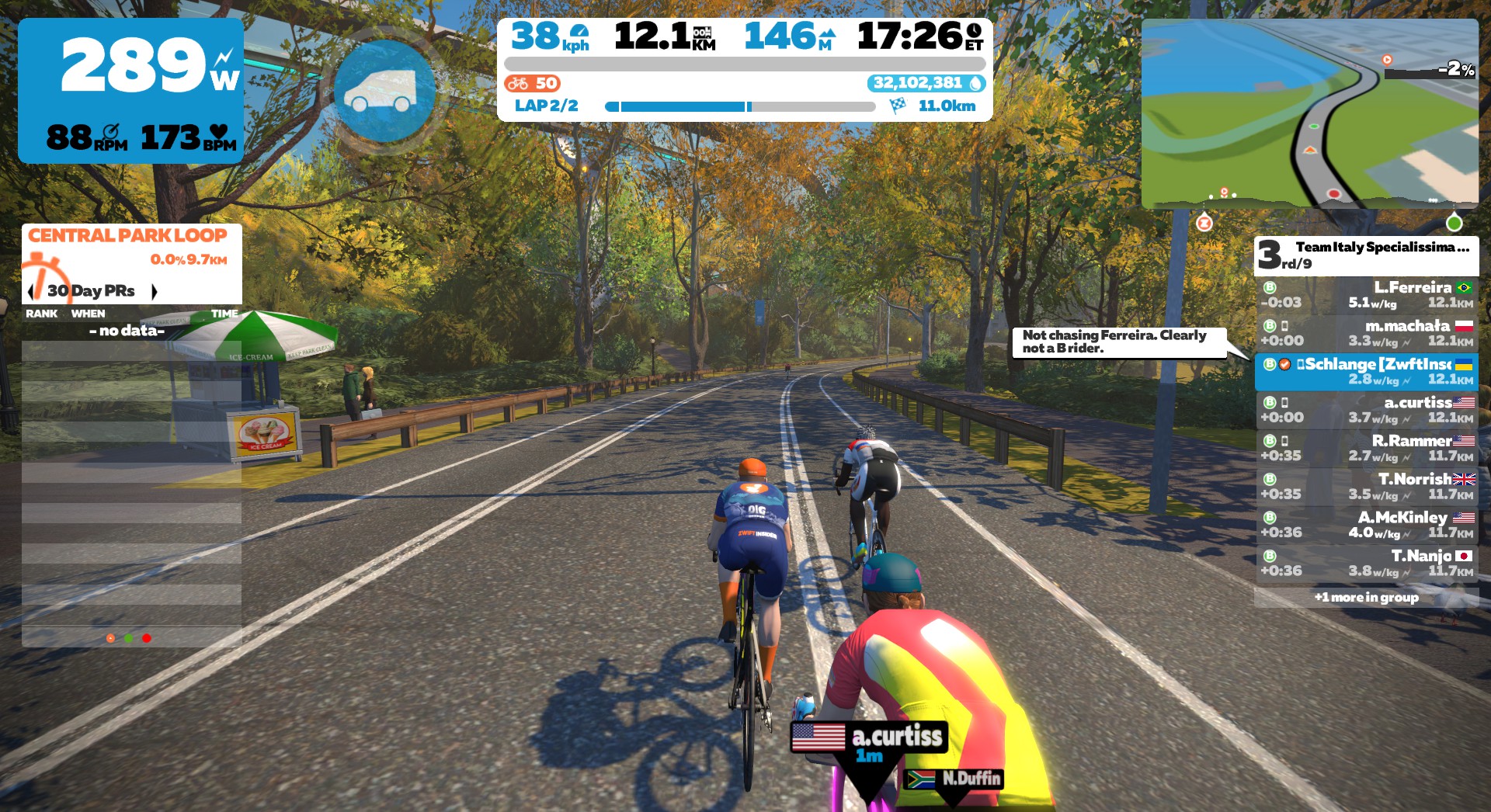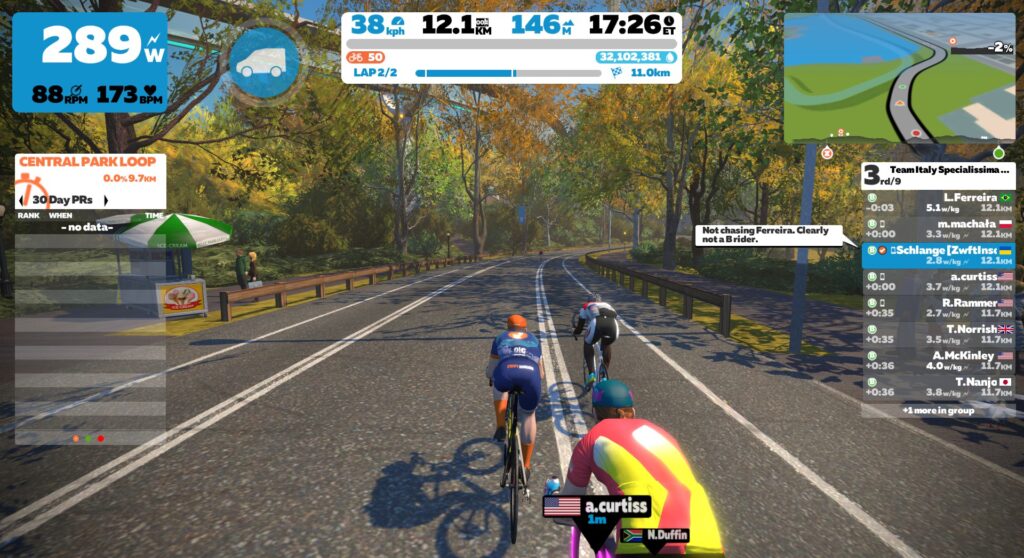 Ferreira was keeping a furious pace at the front, and I noticed as we started lap 2 that he was on virtual power and basically holding 4.9 w/kg (around 315W). Also, no heart rate!
Clearly Ferreira was not a legit B rider. (That's what I get for entering a race without category enforcement!) Ferreira had gapped us off the front, and I messaged our group, "Not chasing Ferreria. Clearly not a B rider."
"Thx", said Curtiss.
And there we were. It was now us three B's, with Duffin floating off the back, occasionally riding through our group and sitting on the front.
When we hit the East Drive climb for the second time I put in another dig, but Machala and Curtiss hung with me. It looked like I wouldn't be able to shake these two, so it would come down to the sprint finish.
I picked up a feather powerup at the sprint arch. Not my preferred powerup, but also a pretty handy one on NYC's punchy little uphill finish.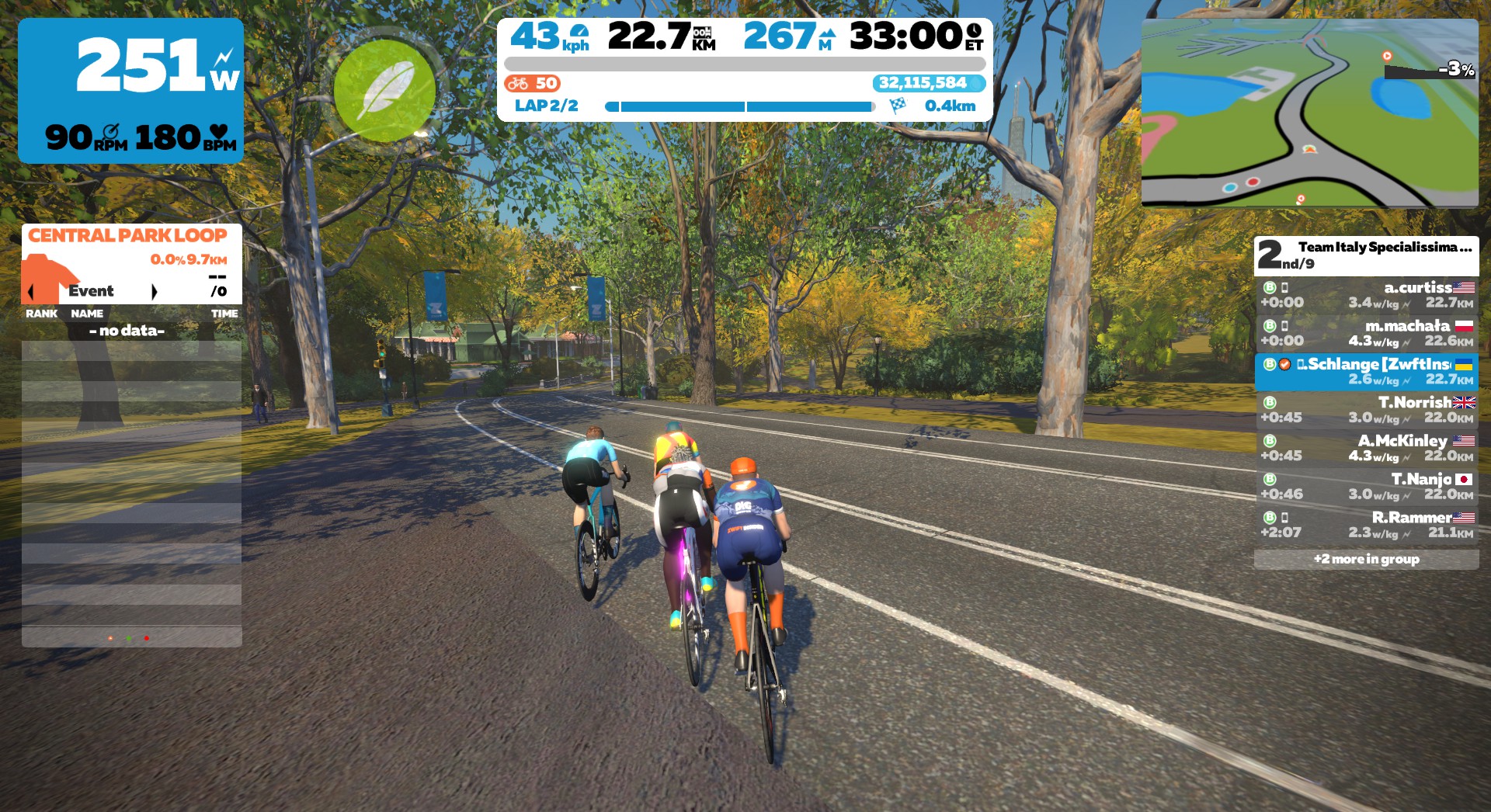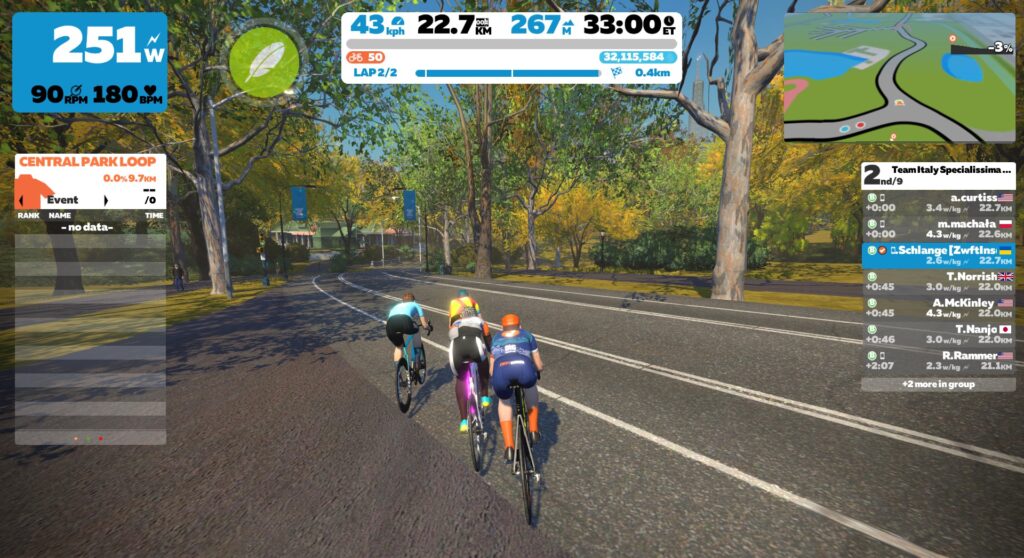 Now it came down to tactics and timing. I didn't want to attack off the front without an aero powerup, so I sat in and watched the other riders, looking to grab their wheels if they attacked. Curtiss activated his draft powerup and I eased up even more, making sure he wasn't benefiting from my draft.
Then his numbers went orange, and I hit the pedals hard to grab his wheel! Punched the spacebar to activate my feather, and as the road turned steep with 100 meters to go my avatar came around Curtiss'.
I crossed the line in second, a minute behind Ferreira – but I considered it a win. And so did ZwiftPower!
See ride on Zwift.com >
See activity on Strava >
See results on ZwiftPower >
Watch race video
Takeaways
In a normal year we see reduced race participation on Zwift from around April thru September. Where every B race has 50-100 riders in January, most have 10-20 during the northern hemisphere's sunny months.
Personally, I enjoy this change.
Big pack races have a certain feel and challenge to them. The pack speed is high, so you can't attack and stay away. Instead, efficient riders can tailgun most of the race and simply sprint at the end. And you don't really focus on individual riders, because there are too many names to track. Instead, you focus on your position in the group.
Small races have a totally different feel. You can sort of get to know each rider. And in a race like today's, a handful of strong riders can actually make an attack stick if the conditions are right.
And if that attack sticks, you're faced with a finale where it's just you versus a few other riders, instead of you against 30 others. That makes the finish much more tactical and interesting.
The downside of small pack races is that they don't really help me when it comes to ZwiftPower ranking points, because there just aren't enough well-ranked riders in small events. But that's alright – it's not all about ranking points anyway. Today I enjoyed riding a more tactical race, and it fell in my favor in the end, which was just icing on the cake.
Your Thoughts
Do you like small races too? Share your thoughts below!