This week, several thousand Zwifters took part in Zwift Racing League's race #4 across three laps of Sprinter's Playground in the Makuri Islands. For one very special Zwifter, this was their first ZRL race ever. And that Zwifter was none other than Eric Min, Zwift's CEO!
He chose a challenging race for his ZRL debut. With 12 sprint intermediates plus the inevitable pack finish, performing well in race #4 took a combination of fitness and race smarts. But what you may not realize is that Eric Min has both of those qualities in spades, and he put them to work this week to finish atop the podium in his first ZRL race.
I called Eric up and we chatted about the race. Below you can watch his recording of the final seconds, then an edited version of our conversation follows. Enjoy!
(Eric Schlange) You raced yesterday and won in ZRL on Sprinter's Playground. We'll talk about the actual race in a bit, but first I'm curious: how did the ZHQ Rockets convince you to join?
(Eric Min) I signed up earlier this year to race with them, but my traveling has been so challenging, it's difficult for me to commit to a Tuesday afternoon race. And it's only because I've moved out to California that I'm finally in line with the time zone! I moved in July, but this was the first time I actually found the time, made the time, and committed to showing up.
I have to say I was pretty intimidated.
But I'm in the team's WhatsApp channel, and I can just feel the enthusiasm ahead of each race. This is why people do it, right? Because they want to hang out with their friends, and it's fun as a group. So I totally get it now.
Yeah, ZRL is definitely a bit intimidating to jump into. But also, there's absolutely a cool new dynamic when racing as a team.
I know enough about you to know that you'd be a strong rider in any B team. Any Zwifters who have been around a while will know your background, but for the rest of us, can you summarize your bike racing history and describe yourself as a racer today?
I raced competitively as a junior cyclist. I raced as a senior, seriously for one year, and then after that, I kind of gave it up when I realized I didn't have what it took to be a really good elite racer.
I pretty much gave up serious cycling at that point, but I love cycling. I've always enjoyed the training and enjoyed the chain gang rides. Those are, to me, just as fun, if not more fun than competitive racing.
So I have a long history of cycling, and once a racer, always a racer, right? Once a sprinter, always a sprinter. I have memories of what it takes to win a sprint or to train, to get into that pain of hurt, to get to the finish line first. I still have those memories, and I can bring back those muscle memories when needed.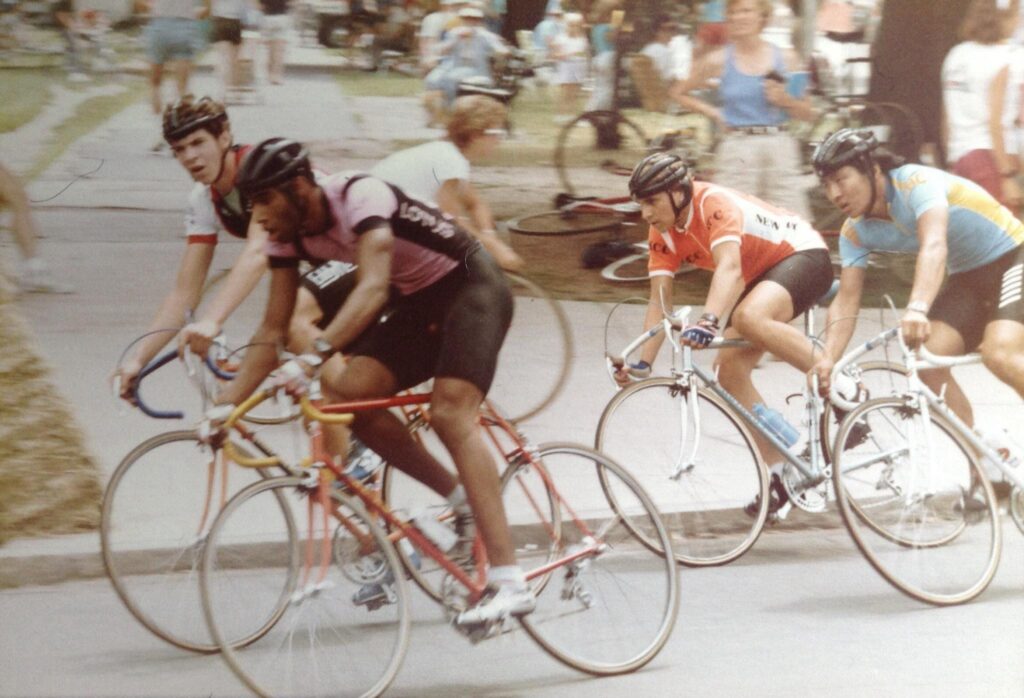 I want to talk about race prep. I know you've raced a lot on Zwift (over 500 races), but I assume you felt some extra pressure since this was your first ZRL race. Is that fair to say?
Absolutely, especially since this was the first one. This is by far as competitive as any race out there when you bring all the top racers together.
There's a lot of pressure, especially with this being a points race with 13 sprints! That's a lot of sprints. I was really intimidated, and I did do some prep. I did a recon the morning of but even then I still got lost on the course. There were so many turns involved!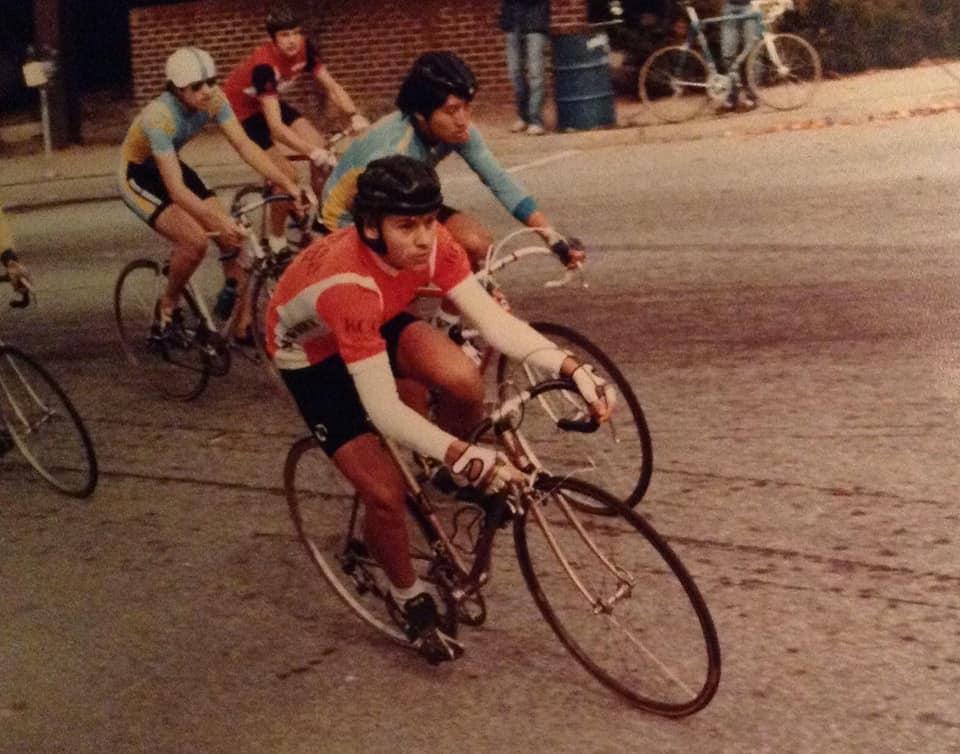 What about the ZHQ Rockets team? Was there chat among the team leading up to the race, strategic planning, anything like that?
Yeah, sure. We shared the YouTube video by Si, who described the course. That was really helpful. I watched that video twice, but that wasn't enough. I had to do the recon myself. I did two laps, then I had a good feel for how much rest I would have after each sprint, which was not very much in the first three, and then enough rest for the fourth one and then back to the first.
So it took me a while to figure that out. And also just the general feedback from the team that even if you're not going for the points, you have to still kind of sprint to stay with the group, otherwise it's easy to get distanced from the lead group.
The experience of the team was super helpful. There wasn't that much strategy beyond that, other than "try to get as many points as possible". But I had my own strategy, which was taking it easy the first lap, just to see how I felt. Warm up to it, then see how I felt for the second and third laps. And if I wasn't getting many sprint points, my default would be to just save myself for the final sprint, which has a lot of points for grabs. 40 points for the finish!
I think Zwifters would be really interested in knowing who else is on the ZHQ Rockets team, at least in this particular race. Who are they, what do they do at Zwift, etc?
Besides myself we had Steve Beckett, Chief Marketing and Revenue Officer, Mark Riedy, COO of Zwift's lead PR agency, "In Good Taste", Jason Donaldson, Associate Director, Creative Advertising, Andrew Seay, Lead UX Designer.
And Bruce Weyman, a longtime friend of ZwiftHQ. He was actually in the original advertisement for Zwift! If you remember that ad, he's the one wearing the inGAMBA kit. A good friend of mine from New York, many years ago.
How is the ZHQ Rockets team structured? Is there someone leading it? Are you all on Discord? Do you have a DS in your ear?
Unfortunately, we did not have a DS. We talked about being on Discord, but everyone decided that they wanted to just tune out and listen to music. We got on Discord for the prep, so we all signed in 15 minutes before the race started, talked about strategy, and then once we knew the strategy, logged out of Discord.
I think Discord is useful during the race if you have a DS. We didn't have one, therefore we did not use Discord.
(By the way, we just released a Companion app update that lets Clubs put a Discord link in for their Club/events!)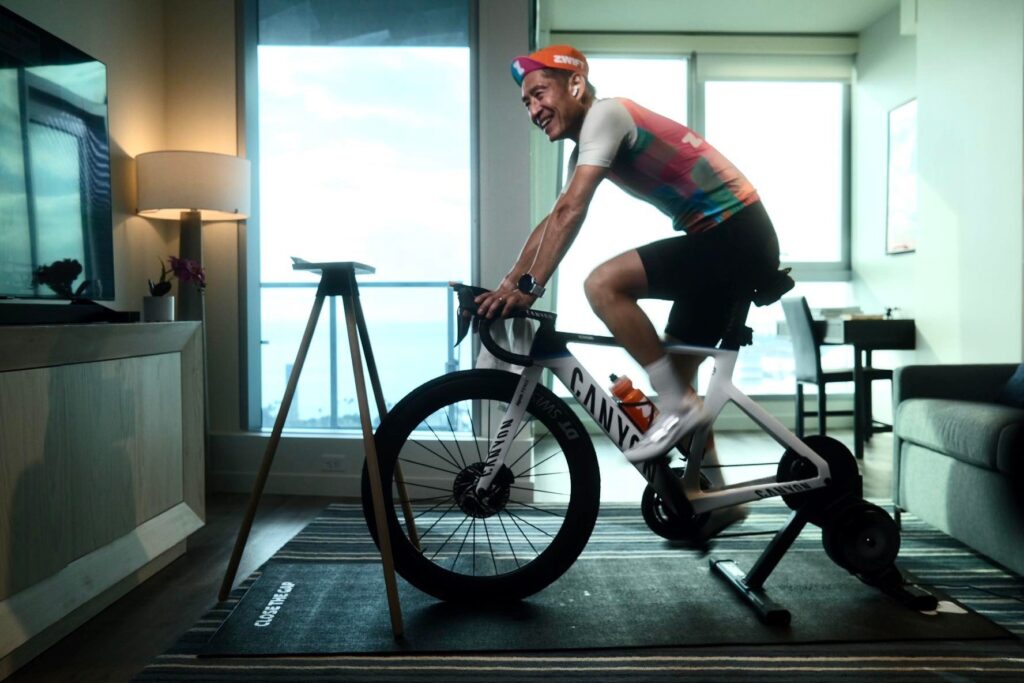 Next question: is racing considered work time at Zwift?
I think riding on Zwift is part of our job, and I see no problems with that. We encourage everyone to ride Zwift, even during work hours, to fit it into their day somehow, because we want that product feedback. I think it's important to experience what the customers are experiencing, both good and bad, and this is one way to ensure that happens.
I love that attitude. As I see it, there's no downside to Zwift employees using the product!
Talk me through the start of your race, and the 12 sprints before the finish. Did the start speed surprise you? Were there sprints that you actually contested and tried to get points on?
On the first lap, I purposely did not go too hard. I just kind of went with the flow. I think I got a few points in the first or second lap, top ten, but it was really about making sure that I didn't get gapped. It wasn't too bad until the first sprint, and then I realized, okay, this is going to be a lot of work just to stay with the group.
I had thought I should probably go for two sprints a lap, not four. Probably the second and fourth sprints each lap. Strategically that would make sense because you have plenty of rest for the first one, but then everyone else is going to be fresh for the first one too. So you go for the second one, and there's a long rest to get to the fourth one and another long rest to get to the second on the next lap.
But honestly, I was not fit enough to even stick to that strategy. So when I realized that on the second lap, I said, okay, I need to put everything into the final laps because then I can bag those points at least. But I did have a strategy.
How about the finish? Can you talk me through how you approached your finish and executed it?
I figured that the fastest sprinters were all pretty tired from going after all the sprints, and I knew I was going to be relatively fresh for the final sprint. I didn't go for any other sprints on that third lap, so it was really a matter of timing and a bit of luck because two or three guys rolled off the front and we caught them with maybe 500 meters to go.
I had an aero powerup, which I think I executed to perfection, and I didn't even have to put down a lot of watts. I was just fresher than everyone else. I think I was hitting ~800 watts, which isn't that much for sprints, but it was because everyone else was so tired. I think the fastest sprinters were there sprinting with me, but they had been going for more sprints than I had. My strategy had become, "Stay fresh and grab the 40 points."
It was a good strategic pivot to make, once you saw you weren't going to be grabbing many intermediate sprint points.
Of course, we know that in ZRL it's not all about who crosses the finish line first. These are points races and the winning team is the one with the most points at the end. How did the Rockets finish in terms of points? Were there standout performances from any of your teammates in terms of points?
Yeah, Steve Beckett I think was the most consistent. We finished 8th, sort of midpack, and I thought that was good, given that we didn't have a really strong strategy.
We weren't really working as a team other than all of us trying to survive the race. Literally, that's what it was. "Hey, let's not get dropped." When that's your strategy, you don't worry about points much. We lost one guy pretty early and the rest of us were just floating around, but not really making a dent in the sprints.
For me, it was about getting the first ZRL race under my belt. So now I know what ZRL racing is all about: super fun, super competitive. These racers are not like what I've seen in most B races. They're stronger, and smarter!
What's next? Will you retire from ZRL with a perfect record, or will you be joining the Rockets again?
Yeah, I'm hooked now. I'm already signed up for December 13th. Another points race. And this time it's uphill, on the Richmond Cobbled Climbs course! The good thing about that course is that it's got a bit of a hill. That's going to help me a bit. I'm not particularly good at the flattish finishes. I'm much better at the uphill segments and finishes.
But I definitely need to do more ZRL races. One of the reasons I haven't been wanting to do this is because it looks so damned hard. And in fact it is hard. But it's fun and everyone should take part.
I don't think people realize how much fun it can be. You have to be in the right category. You have to do it with your friends. But it's so much fun. I can't believe I waited this long to try one.
Questions or Comments?
Post below!