The third race of Zwift Racing League 2021/22 Season 3 was held last Tuesday, and it was a challenging mix of four sprints and a dirty climb on Makuri Islands Chasing the Sun route. My team (the DIRT Roosters) figured the course suited us well, and we had a plan we hoped would utilitize our team's strengths to their fullest.
With three sprints before the big Temple KOM, our strategy could be summarized in two points:
Grab as many sprint points as possible. Especially on the first two sprints, but if we survive the Rooftop climb with the main pack, grab more points on the third sprint if possible. Lastly, consider chasing points on the final Tower Sprint just before the finish, if it makes sense given the race situation.
Attack the dirt Temple KOM for points if you felt you had a chance. Otherwise, just try to get over the top in a good position to set yourself up for a high finish position. Whatever your goal, swap if you think that's the smart thing to do.
Of course, race plans rarely survive the real world. So here's the story of what actually happened…
Race Prep
I did what I could to be fresh and prepared for the race, following my normal routine:
Easy effort the day before
Plenty of sleep the night before
A clean, carby oatmeal breakfast
Beet juice two hours before the race – nope, we were out of beet juice!
Caffeine gum – three pieces (300mg), one hour before the race
PR lotion on my legs about 45 minutes before the race. More bicarb=less burning.
Pick my bike setup (Tron, with the Specialized Crux+ENVE G23 for the Temple KOM) and join the start pens with 30 minutes to go to save my spot in front.
A nice 30-minute warmup with the C. Cadence crew
My legs felt fresh, and I knew the course well. My personal plan was basically this:
Attack the first two sprints for FTS points
Push only as hard as required to stay in touch with the front group on the Rooftop climb
Rest all the way to the end of the Country Sprint, staying in the front group with as little effort as possible
Swap to a gravel bike just before the Temple KOM in hopes of staying in touch with the front so I could be in the mix for the finish
The Temple KOM has consistently kicked my butt in races, so I knew I wouldn't be able to hang with the front of the B1 beasts without swapping to a gravel bike. And even then, I didn't like my chances! But I calculated that a well-orchestrated bike swap would allow me to finish the climb in a better position than no bike swap, so I planned to do it.
The Start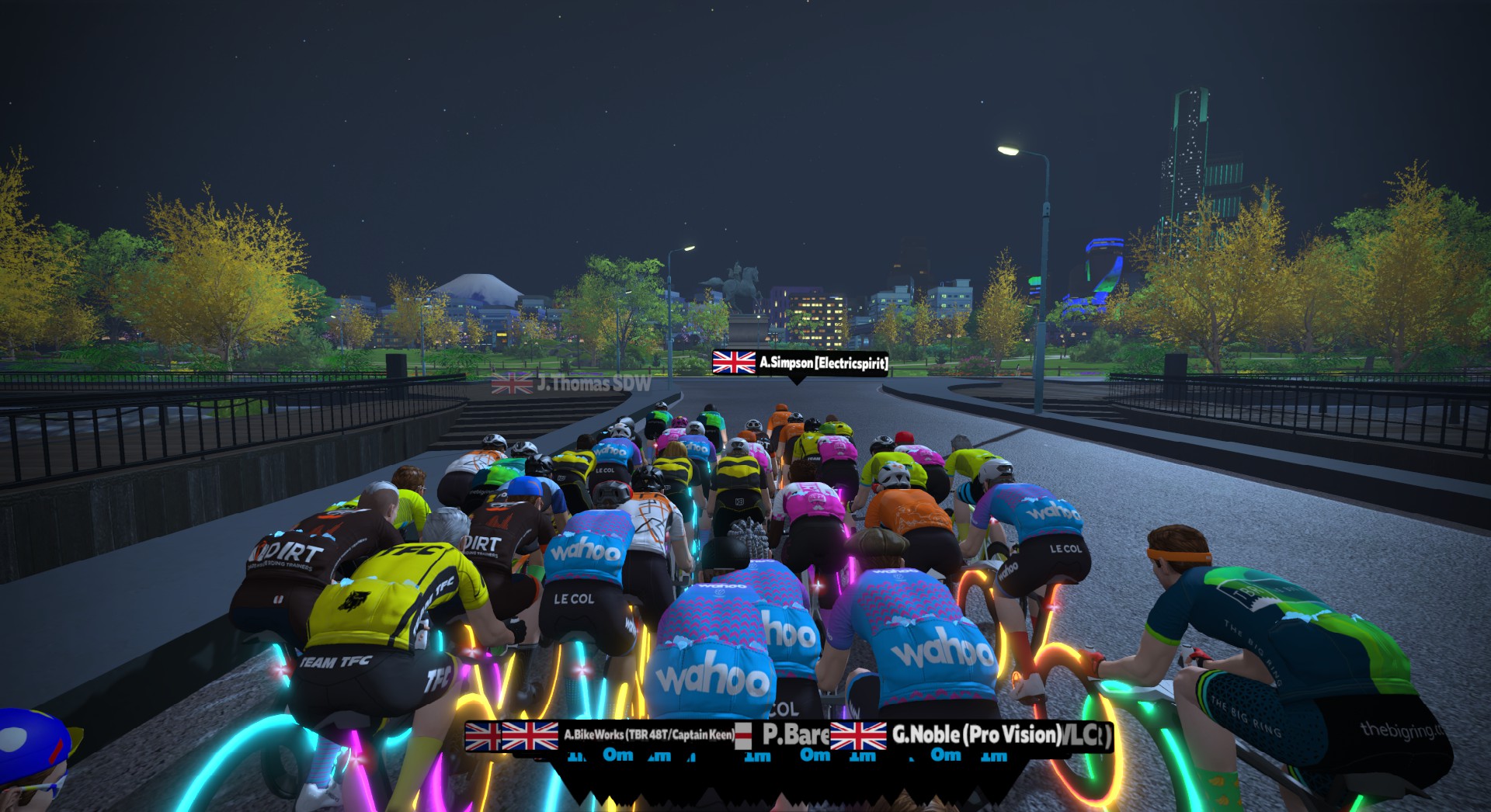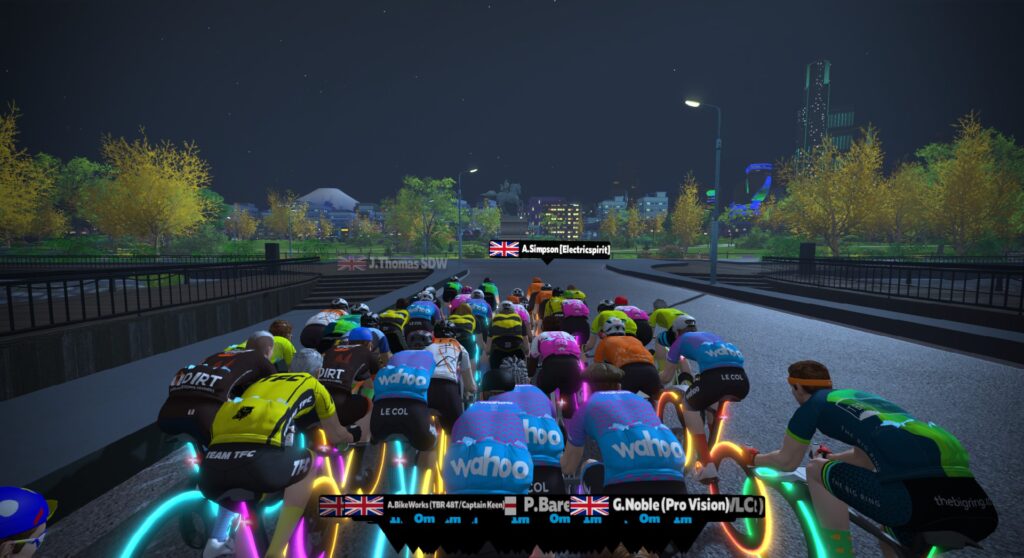 My prediction was that we'd see a really tough ~2 minutes for the start of this race, since the first sprint starts just a minute after the race begins. But instead, our start was surprisingly tame. I averaged 310W for the first 50s, then it was time to sprint! 754W for 26s and I had an Alley Sprint PR and 10th place in FTS.
10th wasn't great. But it was better than nothing.
The next sprint came quickly. Five minutes after starting the race we were hitting the Railway Sprint, which is a long one. I had a draft van powerup and used it well, earning 9th in FTS with my 30s, 600W PR sprint.
9th wasn't great either. But I was earning points, however meager.
Just as I was getting close to catching my breath, we began the Rooftop climb. I hoped no one would push hard here, since there were no points on offer. And nobody did! I averaged 302W for just over three minutes to finish in the front group, which now only contained about half of the original 70 riders.
The Climb
Everything was going according to plan so far, for the team and myself personally. We had grabbed lots of sprint points already, and five of us were still in the front group.
I got a useless ghost at the Rooftop KOM banner, and my legs needed some rest before the big Temple KOM. So I told my team I'd be taking the Country Sprint as easy as possible, getting ready for the long uphill push to the base of the Temple KOM.
As we turned onto the dirt I hit my "A" key, hitting the brakes so I could do a quick swap to my gravel bike. Captain Antoine joined me in swapping, and we started hammering up the dirt to get back in touch with the front pack.
Typically this is a climb Antoine just destroys, but his legs weren't doing well today. I sat on his wheel for a while, then came around him as we started passing dropped riders.
Then disaster struck! Or rather: sweat struck. A drop of sweat hit Antoine's phone, activating a macro button which brought up the Zwift pairing screen and brought him to a halt. Valuable seconds were lost as he fumbled with his computer to get going again.
But I couldn't focus on Antoine. I had my own battle to fight! I had caught many dropped riders, but there was still a big bunch up the road. On the final bit of climb I went all-in, finally reaching the front bunch (though there was still a few attackers even further up the road).
I crossed the KOM line in 13th place, hit "A" again, and swapped back to the Tron bike. I'd set a new Temple KOM PR (6:40), with an average wattage of 337W (4.1 w/kg). I lost the front pack in my swap, but caught the group just behind, and we began working together well, sweeping up other riders until we constituted places 11-23.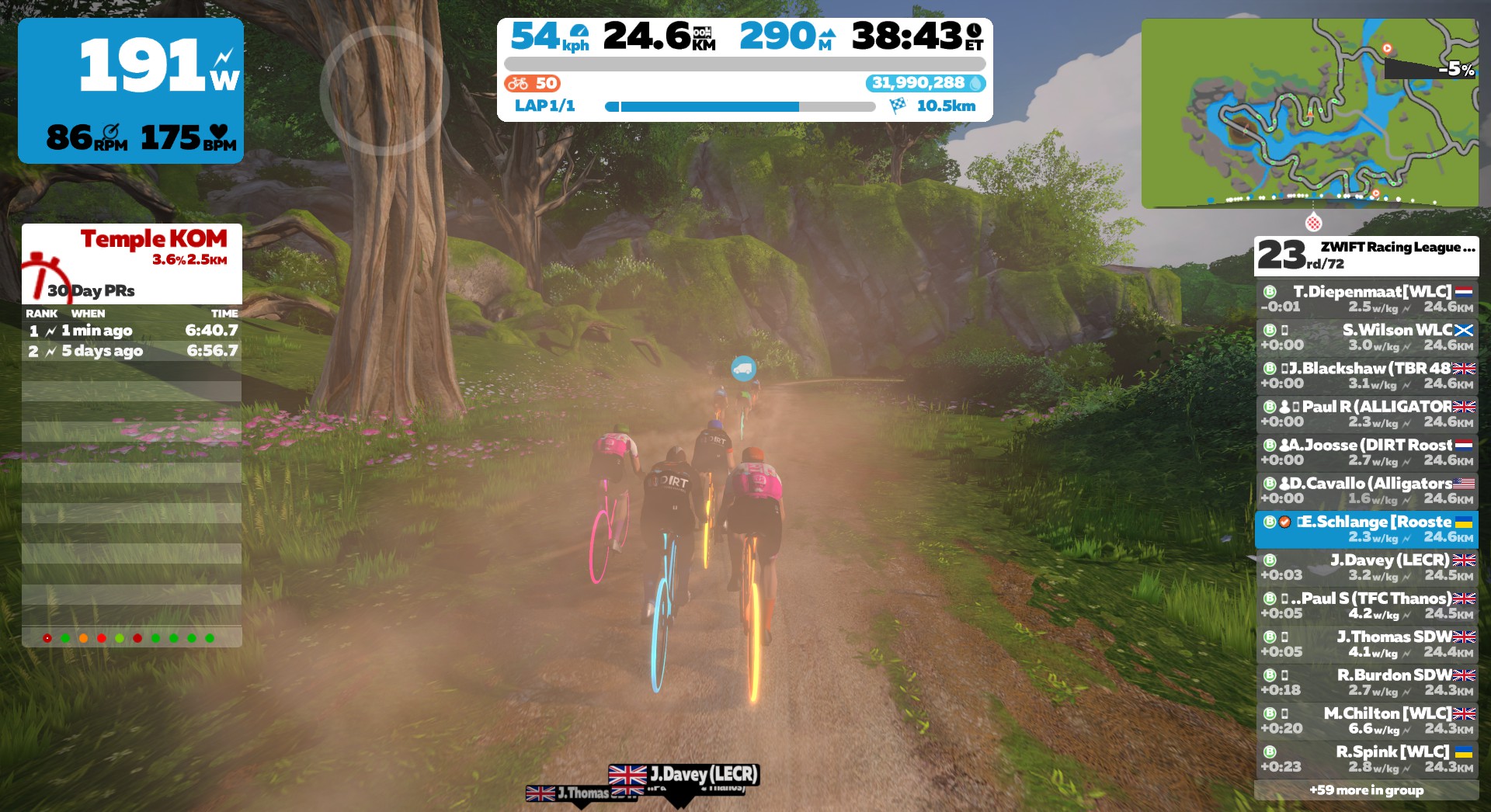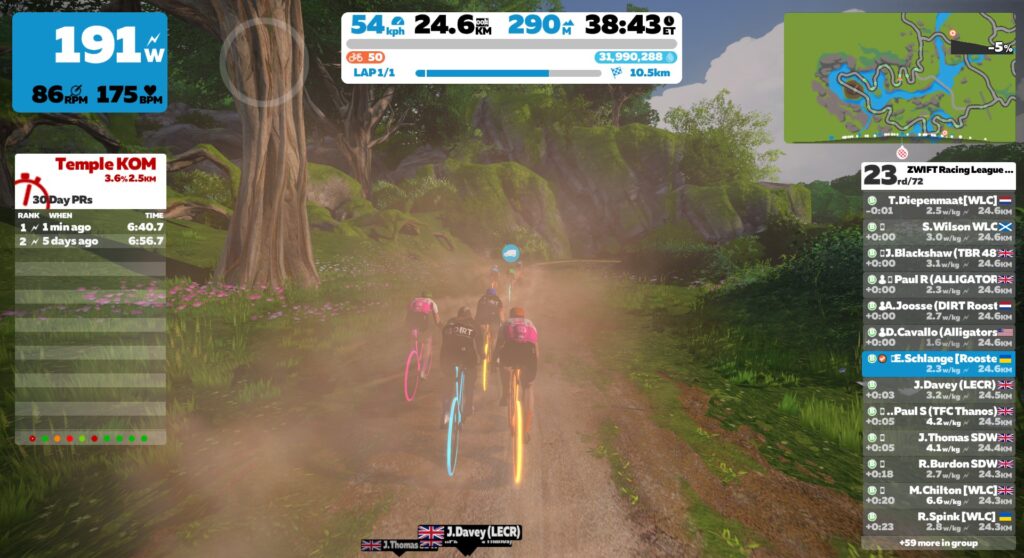 The Finish
Up the road we had just one teammate (Sean). Arjen was in my group. Antoine and Dejan were in groups behind, and master sprinter Clem was way back and not on Discord.
Clem's approach to this race was radically different from the rest of us. With his huge sprint power he had decided to only chase sprints. And he was doing very well, having grabbed two firsts, a second, and a third in FTS so far in four sprints!
Our small chase group had begun gaining on the front pack, but then the front pack started pouring it on in the final minutes, and it was clear we wouldn't be catching them. Our group eased.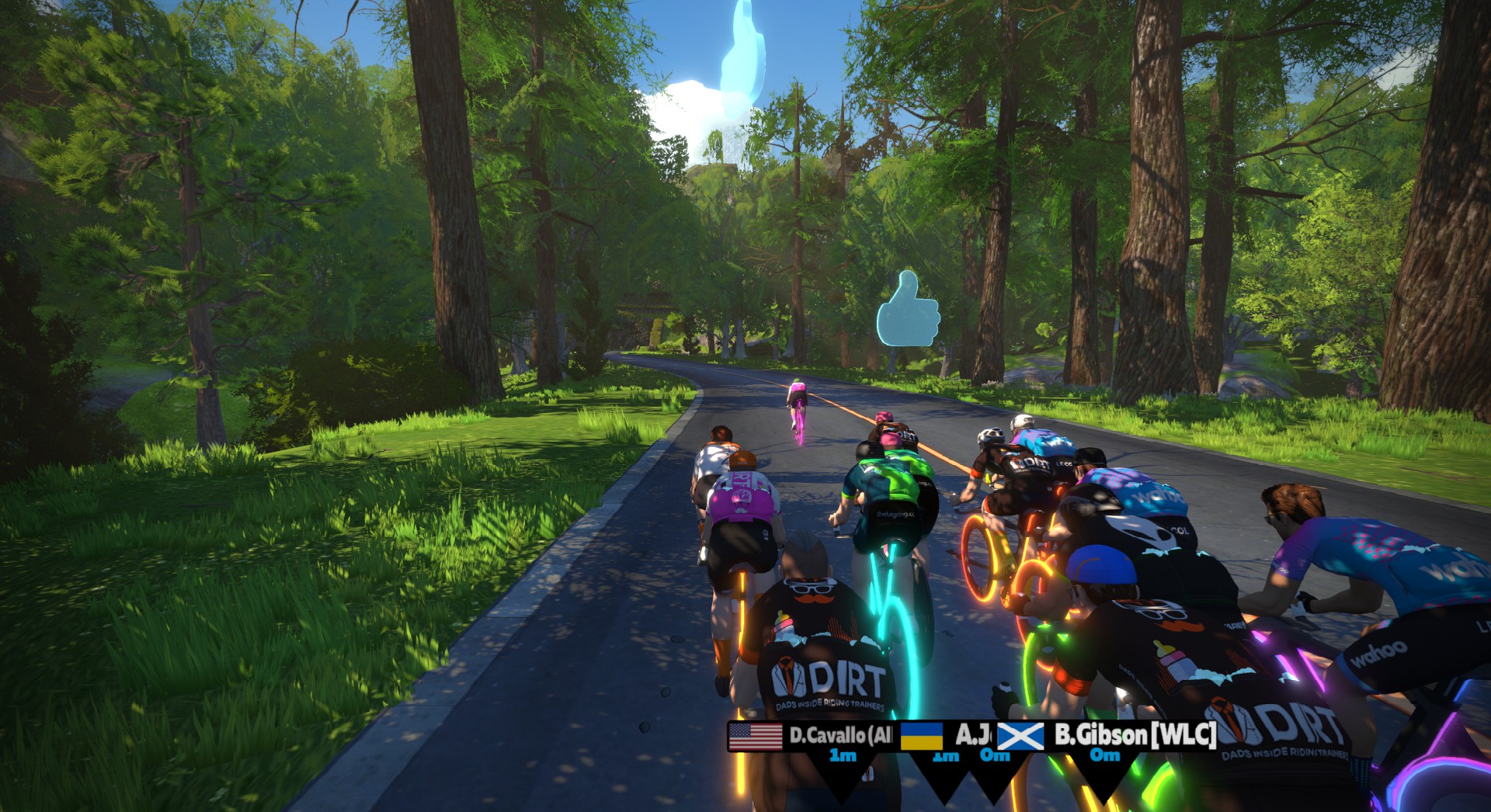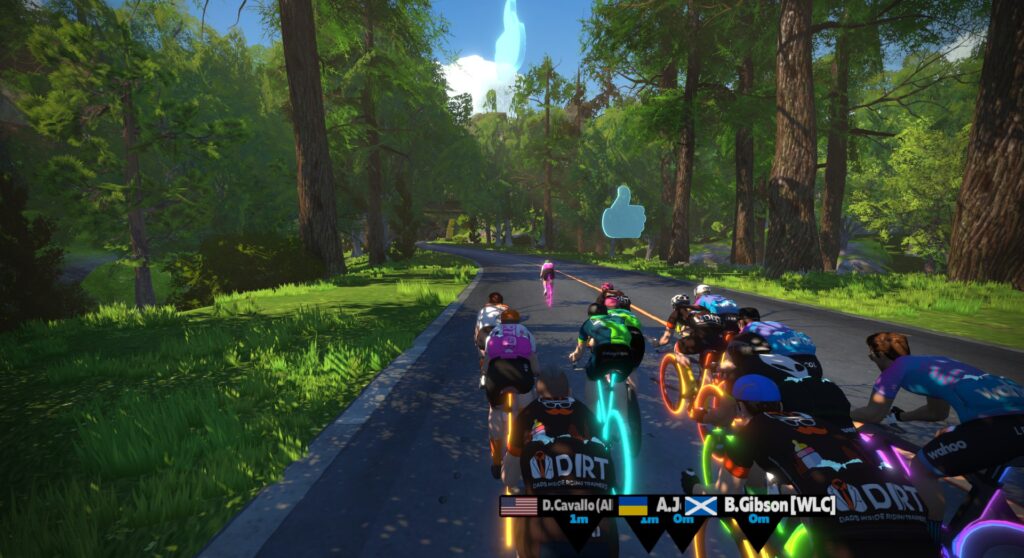 Arjen attacked the Tower Sprint hard, grabbing first on FTS while I saved my legs for the finish. (Clem would come through solo several minutes later and beat Arjen's time.)
I was holding an aero powerup for the final sprint and waited for one of my groupmates to start hammering out of the hairpin turn before I upped the watts and activated the powerup. I managed to outsprint all but one member of my pack, finishing 12th.
See activity on Strava >
See ride on Zwift.com >
See results on ZwiftPower >
(Unfortunately no race video this week: my computer ran out of hard drive space as I started the Temple KOM!)
Team Result
Going into this race the Roosters were in a three-way tie for first place in our league (EMEA W Division B1). And we had high hopes for this week's result, as it included sprints, which are our strength, and a climb that suited Antoine.
While Antoine had a tough week, Sean killed it with his front-pack finish and a smattering of intermediate points. Clem's "sprint first, finish last" approach worked well, earning him more points (90) than anyone else in the race despite finishing 67th out of 70 riders. (There's a lesson there.) And the rest of us did our part too, grabbing intermediate points wherever we could.
We all earned intermediate points, in fact. And in the end, just like in past races, those were the points that won it for us: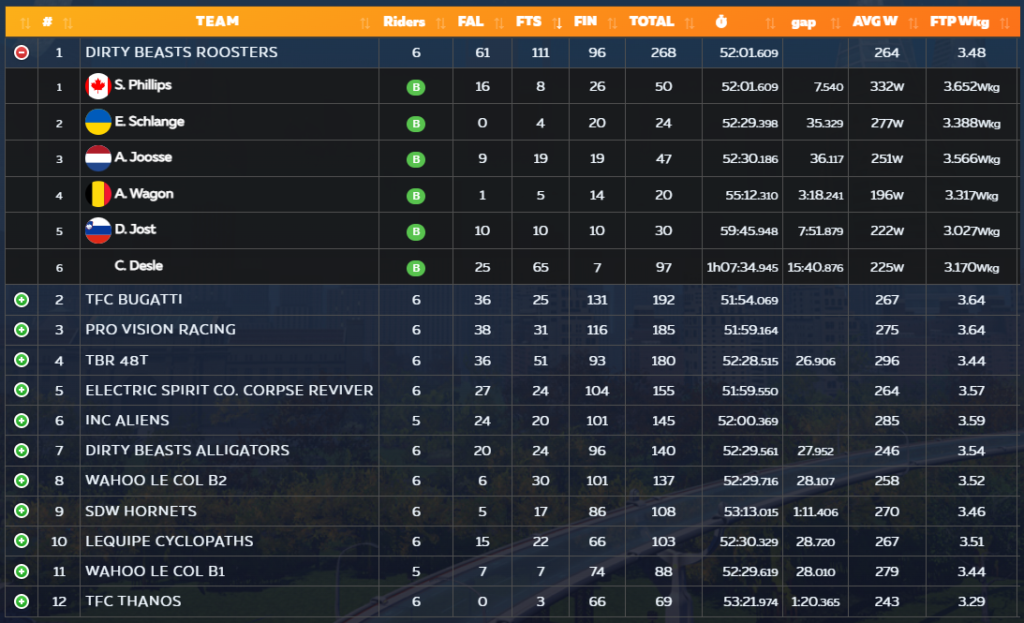 Takeaways
I wasn't 100% sold on the idea of bike swapping for this race, but now I can say with 100% certainty that swapping was a smart move for me. There's simply no way I would have finished the climb where I did if I had stayed on a road bike.
Could I have raced it any better? In hindsight, yes. I could have pushed a bit more on the two initial sprints, knowing that the Rooftop climb wasn't going to be all-out. But in the end, I'm stoked finishing 12th. And even more stoked that the Roosters took our first B1 win. Cock-a-doodle-doo!
Your Thoughts
Share below!