In the past few years I've developed a fun friendship with Steve Beckett, Chief Marketing Officer at Zwift. He's a transplanted Brit with a distinct sense of style and intuitive marketing sense coupled with a laid-back approach that makes him easy to work with.
We first met at a Zwift corporate off-site event in Ojai in March 2018, where we had a nice long chat about where Zwift Insider fits into the Zwift universe, and how we could work with Zwift to make the relationship beneficial for everyone. For Zwift. For Zwift Insider. And for the Zwift community.

Since then, we've stayed in touch regularly via WhatsApp. He races with a ZHQ team in the Zwift Racing League, and his time slot is several hours after mine – so each week I would let him know how the race worked out for my team, offering any tips I could to help Steve's squad. One day we got to talking about how neither of us had our Uber Pretzel badge, and the Zwift Insider Badge Hunter ride was born.
For a few months, Steve had been bugging me to get down to Southern California for a ride (Zwift HQ is in Long Beach, and Steve lives nearby). Then I noticed he'd been putting in some long rides on Strava, and I asked him what the increased effort was all about. That's when he threw down the gauntlet:
Soon enough we had a date, and my flight was booked.
The Warmup
With the ride booked, I thought through the sort of training I should do so I could be as prepared as possible for the big day. We would be doing a lot of climbing, that was certain. And it would be a longer ride, probably 70-100 miles. Based on our Zwift race results, I knew Steve was a stronger climber than myself, but we were pretty evenly matched on flatter ground.
So I needed to do some extra climbing. Outdoors. And maybe even drop a few pounds.
They say the road to hell is paved with good intentions. Nowhere was this more true than in the weeks leading up to the ride, where I managed to put in pathetic levels of outdoor climbing and actually gain weight. I gently but repeatedly kicked myself as I boarded the plane to SoCal. Even at my best fitness, Steve was going to put the hurt on me in those mountains – but I certainly hadn't done my part to prepare. This was going to be ugly.
The Start: Nichols Canyon
We headed out on Friday morning from Steve's house. I had shown up a bit early to dial in the loaner bike Steve had secured for me from Zwift's office – a Canyon Endurace, painted orange from a Zwift video/photo shoot.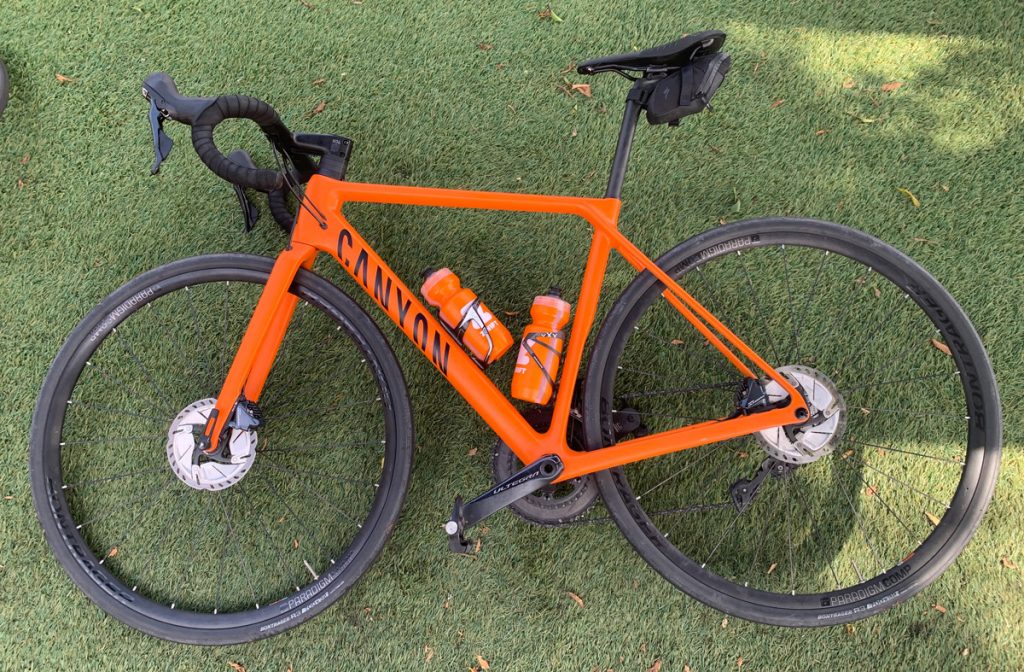 I'd never had the chance to ride a Canyon, so this would be fun. It felt light and snappy compared to my Venge ViAS, and although the front brakes needed a little love and the Vector 3 pedals I'd brought had dead batteries, I knew Big Orange would do just fine.
There were four of us: Steve, myself, Craig Taylor (Director of Growth Marketing – Running & Tri at Zwift), and Laurent Janneau (Senior VP of Brand & Communications at Zwift). The start was easygoing as we weaved our way through traffic and stopped at numerous traffic lights (except for those Laurent decided to skip).
This first part of our day would be a version of the famous Nichols Canyon La Grange ride, where 50-150 riders gather every Sunday morning to try and rip each other's legs off. Zwift HQ folks show up to this ride regularly, so my companions knew these roads well.
We were heading away from the ocean, towards the mountains. Through Venice, Beverly Hills, and West Hollywood – then a left turn onto Nichols Canyon Road for the first climb of the day.
Steve set the pace as we left the grid streets and began climbing on the narrow road. I'd been told this was a "12-minute climb", so I paced myself accordingly. Happily, Steve wasn't hammering too hard, so I stayed just behind he and Craig as Laurent dropped back a bit.
A final dig up the last little pitch and we arrived at a good stopping point. As a beautiful McLaren zipped past, I took stock of things.
That first climb wasn't terrible, but I'd probably pushed a bit harder than was wise on a ride of this length. On the plus side, Laurent was behind me, so I felt good to not be the last guy in the group. But I would have to be careful not to push so hard that I blew up – my main priority was to finish the ride, even if my companions had to wait for me a bit at the top of the climbs.
Trying to keep up with Craig (an Ironman athlete who never looks like he's working hard on the bike) and Steve (who I knew could handily outclimb me) would be a fool's errand.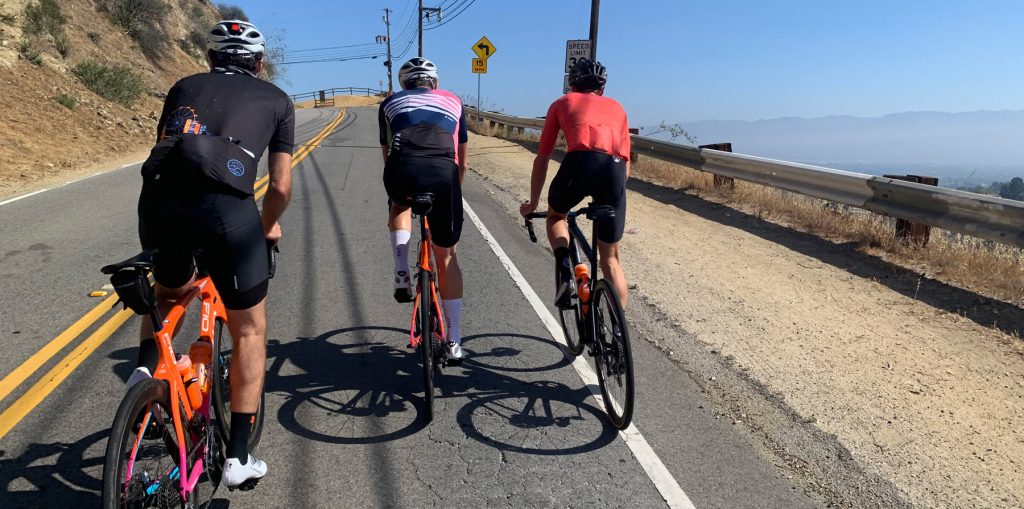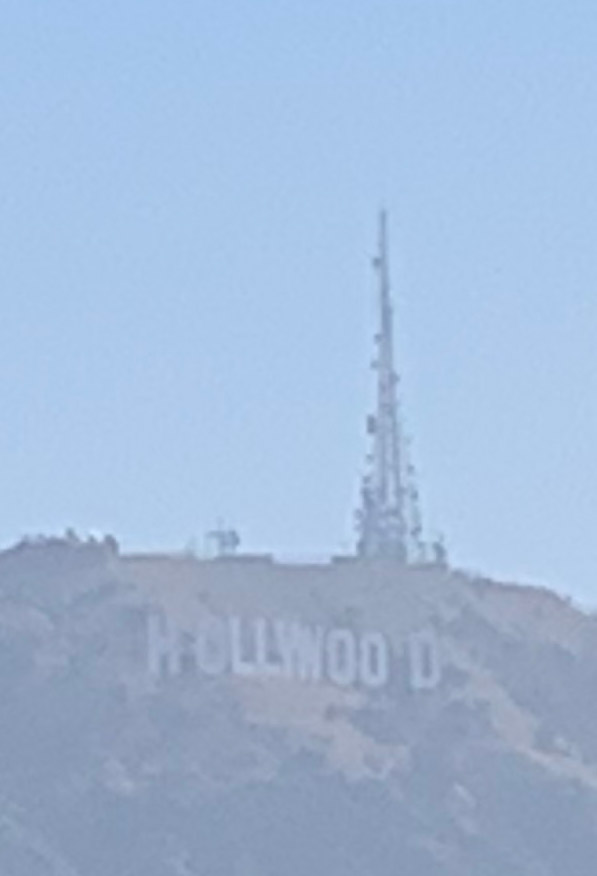 After a quick diversion to look at the Hollywood sign (see my unimpressive photo) we made our way across the top of the mountains. Laurent bid us adieu since he had an early meeting, then we descended into Brentwood for a coffee stop to meet up with Kate Veronneau (Senior Cycling Growth Marketing Manager at Zwift).
The Laurent for Kate trade was not a good swap from my perspective. I knew Kate was a strong rider, and this meant I'd certainly be the weakest link on the big climbs.
The Breaking: Topanga
We rode down to the ocean and made our way up the Pacific Coast Highway to our next climb: Topanga Creek Road. This was a rather busy road, and a steady climb. As Steve began pushing the pace on the front, I dropped off the back. I was starting to sweat a lot, the legs were burning, and I knew there was an even tougher climb of unspecified length coming up.
They waited for me at the left turn to Fernwood (since I had no idea where I was going), and we began the real climb: Tuna Canyon Road. This was the climb that did me in. I was sweating like a pig at a luau, and the twisty road gave me no indication of when the climb would end. Was this a 15 minute effort? An hour? I had no idea – so I just kept chugging along, dripping sweat on the tarmac and questioning my life choices.
They waited for me at the next intersection (by my math, they had to wait several minutes). But the climb wasn't quite finished! We still had Saddle Peak Road to ride, which took us (you guessed it) to the peak.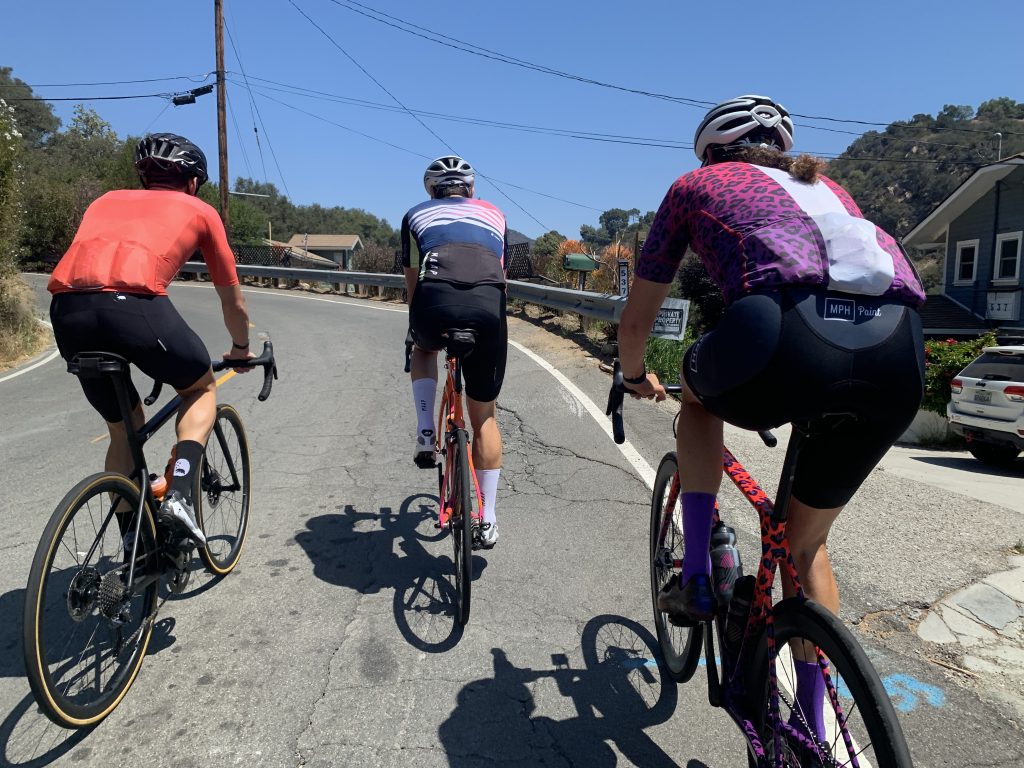 Here's what the Tuna Canyon + Saddle Peak climb looked like:
We took a quick breather at the top, refilled water bottles, and discussed what to do next. Steve was sort of planning this ride as we went, and I think he decided to mercifully pull the plug so I wouldn't have to tackle any more big climbs. I was OK with that.
With our course decided, we enjoyed a long descent back to Topanga Creek Road. As the wind dried my sweat-soaked kit, my brain quickly forgot all the uphill pain.
That's the beauty of cycling – you forget the just-finished suffering as you embrace what's right in front of you. There's a lesson here.
The Finish: Burgers and Beer
When we returned to Topanga Creek Road Steve went to the front and started drilling it a bit, keeping our speeds high for the long descent to the ocean. This was my kind of riding. Downhill, fast! I sat on Kate's wheel and just enjoyed the adrenaline rush of a fast, windy paceline.
We returned to the PCH, then relaxed our way back into town. Craig peeled off for a meeting appointment and Steve, Kate and I grabbed a late lunch. There's nothing like the feeling of good food after a hard ride!
5 hours of moving time, 1734m of elevation, 127km
See my ride on Strava >
Takeaways
I love riding new roads, and almost every bit of this ride was virgin territory for me. So that's a win. And I got to ride it on a new bike, with friends from Zwift – more wins!
I'm not sure if Craig even broke a sweat as he kept pace with Steve, and I know Kate hung with those two just fine. While not every Zwift employee is a cyclist, many are – and some are very strong. It's good to know my favorite cycling game is in the hands of people who love to ride.
Generally when I ride new roads, I've done some research so I know what I'm getting myself into on the big climbs, etc. That didn't happen with this ride, and this lack of knowledge certainly didn't help my performance. Next time I'll make sure I know the route better before the ride begins.
Sure, in the end, Steve accomplished his goal of kicking my ass around the Santa Monica mountains. And he did so quite handily. While I was disappointed in my own performance, in the end, every day out on the bike with beautiful roads and good friends is a good day. So I'll be scheduling another ride with Steve soon.
Your Thoughts
Have you ridden some of the SoCal roads I wrote about above? Got some tips to help me hang with Steve just a bit longer next time? Comment below!