The first race of Zwift Racing League 2023/24 Round 1 happened Tuesday, September 12. We were on Scotland's Rolling Highlands for three laps, riding the first official scratch race in ZRL's history!
While I'm still with the DIRT team overall, I've jumped from the DIRT Roosters team to the DIRT Kraken, moving my race time a couple of hours earlier and giving me the opportunity to race with a fresh set of guys.
The Warmup
The race began at 9:30am, so I ate breakfast well beforehand then chewed some caffeine gum and applied PR lotion to the legs before kitting up and heading to the warmup.
My goal for the warmup was to ride ~30 minutes with Coco, but I ended up faffing about with my Zwift/Trainer/Discord/Video setup and cutting my warmup a bit short. First I wanted to swap trainers and get back on my familiar Wahoo KICKR + rocker plate setup after testing other trainers in past weeks. Then I needed to get Sauce for Zwift set up to display nicely in my video recording. Oh, and let's not forget trying to dial in audio (Discord comms + music) for the video and my earbuds!
It was all a bit of a mess. On top of that, in-game I needed to update my name to reflect my ZRL team, and change my kit. So many things! But I still managed to get into the start pens early and reserve a good spot.
Lead-In + Lap 1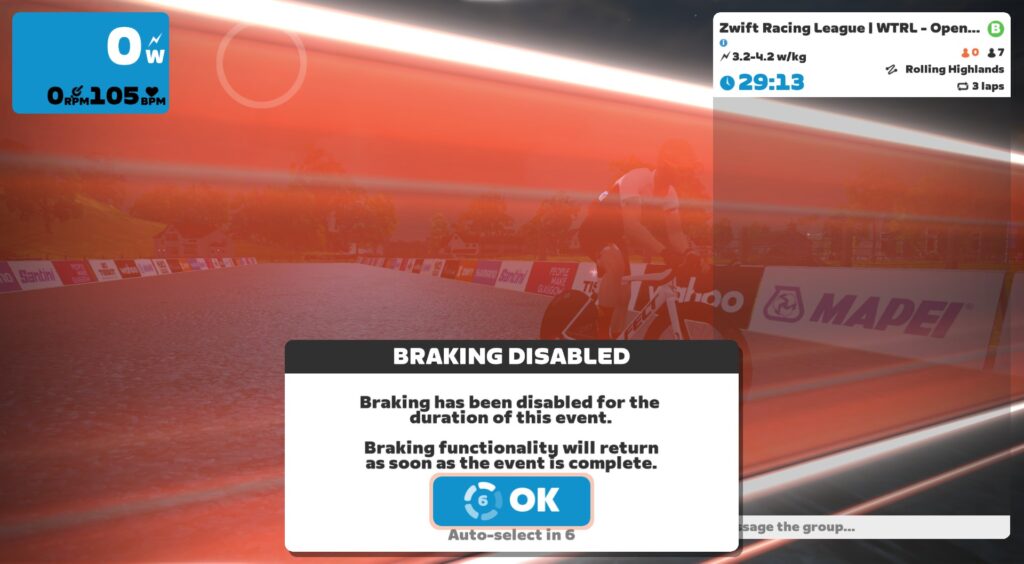 My team had been messaging on Discord for a couple of weeks, but this was the first time the Kraken had voice-chatted together. We didn't exactly have a firm race plan as a team. (That is hard to set up, it turns out, when you're racing against unfamiliar riders, with a new team, using revamped Pack Dynamics. Some of our riders wanted to go for breakaways, some of us planned to sit in and conserve to the finish.)
There wasn't much time to chat, though – the clock hit zero, and we were off!
The start was pretty gentle, since it was slightly downhill. No early attacks, and our effort didn't ramp up until we hit the Breakaway Brae. Feathers flew, watts spiked, and we powered our way through the banner!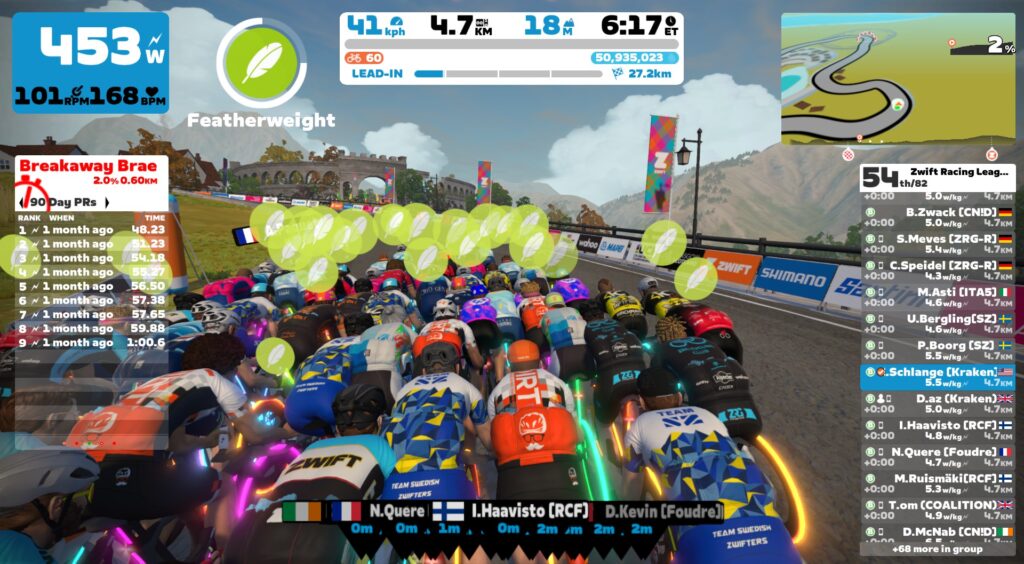 84 racers had started. 82 hit the Brae in the front pack. 69 survived to start the first lap together.
Fresh burritos flew just after the Brae, forcing many riders (including myself) to push extra hard since we were receiving zero draft. Curses! I saved my burrito for the climb up through the Cliffs, figuring it might do a little more damage at that time.
Back through the mystical roundabout and up The Cliffs, Kraken captain Diogo activated his breakaway burrito just before the roundabout and powered away from the group in a strong attack!
We went through the lap banner and got more feathers. Kraken riders stayed off the front, making the other teams pull the pack back to Diogo, who only managed to gain a 6s gap.
The descent to Corkscrew Castle let us catch a bit of recovery, but also helped the pack catch Diogo. It's hard to stay away on a descent! Then it was hammertime up the corkscrew. Many riders used their feathers – I opted to save mine for the upcoming Breakaway Brae.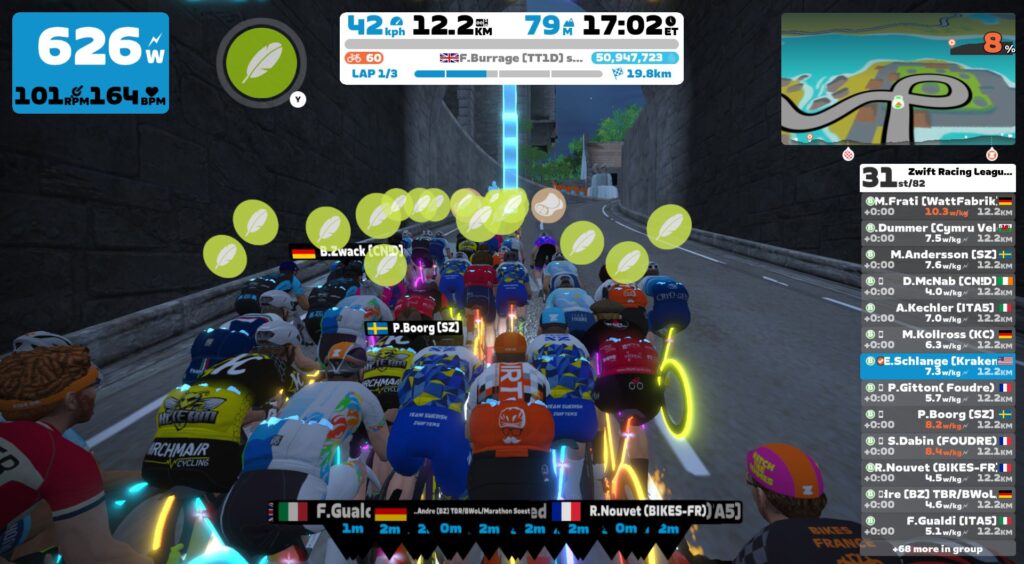 The Corkscrew Climb booted another batch of riders from the front group, bringing our pack down to 55.
Lap 2
I dropped my fresh burrito right after I got it, figuring riders would be struggling to hold on. The packed regrouped, recovered, and we tackled lap 2, which felt like a replay of lap 1.
Another team's rider attacked at the end of The Cliffs, right where Diogo attacked on lap 1. He got about the same gap as Diogo, too, but got reeled in just after the Corkscrew Climb. This would prove to be a more selective climb than Breakaway Brae each lap, with riders being dropped in the seconds following the climb as the pack stretched out.
We entered Corkscrew Castle with 54 riders, but before starting Breakaway Brae we were down to 43. An attritional race, for sure. At this point attacking was way out of the question for me. All I could do was try to hold on!
Lap 3 + Finish
The start of the final lap was the first time in the race where I was gapped a bit off the back. We'd just finished Breakaway Brae, the burritos had flown, and ~30 of the front pack were ~20 meters ahead.
But one beauty of Pack Dynamics 4.1 is that the pack moves slower – which means you can chase on more easily! I was able to get right back in. But I wasn't feeling good.
I tried to hold my position in the pack at minimum wattage, recovering as much as possible before The Cliffs began. Attacks started early on The Cliffs this time, and I was tailgunning it around 35th place. I bumped up my power to move forward, then near the top several riders put in fresh attacks!
The pack started stretching out, and I was drifting back. When we went through the lap banner we had 3.3km to go and I was in 40th place, fighting to get back into the draft and the safety of the pack. I managed to do it (again, Pack Dynamics 4.1 makes this much more possible than it used to be), then tried to catch my breath before what was sure to be a difficult push up the Corkscrew and onto Breakaway Brae.
One rider attacked just before the roundabout (this was a popular place to attack!) and was 6s away as we entered Corkscrew Castle. He was quickly reeled in, though, and I had to dig deep to hold onto the wheels and rejoin the group, captain Diogo on my wheel.
Soon afterward, 36 riders began Breakaway Brae. Diogo had dropped off my wheel, and with 300 meters to go I was in no-man's land, dropped by the front pack, with other riders a safe distance behind. I had nothing left, but nobody contesting my finishing spot either. I coasted in, finishing 36th.
See results on ZwiftPower >
See activity on Strava >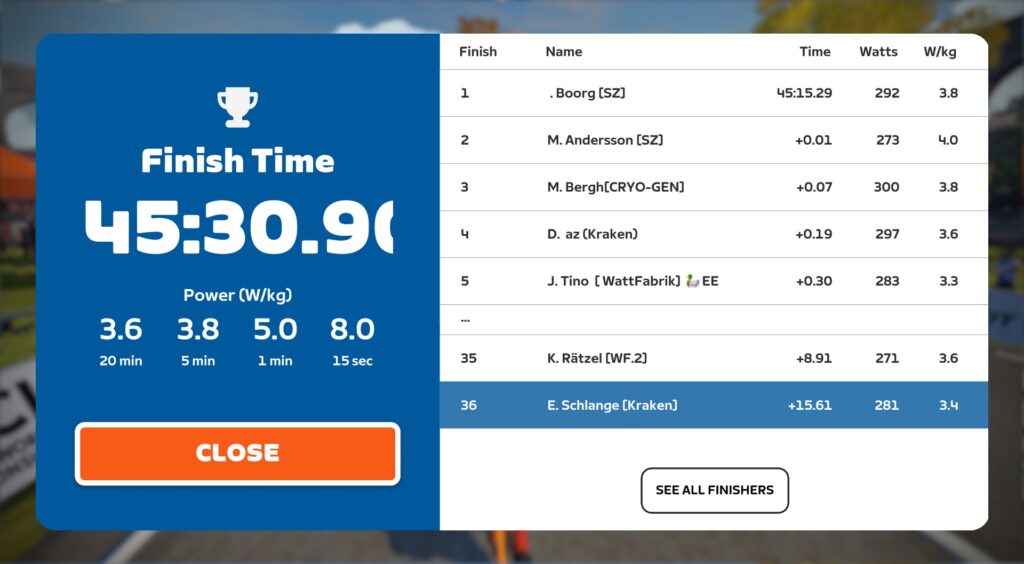 Watch the Video
Apologies for the sound quality – gotta dial that in for future ZRL recordings with Discord:
Team Result
DIRT Kraken finished with 5 riders in the front pack (although myself and Diogo were the last riders in that pack). Our best result was from Daz, who finished just off the podium in 4th.
But the "pack" you finish in isn't important in a points race. This isn't about time; it's about finishing order. Every place counts.
Team SZ Sleipner took 1st overall thanks to their top three riders finishing 1st, 2nd, and 7th (well done). Kraken came in 2nd. Not the result we wanted, but one we're satisfied with for now.
Takeaways
My legs weren't great for this race, and I'm not sure why. Hopefully I can ride stronger in the coming weeks.
Three big takeaways for me:
B1 is still a super competitive division. I'm not ashamed to admit that, in changing teams, I was hoping to be placed on a B3 or B2 squad where I could contest some segments and finishes. As it is, in B1 I'm doing all I can to just hold onto the front group. Why is B1 so tough? Because it's where all the top B riders and teams end up, and while the worst teams get relegated, strong riders only leave if they cat up, meaning the teams just keep getting stronger as the season goes on.
Pack Dynamics 4.1 lets you chase back onto the pack like never before. So don't give up! There were three spots in this race where I may have been dropped if we were using the old Pack Dynamics. But I managed to chase back on, and what it took, more than physical strength, was just the mental ability to stay "It's possible. Push a bit."
Although attacks are much more doable in PD4.1, they're going to be really tough to pull off against larger ZRL fields. I expected more attacks in this race. While I think we'll still see more attacking than past ZRL seasons, it's very difficult to make it stick in larger, stronger fields (cat A and B, especially).
Questions and Comments
How did your first ZRL race of the season go? Share below!