Zwifters race for a variety of reasons. Some do it to train for outdoor events, others do it for the pure fun of competition. Some do it to test their personal limits – others because they're part of a team.
I was going into this race with a different sort of goal – to complete a structured workout in the context of a live race event. I've raced as a workout before, but this was a workout I hadn't yet tried. My motivation was Tuesday's big Zwift Racing League event on NYC's Everything Bagel – a race that would be won or lost over a few climbs. And I knew those climbs were my kryptonite.
So I conceived a plan to work on my VO2 Max power during a Crit City race. Would one workout fix my historic VO2 Max w/kg weakness? Nah. But 12 laps of the Bell Lap route would provide the perfect environment for an engaging and challenging workout. And what doesn't kill you makes you stronger, right?
A Bit About VO2 Max
The terms "VO2 Max" refers to the maximal volume of oxygen that can be inhaled and absorbed by your body. It is widely considered the gold standard for evaluating cardiorespiratory fitness.
Cycling coach Jeff Winkler says, "Think of VO2 Max as a supply-and-demand of oxygen, transporting it from the lungs to working muscles. Things that affect that are how well your lungs function at moving oxygen from the air into the blood, the stroke rate and volume of your heart, and capillary density. The demand is the rate that your muscles call for oxygen, a mitochondrial process."
Testing your capacity to absorb oxygen requires a lab, and the results are stated in milliliters of oxygen per kilogram of body weight per minute, or ml/kg/min. But there are road tests we can take to predict our VO2 Max in terms of power. One simple test: your VO2 Max power is understood to be 110-120% of your FTP. Based on my ZwiftPower numbers, my FTP is 95% of 319 (so 303.5W), making my VO2 Max fall somewhere in the range of 333-364W.

Why does VO2 Max matter? Because it's a huge determiner of your ability as a cyclist. On Zwift, we see riders pushing to their VO2 Max in many races with short climbs (think 3-5 minutes). In fact, it could be argued that your 1 and 5-minute power is more a determiner of Zwift race success than your FTP. But we'll leave that for another day!
Warmup and Workout Planning
After chewing a couple pieces of MEG caffeine gum and rubbing some PR lotion into the legs, I headed over to Tempus Fugit for a warmup. Just a typical warmup – around 25 minutes, with a few hard efforts to get my heart rate up to 160.
While I warmed up I mentally rehearsed the ride plan. The race was 12 laps long, and I knew Crit City laps take about 2-1/2 minutes to complete. So I would do two hard laps, then two recovery laps. Repeating this 3 times gave me a total of 12 laps, with 15 minutes of VO2-level effort. Perfect! (Painful, but perfect.)
My grand vision was that I would jump off the front of the pack and stay away for two laps, then they would reel me in as I recovered. Wash, rinse, repeat. But as I checked the signup list I realized the B group had grown in numbers and strength since I had last checked. There were a handful of riders ranked higher than myself, and plenty of strength in the group.
I figured my grand vision might not quite pan out, but it would be a great workout regardless. Let's race!
The Start (Set 1)
My first tough interval began when the clock hit zero and we charged out of the pens. We had 57 riders in our group, and I was immediately on the front with a couple of other riders, the pack strung out behind us.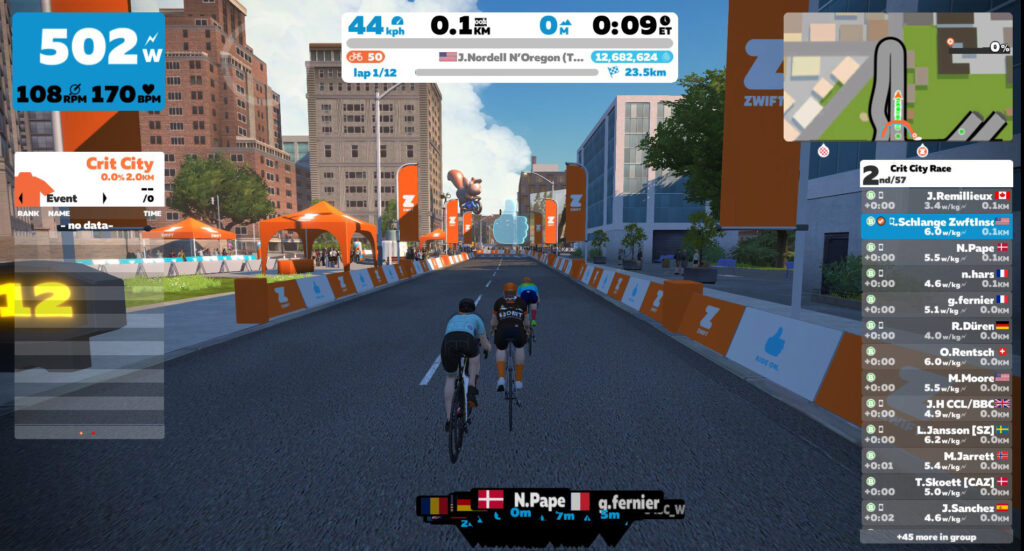 I knew I could hold around 350W for 5 minutes, so that was what I targeted on the flatter sections. Usually the pace settles down after the first little climb on Crit City, but I keep pushing over the crest, trying to keep my wattage up on the brick descent.
This was a really strange experience mentally. My brain kept questioning why I was pushing hard on the front of the pack! Especially on a descent. Especially on the first lap of the race. And especially when my legs already hurt!
It took some mental gymnastics to keep my body working hard for those first two laps, and I never got a significant gap on the group. But I think the pace stretched things out and dropped a few riders, so that felt good.
After two laps I sat up, going back to my natural habitat of sitting in the draft and riding efficiently.
Anti-Sandbagging!
I saw a green cone or two fly during this first set, which was interesting since this wasn't a Zwift HQ Beta race. Hopefully that means they're rolling out anti-sandbagging to more events? Sure enough, ZwiftHacks shows several generically-labeled "Crit City Race" events with anti-sandbagging enabled.
The Middle (Set 2)
Lap 5 began soon enough, and with it my next tough VO2 effort. I went hard up the twisty climb, deploying the breakaway burrito on the front so any chasers had to work a little bit harder. But I didn't drop a single rider in our front pack of ~20. In fact, I was having a hard time staying on the front!
I kept naturally defaulting to sitting in the wheels to recover, before slapping myself and pushing hard to keep the wattage up. But the legs were hurting! I finished the second lap (not a meter too soon) and eased up, sitting in the wheels to recover. I was sure my power was lower for that second set – I could feel that the legs just weren't fresh enough for an breakout effort today.

The Finish (Set 3)
By the 9th lap I was feeling the effort and realizing that perhaps my neat and tidy lap breakdown wasn't so smart after all. Because now I was staring down the barrel of two full-gas VO2 interval laps, followed by the final two laps which would surely not be easy! Would I even survive to sprint it out in the end?
I was so busy thinking that I forgot to go hard at the lap banner to begin my third and final VO2 Max set. But I remembered soon enough and went hard up the twisty climb. The group stretched just a bit, but I could tell my wattage was far from impressive. Oh well – it was going to be a killer workout if nothing else! So I pushed for laps 9 and 10, sometimes finding myself in the middle of our pack of ~20, other times riding on the front in a position my mind was not happy with.
At the end of lap 10 I sat up, and just tried to take it easy while staying in the pack. I figured lap 11 would be fairly easy, then 12 would be hellish. Riders were still pushing the pace on the front, but sitting in the draft meant I could hang with the pack at 270W instead of 320W. Much easier.
The final lap hit, and the pace of the group rose palpably as we hit the twisty climb. All I had was a friggin steamroller for a powerup, which would be of no help in the sprint. So I just worked to stay in touch with the front group, using my steamroller on the bricks to make me roll just a bit faster.
A small group had broken off the front, but I didn't have the legs to chase, so I hoped my pack would reel them in. And we pretty much did, but by that time everything was going fast and the pack was a strung-out mess! I shifted down a couple gears, got out of the saddle, and went all in at the last left turn. I passed a few riders in the final meters, finishing 8th on the day.
See activity on Zwift.com >
See activity on Strava >
See race results on ZwiftPower >
Watch my race video (with suffercam!)
Takeaways
While it was difficult, I'd take this sort of a workout format over a solo ERG workout any day! VO2 Max work is really tough, but doing it in a race context helps the time fly by.
My "recovery" between sets wasn't easy at all (270W+). And I think this made it so I couldn't hold my normal VO2 wattage for all three intervals. Is that a downside to this style of workout… or a benefit? Is it better to hold that precise VO2 wattage for each interval, or to struggle to hold it while riding tempo in between, just like I would in a race?
I'm not really sure. But here are my numbers for each set:
VO2 Set 1: 361W for 5:02, 175BPM, 88RPM
Recovery Set 1: 285W for 5:14, 170BPM, 84RPM
VO2 Set 2: 332W for 5:14, 178BPM, 87RPM
Recovery Set 2: 273W for 5:24, 172BPM, 84RPM
VO2 Set 3: 312W for 5:17, 177BPM, 86RPM
Recovery Set 3: 321W for 5:08, 176BPM, 87RPM
You can see my power dropped on each VO2 interval. And my so-called "recovery" set on those final two laps was anything but!
I set a new 6-week power PB in the 11:20-18:10 range, which was unexpected.
Would I do this again? For sure. But I think what I'd like to try it in a double draft race, where I could get more recovery on the easy portions. It would mean even less chance of me getting away off the front on the hard intervals, but after this race/workout experience, I'm pretty sure that's not going to happen anyway. The pack is just moving too fast for me to create a gap and stay away at my VO2 max power.
And that's another takeaway from this race – just a reminder of the massive difference in effort between riding on the front and sitting in the pack. Just like outdoors, you can kill yourself in the wind on the front of the pack, putting out 350W. Or you can sit in at 270W a few wheels further back. Both positions serve a purpose, but for most racers, if you're looking to win, sitting in makes the most sense!
Your Thoughts
Have you ever executed a structured workout in a race? Share below!