Have you ever laid in bed at night, made big plans for the next morning's workout… and regretted them as soon as you woke up?
That was me today. Sitting on the edge of my bed at 0-dark-thirty, wondering where I get these terrible ideas.
Because this was my morning plan: to put in a harder ride around 60 minutes long, then follow it with a short Crit City race where I would put in regular attacks while trying to still finish with the front. The pre-race ride would put some fatigue in the legs, then the race attacks would force me to burn matches every few minutes while maintaining a threshold pace in between.
So I was treating today's race as a workout, training my body to withstand repeated attacks at race pace – something I've historically struggled with. I had no plans of winning – I wasn't even sure if I would be able to stay with the front group. But I knew by the end I would be spent!
I argued with myself for a few minutes in the dark. Then I got up, grabbed my kit, and went upstairs.
Warmup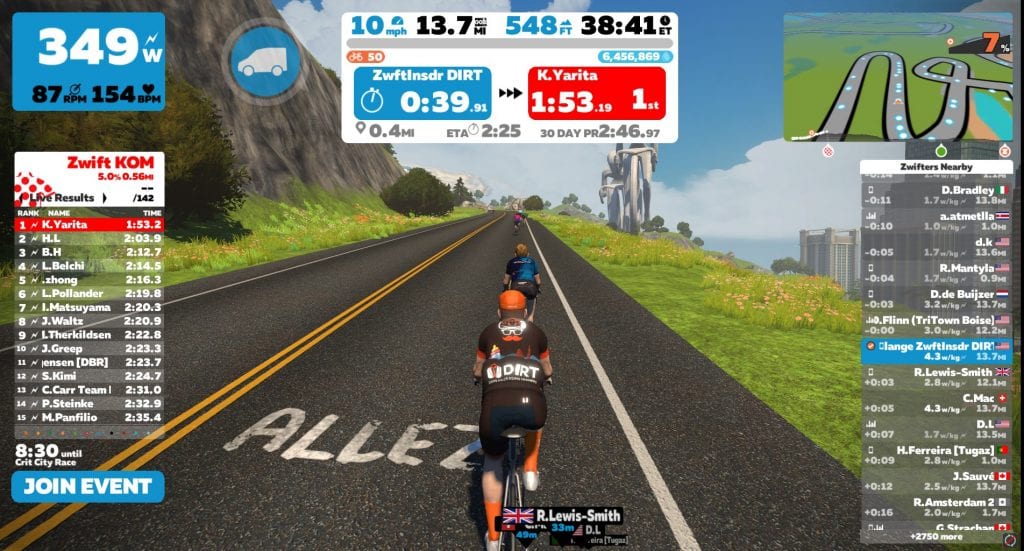 As mentioned above, my typical 20-minute race warmup was being replaced today by a longer tempo ride to tire the legs a bit. I had intended to go for an hour, but a misplaced heart rate monitor and small Zwift Insider website emergency meant I was delayed getting on the bike. (I didn't skip my pre-race ritual either: a piece of caffeine gum and some PR lotion on the legs.)
I settled for a 45-minute ride, averaging 230 watts around Watopia's Figure 8 with some harder efforts included to get my heart rate up to race levels.
The Start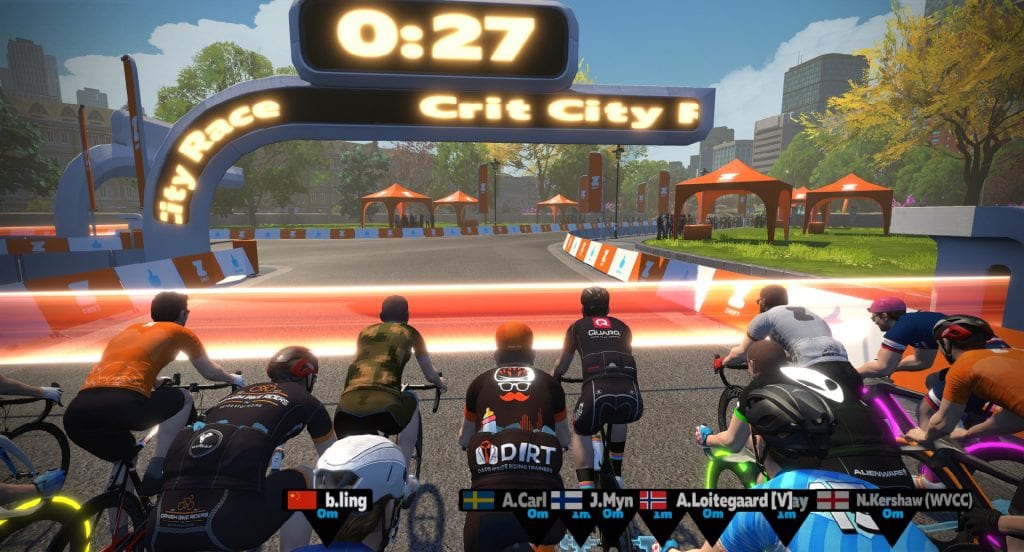 With only 22 B's in the starting field, I knew the group speed would be a bit lower than I've seen with larger packs. That meant my attacks would be more fun, as I'd be able to get away a bit easier. Perhaps a few riders would join me, splitting the field into small packs with a handful of riders?
We'd find out soon enough! The clock hit zero and we were off – 8 laps of Downtown Dolphin.
Things quickly settled into the typical Downtown Dolphin rhythm: hit it hard for 15 seconds up the brick climb, keep the power up until you're back up to speed, then recover on the rollers and flats before you do it all again 2 minutes later.
Plan of Attacks
My workout plan was to attempt an attack every other lap. Attacking on the brick prime section didn't seem like it would work – I have a hard enough time staying in contact there as it is. And I would be a bit too gassed after the bricks to attack into the twisty descent. So I decided to attack before the bricks, on the false flat leading to the eSports pavilion. I figured nobody would expect it, and the slight false flat would help me gain a little extra ground.
My first attack came on the second lap. I managed to get a few seconds on the group, but they caught me as we hit the bricks. (And yes, in the screenshot below, that's a DIRT teammate at the front of the group, pulling them back to me. A big no-no! In his defense, he was probably trying to bridge up to me, although it didn't work out that way. No big deal.)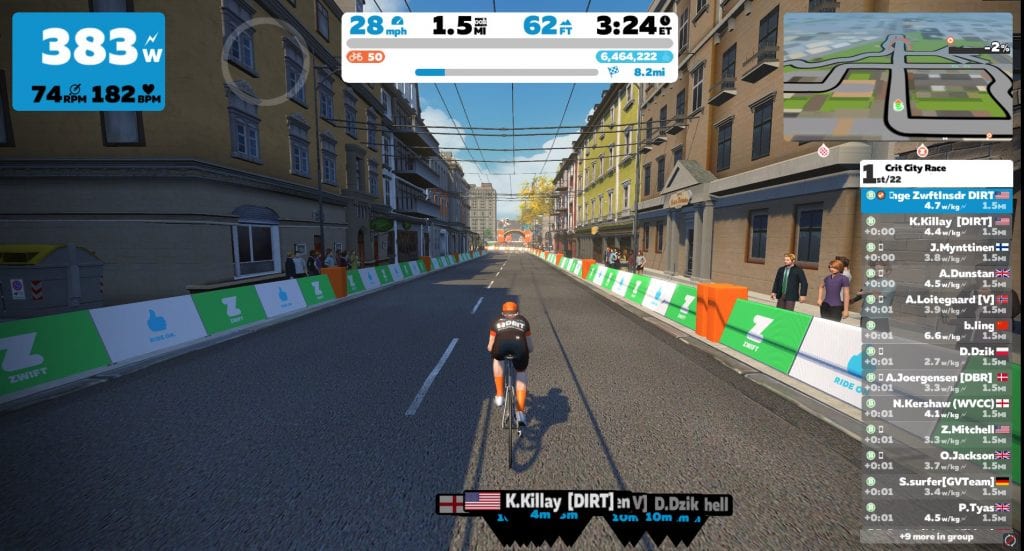 My next attack came on the fourth lap, and this one made things interesting! I hit it hard at about the same place, but got a bit more of a gap than the first attack, probably thanks to an aero helmet powerup. The group caught me near the top of the bricks, but our pack of 13 was stretched out, with gaps opening everywhere.
As we crested the small hill and built speed into the twisties a few riders counterattacked, but I didn't try to chase their wheels. Instead, I sat in with the larger chase group, figuring we could mop up the breakaway quickly enough. And we did!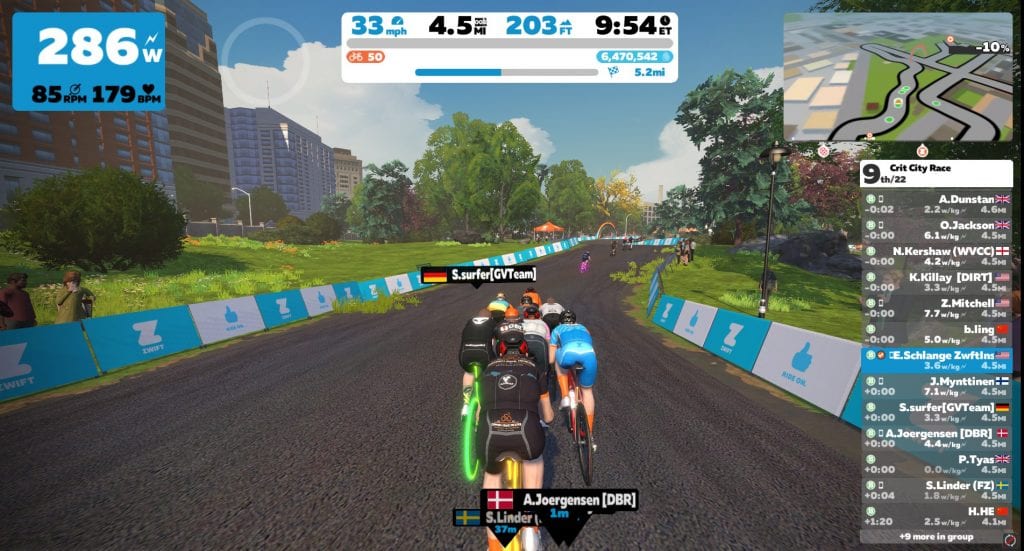 It began to feel like the pack was expecting the pace to ramp up in the section where I was attacking, so I surfed the wheels through that segment on the sixth lap, then hit it hard at the bottom of the twisties for what I hoped would be a surprise attack. It worked!
We quickly dropped a few more riders, and before we hit the bricks on the penultimate lap our front group was down to 7 riders. (Or maybe 8. There was a strong rider in a pink kit who started blinking in and out at this point in the race.)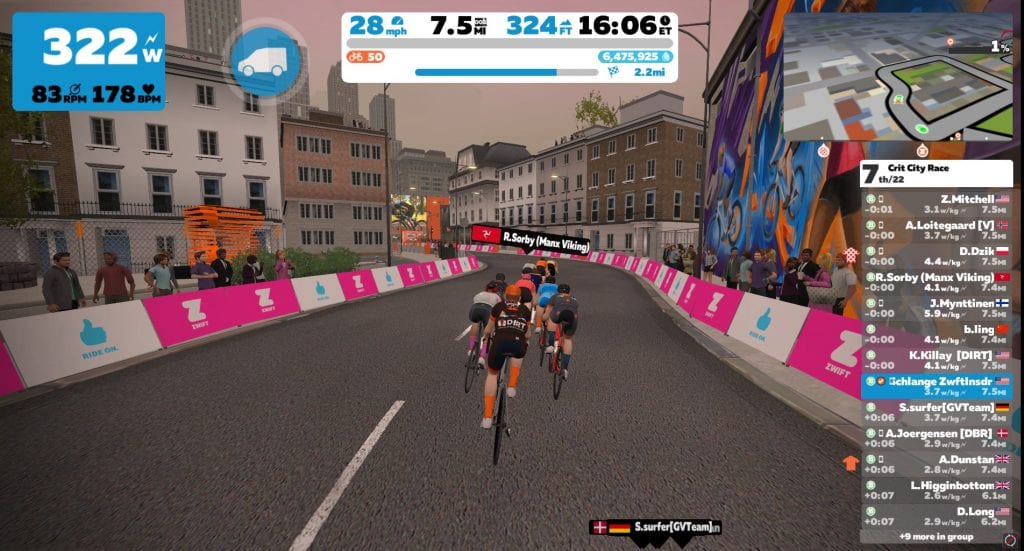 The Finish
I decided my final "attack" would be the sprint to the line, so I just tried to recover and stay in contact on the last lap. When we hit the bricks, one rider (D. Dzik) went hard, breaking away from the front group. I figured we would reel him in, so I kept surfing the wheels, staying with the pack and preparing to go hard at the bottom of the twisties.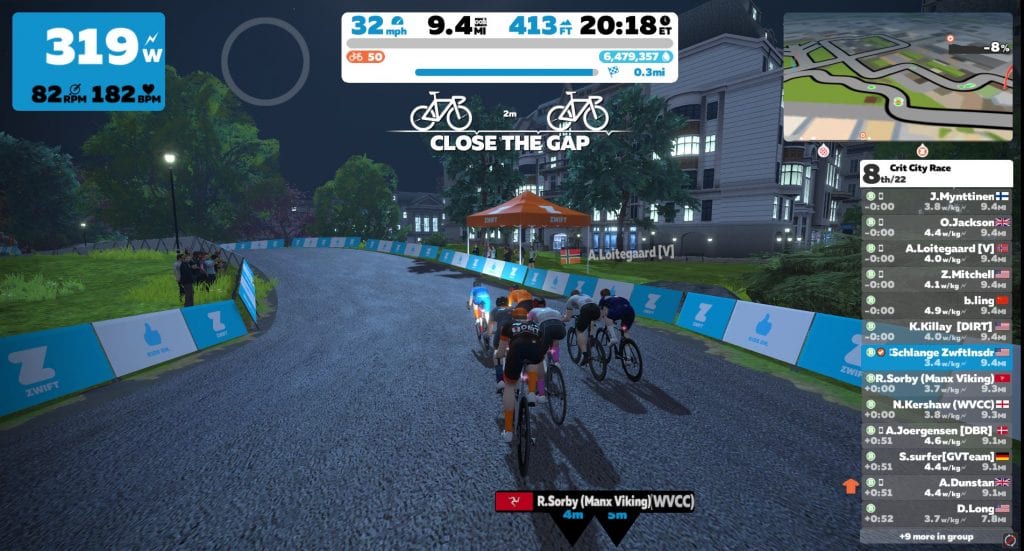 Unfortunately for us, D. Dzik has a kick! He stayed away, although just barely. I gave everything I had in the final sprint – but it wasn't much. Looking at my stats, I only averaged ~570 watts in those final seconds, which is 100-150 watts lower than normal. Not surprising, given the matches I had already burned. (A powerup would have helped, but the Zwift gods hadn't smiled upon me in the final laps.)
In the end, I finished 6th according to Zwift, and 5th according to ZwiftPower.
See my ride on Strava >
See my ride on Zwift.com >
See race results on ZwiftPower.com >
Takeaways
My takeaways from this race/workout are as follows:
Plan Your Work, Work Your Plan: I've never regretted getting up early to do my planned workout. This is what I need to tell myself each time I wake up and don't want to get out of bed and do the work.
If you animate the race, others will too: this was the most animated short Crit City race I've done so far, and I really feel like my attacking off the front sort of loosened up other riders and got them to try their own attacks as well. So this was an interesting social experiment, if nothing else.
A fun way to get a hard workout: this was way more fun than setting up an ERG-mode ride and doing intervals. I had done this "racing as a workout" thing before, but it had been a while. I'll be doing it again.
I'm stronger than I thought: I didn't think I'd have anything left for the finish, but I ended up #5 on ZwiftPower even after riding quite "inefficiently". That tells me I could do more attacking in real races and still survive.
The Testing Grounds
I'm reminded again of an aspect of Zwift racing that I really appreciate: it gives me a place to try new things. Zwift races are always on the calendar, there are no entry fees, and no travel time to get there. So the cost is very low – just my time and watts.
This frees me up to hop on and try new things – different strategies, different courses or equipment, or even just using the race as a workout with no intention of finishing well, like I did today. If it works out – great! If it doesn't – that's fine too! It didn't cost me anything, and I completed a solid workout.
Your Thoughts
Do you ever use races strictly as workouts? How do you structure things? I'd love to hear your thoughts and stories… comment below!