While I haven't shared a tale of race loss for several weeks, there's no reason to fear, dear reader: I've been losing races both handily and frequently despite my lack of reporting. The simple truth is, they haven't been interesting losses.
Today's race, though, was worth recounting about because it was on a brand-new and (I think) quite interesting route. The race course 1 lap of Turf N Surf, as featured in Stage 3 of November's Race Makuri series.
If you haven't ridden this route yet, give it a go! I found it to be visually stunning, with ever-changing views. You begin and end in Neokyo but will also covers the two Urukazi connector roads (which I think are the coolest parts of the new map) and Urukazi proper as well.
Warmup with Coco
Since this was just a "fun race", I did my typical casual pre-race prep: two pieces of caffeine gum (200mg) around an hour before the race, plus some PR lotion on my legs.
Then I hopped in with the Coco pace partner pack in Watopia and spun out my legs for about half an hour, getting my heart rate up around 160 to blow out the cobwebs. With a few minutes to go I joined the pens, seated atop my trust virtual S-Works Venge + DT Swiss Disc wheels.
What I Knew Going In
Having spent no small amount of time in and around Urukazi these past few weeks, I had a solid idea of what I was getting myself into with a race on Turf N Surf. Or so I thought. In my head, the course was a fairly simple counter-clockwise loop starting at Neokyo Harbor, riding through Neokyo, then descending to Urukazi before climbing back to the finish at Neokyo Harbor.
I knew there would be two difficult spots: the climb up to the Shisa sprint (not an official KOM but I made a segment anyway) and the climb up through the cavern back to Neokyo (another newly-minted segment). Interestingly, both of those climbs have very similar specs, on paper. Both are just over 2km, averaging 2.5-3%. But the Pain Cavern Climb (as I've named it) just hurts so much more. Maybe it's because the gradient isn't steady. Maybe it's because it comes later in the ride.
Regardless, I figured Pain Cavern would be my nemesis in this race. If I could survive in the front group through the cavern, I might have a shot at a good result.
The Start
Turf N Surf begins tamely enough, with ~8km of flat roads through Neokyo and out Neokyo Tunnel, before taking a left into the slot canyon connector descent. We had a big group of 163 Bs which included some strong riders, meaning the pace would be high regardless of what I did. So I just sat in the pack and conserved my energy!
The Weirdness of Large Pelotons on Zwift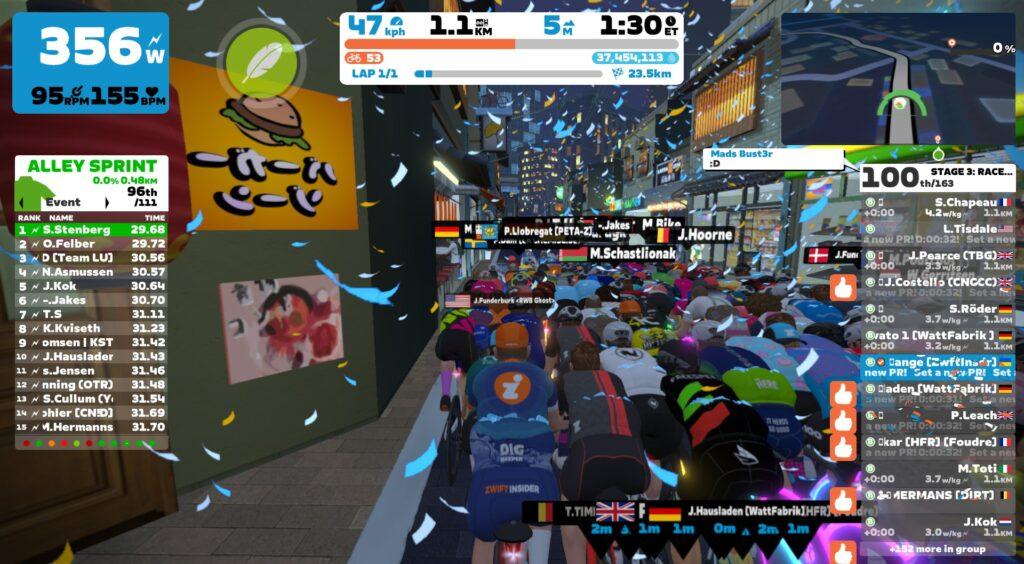 Racing with large groups on Zwift can be a bit crazy since Zwift only renders the closest 100 riders. Yes, it's true: whether you're looking at the avatars on screen, or the dots on your minimap, Zwift only shows the 100 nearest riders! (This is done to keep the CPU load down, since each rider's position must be constantly computed by your machine.)
This presents an obvious problem in a race with 163 Bs: what if I'm so far back that I don't see what's happening at the front?
It can be a real problem, especially in places where attacks happen and gaps form. If you're too far back your minimap and screen will make it look like you're sitting in the front pack, but there may actually be a pile of riders ahead who aren't even visible on your screen. Yikes!
One way to get some added visibility in this situation is to have ZwiftPower's live view of your event up on another screen. This only updates every 30 seconds, though, so it's far from perfect.
The only foolproof method of seeing what's happening ahead is to stay near the front. I like to ride a few bikes from the front, which put me around 30-60th place in today's race. Be warned, though: this strategy gets increasingly challenging as pack size increases, which is why big races of 300+ riders are never easy on Zwift – because everyone is pushing to stay near the front!
Ascending to the Shisa
Our first climb of the day (which I've named the Festival Harbor Climb CCW) came 14.5km into the race. At 2km long and 2.6% gradient, last week's Tiny Races taught me that this climb is draftable and short enough for me to hang on, even with a strong pack. So I buckled down and hammered my way up, staying in the wheels and averaging 342W over 3:36 to stay with the front group.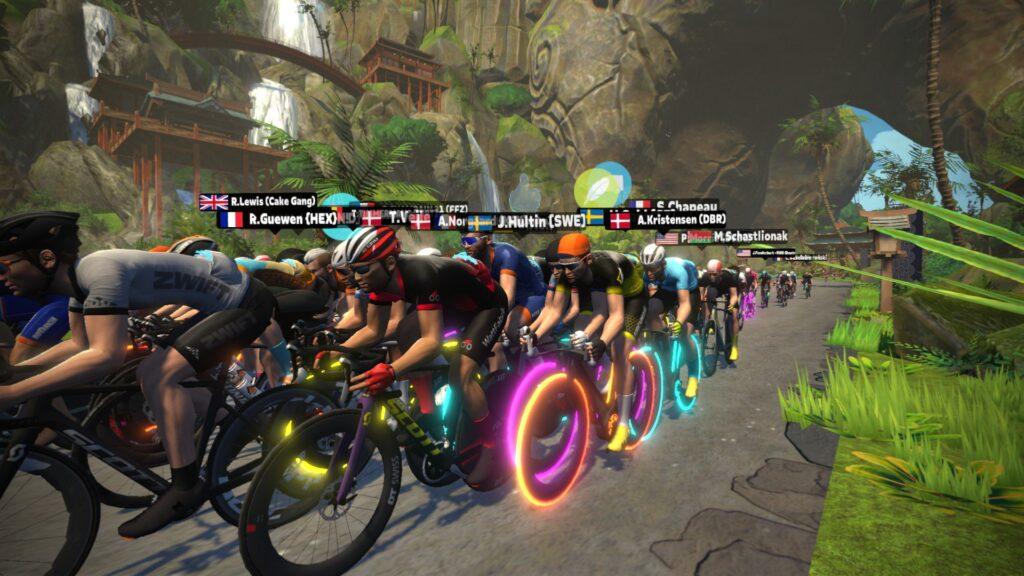 This climb whittled our front group down from over 100 to around 70. I settled in for the descent to the boardwalk, then surfed the wheels through Mangrove Maze to the next big challenge: the cavern.
Pain Cavern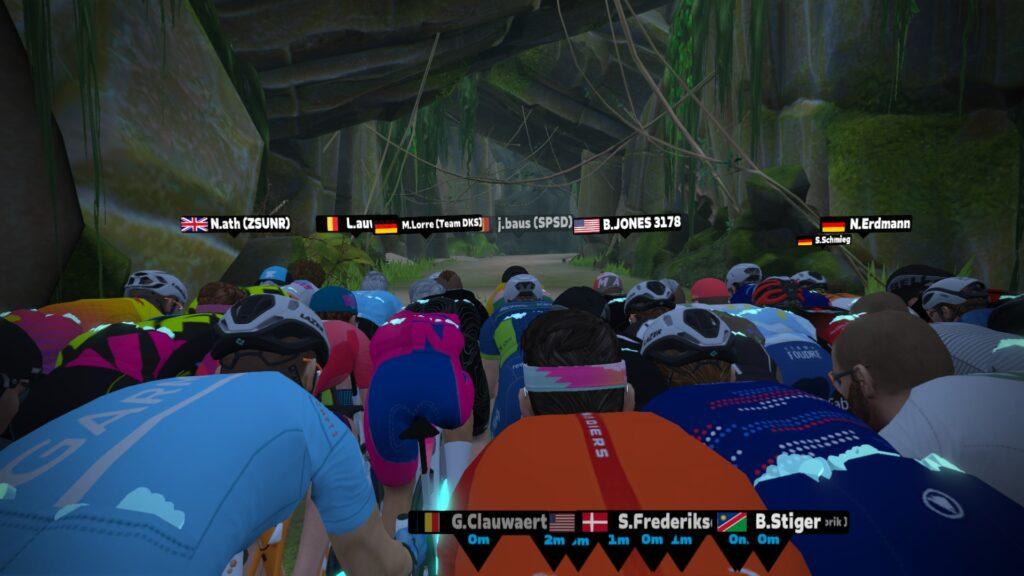 We turned right out of Urukazi, and the road tilted upward. That's when I realized something unsettling: I really didn't know this climb well at all. I knew it wasn't terribly long – my HUD said we only had 3km left. But where were the steep bits that required hammering, and where were the flatter parts useful for recovery?
Some riders are content to just hop onto an unfamiliar route and hammer away. That makes me nervous. I like to know the route intuitively, but you don't get that by looking at route maps or riding it once. It takes time, repeatedly riding a route at race pace, to make it something you can ride intuitively.
The group began hammering, and I did the same, just trying to climb efficiently while staying in touch with the front. I thought I was doing well, holding a good position up the figure 8 climb. But I didn't know what was ahead.
The road flattened a bit after the figure 8, and one rider attacked. Another followed. I was on the rivet just trying to hold on, and as the pack began to stretch out, riders were passing me and I had nothing left. You know that feeling, right? The. Worst.
With only 1 flat kilometer to go, a pack of ~25 front riders formed ahead, with a few pushing the pace off the front. All I could do was sit in the wheels of my chase group, trying to recover a bit for the final push to the line.
That final push was nothing special – a weak-legged standing half-sprint, bringing me across the line in 32nd place.
Race Results on ZwiftPower >
Activity on Strava >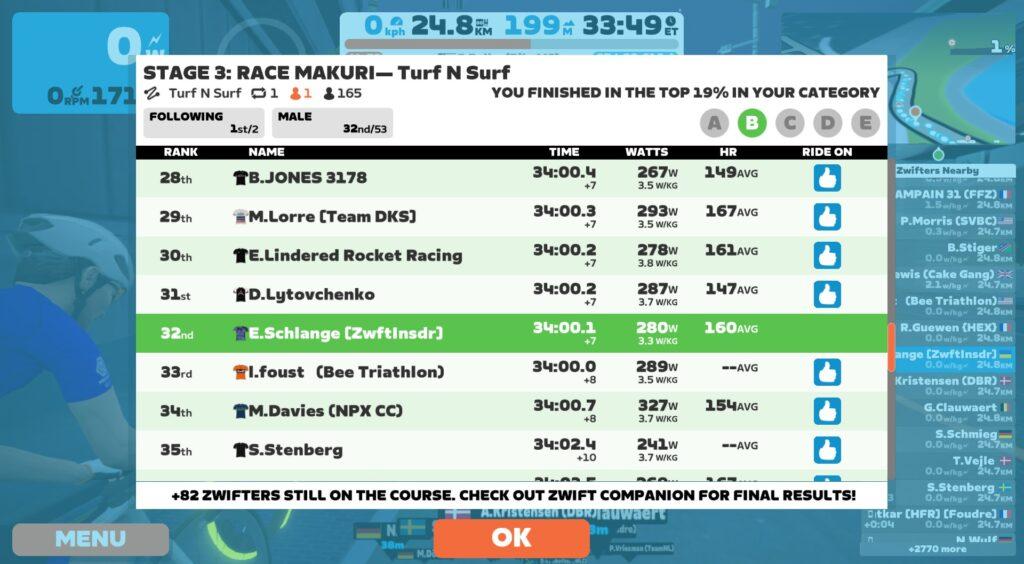 Takeaways
My first takeaway is that Turf N Surf is a fun race course. Everyone gets to spin together for the first 14km or so, riding on the flats and through the connector canyon descent. But the two key climbs prove attritional: they whittled our pack down from ~100 to ~70 to ~25.
Those two key climbs are brilliant places to push the pace and shed some competitors if you've got the legs for it. The Pain Cavern, especially, can reward a late attack near the end of the climb when many others are already on the rivet.
Takeaway #2: this route is a perfect example of how strong VO2 power is so crucial for much of Zwift racing. The two key climbs on Surf N Turf are 3-5 minutes long (depending on your race category), so if you're strong in that power window you can push hard on the climbs, sit in for the other parts, then smash the finish against a much-reduced pack.
For me, I hammered hard on that final climb, averaging 364W for 3:48, which is near my limits. It just wasn't enough. I set a 6-week power PB in the 15-33 minute window with this race, but a combination of me riding that last climb a bit inefficiently plus some strong Bs attacking at the right time (wrong time for me, right time for them) meant I wasn't even close to the front at the end.
Last takeaway: the B category is growing more competitive as winter arrives. Almost all of the top 10 finishers had a ZwiftPower ranking of 150 points or better (I'm currently at 147), and a few were close to 100. A strong bunch of killer Bs for sure!
Final Note: An Elevation Mystery
Here's a fresh Zwift mystery for you to ponder: how is it that Neokyo Harbor, which sits just above the ocean, is ~60m higher in elevation than Urukazi's Festival Harbor? Here's the Strava elevation profile for Turf N Surf:

Based on the minimap from Zwift, both harbors are on the same ocean: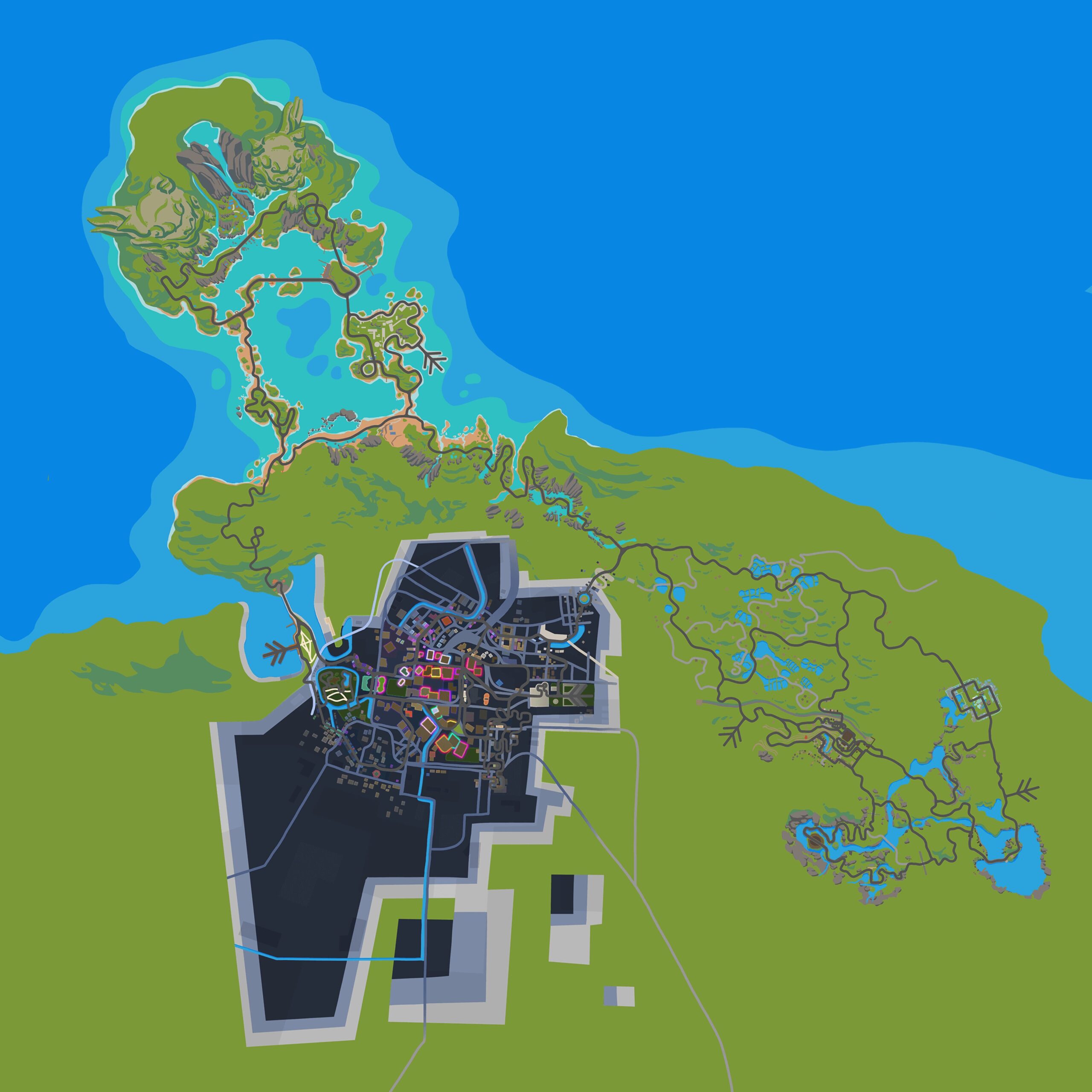 Clearly, Zwift's worlds allow real-world physics to be warped. Or perhaps there's a series of giant locks outside of Neokyo Harbor that isn't visible on the minimap? 😊
Your Thoughts
Have you raced Turf N Surf yet? What did you think? Share below!