Yesterday's 3R Sundown Race Series event was packed, with nearly 160 B riders. I don't know about you, but whenever I see a field of that size, a podium finish feels nearly impossible! Yet I still enjoy jumping into bigger races, because I know I'll have to push myself to the limit for a good result.
And that's exactly what happened in this race. I pushed hard. I didn't podium. But I did get a victory or two, in some sense…
The Warmup
Today's ride plan was a bit different than most of my race days. In an effort to get a bit more training time in, I decided to do an early easy ride (zone 1/2 for an hour), then work in the office for a few hours before jumping on the bike for the race.
Just before the race I went through my typical warmup ritual: two pieces of caffeine gum and some PR lotion on the legs. (I also tried a new product I'm experimenting with, but I'm not ready to talk about it yet…)
The Start
This would be the largest group of Bs I'd raced in recent memory – 158 of us in the start pens! (Just a sign of things to come I'm sure, as we head into peak Zwift season and big races like the Zwift Racing League are spun up.)
We were racing on the Seaside Sprint Circuit, which meant the race would start with a quick climb followed by The Esses. So many riders get dropped in these sections! I made sure I was well warmed up, then just tried to stay in the front half of the blob. This required a solid VO2 effort as usual, but we didn't have any zPower rangers on the front so the pace was realistic. 334W for 3-1/2 minutes kept me in the front group which was reduced down to ~90 riders by the time we rode through the sprint banner and began the first lap.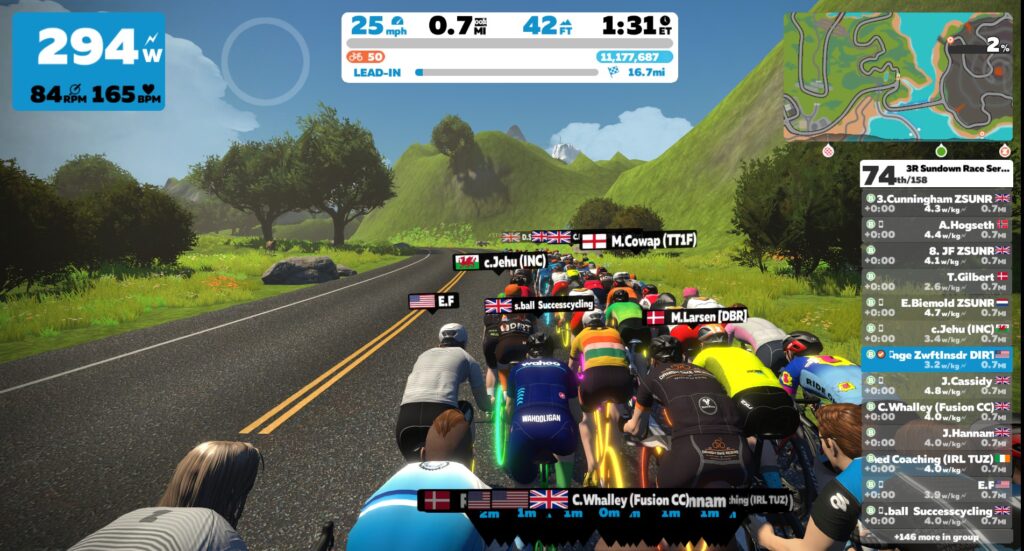 The Middle
Despite a complete lack of planning, I was happy to discover a solid group of DIRT teammates in this race. At least 6 of us were still in the front group, and most of us were on Discord so we could chat a bit as we rode. There were definitely some teams working together in this race, including Team Type 1, CYRO-Gen, WTRL, and most noticeably ZSUN.
The ZSUN crew were near the front of the pack for most of the race, pushing the pace. A couple even attacked halfway through, but with 70+ riders still in the blob, nobody felt the need to chase them back as we knew it would come back naturally.
For my part, I just tried to stay out of the virtual wind (a few bike lengths from the front) so I could respond to any big attacks and not risk getting caught out if gaps opened up. I could feel that the pace was high, but that wasn't surprising given the large group size.
In my experience, group size affects Zwift races differently than outdoor races due to differences in drafting and pack dynamics:
Outdoors, larger groups typically make it easier to sit in if that's what you're looking to do. Larger groups also make substantial breakaways more likely.
On Zwift, larger groups mean more riders churning on the front, which leads to a faster overall blob speed, making breakaways less likely. The faster overall pace also means you'll have to hold higher watts just to sit in the pack.
At one point some riders pinned it at the front through the Esses, stretching the group out – but bumping up the power while surfing the wheels brought everything back together soon enough.
The Finish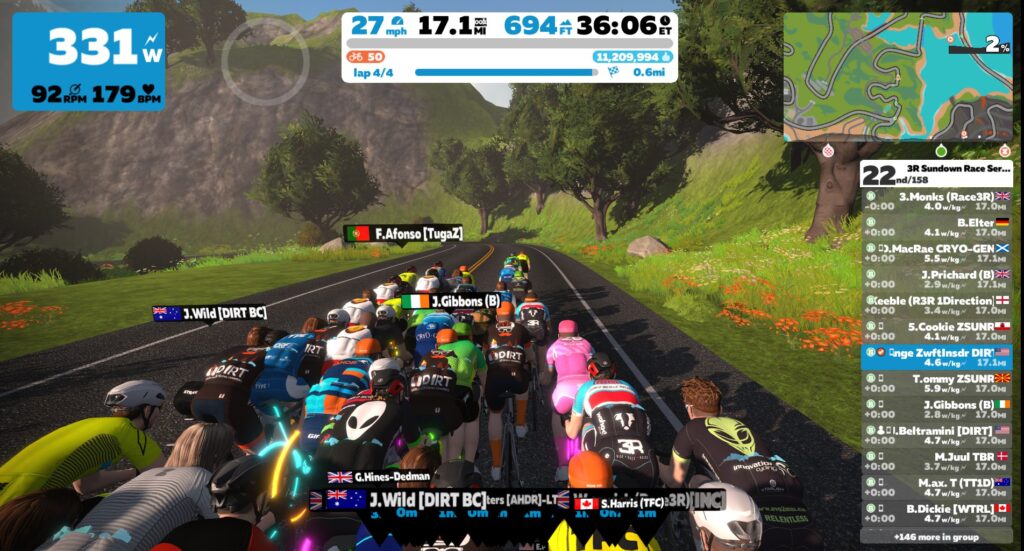 I really felt I was holding my own… until the final minutes of this race. The Seaside Sprint Circuit route ends at Watopia's reverse sprint banner, which means the lead-in to the finish is super hairy! First you've got The Esses, which are just an attention-demanding roller coaster. Then you've got a quick kicker of a climb, followed by a straight ramp down into a sharp left onto the bridge for the final sprint.
Everything ramped up once we hit The Esses. Then it ramped up more heading into the kicker, because everyone wanted to be near the front for that short climb. And there was no easing once we crested the kicker, because riders were sprinting over the top! By the time we hit the bottom of the descent for the final 10s sprint I knew the podium wasn't within reach. I was out of the saddle sprinting with all I had – but it wasn't much. Strength sapped from the previous minute, I was pedaling squares in some pathetic imitation of Primož Roglič's recent disastrous TdF TT climb.
I ended up averaging 395W for the final 2 minutes of the race, and 470W for the final 1 minute. I finished 18th in the on-screen results, but 16th in ZwiftPower. One of my worst race results in recent memory… or was it? (See "Takeaways" below…)
See my ride on Zwift >
See my activity on Strava >
See race results on ZwiftPower >
Watch My Race Recording
Takeaways
I think it's important to focus on the positive… in bike racing, and all of life! Any time I lose I race, I look at what lessons I can take from it, and I look at what good came from the race. Maybe it's just that I got a hard workout in and will be stronger for it. Maybe I learned something new that will serve me well in the future. Maybe I helped a teammate succeed! You get the idea.
Looking at Rankings
Here's an important positive from this race: it actually improved my ZwiftPower ranking much more than any of my recent races, including 5 recent races where I finished in 1st or 2nd place!
How is that possible? Because this was a much higher-quality race than those others. (The stronger the riders in the race, the higher its quality. Learn more about race quality here.)

Since I finished ahead of several riders ranked higher than me, my ranking received a solid boost of 12.29 points thanks to my 16th place finish. This moved me from approximately 425th place overall in the Bs to 300th place. Not a bad jump!
The lesson here is: a race loss can still be a big ranking win.
Power Curve Boost
I was also happy to see a good power curve on this ride. Here's what Strava shows me – the dark purple line was this race, and the light purple is for the past 6 weeks. Lots of new PBs in the 3 minutes+ range!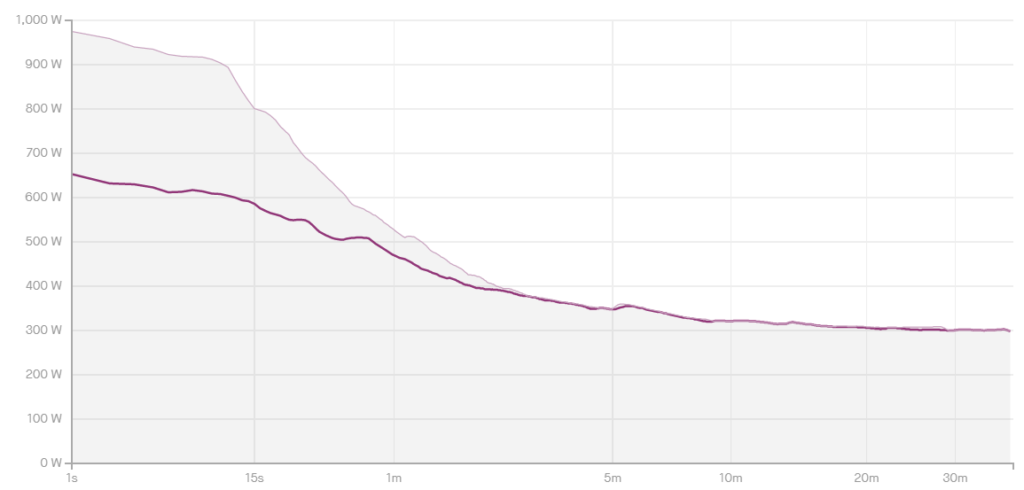 Your Comments
Do you pay much attention to ZwiftPower rankings? What sort of "wins" do you focus on when you lose? Share below!