If you've been following my "How the Race Was Lost" series, you know I lose a lot of races. Most of those losses are the most humbling sort, where I simply wasn't strong enough to win. On Zwift I'm regularly reminded that there are many, many cyclists in the world who are much stronger than me!
This doesn't discourage me though: I'm always looking for ways to race smarter, and of course I also train so I can keep getting stronger. In the end for me it's not about winning – it's about being fit, pushing myself to the limit, and enjoying the rush of competition.
While I typically lose because other riders were stronger, occasionally it's due to a major mistake on my part. Today was one of those races.
I decided to jump into a Crit City race that had low signup numbers. Lately many of my races have had 100 or more B riders, and I wanted to try something different – racing against a small pack. In a low-numbers race you get to know each of the riders, and a solo attack can really make a difference. So I signed up, and headed out to warm up.
The Warm Up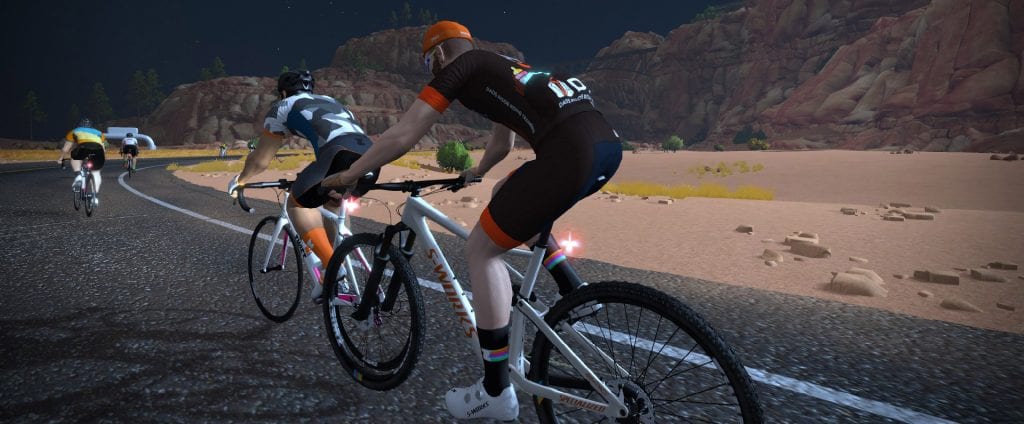 I slept in a bit, but still managed to chew three pieces of caffeine gum and get PR lotion on the legs. Then it was out to Tempus Fugit for my warmup! I pulled my Specialized Epic MTB out of the garage so I could get some MTB miles logged towards completing the CeramicSpeed Mission. (Sidenote: that bike is one of the fastest MTBs on Zwift, but it sure is slow on pavement, especially if the road tilts up at all!)
After less than 15 minutes it was time to hit the pens. Let's race!
The Start
With only 11 riders signed up for the B category, this would be (by far) the smallest pack I'd ever raced in Crit City. Amazing how Zwift has grown. When I first started in October 2015, a pack of 11 racers was pretty normal, and many races had combined fields because we just didn't have the numbers or infrastructure to support individual categories. I remember the first time I was able to race in a pack of 30+ riders of similar ability (a TFC C race), and what a different and cool experience that was!
This was an 8-lap race around Crit City's Bell Lap route. As soon as the clock hit zero, our pack stretched out. One zPowered "J. Munday" was on the front holding 7+ w/kg, but happily nobody chased him so he rode away, never to be seen again until the orange cone of shame showed up a few laps later.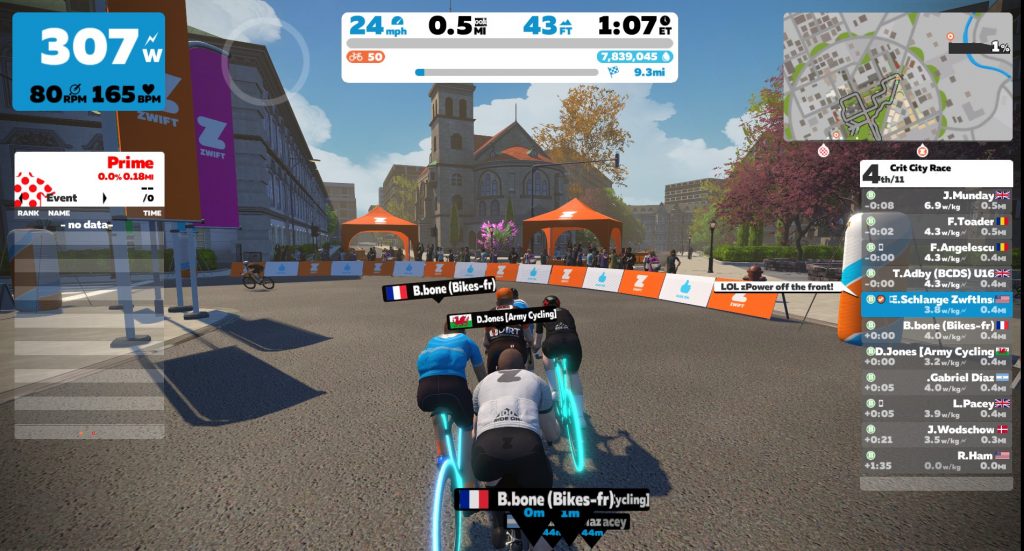 Before the first lap was completed, our group was reduced to just six riders: Adby (a U16 rider), Toader, Bone, Jones, Angelescu, and myself. I knew from a quick glance at the signup list on ZwiftPower that Adby and Jones were the highest-ranked riders in the group, apart from myself. But I was ranked significantly higher than anyone in the pack, so on paper, this was my race to lose.
The Middle
At the end of lap three, Jones put in a hard attack – the first real attack of the race. That showed me he had a strong sprint and was feeling good! I should have grabbed his wheel, but I responded too slowly. (I have the same problem outdoors – I struggled to jump quickly when I see an attack happening.) So I waited too long, then had to work to catch him, while the riders behind me benefited at least a bit from my draft. Dumb move – I should have sat in and let the pack catch him.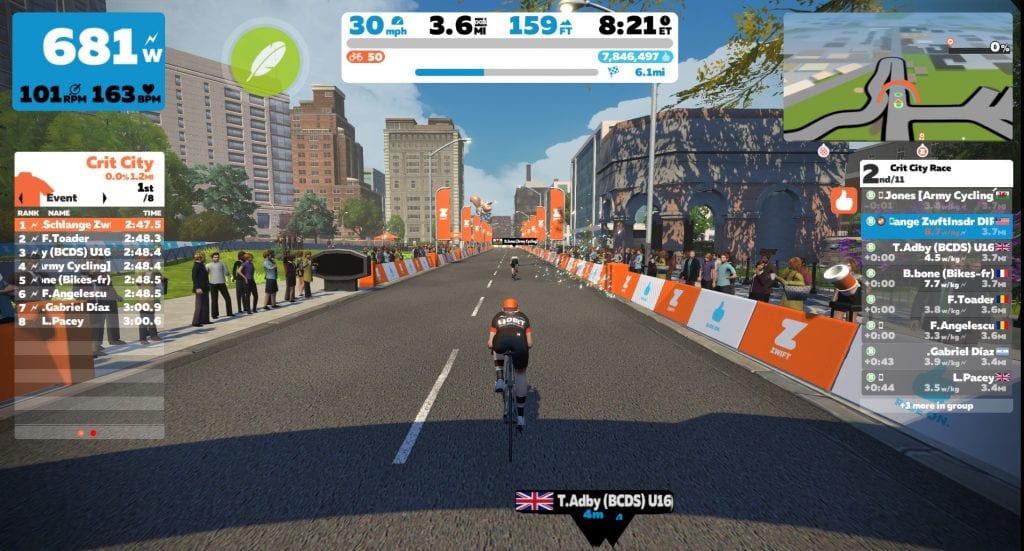 We got into the typical Bell Lap rhythm, with effort ramping up on the twisty climb section each lap. Twice I pushed especially hard there, trying to drop anyone who was barely hanging on. Jones and his big avatar were struggling up the climb, but he always managed to claw his way back before we could drop him. Lightweight U16 Adby did well on the climb, which wasn't surprising. While they were very different riders, Jones and Adby seemed to be my strongest competition. I made a mental note to follow any attacks they attempted.
Our pack of six would stay together until Toader got dropped on the 5th lap.
The Finish
I had a draft boost powerup for the final lap, which really wasn't what I wanted – an aero helmet would have been welcome, but the powerup gods had not been helpful in this race. Why did I want the aero helmet? Because I wanted to be the aggressor in the final sprint. That sprint is short and fast, and I didn't want to wait for someone else to jump.
I used my draft boost well before the final sprint, timing it so I could enjoy the 30 seconds of relief it gave as I sat in the wheels. Then just as it ended I shifted, got out of the saddle, and went all in for the final sprint. Glancing up at the screen mid-sprint I saw riders trying to grab my wheel, then it seemed like they gave up, dropping a couple seconds back as I crossed the line. Victory!
Except nothing happened. Where was the results list? All I saw was this: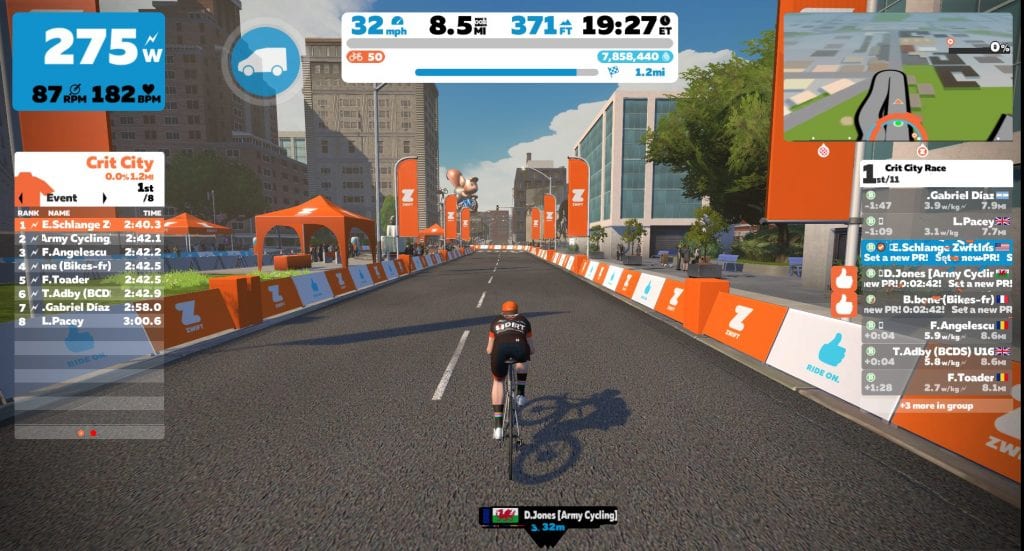 The realization took a moment to register in my race-addled brain: I had sprinted on the penultimate lap. And there were four riders charging quickly from behind!
My heart rate was high, my legs were burning, but I knew the pack just behind would catch and drop me quickly if I didn't keep my speed up. So I gave it all I had to keep my power high, barely grabbing onto their wheels as they flew past and we made our way up the twisties for the real final lap.
If anyone in the group had been strong enough to attack hard at this point, I wouldn't have been able to follow. Lucky for me, nobody pushed the pace, and I tried to breathe deeply and recover as quickly as possible before my second finishing sprint.
Jones jumped hard at the end with his strong sprint, and Adby followed. I gave it all I had, but wasn't able to beat either of them over the line. Third place! I kicked myself all the way to the shower.
See my activity on Strava >
See my activity on Zwift >
See race results on ZwiftPower >
Takeaways
My first takeaway was that this "small pack" race was a fun changeup. It really was a different race experience, competing against a small pack of riders on a small loop where you could begin to see their strengths and weaknesses. In a small pack, you can clearly see who is on the front holding higher power and who is sitting in. You can also see where riders struggle and excel, which helps you understand their strengths and how to best compete against them.
I set new critical power bests in the 2:55-6:35 range (390-346W), so that was good to see. And I broke 1000 watts on my faux finish sprint, which I was also happy about, since I've been training to improve my race-ending sprints. (I've also begun taking Beta Alanine again, which should be helping those sprint efforts.)
This is actually the second race where I've sprinted for the wrong line (here is the first). Clearly, my biggest takeaway needs to be a reminder that my brain, when racing, simply doesn't function well. Because of that, I have to keep things simple and take steps to reduce mistakes wherever possible. First step: know the finish line. Racing 101!
(Looking at the screenshots, it's interesting to note that this race didn't have a lap counter – neither in in-game lap sign or the lap counter in the HUD were working. Not sure why, but I bet I wouldn't have made my silly mistake if they'd been visible!)
Your Comments
Please tell me you've sprinted on the wrong lap. Or perhaps share other race mistakes you've made, so I can feel better about myself!