Yesterday was the first event of the Zwift Classics 2021 series, organized this year by the good folks at WTRL. I'd planned to hop into these races because I knew the competition would be higher than usual – many races are a bit low on attendance these days, as the weather outside is just too nice. But what really sealed the deal was WTRL testing their new autocategorization system in these events.
After clamoring for race category improvements over the years, it was finally be happening. I had to see what it was like!
Signing Up
So I headed to WTRL's site, logged in, then visited the Zwift Classics event signup page to join the time slot I wanted. (11:45am California time suited me nicely, although this is apparently "Western Europe" in WTRL's parlance.)
When I clicked to join, I got a quick countdown screen as WTRL computed my "class" for this race. In just a few seconds I was redirected to the event signup page on zwift.com, where I clicked to join the A (men's) race. It was official – I was a class 3! (For this race, anyway. More on that later.)
The Warmup
Signing in around 35 minutes before the race began, I had already done my pre-ride ritual: two pieces of caffeine gum and hour before the race, and some PR lotion on my legs before kitting up. Then I jumped in and spun for a few minutes until the button popped up to join the race – I clicked that quickly to reserve my place at the front of the line, then hopped into the C. Cadence group for my standard race warmup routine.
While warming up I did a bit of research, checking out who else was signed up for my event. We had a really big field (150+ signed up) with some real hitters in the mix. Yorkshire's 2019 UCI Worlds Harrogate Circuit is always murderous for me – I can't seem to hang on with the strong Bs up the KOM. Between the course and the field I knew today wasn't about contending for a win. And that was OK – I wanted a hard workout, and an autocat experience.
I would do my best to stay with the front, and when that didn't work, I would try to work with others to ride smart and finish as high as possible. I wasn't going to chase points, even though there is both a points competition and a "scratch race" element to these Zwift Classics events.
Let's race!
The Start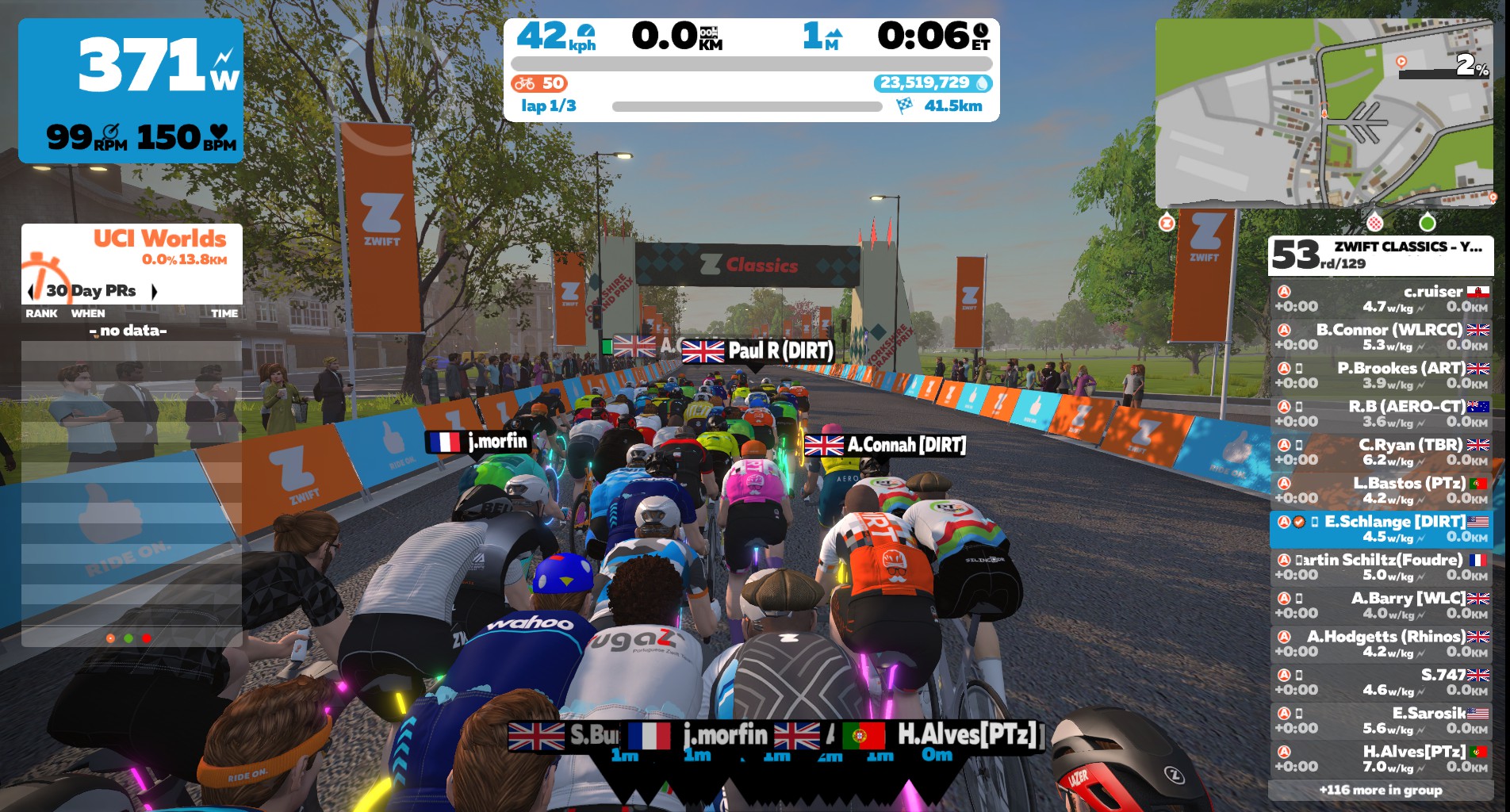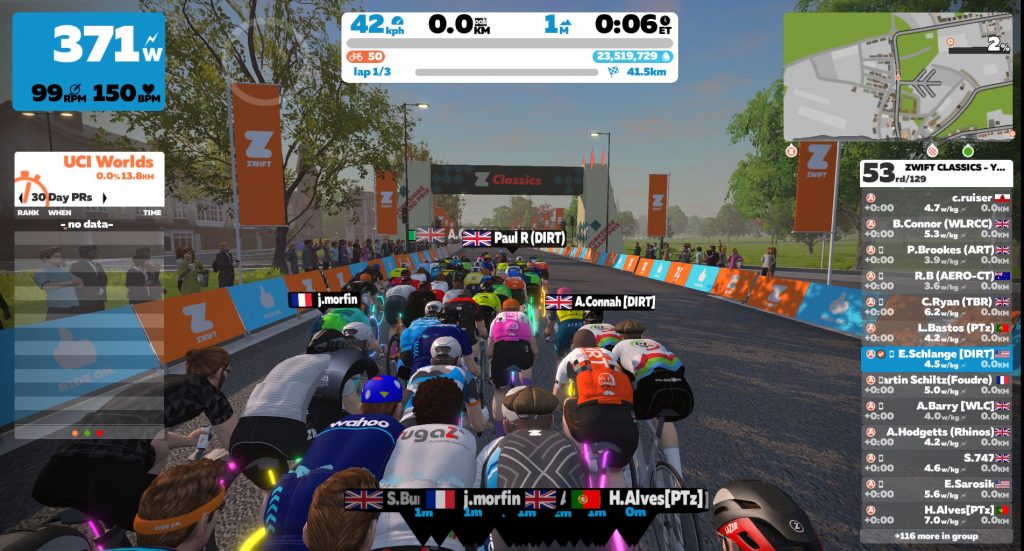 As we left the pens I saw only 129 riders had made it to the race. We started up the Otley Road climb, and the burritos began flying. Burritos everywhere! Had I missed the sale at Taco Bell?
Somehow I managed to stick with the front up the climb. Not everyone faired so well, though. I'd say the front group probably had around 60 riders in it, and two or three riders messaged that they thought they'd been placed in the wrong class – there was no way they could hold this group's pace.
Does that mean you're in the wrong class? Not necessarily. Every class will have stronger and weaker riders, and when you have 6 classes that's still a pretty wide band of ability in each class. It's possible these dropped riders were used to riding near the top of their category in other races – but I don't see how that could be. They were all Bs or As based on ZwiftPower. So my guess is these riders had raced in smaller B packs and perhaps lower B ZRL divisions. This race felt like a Division 1 B race – very different from a Division 6 B race.
Back to the race: I got the 100kph achievement descending Pot Bank (I thought I'd gotten this years ago, but apparently not.) Then the first KOM hit, and everything splintered to bits. I found myself in a small group of riders, the third group from the front, with much larger groups ahead and behind us.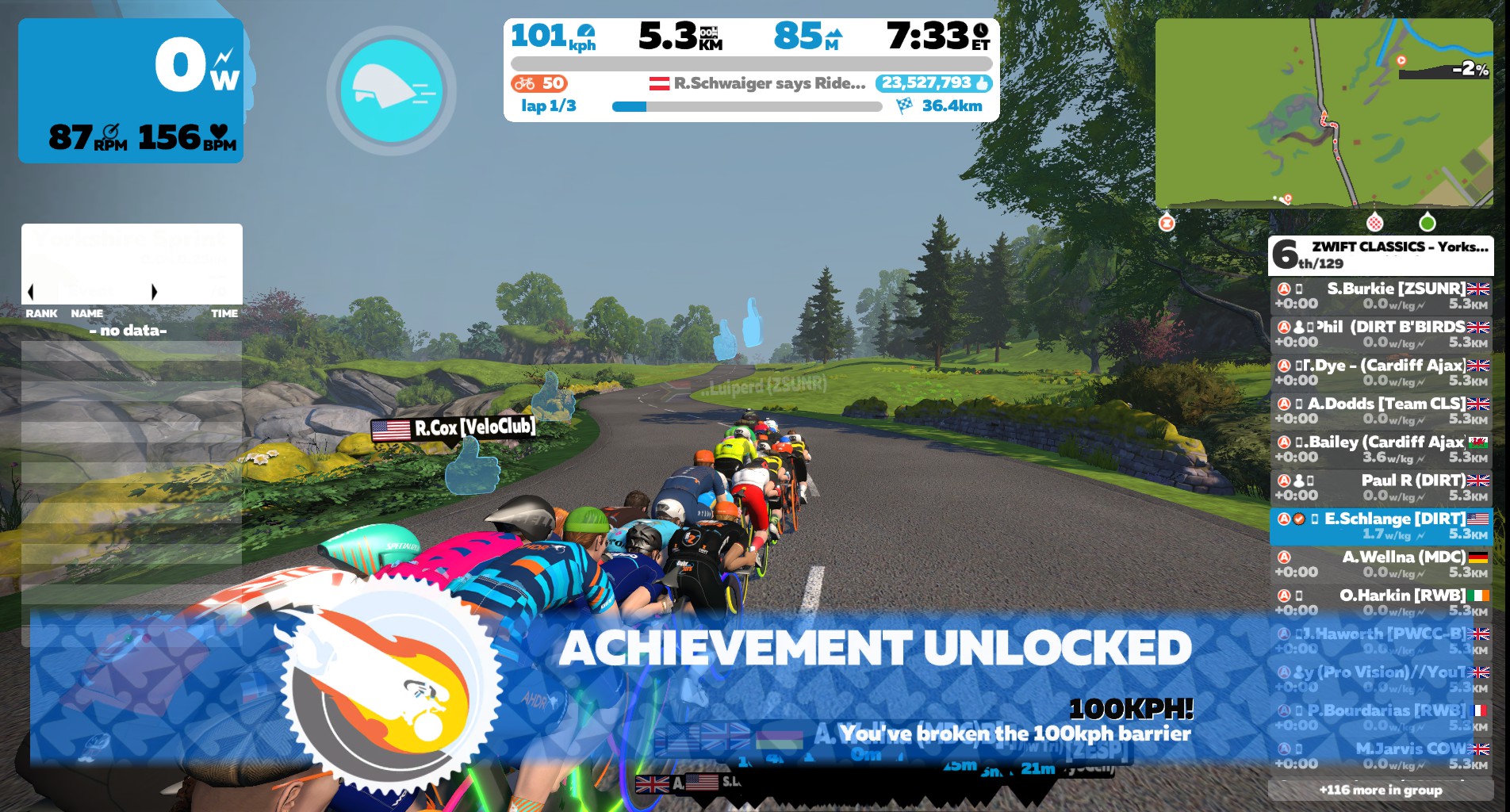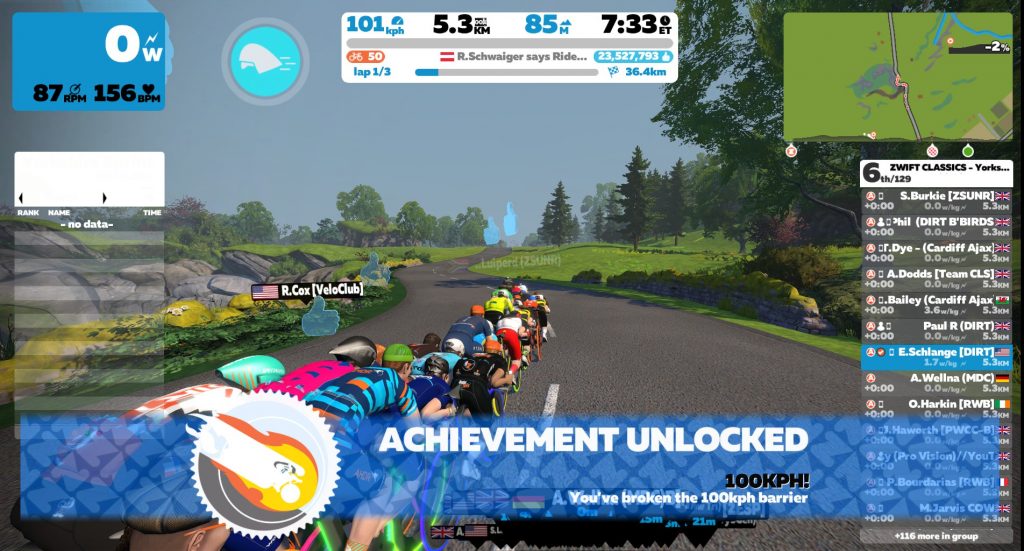 No man's land. We didn't have the firepower to push hard and catch the group just up the road. Which meant we'd probably get caught by the larger group behind. But we pressed on anyway, five of us, working hard but not on the limit, into lap two.
The Middle
My small group stayed together nicely, and I just sat in the wheels with a pair of legs that felt decidedly sub-par. After descending Pot Bank for the second time, it was clear the group behind was going to catch us. So I sat up, took a breather, and caught their wheels as they came through. I grabbed even more recovery on the descent to the KOM, then hung in with the pack up the KOM. Whew.
There were now three main groups on the road, and I was in the third. This group held (approximately) places 40-60. The pace was tough, but I wasn't on the limit. Two laps down, one to go.
The End
We mopped up a few riders dropped from the groups ahead, and our group now contained approximately places 30-55. I hung in with this group to the top of the KOM, but as we hit the Cornwall Road uphill toward the final sprint point, the riders at the front of my group started hammering, and we stretched out. A gap opened ahead of the rider just ahead of me, and by the time I realized what was happening I was mostly out of the draft.
I began to hammer to catch the group, but I couldn't close the 1-second gap even as the road leveled out through the sprint. I pressed F1 for an elbow flick, hoping against hope that another rider would come around me who could tow me to the group. But that didn't happen either.
And that was it. 15 places rode away from us, and I was left to duke it out with just two other riders for the finish. I finished between them, in 45th place.
See activity on Strava >
See ride on Zwift >
See (partial) results on ZwiftPower >
See results from WTRL >
Watch full race video (unedited):
Thoughts on Autocategorization
So how was my first autocat experience? I have no complaints. To me, it felt similar to a ZRL Division 1 B race we did on the same route, where I finished even further down in the pack (60th place!) over just two laps.
I'm not even close to an "Almost A" in terms of my power numbers. So I wasn't surprised to be signed up to class 3, which was almost entirely B riders (in terms of ZwiftPower categories), with just a few As. At a glance, it appeared class 2 was mostly populated by A riders with some lightweight Bs, and class 1 was almost entirely A and A+ riders, with a few strong lightweight Bs.
There will be riders who don't like the class they're placed in, of course. Those will probably be riders who were pretty strong in their ZwiftPower category (say, a strong C) who are placed in a class where they're racing against Bs. It may also be lighter riders who have been milking the ZwiftPower wattage limit system and walking away with lots of wins, who are now racing against higher category riders. What doesn't kill you makes you stronger, right?
One interesting thing many racers don't understand about the autocat system is that your class can change on a per-race basis. Your class is currently based on your power numbers, as well as your performance on routes similar to the route you're signing up for. So, for example, I may be a C3 in Yorkshire (where I don't perform really well) but a C2 in Crit City (where I can hang with the front in some A races).
Where Next?
WTRL is still testing and tweaking their autocat system (read their notes on it here), and will continue to do so for some time. That it worked as well as it did out of the gate is a testament to their smarts, hard work, and attention to detail.
My hope for the autocat system is that it continues to evolve and begins to include race results as a categorization factor. (WTRL's autocat page says this is coming.) And once the system is working well, I want to see it integrated seamlessly into Zwift, so anyone can sign up for a race and be automagically placed in the correct category.
It'll come.
ZwiftPower Weirdness
Some sort of database issue or bug caused ZwiftPower to not show all riders in the results for my event, and others in the Zwift Classics series. My results page shows 57 finishers, while WTRL's results show all 129!
Hopefully this isn't a sign of things to come – I like having complete results in ZwiftPower. But with the way Zwift is investing heavily in WTRL's side of things, I can imagine we'll continue to see more development and improvement of WTRL's systems compared to ZwiftPower. RIP ZwiftPower? Maybe. Slowly…
Your Thoughts
Did you participate in the first of the Zwift Classics races? How was your autocat experience? Share below!