The fourth race of Zwift Racing League 2021/22 Season 3 was held last Tuesday, and it featured a fun mix of six sprints followed by an all-out punchy climb on Richmond's Libby Hill After Party route. The course suited my team (the DIRT Roosters) well because we're good sprinters, plus we've got a couple of guys who can punch their way up a climb.
Our strategy could be summarized in two points:
Grab as many sprint points as possible. This would be a combination of FAL and FTS points depending on how each rider was feeling, and which powerups they were holding.
Attack the Libby Hill Climb for maximum FAL, FTS, and finish points. Especially Thomas and Antoine, who are well-suited for that finish.
Of course, race plans rarely survive the real world. In my case, my plans exploded in one astonishing instant! But it wasn't all bad… here's the story of our race.
Race Prep
I did what I could to be fresh and prepared for the race, following my normal routine:
Easy effort the day before
Plenty of sleep the night before
A clean, carby oatmeal breakfast
Beet juice two hours before the race
Caffeine gum – three pieces (300mg), one hour before the race
PR lotion on my legs about 45 minutes before the race. More bicarb=less burning.
Pick my bike setup (S-Works Venge + DT Swiss Disc for maximum sprint speeds) and join the start pens with 30 minutes to go to save my spot in front.
A nice 30-minute warmup with the C. Cadence crew
My legs felt fresh, and I knew the course well. My personal plan was this:
Attack the Monument Ave sprint for FTS points at least once, when I have an aero powerup
Go for Monument Ave sprint FAL points once or twice, especially if I get a second aero powerup or my legs are feeling good
Go for Broad Street FTS (and maybe FAL) points regardless of powerup, since they will be more attainable than the 5x stacked Monument Ave points
Go hard up Libby Hill to maximize my finishing points (not expecting more than a mid-pack finish)
An Easy Start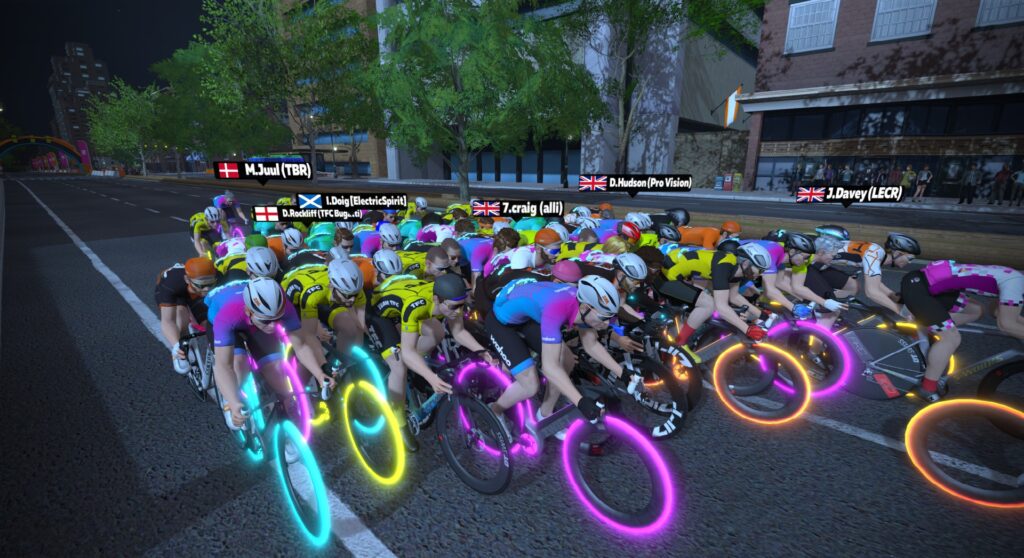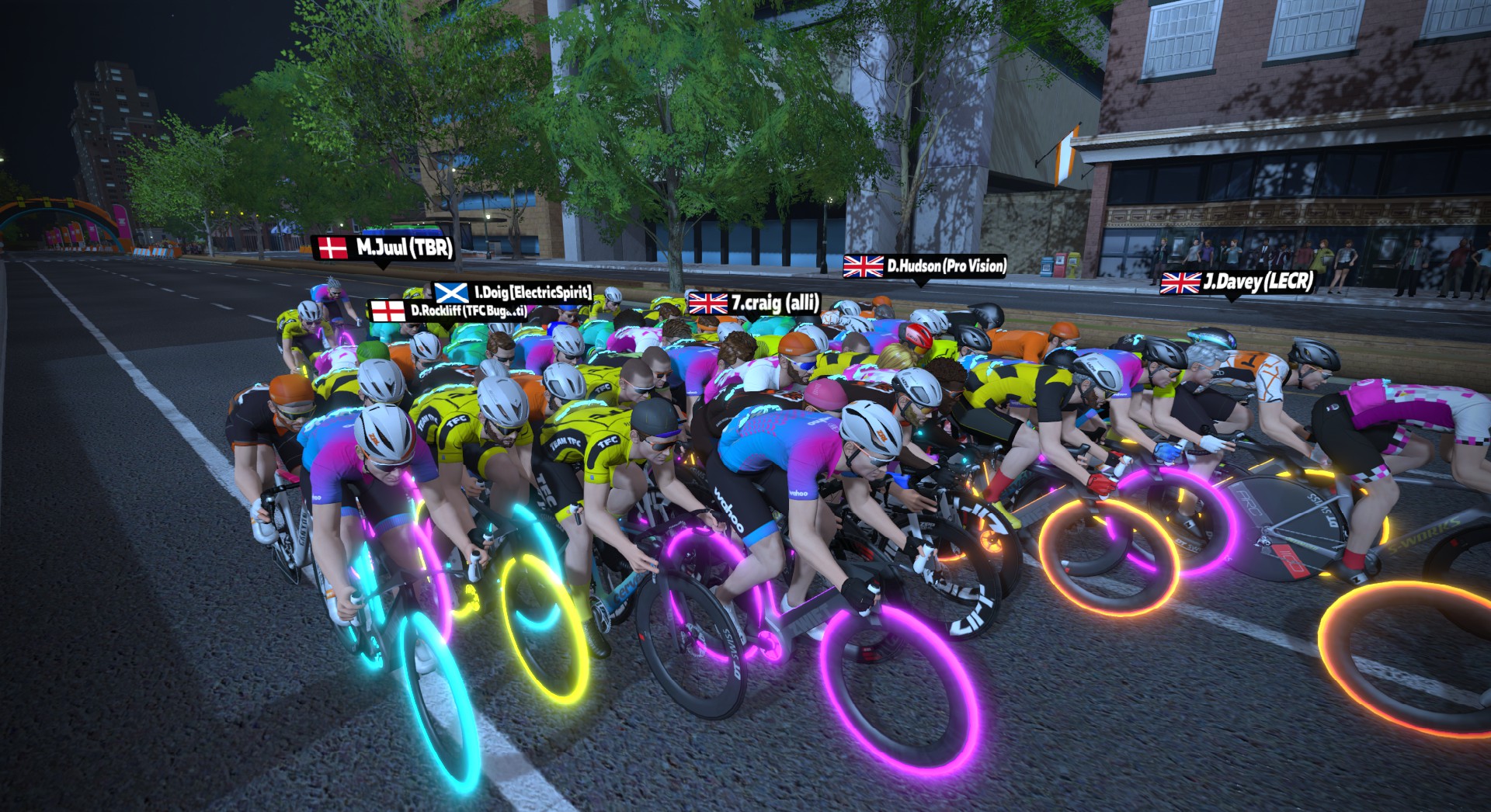 The race began rather tamely, which is something we're getting used to in ZRL at this point. (Racers have learned that hard starts don't do much more than sap the legs, so you might as well go easier and save your legs for the intermediates and finish.)
A couple of riders went long on the first sprint, but we didn't chase. This wasn't the time to go long – with the pack as large as it would be, and legs fairly fresh, speeds would be high, making the early sprints the toughest ones to stay away off the front.
I just sat in with my van powerup and went as easily as possible while keeping a good pack position. And I did the same for sprint #2.
Then I got an aero powerup. Go time!
Let's Go… Or Not.
As we made our around the flat loop, I had my FTS-grabbing plan in place. Start my sprint near the back of the pack, with my aero powerup active before the sprint line, so I hit the start at high speed. Then try to sprint through the group for the quickest segment time possible.
Then just as we passed the Sagan statue, my Windows 11 PC crashed. Blue screen of death. win23k.sys error.
My race was over.
Playing DS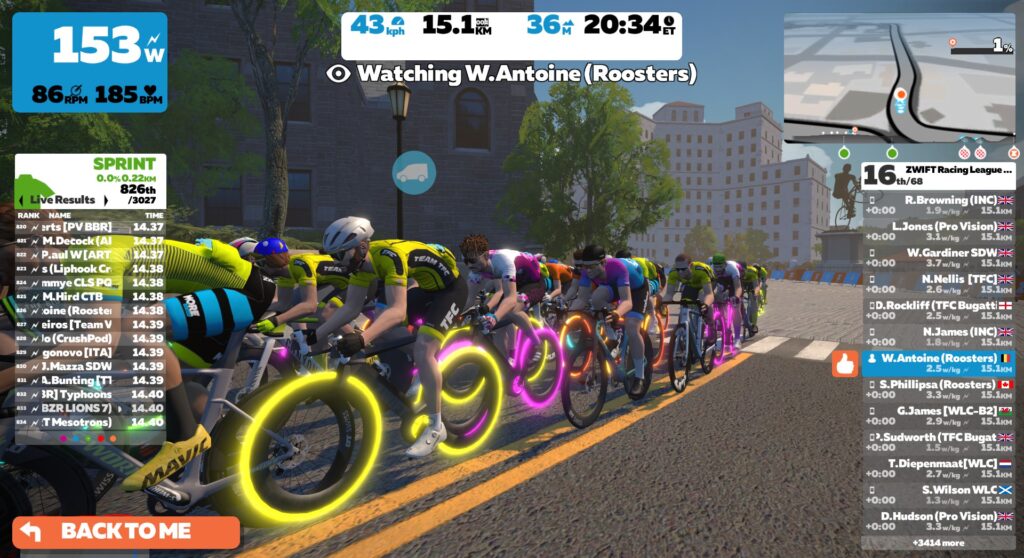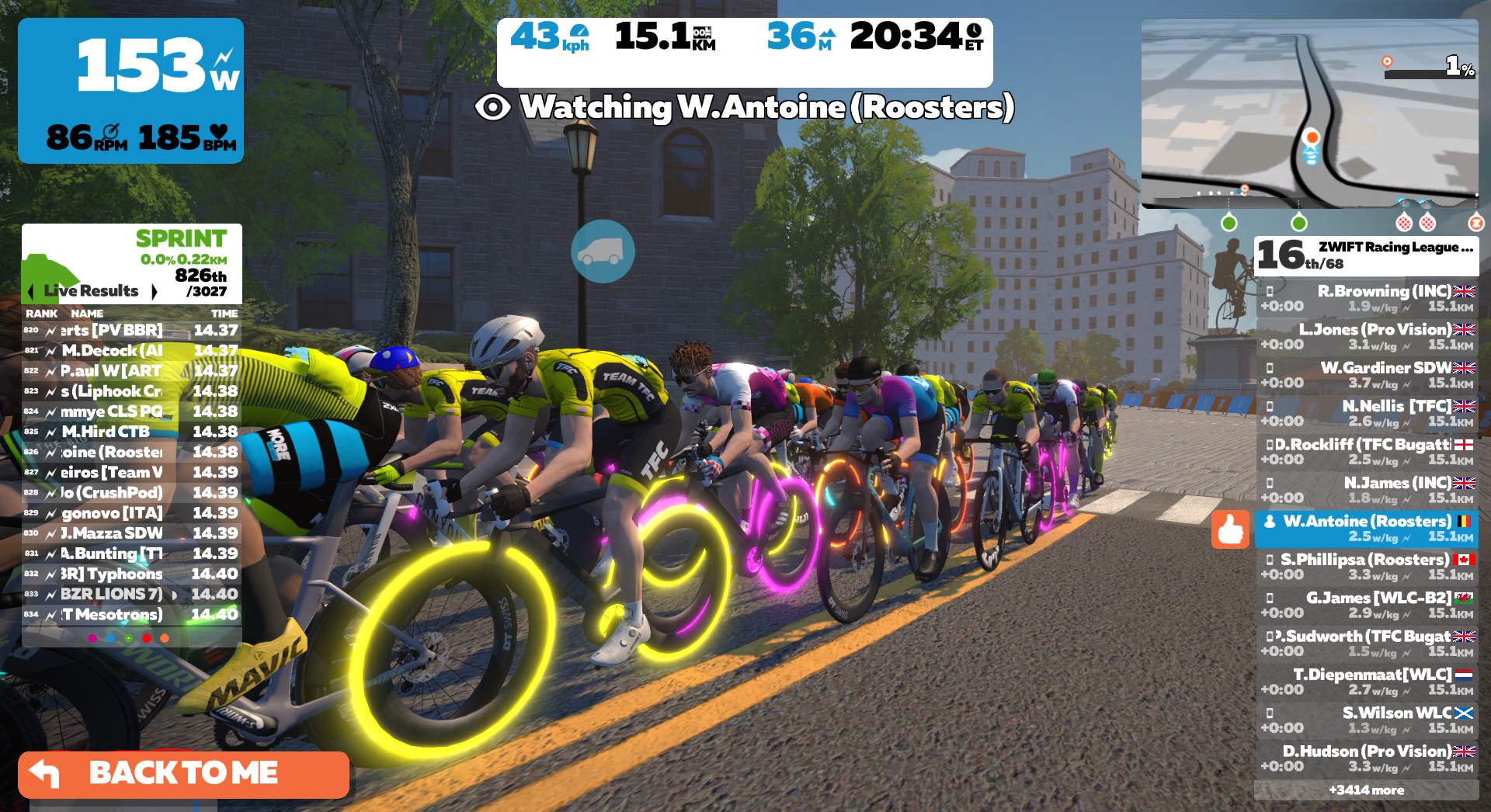 After rebooting my computer and starting up Zwift and Discord, all I could do now was pop back in and watch my teammates finish the race. When I told them all what had happened they were understandably disappointed – losing just one rider from your team of six, even if it's one of the weaker riders on the team, has a big impact on points!
It's possible that my PC crash had just lost the race for us. And that was a big bummer.
Regardless, I settled into DS mode, doing my best to help by talking our team through the rest of the race. We had four riders in the front group: Thomas, Antoine, Sean, and Arjen. (Clem had been dropped from the front after three sprints, but was still planning to chase FTS points.) Four riders was good, but with me out, and our sprint success so far being "good" but not "great", we knew it would take a strong 5-man effort to pull off a points win.
After grabbing a few more team points at the Broad Street sprint, it was time for the Roosters to recover and prepare for the finale up Libby Hill.
Libby Hill Finish
On paper, we had two riders who looked good for the finish atop Libby Hill: Captain Antoine and Thomas. Antoine has solid w/kg for climbing, while Thomas is one of those strong diesel engines who can go off the front and stay away. (This steady power also works well on longish climbs, but to be honest, I had picked Antoine for the strongest finish.)
The peloton hit the start of Libby all together (no early attacks), then Thomas upped the watts and went to the front. He quickly got a small gap (2-3 seconds), and was holding orange numbers (8 w/kg+). Could he keep the power up?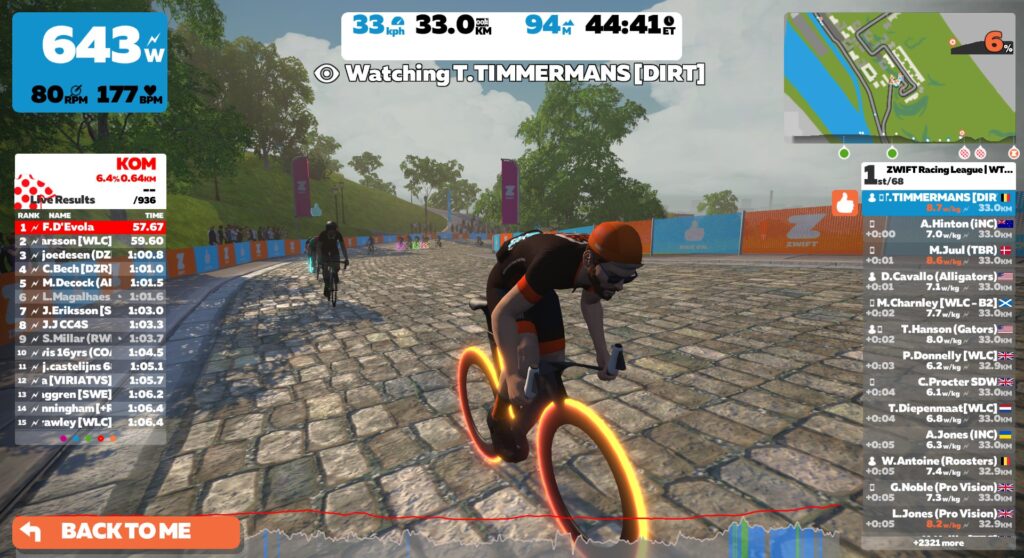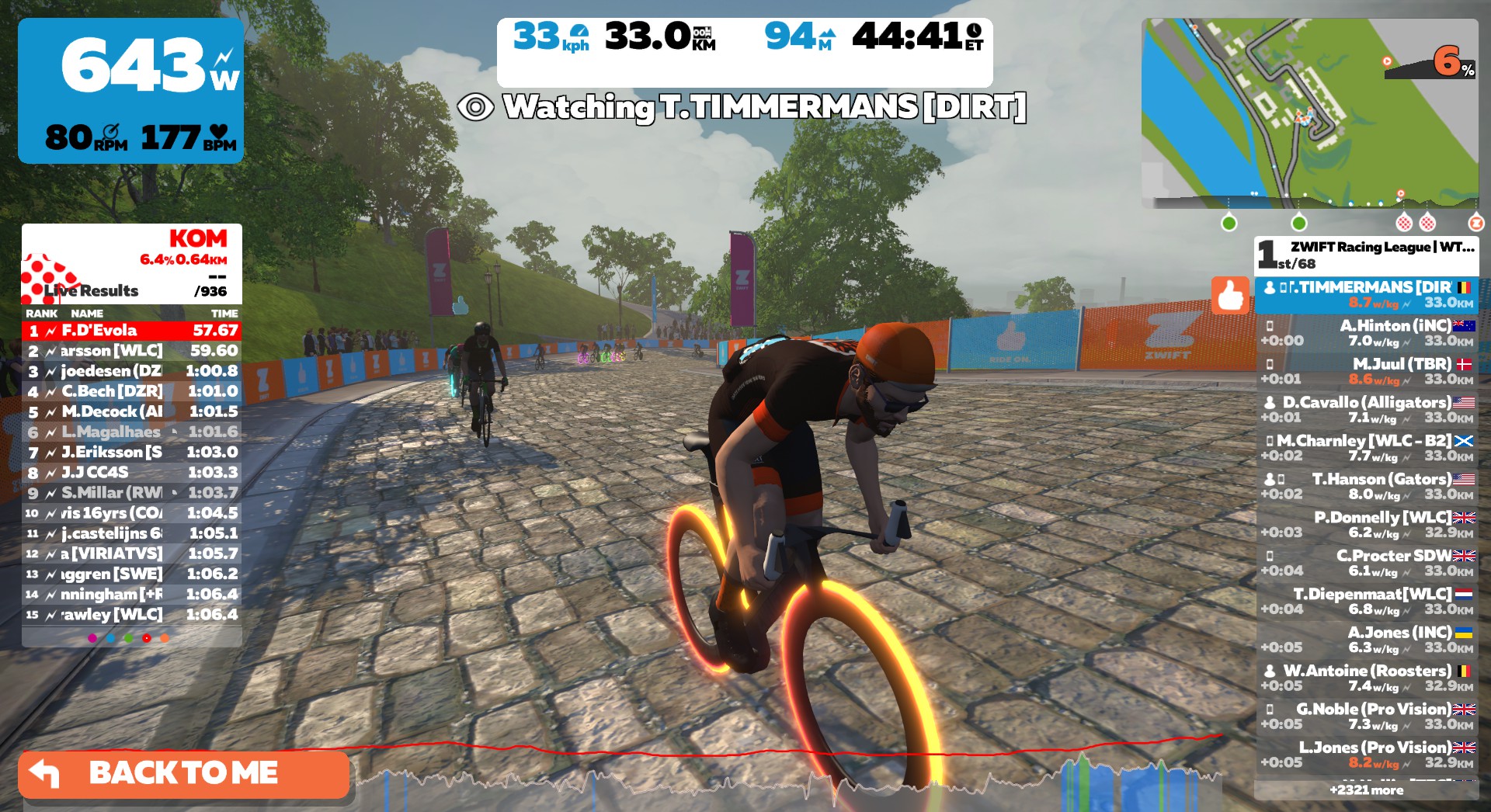 I was cheering him on in Discord. "Keep pushing, Thomas! You've got the gap! Two riders just behind. There's the finish line, you're almost there!"
He crossed the line in first, 1.4s ahead of the next rider. His 1-minute power at the end of the race was a flat 8 w/kg… 600 watts! Impressive.
Team Result
Thanks to solid performances from my five teammates, the DIRT Roosters managed to finish second in the race. Congrats to TBR 48T on taking first: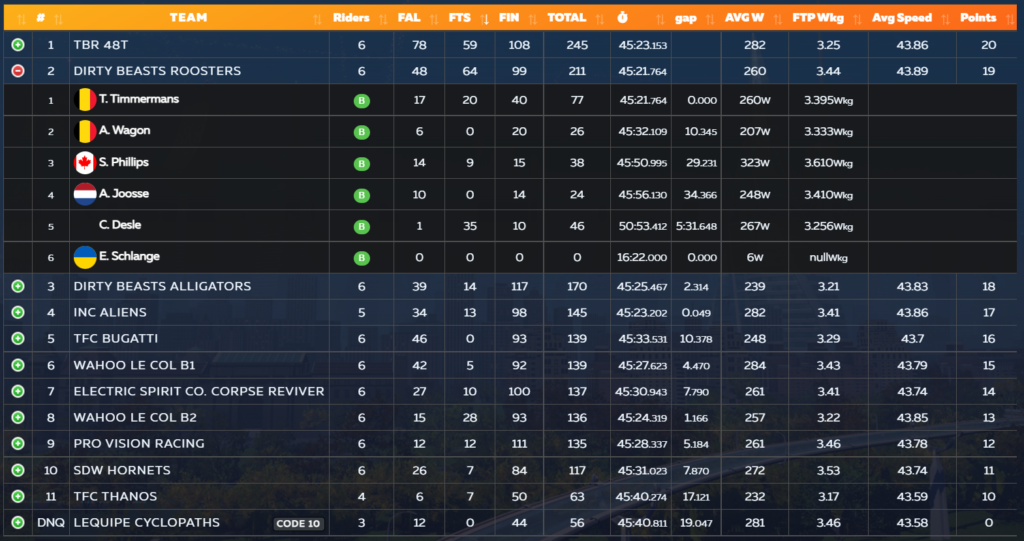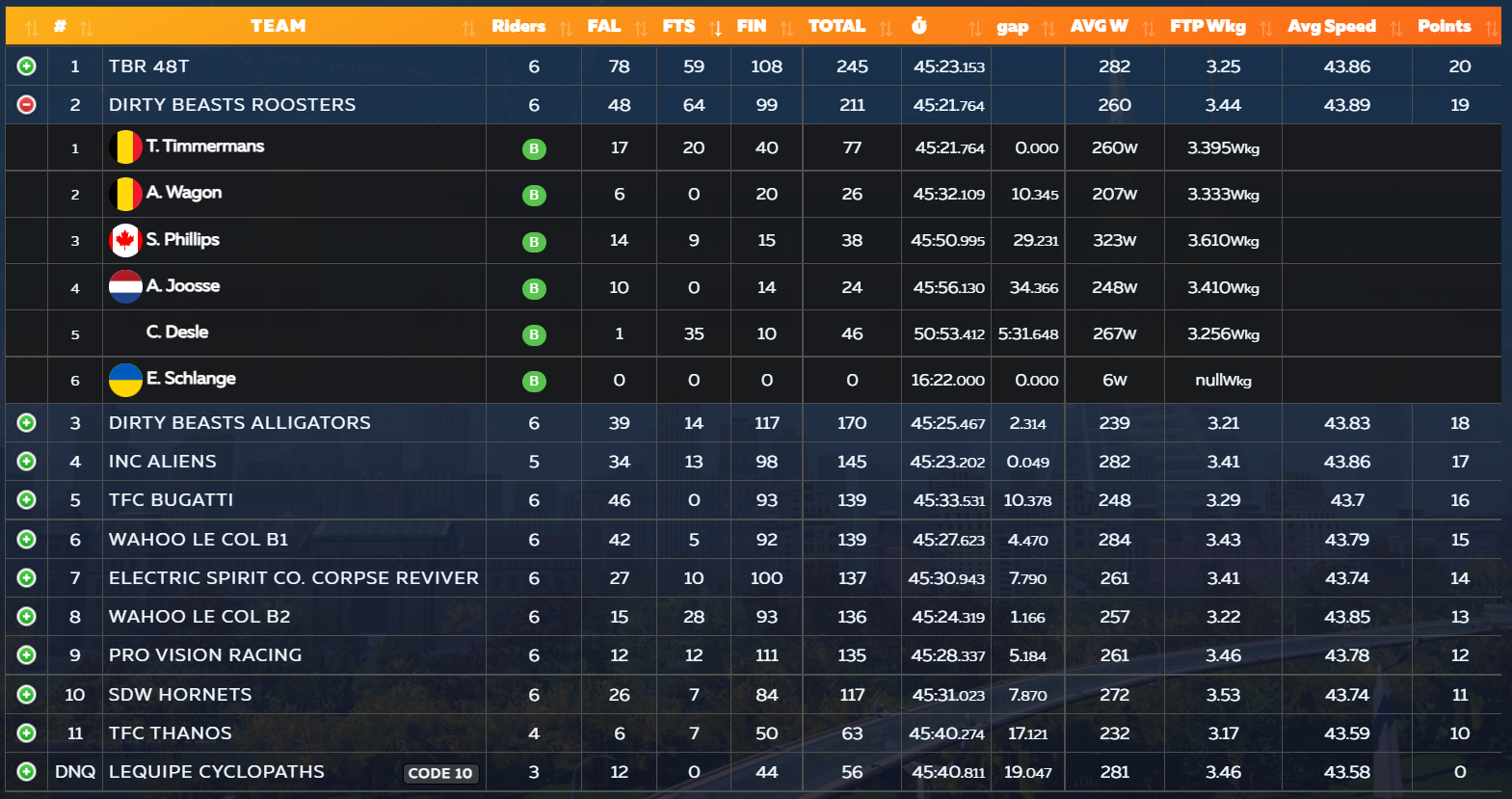 Of course, I immediately began crunching the numbers in my head, wondering about the "what if". If I had finished the race, could my additional points have let us take the win?
Based on my points so far this season (16 in race 1, 24 in race 3) it would seem that even me on a good day wouldn't have been enough to earn the 35 points needed to take first. Which, strangely, makes me a feel a little better about the DNF.
We're still holding onto first overall in the division, but TBR gained a point on us with this win, keeping it a close competition for the overall division with two races left in the season: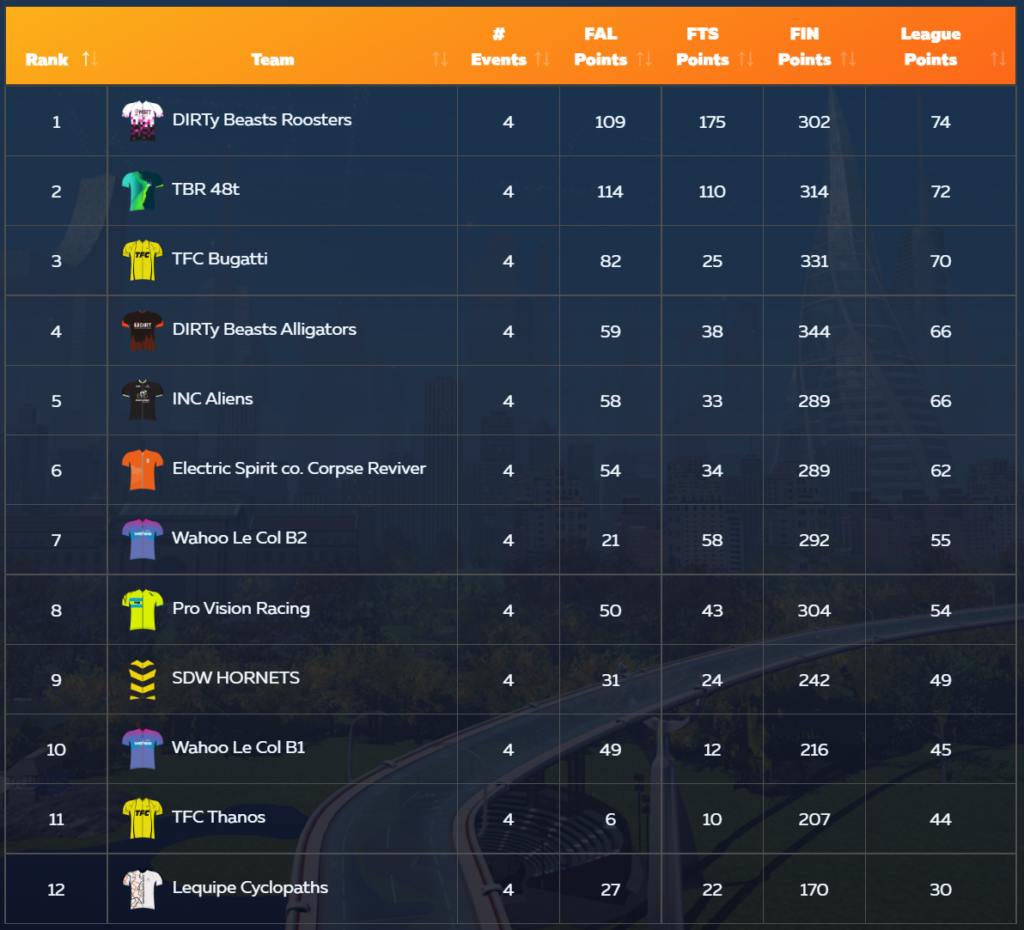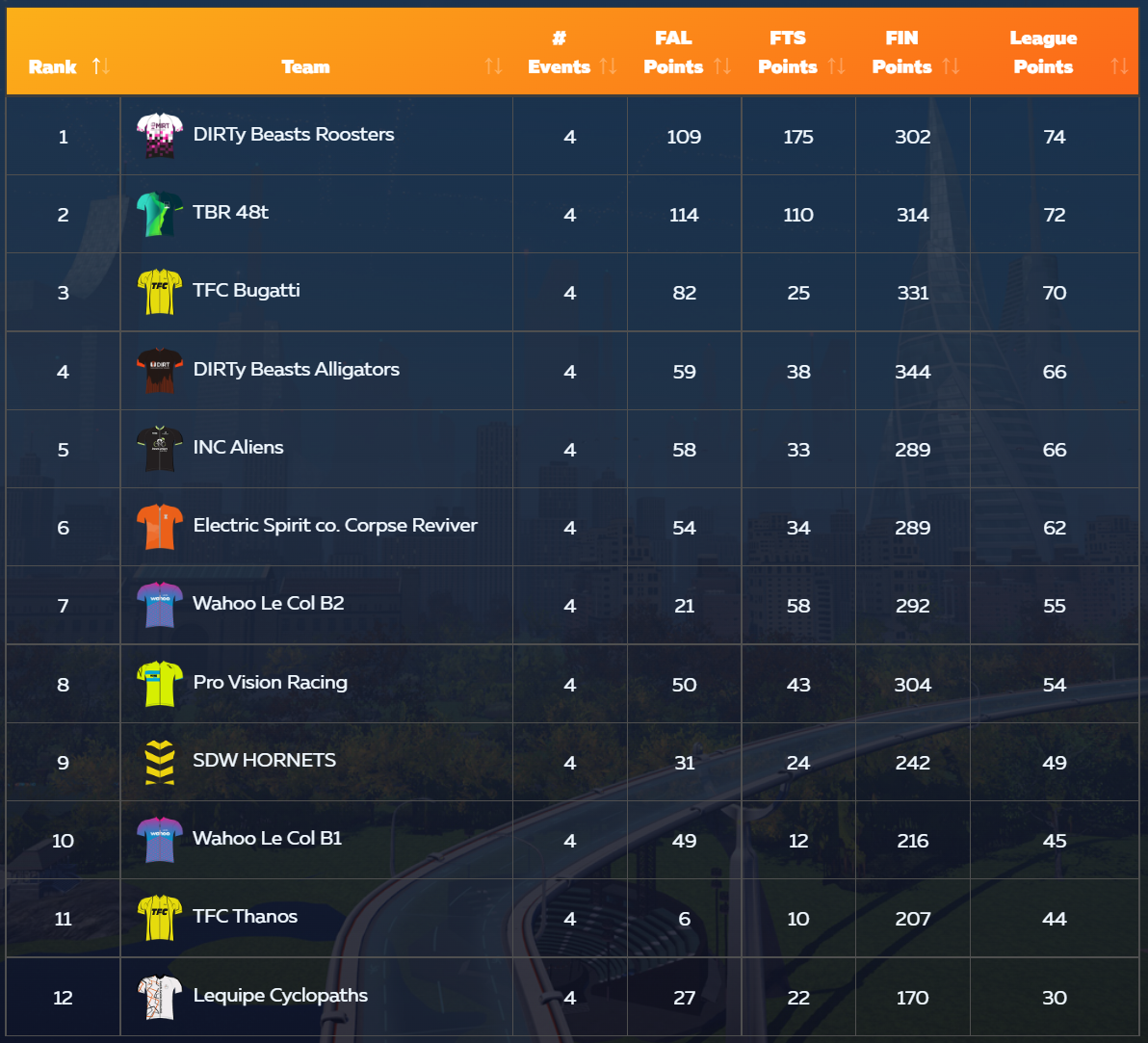 Takeaways
There's not much to stay from my standpoint, except that a DNF from a PC crash is super disappointing. It bummed me out for most of the day, in fact – I was so desperate that I went outside and did yardwork to get over it. Yardwork!
Moving forward, I plan to reboot my PC before each ZRL race. I can't say for sure that'll do anything, but it does seem to make things more stable.
Your Thoughts
How was your Richmond race? Ever lost a race due to a computer crash? Share below!