Season 2 of the 2021/22 Zwift Premier League started this past Monday.  As a quasi-contributor to Zwift Insider and a rider/director of a newly promoted Premier League team, I wanted to give an unfiltered behind-the-scenes look at the action. Look for a recap each week here on Zwift Insider.
The Road to the Premier League
The Velocio racing team first started racing in the Community League in Season 2 of the inaugural 2020/21 Zwift Racing League. (In the very first season of ZRL racing I competed for ATP after failing to convince enough friends from my outdoor racing team to join me.) For season 2 I managed to talk enough teammates, as well as some well-known friends of Velocio, into joining us. This included the likes of cycling legends Ted King and Geoff Kabush as well as all-around fitness badass and Stanley Cup champion Andrew Ference.
This added some credibility and spice to our ragtag IRL racing team. We started in the America East A4 division and had to work our way up to A1 through promotion. To move up to the Premier League we needed to place top 3 in the A1 "world playoffs". After 3 seasons of racing, this past December we placed 2nd in the "world playoffs" to earn our Premier League upgrade.
Although qualifying was a large challenge, what has turned out to be an even bigger challenge is getting everyone on the start line. The Premier League races on a different day, at a different time, and has different rules than the Community League. So instead of racing Tuesday night after work, we all had to figure out how to be available on a Monday during the workday.  Additionally, everyone needed a trainer with 2% accuracy and be able to dual record with a second power meter.
This is good, as we want everyone on the level, but $1000 trainers and power meters don't grow on trees and not everyone had invested so heavily into their indoor racing setup. For some guys, what started as a silly experiment, suddenly got serious. Lastly, everyone has to complete an extensive ZADA questionnaire with a power test and ideally have some outdoor verification numbers.
By the time all these demands were met, my potential team roster of 20 became 5. The hardest of all these, was of course, getting time off work. Each team can race 5 riders per week and pull from a roster of 10 guys. We just have the 5, no bench, no subs.
The Roster
The star of the team is Ryan Atkins who is the World Spartan race champion. He comes from a unicycle trials background (seriously) as well as mountain bike racing, but his athletic career took him into adventure and Spartan racing where he turned out to be literally the best in the world. He has a house near me and we have become friends doing long gravel adventures in the Adirondacks. He is Achilles, Hercules, or even Zeus reborn, but is also the nicest and most positive person you will meet.  
The next two racers on our team are college teammates of mine from the University of Vermont, from 20 years ago.  Dan Cassidy is an Air Force Clinical Psychologist in Texas and in his prime was one of the best climbers in the Northeast. It is a shame Strava didn't exist when he was smashing hill climbs because I think even Erik Levisohn from Saris-NoPinz would be challenged by his times. Charles McCarthy is a dad, writer, skier and has been MTB racing since before it was cool. It is too bad that taste in music doesn't add to his FTP because he would be the next Tune-gels…
The fourth team member is Jason Frank who is a banker from Vermont and a former triathlon pro. We had many great battles a decade ago. Father of three and probably nicer than Ryan, his enthusiasm is infectious. So infectious he actually raced Monday with COVID. Seriously, his whole family had it. They are all vaccinated and okay now.
Last and least of all is me. A former under-23 aspiring pro who failed out of Europe and gave up the dream to go back to graduate school. I work as a physiotherapist and a father of two amazing boys.
White Shorts
One of the largest motivators to get to the Premier League with Velocio was to get one of their amazing kits in-game. When submitting the kit design from Velocio it included a white set of shorts that was used for clear logo placement. When Zwift Event Director Charlie Issendorf, who has a history of white kits with GS Mengoni, asked if we wanted white shorts I said YES! He sent the proofs to run by Velocio and I fell in love.
When the powers that be saw them they made the correct fashion decision to switch to navy bibs, which is what we actually wear outside.  As Dave Towle said in the broadcast "you have to be either be very new or very good to wear white shorts" and since we are neither we are going back to Navy.  It's the fashion-responsible thing to do. But since there wasn't enough time to swap the kits before the first race we got one glorious race in the white bibs.  It was the only notable thing we did!
The Race
Before the race, much of the team was excited and had high hopes. The more grizzled team members on the team, however, were pretty sure we were in for a rude awakening. Plans of "go for the sprints!" were talked down to "try and finish". For myself, I had hoped to keep my nose dry until the KOM and follow the inevitable Tuegels attack.
The race started fast, like any other Zwift race, and after 700m when the pack formed there was a tiny lull. I literally yelled "YOLO" in the team Discord and I attacked. I didn't make it 60 seconds before I abandoned my plan.  I had just finished, the day before, the Project Echelon Racing League Tour of the Gila. I won three stages and the overall, putting out some of my best power ever over three days of racing. I was beginning to think efforts had no consequences.
My attack turned into a short-lived break of three and then a counter went before the first sprint. I tried to bridge back across and I just led out the sprint. A beginner's mistake of panic. Pack regrouped and another attack went from Jamrozik of Restart, the team I raced Gila with. I figured two is better than one and jumped to bridge to him, but after about 30 seconds it became clear I was screwed. The legs started to run dry and I couldn't make it across.
McGlinchey bridged to me and I was useless to help him. We hung on to take the second prime points but I knew right there I was in trouble. My lungs seized up, my legs felt empty and I struggled to get back on to the draft of the pack. Going up the small incline before sprint three I was gapped. I used an aero and made one last effort to get back on and I failed. Dropped.  My Premier League debut started off getting dropped and limping home for literally last place.  I made it 12 minutes and 35 seconds.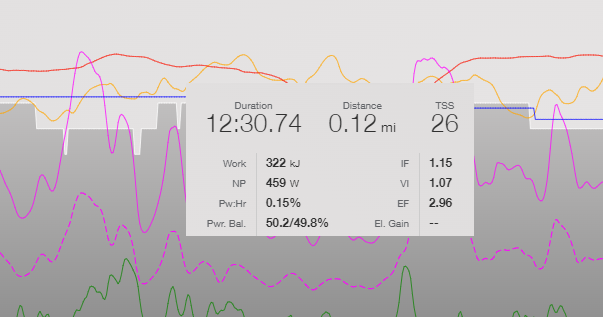 Something that was new for me and certainly a mistake was dealing with the weigh-in. In the Premier League you need to do a weigh-in within 2 hours of the race. I typically weigh myself in the morning and it is when I am at my lightest. Midday I can gain 2-4 pounds because of food and water. Knowing this, I went light on breakfast and fluid intake with the plan of weighing in while still at work exactly two hours before the race and then eating my pre-race meal.
But my last client went late and I was behind schedule and it was a race just to weigh in, eat, get home, and be online 30 minutes before the event started. I think all I did was deplete my glycogen stores and set myself up for failure. This behavior is already really close to disordered eating and something that was difficult for me 20 years ago when I was racing in Europe. Certainly a part of e-sports racing that is a problem for a lot of athletes. Moving forward, I am going to take the kilo of coffee and granola and plan on not getting dropped because I am stronger.
After getting dropped so early I cheered my team on and watched the stream while I pedaled in to finish almost 11 minutes down. One of my favorite parts of the race was seeing Teugels attack where I thought he would and watching Seggebruch of Canyon do exactly what I had hoped to do. Tuegels is 10-20% stronger than everyone in the Premier League. No one comes close. But bike racing has a strategy called "drafting" and riders are rewarded for savvy racing. Tuegels forgot about this and got played hard as Spencer timed a perfect sprint to take the KOM points. 
Afterward, Teugels was not impressed. He is a daring and gutsy rider, but here, he forgot it's still a bike race, not a TT. Maybe he was hoping for some of that Spirit of Gravel chivalry.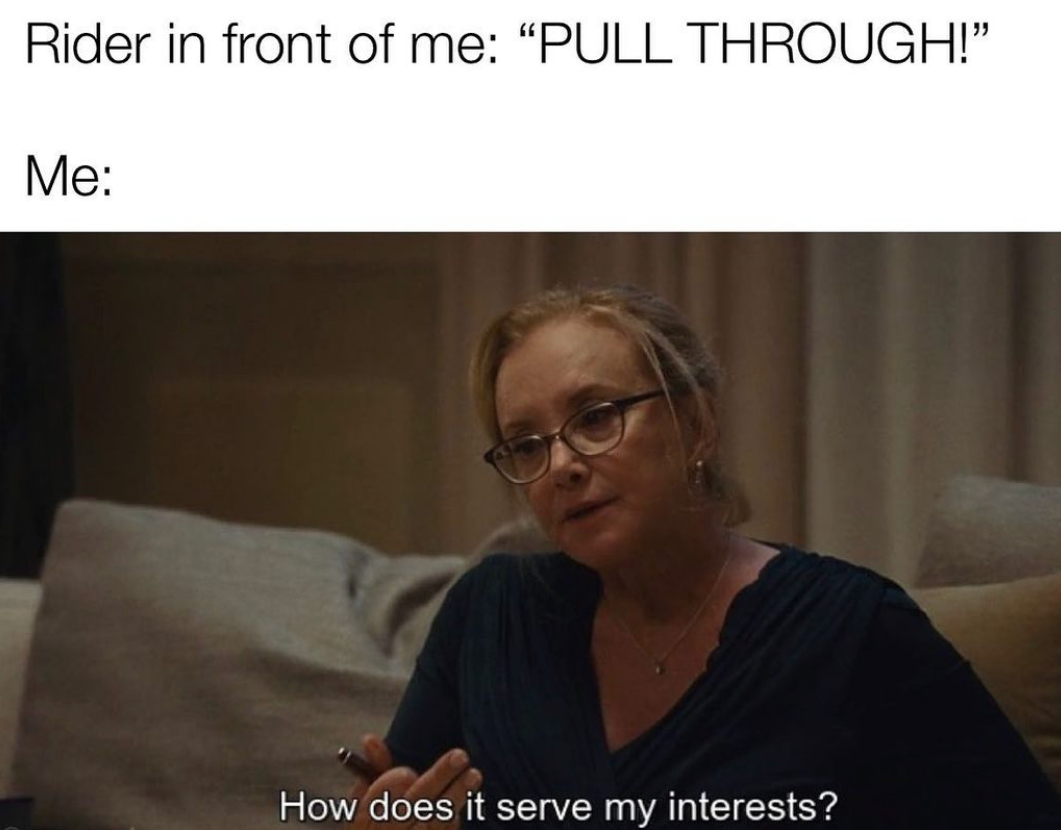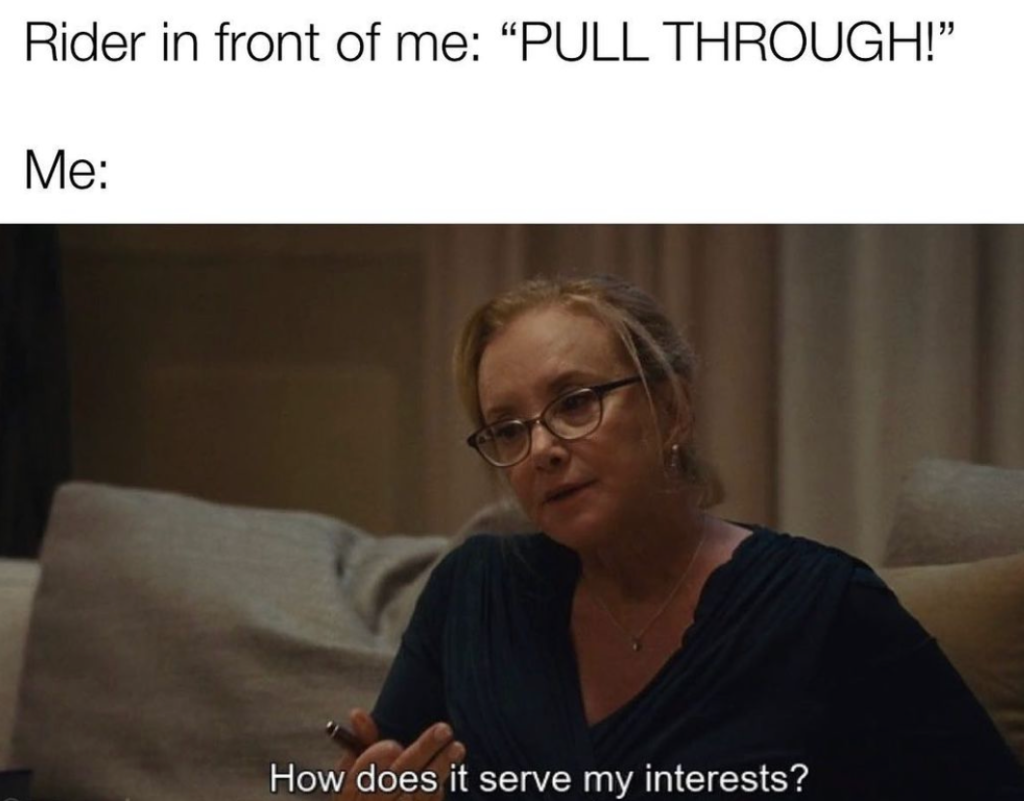 The last bit is something full of drama that is still being sorted. The finish was exciting as Gavin Dempster of Saris-NoPinz made a late move and got caught with 26m to go. The drama however was that some people in the race had an older version of the game that had a DIFFERENT finish line that was something like 50m earlier.
So when the results popped on the screen and the replay was played, the obvious mismatch was, well, obvious. The rules state you must use the most recent version of Zwift, and I bet most people wouldn't even know how to start an older version of Zwift, but somehow it happened. I don't believe for a second there was any intent in this action but the results still have to be sorted. Personally, I think we should give NeXT p/b ENSH a finish line an extra kilometer down the road to give us a chance.
The last tidbit people may not know is that for the Premier League this season everyone has to run 100% trainer difficulty. It is set automatically in-game for these events, so there is no way to change this UNLESS people don't pair a controllable trainer unit. Apparently, some people did this to avoid the change in resistance. Incredible.
Next week is 6 laps of London Classique with 6 sprints and dead flat. I hope it means I don't get dropped. I will wait to attack for at least a full kilometer next week. After that, no promises.