The most recent Zwift update added two buttons to the action bar:

What do they do exactly? Zwift's release notes don't mention them, so I decided to do a little testing…
Getting Them To Show Up
First things first: chances are you aren't even seeing these buttons in your action bar. The action bar's options change based on what you're doing in Zwift, and these new buttons only show up (as far as I can tell) in one very specific scenario.
First, you have to have a smart trainer paired as "controllable". Next, you must be in workout mode. Lastly, you have to have ERG mode turned off.
So these only show up for smart trainer users who are doing a workout with ERG mode turned off. But what do they do?
Resistance Changer
The buttons show a smart trainer with a + or – sign next to it. Mouse over them and the + says "Harder" while the – says "Easier". Click the + button and your trainer resistance will increase. Click the – button and it will decrease. You'll even see a little vertical resistance meter moving up and down to the right of the main center HUD element: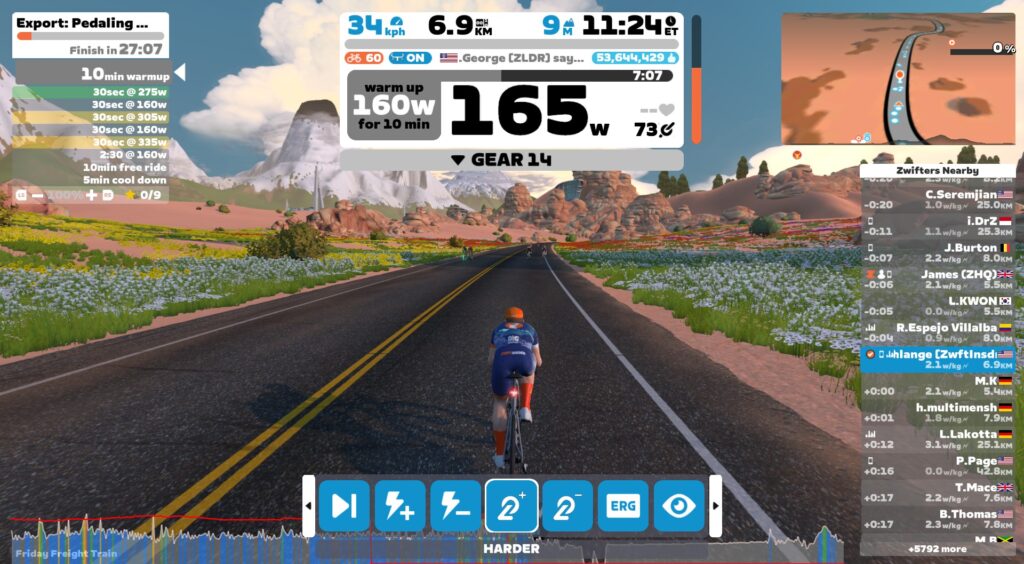 So these are trainer resistance adjusters. Interesting. But why has Zwift added this option to the game? I have three theories…
Theory 1: A Niche Feature
It's possible that the current scope and functionality of this feature is all that's planned. If so, what problem is Zwift trying to solve?
It would be a very niche issue: if someone was doing a workout on a low-geared bike (such as a MTB or city bike) and preferred doing workouts with ERG turned off, this feature would be helpful.
In this scenario, the workout may ask you to put out a higher number of watts (say, 450W) but you may not have a high enough gear to give you the resistance needed to hit those power numbers. Bumping up your trainer's base resistance level would basically make your bike feel like it has higher gears.
Theory 2: An Unannounced Beta Test
Perhaps this is a new feature Zwift plans to roll out to the action bar in all scenarios, but they wanted to test the feature with a more limited audience. Having it only show up when ERG mode is off would let riders "in the know" test the feel and functionality of the resistance changes before a larger releases.
Theory 3: A Mistake
Lastly, there is the possibility that these buttons are still under development and weren't supposed to be included in the public release.
Potentially Useful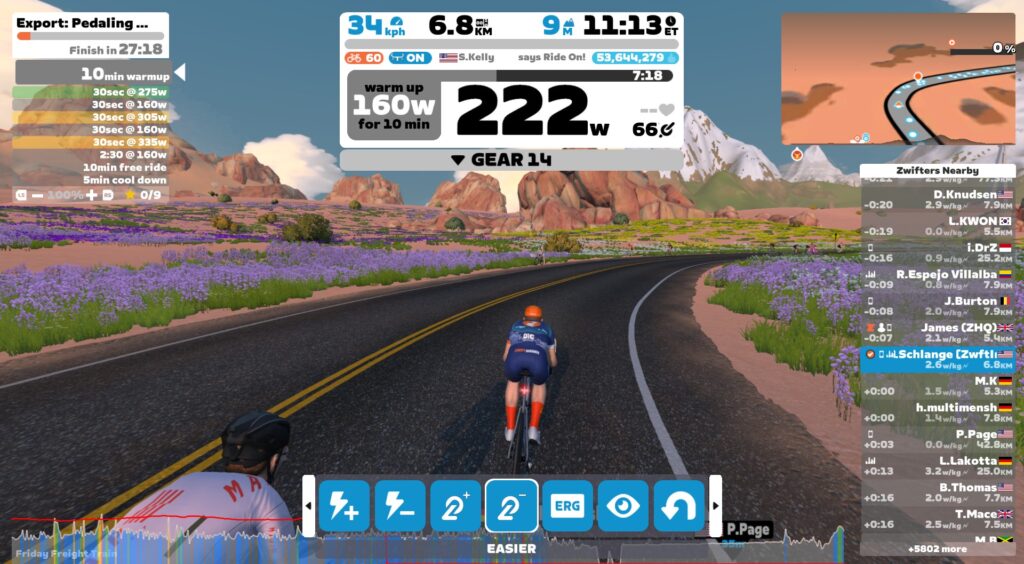 My hunch is that theory 2 or 3 are correct, and Zwift plans to roll this feature out to the action bar in more scenarios. At least, I hope that's the case.
Why would Zwift release such a feature? Because it lets you dial in your mechanical gearing for a better experience. Depending on how your bike is geared you might spin out on hard sprints or descents (gearing is too low overall) or you might grind to a halt on steep climbs (gearing is too high overall). This has always been a problem for people who ride mountain bikes on Zwift (real ones, not virtual ones), and while virtual shifting solves the problem, it only solves the problem for people who own a Zwift Hub trainer with a Click or Play controllers for shifting.
Adding these resistance-changing buttons to the action bar in (almost) all ride scenarios would let all smart trainer users dial in their gearing nicely. The only time it wouldn't make sense to show the option would be while doing a workout in ERG mode, since the game is setting the proper resistance automatically.
It's worth noting that Zwift is saving the resistance setting between sessions, too. This indicates that Zwift sees this as a way to dial in your trainer not just for specific times on specific workouts, but for your training overall. So I'm hopeful that this feature will be available in more scenarios soon.
Questions or Comments?
That's my take on Zwift's unannounced action bar addition. But what's yours? Share below!