The Haute Route events have been described as the closest you get can to being a pro without actually, well… being a pro cyclist. Renowned as much for their top organization and experience as their difficulty, Haute Route events are the ultimate test for many amateur riders. The traditional events are usually held over 3 or 7 days, although for the bravest it is possible to undertake the Alps, Pyrenees, and Dolomite tours back to back for your own Grand Tour experience.
Like many cycling companies, Haute Route saw a valuable opportunity in pairing with Zwift to promote their product and unveiled the first virtual 3-day Haute Route event on the platform. True to the real-world events, there would be plenty of climbing and it would be no stroll in the park.
Prep
Launched to much fanfare back in February, the event had fallen off my radar until a few days before. As someone always keen to push myself I signed myself up to all three stages and began a few days of prep. Due to the lockdown, my fitness wasn't a problem, so my preparation actually meant tapering for a few days beforehand. To give my legs a little test I undertook the Tour of Watopia Stage 5 Long Ride up the volcano on Thursday, the day before Haute Route Wataopia. I felt in good shape but as I went to bed I wondered if I had overdone it.
Subscribe to our newsletter
Stage 1
The stages were being run on Friday, Saturday, and Sunday, over three different routes and with multiple start times per day. I opted for the first event of the day at 8am Friday. This worked well with my normal routine and would give me the maximum rest time before stage 2 the following day. I joined the event as soon as I could, due to wanting to be near the front of the pier pens – with over 4,000 signed up I didn't want to spend 5 minutes getting to the course!
I went into the event with fairly high expectations, as a B rider I have had some good results recently and according to my race ranking on ZwiftPower I was in the top 50 entrants. This was a fool's metric, though! Most of those ranking points had come in shorter, flatter races where my 80kg of weight is less of an issue and raw watts at the finish can make a big difference. So, bearing this in mind, I set myself a target of finishing in the top 10%.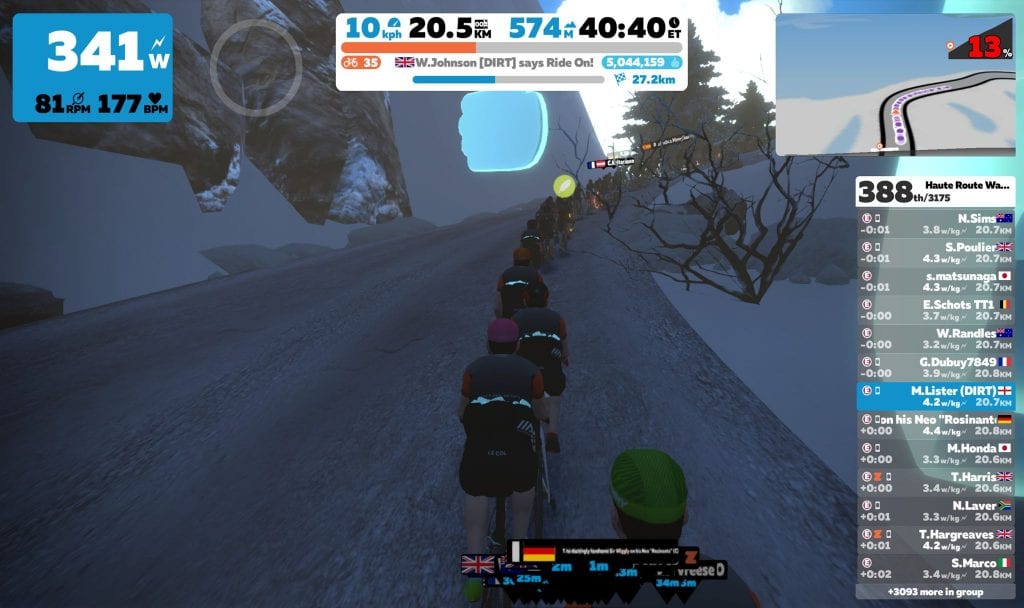 The Friday course was Three Sisters, a punchy 47.8km route over the original three Watopian climbs; the KOM, Epic KOM, and Volcano Climb for a total of 879m of climbing. As expected, the start was fast, frenetic, and straight up the KOM! No lead-in, just boom straight up. Sure, it's just a little bump in the scheme of things but I didn't want to ruin my legs in the first couple of clicks so I paced myself but made sure I stayed in a small bunch for the descent to the base of the Epic KOM.
I crossed the start of the climb in around 200th position but as the route ascended, my position descended, down to 400th and outside of the top 10%. Not feeling despondent I reminded myself this was a marathon, not a sprint and we were less than 20km into a 150km event. I also didn't know how many of the riders around me were targeting all 3 days – as a free to enter, virtual ride there would no doubt be those just doing 1 or 2 of the stages due to other commitments so I reminded myself this was about my time at the end of the event, not my position on the day.
As I descended the Epic KOM, I made it into a nice blob which worked together to keep the speed high until we reached the volcano climb. Having completed the climb, the day before I knew this would be around 8 minutes of climbing. As we went up, I lost touch with my group. With one eye on the next two days this didn't worry me. In hindsight, I could have been better positioned going into the climb and maybe pushed over the top with the group. This would have allowed me to be in a larger, quicker group for the final run-in to the line. As it happened, I finished 30 seconds back on this group with a final time of 1:19:00. This gave me a position of 239th out of 1,624 on Zwiftpower, not quite the top 10% but I expected this to whittle down over the weekend.
On a real Haute Route, riders are presented with access to top nutrition and massages after each stage but I had to settle for a protein shake and cookie and hope that would be enough to recover me for stage 2.
Stage 2
At 27.6km, stage 2 was shorter than the previous day but featured barely any descending and plenty of climbing, with a jaunt up Alpe du Zwift on the agenda. Like the previous day I got into the pen nice and early and then got swamped by riders speeding off as the lights turned green.
The ride to the foot of the climb was very fast, essentially one long train. I have only completed the Alpe twice before and knew there would be very little respite. Prior to the stage I checked out my average power from my PB – 284W – so as we started the climb, I set this as a target. (This might have been optimistic as I was concerned it might leave me fatigued for the final stage.) Regardless, I smashed out the first few sectors at around 320W. This soon caught up with me and I found myself in the middle third doing everything I could to keep each sector's average above 284W.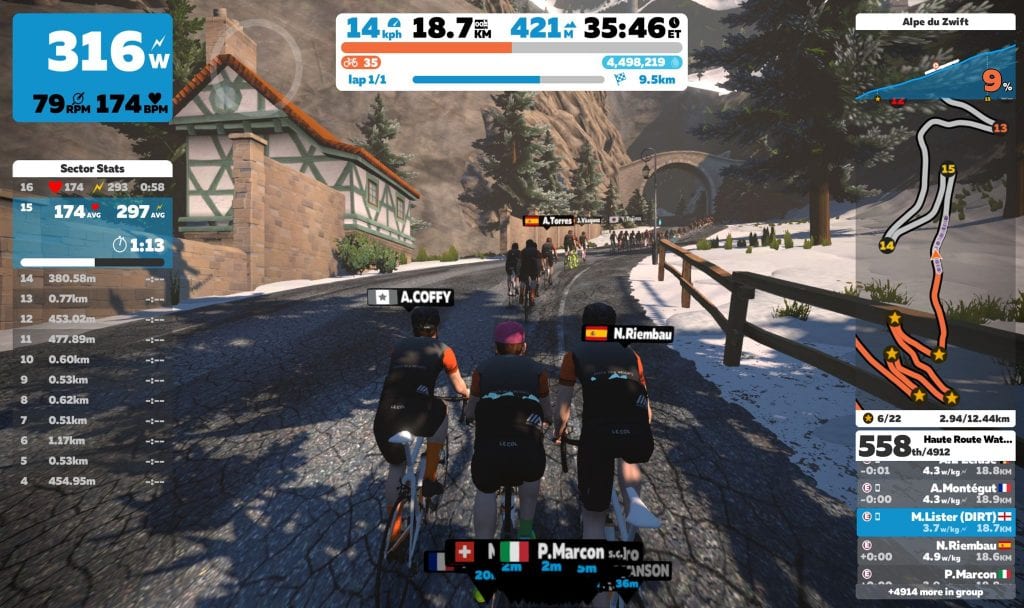 Once again, I was being passed by a stream of riders but I wasn't racing them, I was racing myself and my time. As I neared the top, I realized that my earlier efforts meant I was on course for a PB and this buoyed my efforts, giving me the lift needed to push on for the last couple of kilometers, raising my output back up to the 300W mark.
I crossed the line in 1:15:39 for the stage but more importantly I had taken 3 minutes of my Alpe PB. I was cautious though: was this just down to the draft from all the riders on the course? Later inspection showed that my power was 14W high for this effort so it was a genuine improvement.
As I rolled back down the 10minute descent, my thoughts turned to Stage 3. At 73km, this was as long as the first two days combined and featured the Epic KOM in both directions. I had my usual protein shake and cookie before fully intending to put my feet up and rest my legs all day. Unfortunately, my wife remembered my promise to mow the lawn and assist with the garden, not what my legs needed!
Stage 3
The final day filled me with a few nerves as I got set up for the 2pm ride. I plumped for a slightly later ride, giving my legs just a few extra hours of rest – my version of marginal gains. I've not ridden the Pretzel before but looking at the profile I estimated it would be a 2-2:15 ride, so filled up two water bottles plus a backup pint glass and placed them with some snacks on the workbench next to me.
Whether it was adrenaline, excitement, or stupidity I set off at speed making the most of the draft and raced towards the foot of the Epic KOM. Having completed the climb a couple of days earlier, I expected this to take around 23-24 minutes and for my early position to drop like a stone. To my surprise I managed to hold steady! Perhaps there was a general feeling of fatigue in the pack or I suspect those who had gone all out on day one hadn't lasted the distance. Regardless, this was once again a race against myself and I felt good, powered up the climb and knocked almost a minute off my PB.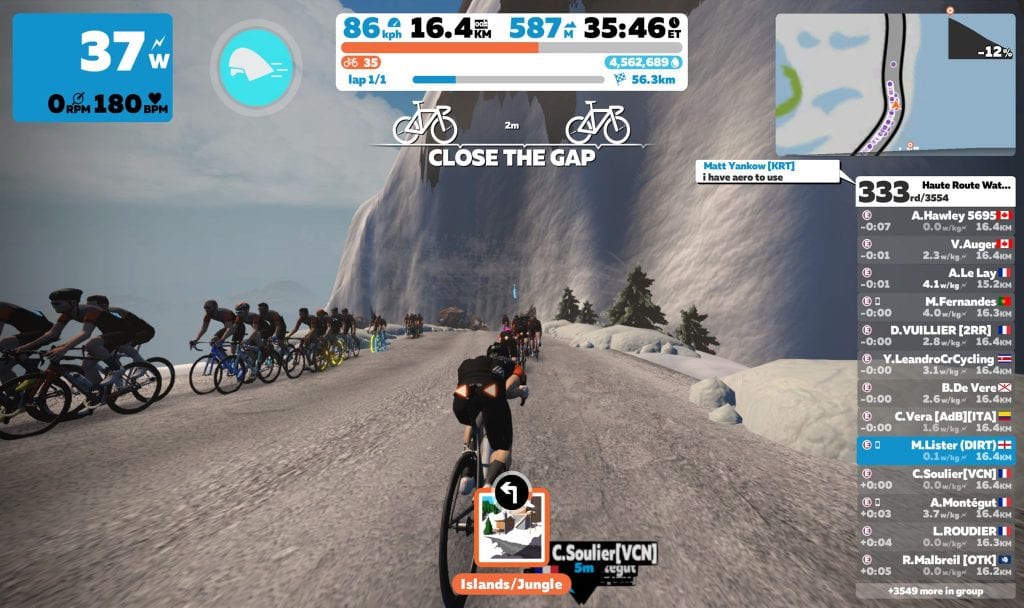 Had I just blown it? Am I going to regret this very soon? Time would tell. First I had to get back down the mountain. After learning from the first stage I pushed hard to catch a decent-sized blob which I knew would make good time around the main island and two ascents of the original KOM.
Initially, I found a nice rhythm but after an hour of riding I started to struggle and as we made our way down the switchbacks on the approach to the Epic KOM reverse I was not feeling good. I attacked my snacks, some Haribo and several digestive biscuits. I was not looking forward to the next 45-60 minutes and felt like I had blown it, angry at myself for attacking too hard early on.
The first switchbacks up to the bridge were a struggle. My power was around 250W – respectable, but below the 300W marker I set myself for the climbs. But by the time I had crossed the bridge, the biscuits had started to work their magic! My legs awoke and I found the missing watts and pushed myself on. A quick water refill from the team car (aka wife) kept me going and despite my slow start I bagged another personal best.
Secretly I had hoped for sub 2 hours for this ride and that target was on a knife-edge right know. I can't remember the exact numbers but I had around 16km to ride and 19 minutes to do it. It was time to find some eager riders and blob up. We started well, the descent giving us a fantastic speed boost and the riders around me got on board with the idea of sub-2. Time and distance checks were announced, this was going well but it was all downhill!
Soon we were on the flats and the switchbacks. The slight incline felt like the Alpe again but we pushed on – this was going to be touch and go. The kilometers ticked down, I nearly lost contact on the cobbles in the Italian village – mentally I hate those cobbles but amazing through it all we stayed together. One final climb out from the sprint bridge and through the Esses before the descent to the line. Unlike Stage 1, the finish was at the banner but those extra 250m didn't matter as we crossed the line with 19 seconds to spare. A fantastic effort from Team Sub-2 as we had named ourselves.
Closing Thoughts
What a great three days of racing this was. Highs and lows, determination, stubbornness, and personal bests. In the end, I finished 895th out of 7,506 finishers. A little outside my top 10% target but as I discovered on the Alpe this wasn't really about everyone else, it was about me. With personal bests on the three biggest climbs in Watopia I had plenty to be happy about.
A few days later my legs were still feeling the effort I had put in, and I was still feeling pleased with my performance. There were lots of positives to take-away and where there were a few issues Zwift acted quickly to address them, including staggered starts and more start times. It would have been nice to see the results broken down by category so I could see how I did against other Cat B's but that's my only real (small) complaint. (I'm sure there will be more multi-day events, so hopefully this is something that could be included in the future.) All in all, a great event that pushed me mentally and physically.
What About You?
Did you complete the Haute Route series? Share your experience below!