Movistar and Zwift have just announced the Movistar Team Challenge, a talent ID competition to identify five men and five women to join the new Movistar E-Team.
The competition will be held exclusively on the Zwift platform, with the journey presented by GCN.
A Big First
This is headline news in our space because Movistar will be the first World Tour team with an official E-Racing squad. This is a first, but certainly not the last – we predict more World Tour (as well as Pro Continental and Continental teams) will develop e-racing squads in the near future. Why?
Perhaps Juan Pablo Molinero, Movistar Team CMO, says it best: because Zwift can "offer new possibilities to their [Movistar] fans, supporters and partners. The Movistar E-Team will enlarge our audience and "contact points" with our fans."
From a business standpoint, the costs associated with running an e-racing squad are miniscule compared to an IRL pro squad. So the marketing ROI in e-racing is strong – and pro teams are beginning to figure this out.
About the Movistar Team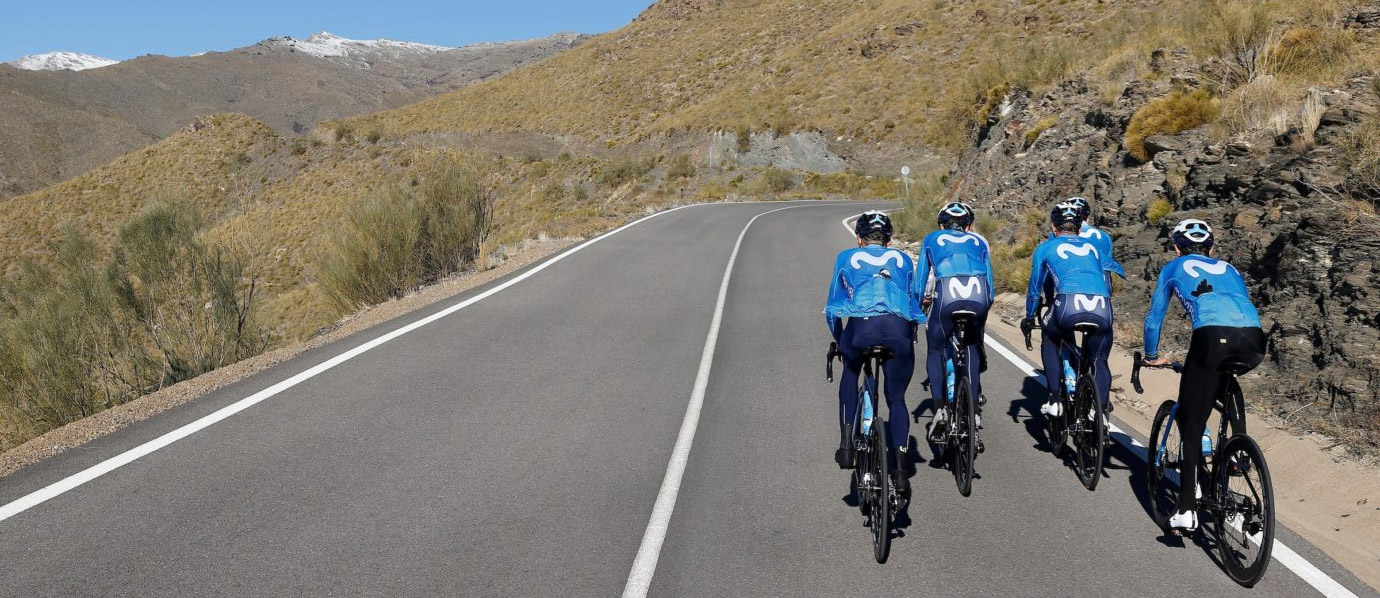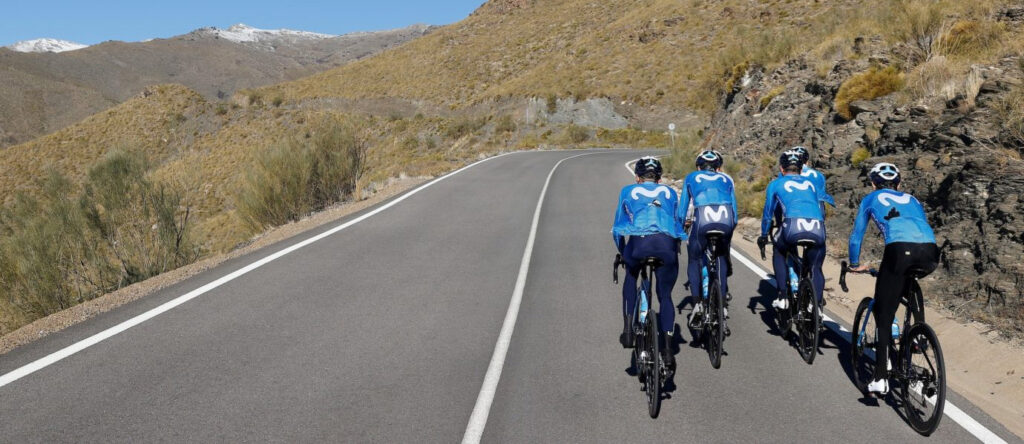 The Movistar Team is the longest-running, most successful squad in pro cycling's top tier, the UCI WorldTour, which gathers together the 19 most prestigious men's teams on the planet. 2021 sees the Blues' men's team in their 42nd consecutive season of activity with a roster of 29 riders. The squad also includes a 14-member women's team, active since 2018 and part of the highest tier, the UCI Women's WorldTour.
The squad is managed by the Abarca Sports corporation, based in Navarra, Spain.
Squad Goals
The Movistar E-Team's stated goal is to target the Premier Division of the Zwift Racing League in both male and female categories, seeking to become one of the best cycling esports teams on the planet.
Competition Structure/Schedule
The competition is being held over 5 weeks, beginning February 3rd.
The Movistar Team and Zwift have already invited 300 of the best-ranked Zwift racers to the competition (150 men and 150 women). Many of these riders are currently racing Season 2 of the Zwift Racing League.
But everyone is invited to compete for a spot on the new Movistar E-Team! If you haven't already been invited, open qualifying races are taking place on Wednesday, February 3rd. There are two event times – see details at zwift.com/events/series/movistar-team-challenge-community-qualifier.
The top three men and women in each race will advance to the next week (so a total of 6 men and 6 women) after Zwift Accuracy and Data Analysis (ZADA) verifies race results.
The 2nd week is a points competition for pre-selected riders only – the 300 invited prior to the competition, and the 12 top finishers from the open qualifiers. Riders will race two separate events this week, with the top 50 from each race receiving points. After the two races, the top 50 men and 50 women will advance to the next week.
Week 3 is similar in structure to week 2, except only the top 20 men and women will advance.
The final week's challenges are not as clear-cut as the previous weeks, because Team Movistar is looking to assess the unique traits and abilities of each finalist, to determine who will be the best fit for the new team. Team Movistar's guide says:
The Finals will feature a series of challenges, different from the previous races, where the riders will not only have to again prove their performance on the bike, but also show their personality and abilities in front of Global Cycling Network presenters and members of the Movistar Team, which will be able to interview them live during the event.
The team staff will watch the Finals and make their assessment on the sporting talent of the participants, while also evaluating their marketing value and social media presence. After those examinations, they will select the members of the 2021 Movistar E-Team roster.
For that final selection of 10 riders (5 men and 5 women), the Movistar Team may assign a maximum of 2 spots for exceptional reasons in its sole discretion.
See date and time details below: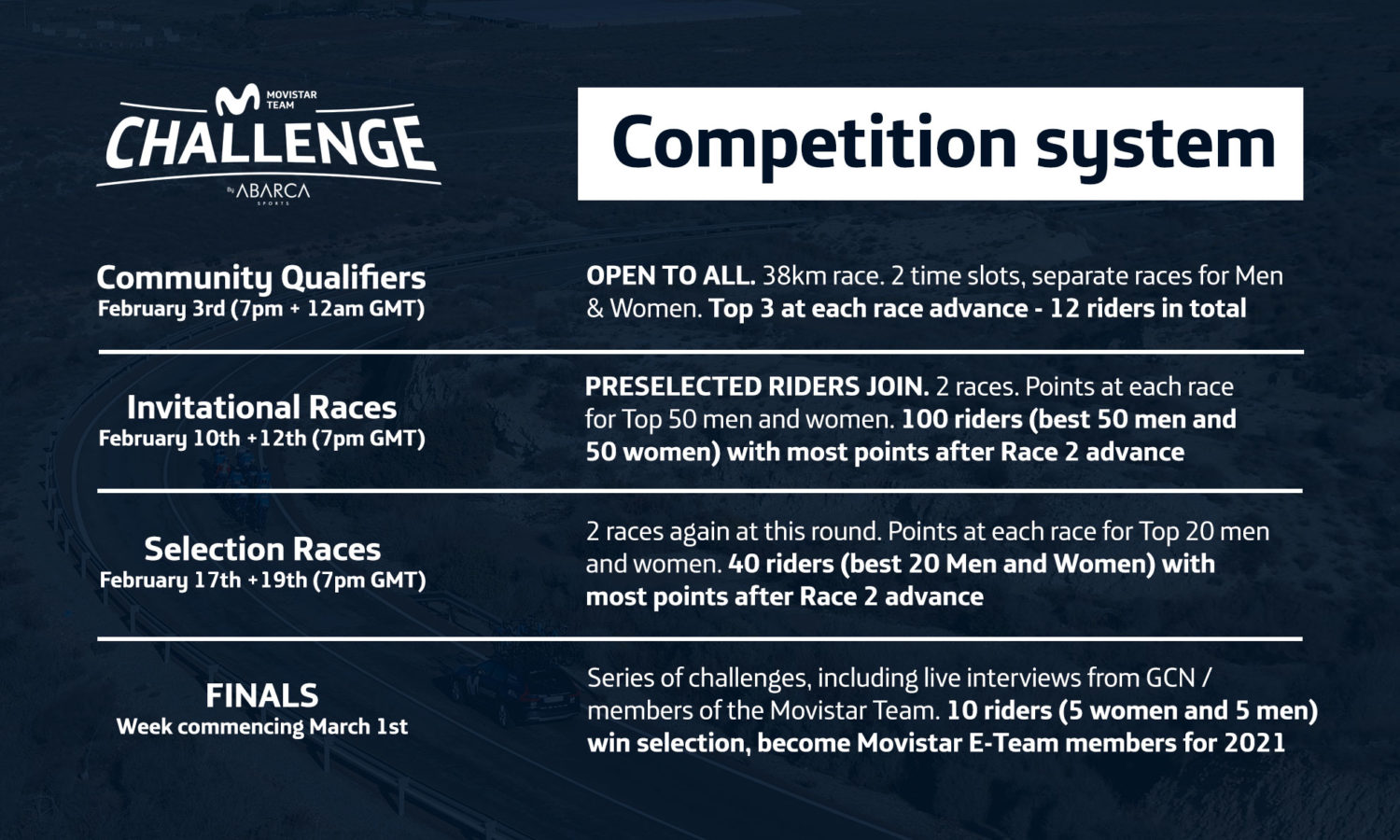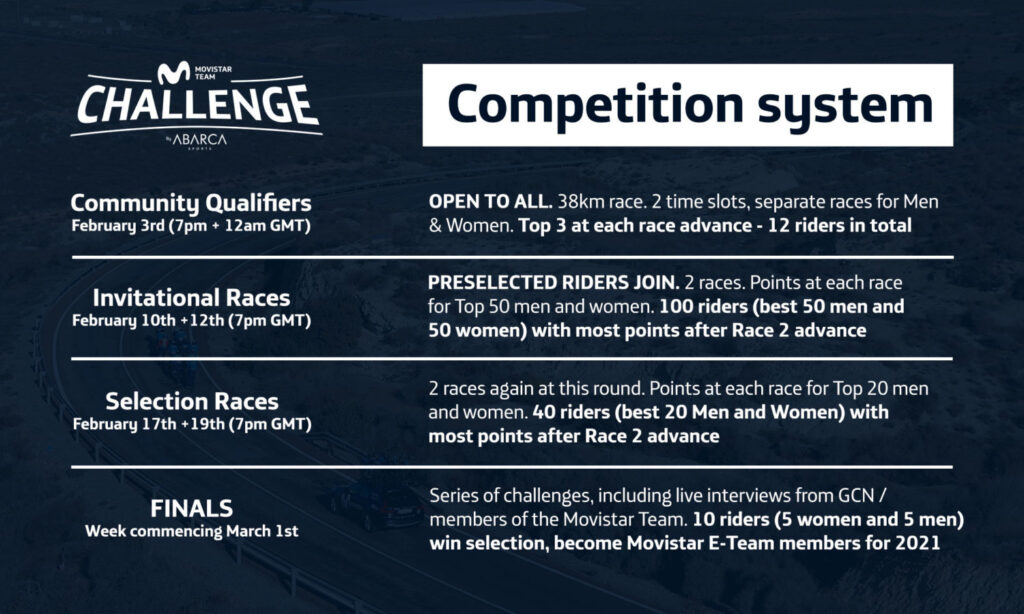 Qualifying Race Details
The February 3rd qualifying races will be held across two laps of Watopia's new Ocean Lava Cliffside Loop route. That means 38km (23.6 miles) and 292m (958′) of elevation gain.
See event details and signup >
Team Benefits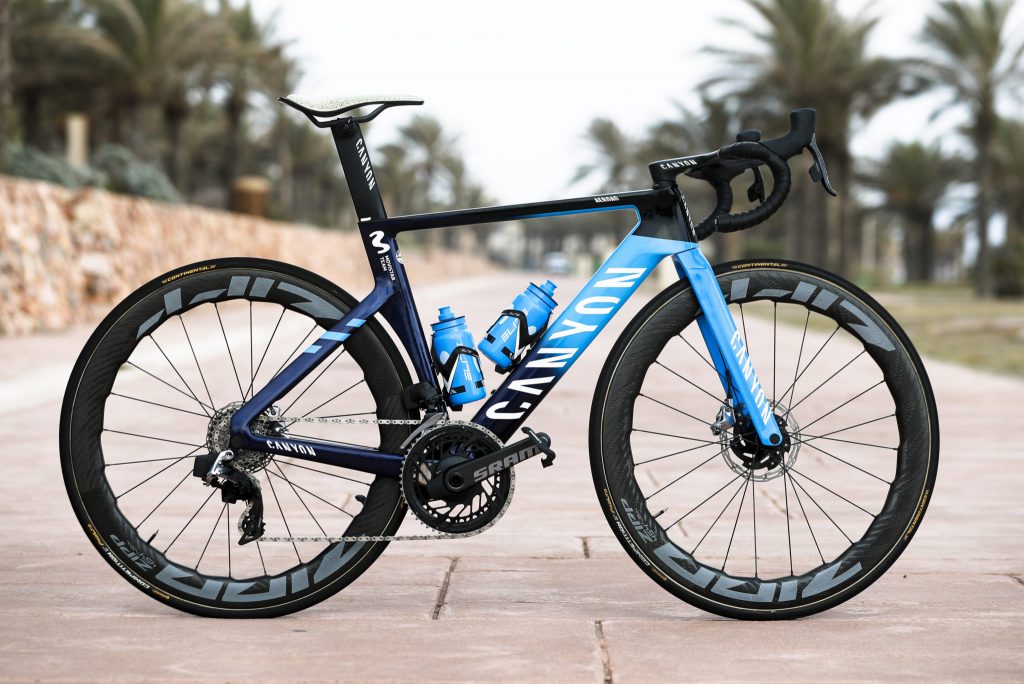 Selected team riders will receive the following:
A Movistar Team-issue Canyon bike with SRAM components (both in Zwift and IRL)
An Elite Direto XR trainer, Movistar E-Team limited edition
Full Movistar Team kit (both in Zwift and IRL), as well as official products and services from the team as a fully-fledged Movistar E-Team member. Includes Le Coq Sportif lifestyle wear, ABUS helmet, 100%, sunglasses, Garmin cycle computers, RAW Superdrink, cryocompression systems from Aquilo…
Custom attention from the team, with training plans and systems, assessment of your nutrition and recovery, etc
Support from the performance team and coaches of the Movistar Team
Movistar Team Training Camps invites
Access to the Movistar Team Travel Experience cycling trips
1-year contract, subject to renewal upon review. No salary provided
Rules, Terms and Conditions, Etc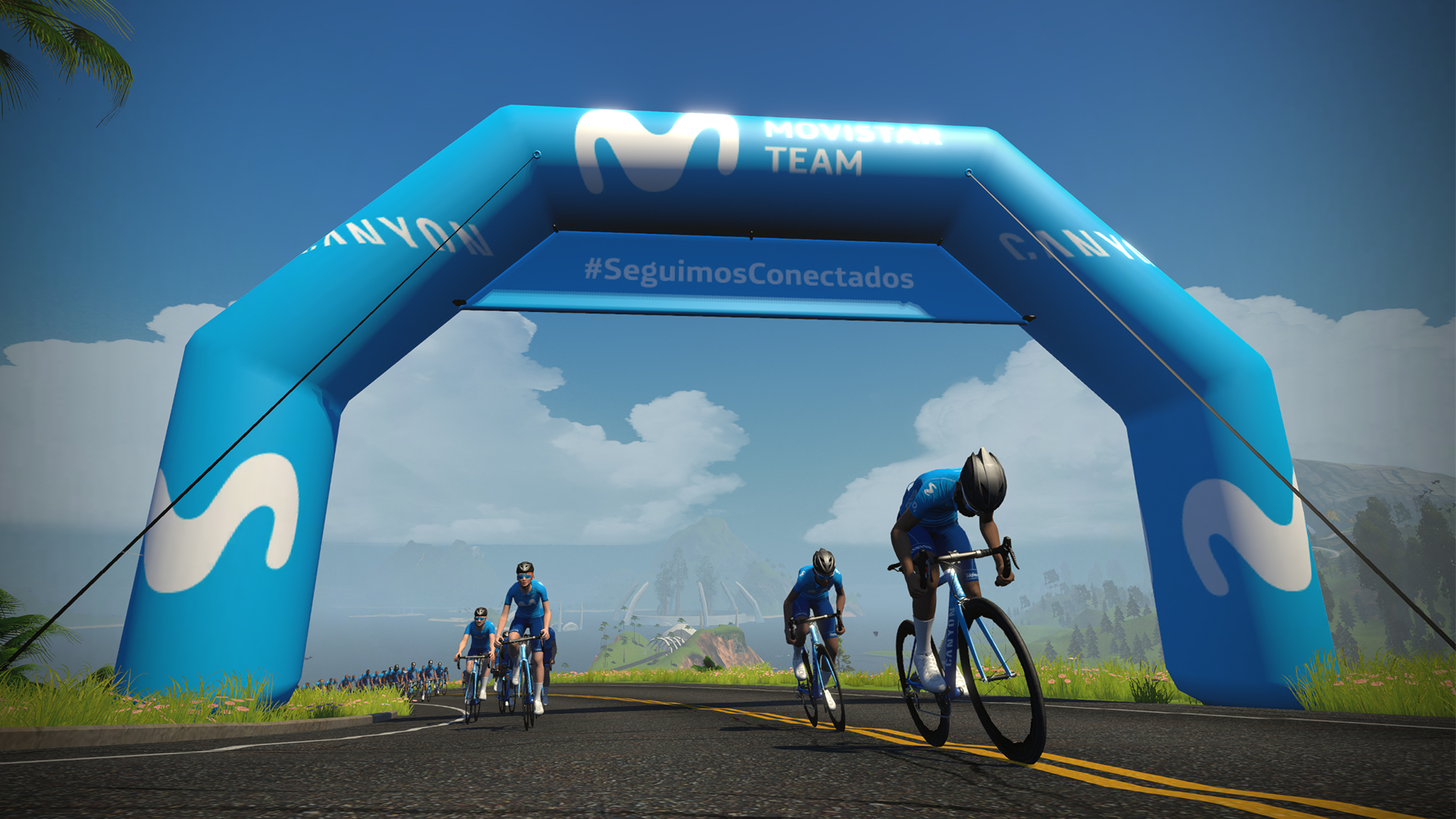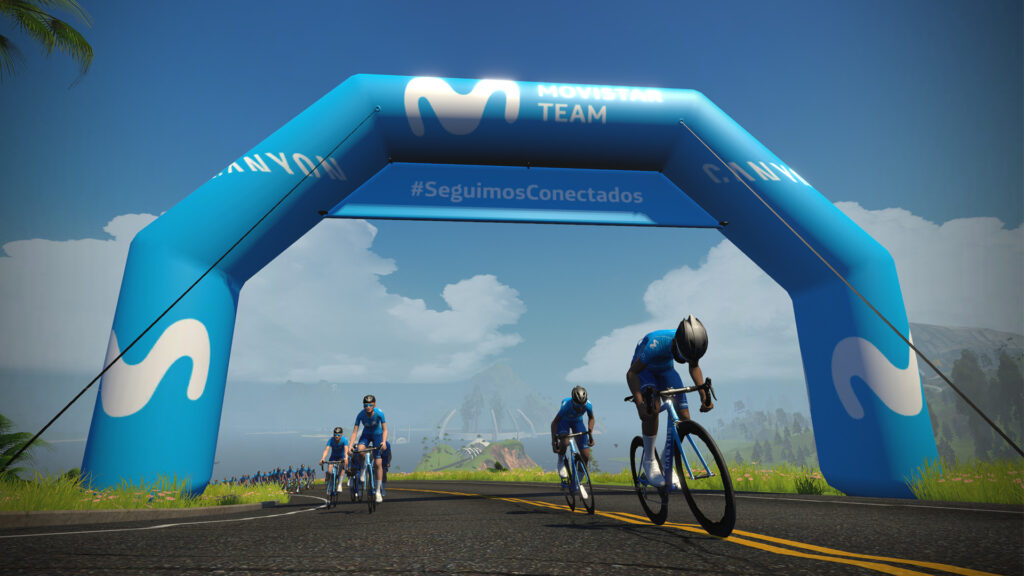 To compete for a spot on the Movistar E-Team, racers must meeting the following requirements:
A heart rate monitor
A direct drive trainer and power meter (correctly calibrated)
A ZwiftPower account (race performance will be compared against historical Zwift data)
A Strava account (race performance will be compared against historical data)
Correct weight/height
Be at least 18 years old as of March 1, 2021
Any rider to be in contention must be able to provide or carry out additional verification procedures as required by ZADA
All riders will be assigned the Canyon Aeroad and Zipp 454 wheels to ensure equipment parity.
All racers throughout the competition are expected to abide by Zwift's eSports Ruleset.
Read the Movistar Team Challenge terms and conditions.
Your Comments
Questions or comments? Post below!