"For significant life change, start a made-up plan on a whim at a less than opportune time of life."
I haven't actually seen that life advice anywhere, but it seems that's often how I've gone about making new habits, especially in the realm of fitness. Is that why I'm still a little chunky? Doubtful!
Recently I skimmed over an article on Zwift Insider that had the words "30 for 30" in it. I immediately was inspired to do my own 30 for 30 as my consistency in exercise was a little lacking. (Apparently having a plan of exercising 0-4 times each week isn't enough.)
What is a "30 for 30"? I didn't know and it didn't matter… I was going to do it and make it up as I went. My plan, which I came up with in under 3 seconds, was to do some form (ANY form) of exercise for 30 minutes a day for the next 30 days. I was looking for consistency from myself, that was all.

I started this on December 20. Clearly, I'd forgotten there's a significant event that happens around this time of year every year. No matter, I have a made-up plan!
Day 1: Walked on the treadmill at the gym for 30 minutes. A whopping 1.6 miles. I even sweat a bit.
Day 2: Already an overachiever, I rode my bike for thirty-ONE minutes on Zwift. I'm trying to get the last XP points I need to get to Level 40 so I chose a flat route, switching to metric so I get more points for my efforts.

Day 3: Walked on the treadmill, increasing to 1.9 miles in 30 minutes. At this rate I'll be an Olympic walker soon!

Day 4: Rode for 31 minutes on Zwift, doing the London Classique on a TT bike and continually U-turning so that I hit the sprint again and again, occasionally receiving an extra 10XP.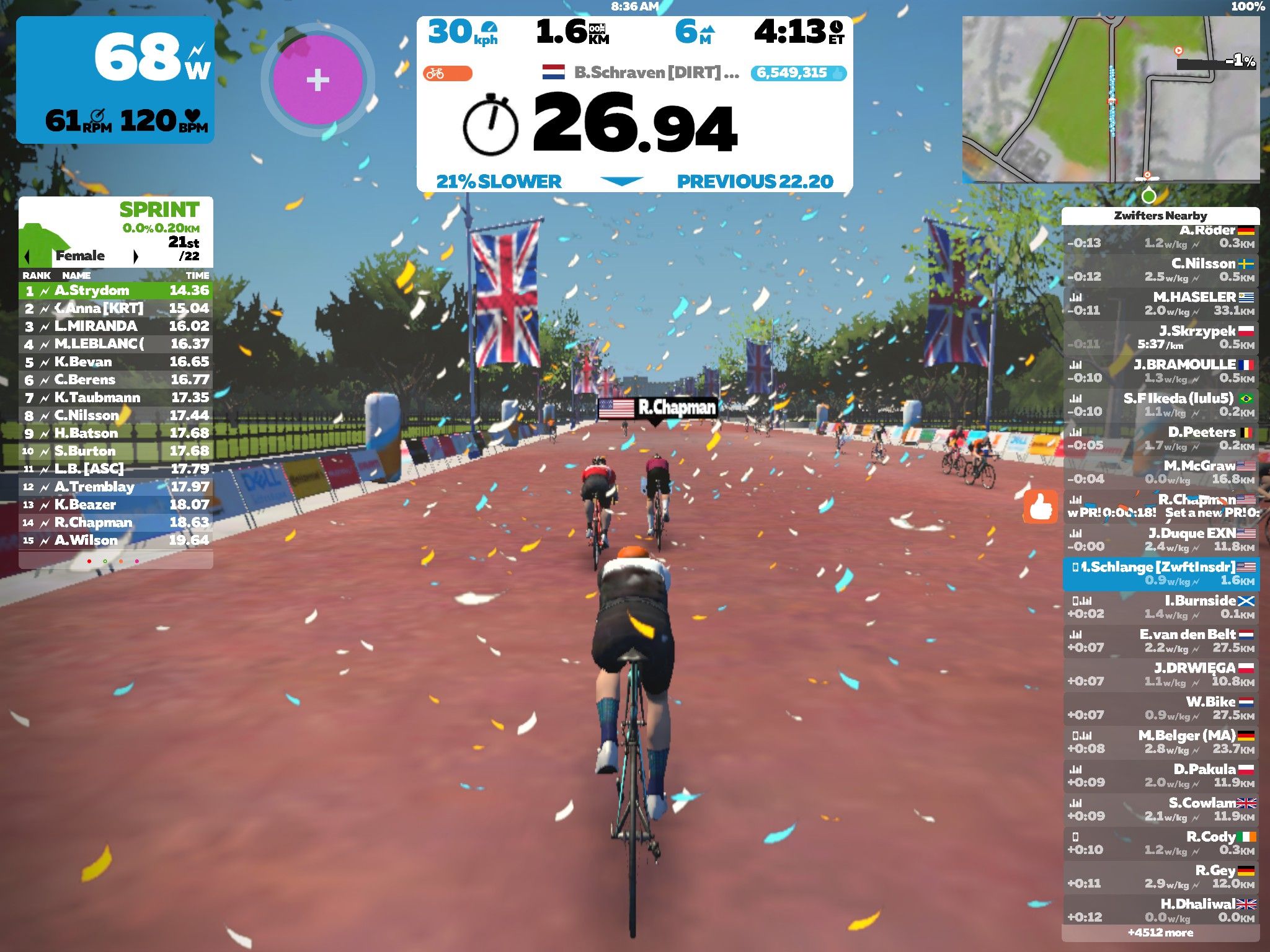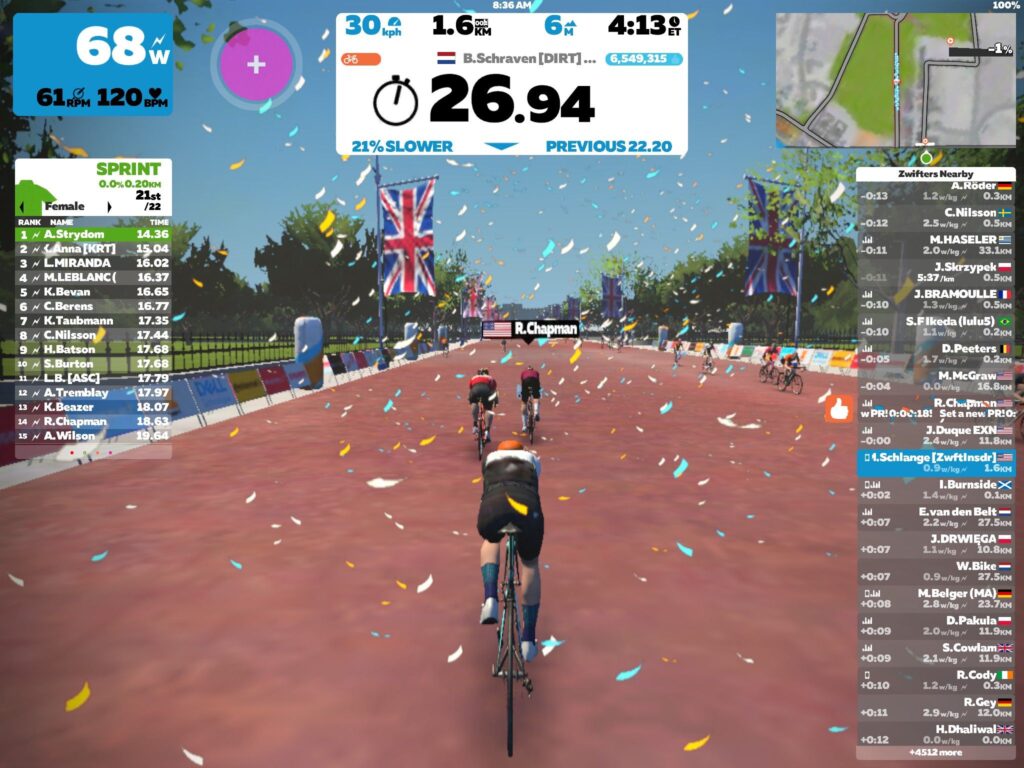 Day 5: Rode on Zwift for 32 minutes with D. Diesel and several new friends after switching back to the Tron. The draft allowed me to get more km in and thereby more XP.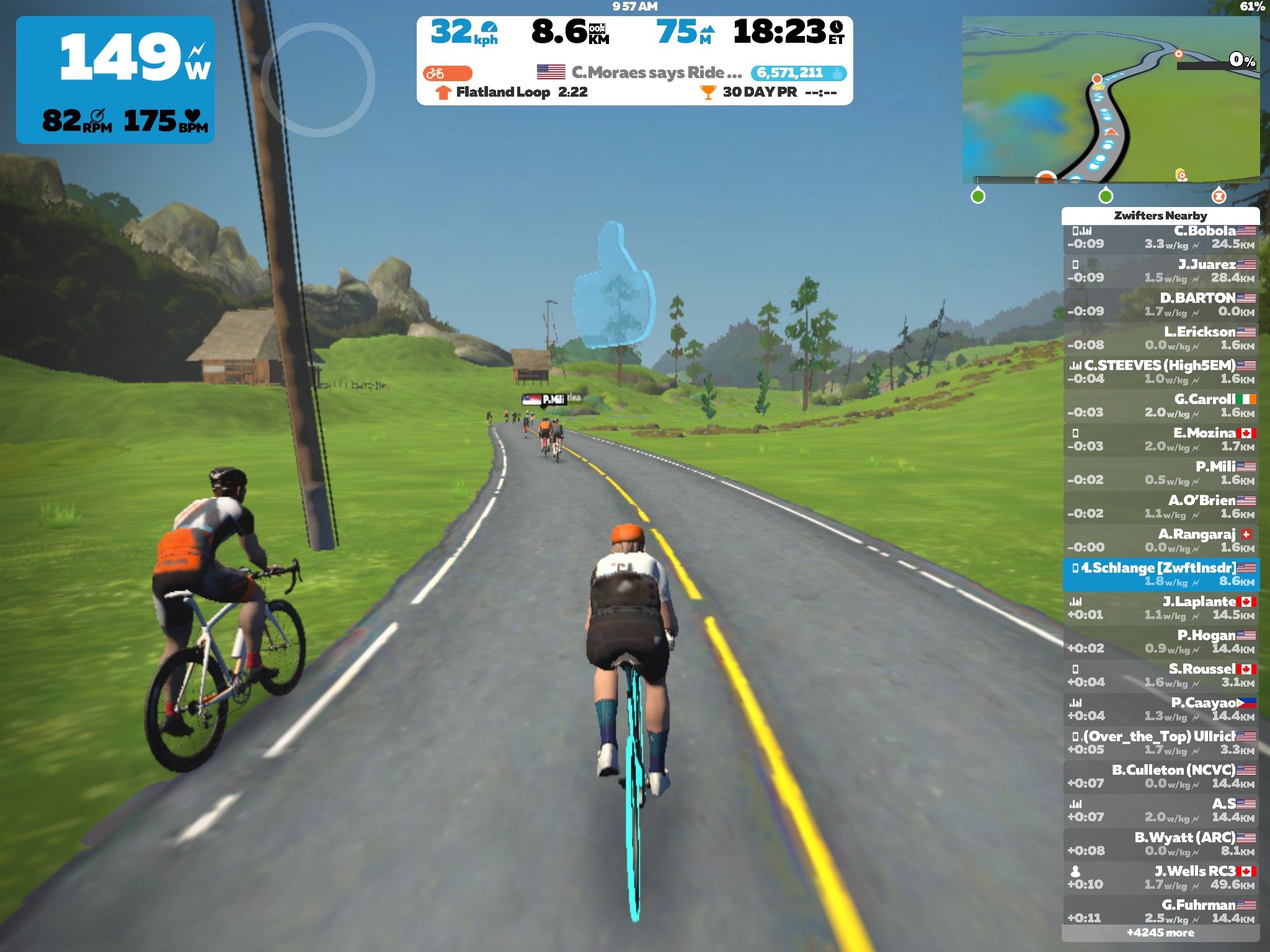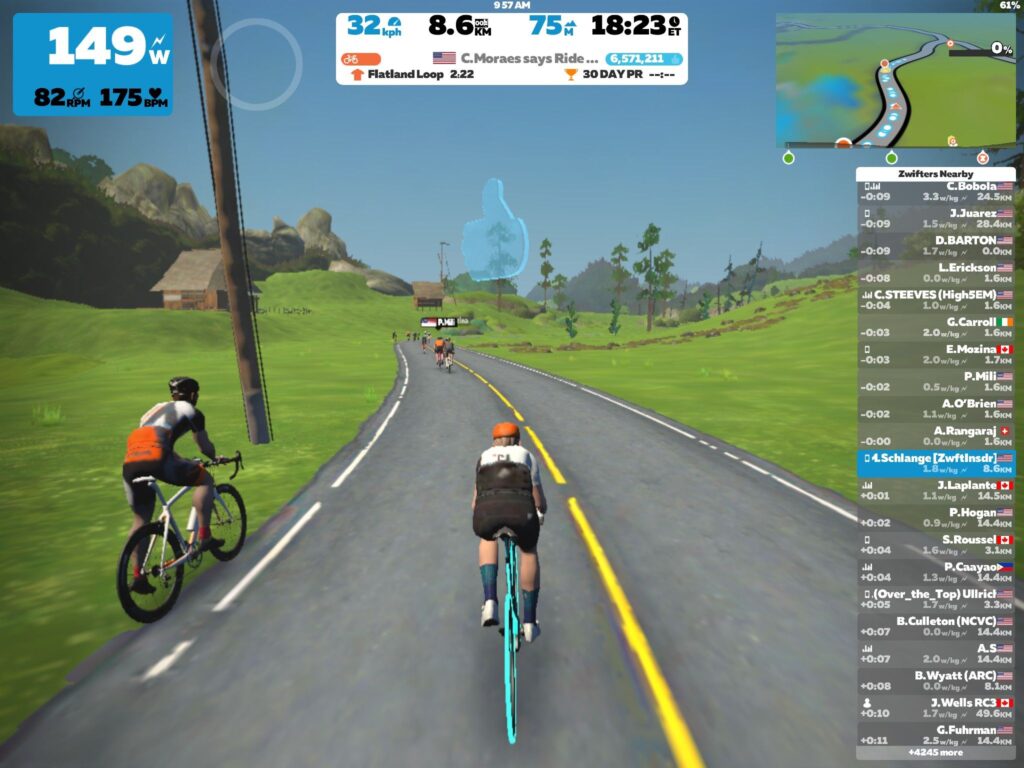 Day 6: After a long Christmas day I happily hopped onto my bike like it was normal for me to do so. I didn't even dread it. Just thought, "Hey, I committed to this, so I'd better do it!" It also got me out of doing dishes! 31 minutes on Zwift, and a new sense that I CAN be consistent!

Day 7: My first (and hopefully only) hiccup in this well-planned 30 days. At 10pm I realized I hadn't exercised. Instead of doing something about it, I fretted until I fell asleep. What to do? Start the 30 days over? Say that the 4 minutes of stretching was actually 30 minutes of yoga? Quit altogether and delete all of my previous days off of Strava?

Day 8: Woke up realizing I could just do Day 7 and Day 8 together by riding for an hour. Because I was looking for more XP I did a route I hadn't done yet (Legends and Lava). Win-win. All that fretting the night before really paid off!
Day 9: I decided it was time to actually read the article I had skimmed before. And I'm so glad I did! Mainly for the laughs, but also because I found I'm not the only one who started a 30 for 30 on a whim. Both the author (Rick Wenger) and KBH, his inspiration for his own 30 for 30, did the same. #trendsetters On Day 9 I did Yoga for 30 minutes. It felt great!

Day 10: Eric was riding with C Cadence so I decided to join his ride, pedaling like the dickens as it was loading. Despite my efforts I was dropped before I could grab anyone's wheel. 30 minutes later I hopped off.
And today is Day 11. It's not raining anymore so I'll likely bundle up and take a walk.
I'm glad I started this 30 for 30 in the middle of the holidays as it showed me that I CAN be consistent and I CAN make exercising work into my schedule. It also boosted my self-esteem as I felt proud of myself for doing hard things.
I'll keep going until the end of the 30 days. I'm no quitter (when I have accountability)! And I hope that it will kickstart some great habits that'll make me feel strong under the chunkiness.
What about you?
Will you try a 30 for 30? Will you do what Rick did and race 30 races in 30 days? Will you do what I am doing and exercise for 30 minutes for 30 days? Or will you make up your own 30 for 30? Do tell!