Last week I was listening to the Nowhere Fast Podcast and heard Kevin Bouchard-Hall talking about how last year he did 30 races in 30 days. I have been in a bit of a funk lately, and felt like I really needed something to change things up… so I sort of spontaneously decided (I had been thinking about it anyway) on the No Breakaways Podcast to do it and document the… races?… process?…torture?…fun?
First things first, I decided to ask Kevin about the 30 for 30. What inspired him and what did he think about it?
Where did the 30 for 30 idea come from?
KBH: It sorta happened by accident. There are all sorts of fad feats of strength like Everesting, 100 km every day from Xmas to New Years, and I was in a funk and needed something to get me out of it. Mike Swart egged me on a bit about racing all the time and somehow it turned into the 30 for 30.
How did you feel during it?
KBH: After I was about 5 days in I was attached to the idea of keeping it going and it was motivating. After the first weekend, I realized this was going to be tiring and I needed "rest races." In those races I would start the race feeling so terrible, especially since Zwift races always start so fast anyway. But after 20 minutes I would always feel better. It was nice to go through that over and over, since it helped build confidence that feeling crummy to start would work out to feeling better. Really it was about learning not to put any stock in how you feel when you first get on the bike.
How did you feel afterward?
KBH: Fit and remotivated. Riding every day was the new normal now. I felt like a cyclist again. My fitness score in Training Peaks went from 28 to 58. Not going to win any pro races with that but that is enough to ride hard and not immediately explode.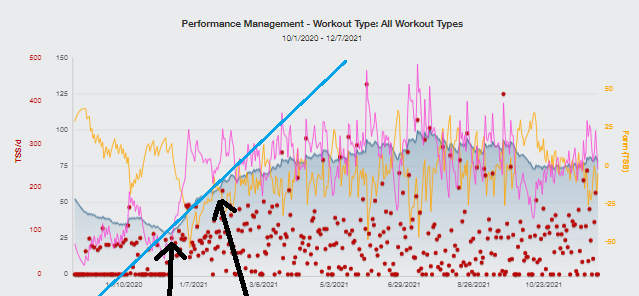 Who should do it, when and why?
KBH: If you have a coach or are a pro you shouldn't do this! But if you don't and need a massive reset for normal exercise, need to learn to accept being tired, want lots of race practice without fear of performance, this plan is for you.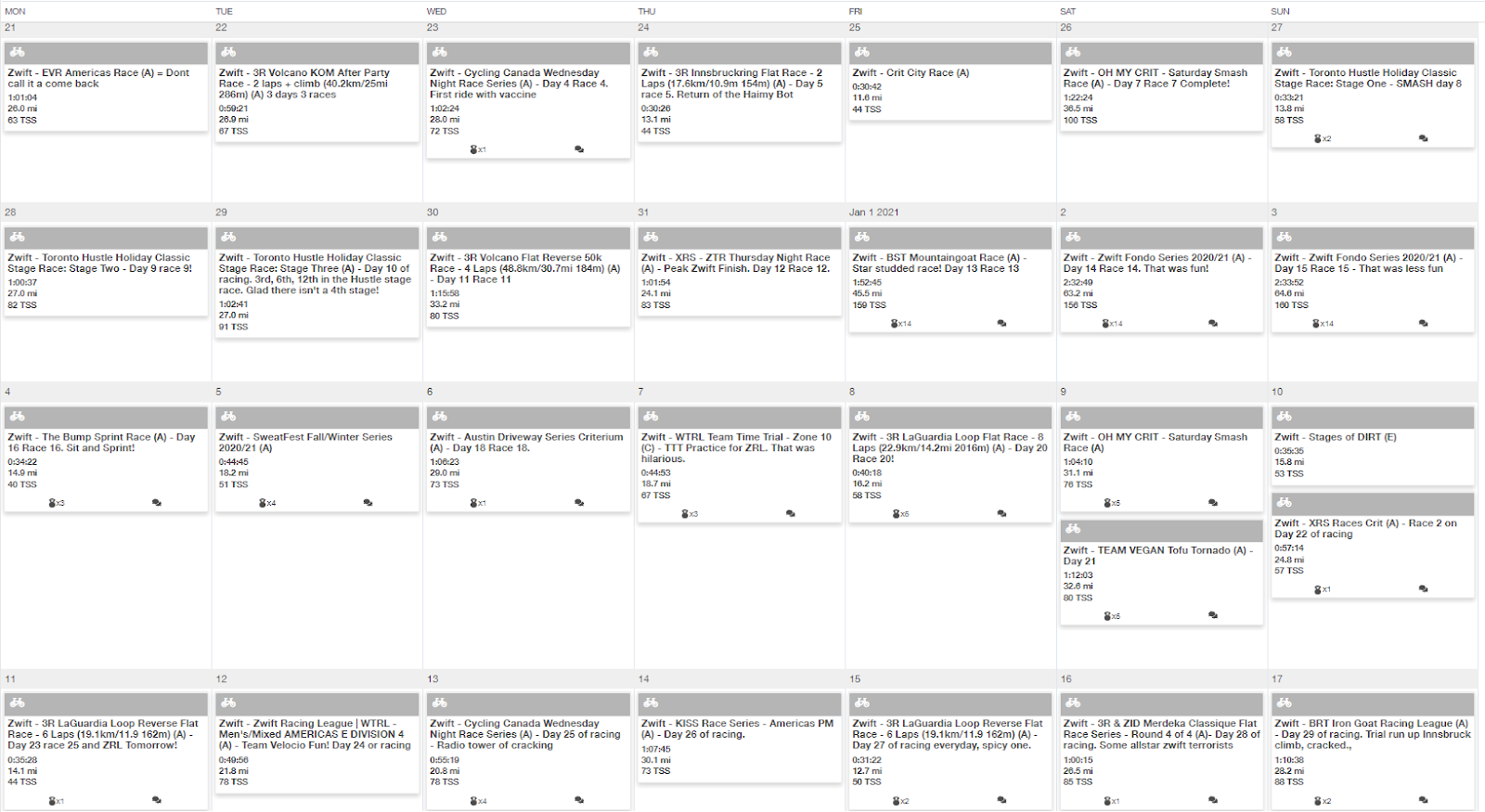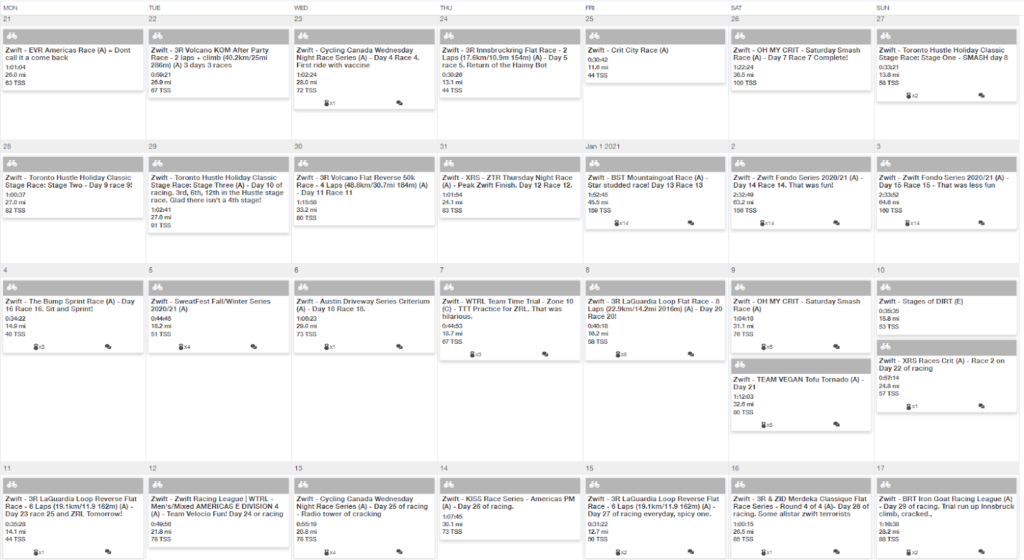 I also texted my co-host, professional cyclist and coach Jordan Cheyne after our episode about it, and here is what he had to say: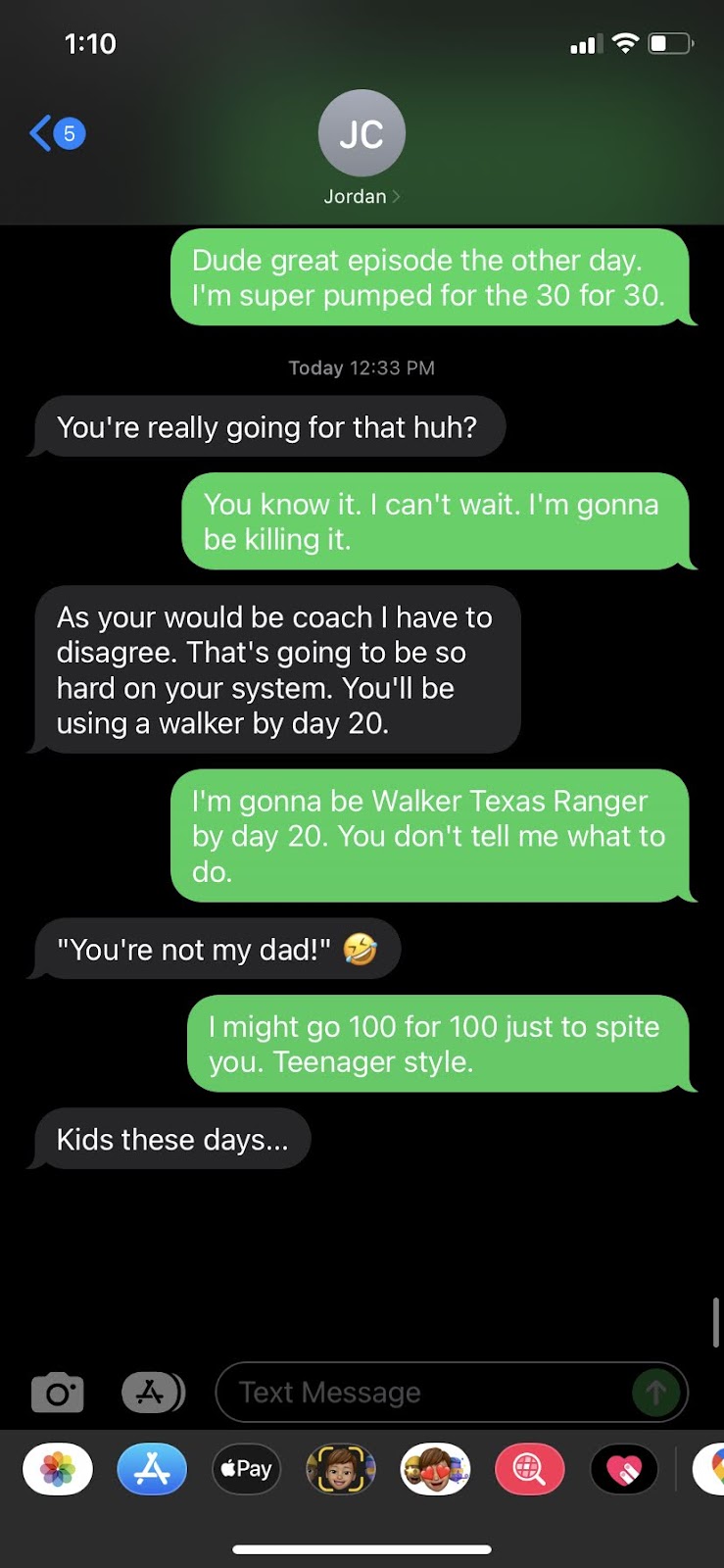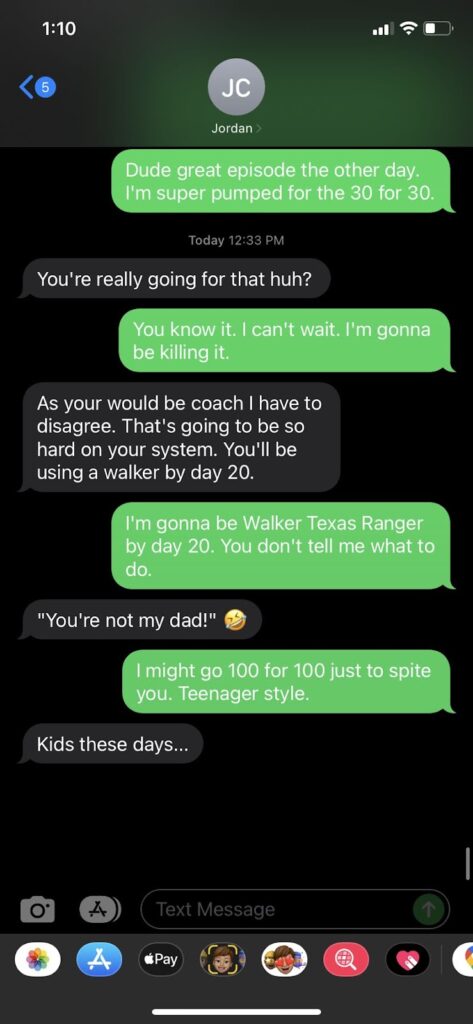 What does he know about anything anyway?
So far I am 7 days in. Here is a day-by-day breakdown. You can also follow the progress on Strava. I will link to the races in the title of the day.
Day 1 – 12/2/21 – Oh Crit!! Subzero Double

Race 1

and

Race 2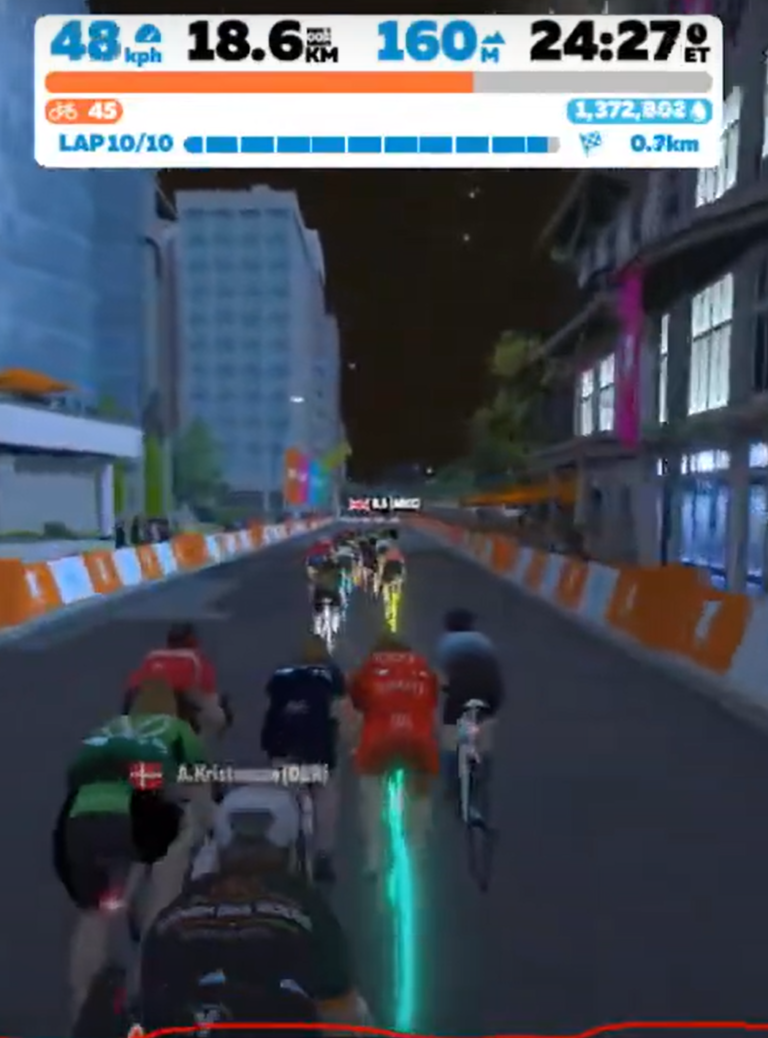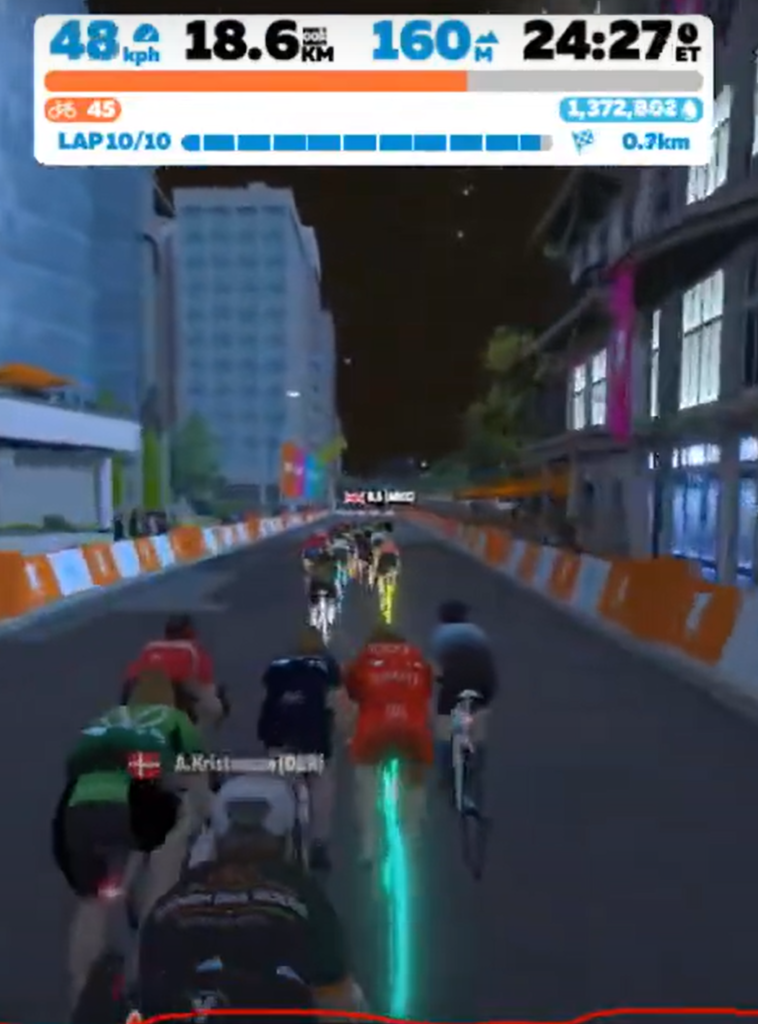 The OMC Double race is my absolute favorite Zwift race to do. They are short, sometimes punchy, and generally have a high level of competition. Highly recommended. I raced both races since this was before I knew I was doing the 30 for 30. The first race was on the Neyoko Sprinter's Playground course, which was a little more punchy than anticipated but good fun all around. I tried a couple of attacks which didn't even start to work. Decent sprint, 21st.
The second race was on Crit City, typically one of my best courses, but I was tired. I mainly sat in and by lap 5 (of 10) I knew I would make it to the end with the top group. Well, I mostly did except the last punch up the little hill tailed me off the back and I ended up sprinting for… 21st.
Finishing Places: Race 1: 21st out of 58, Race 2: 21st out of 42
This was a single-category (E) race so I was a little nervous, but it was when I had time and it was flat on the Tick Tock course. My teammate Ned Bowen was in the race with me, which always helps me feel better. The pace was tame until we hit the climb out of the desert, but I managed to make it with the front group and sprint for the win (or not so much).
My issue with Cat A sprints is that they always bomb for the last 1 km at a wattage I can't do, so it is less a "sprint" and more of a "go for one minute as hard as I can and slowly fade while people ride into the distance." Which is exactly what happened.
Finishing Place: 20th out of 61
Dadurday has been a Saturday staple for me for a long time. It's at 6am here so it is early enough where no one is up and I can get it finished before the family demands pancakes. This is a chase race, so normally the hills are "tame" until we get caught by the A's or it is the last lap and people decide to go for it.
This week was on the Railways and Rooftops course in Neoyko, which is basically just laps of the KOM. Apparently Tim Busick is the person who picks the courses for this race. I have done this race a number of times with Tim, and I noticed that the week he decided to have us do five KOM laps he was mysteriously absent.
I would like to be clear that every time I have raced with Tim he is encouraging, warm, helpful and always drops some Ride Ons. I would also like to be clear that on laps 4 and 5 I was not happy with him.
So anyway, I was with the top B group when we got caught by the A's after the KOM on lap 3, then we went down together. When the next KOM started I put in big dig to try to stay on, but I was off pretty quickly: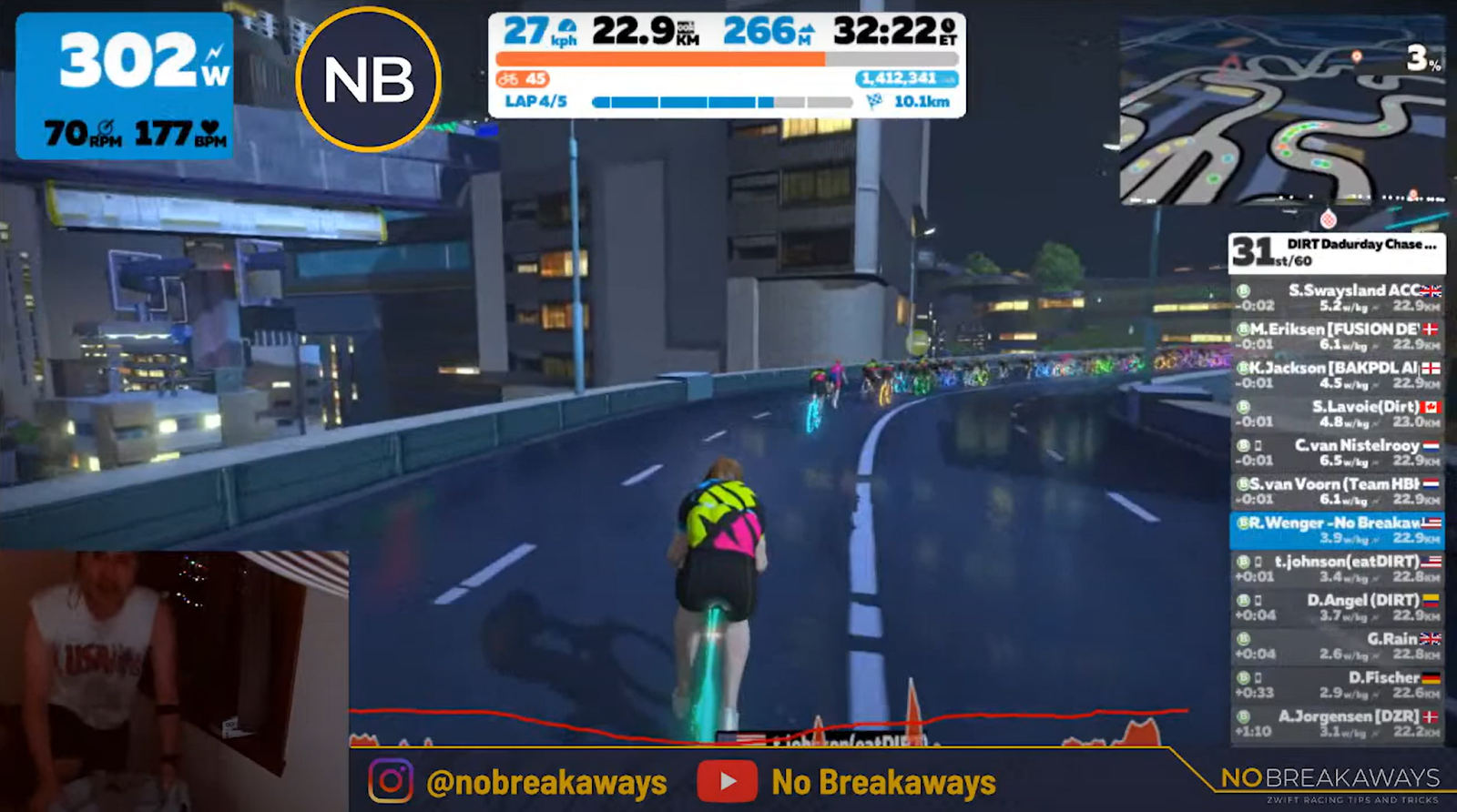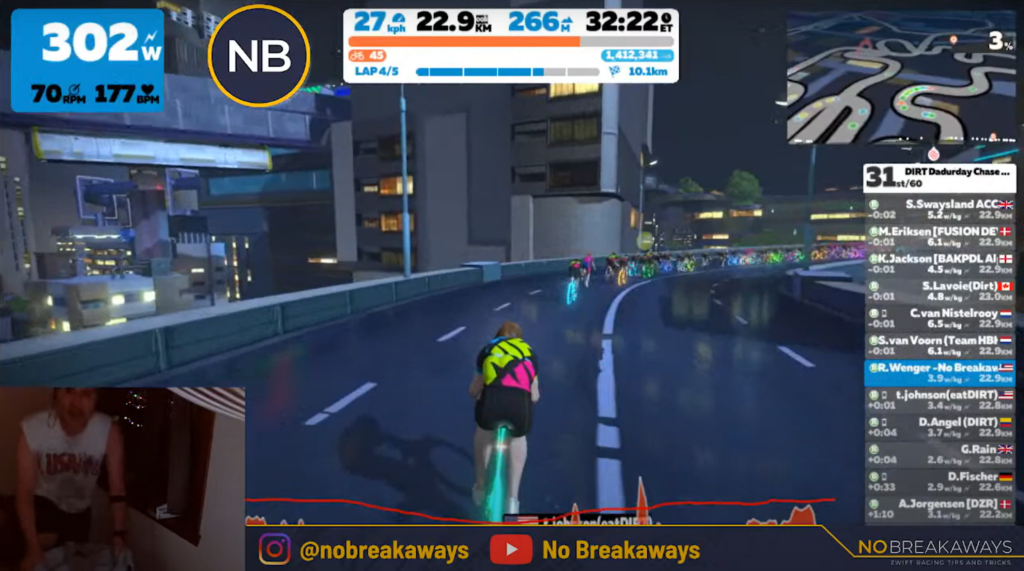 I ended up with a nice little group where we were doing some attacks and counters. It was pretty fun. I tried a long sprint to the finish and ended up getting beat by everyone in the group.
Finishing Place: 28th out of 44
I was initially going to do the Restart Racing Sunday Classic, but I woke up feeling terrible. Once the race started I realized I had forgotten to eat dinner yesterday, which explained why I felt so bad. I'm a real pro.
This was a normal Crit City race (Bell Lap) so it was hard up the rollers but the rest was pretty steady. I was able to stay with the front pack until the final push to the line where I got dropped in the last 30 seconds of the race. I didn't have a sprint, and was definitely tired today, but I am not sure if that was a function of my legs or just poor nutrition.
Finishing Place: 13th out of 25
Decided to hop into a night race (a rarity for me) because it was the time I had. There were only 7 random A's signed up about 3 hours before the race so I thought I would try to get some good ranking points. (Sometimes I sign up for A when all the pens start together because I figure I would get a better ranking and race the same people.)
Well I get to the line and I see Marcus Duval from NExT is there, and John Jantz (Saris No-Pinz) and Pier-Andre Cote from Team Rally. OK, so this will hurt. We start, and the lead-in and first lap are no problem. At this point, because I am arrogant, I am thinking about how I am gonna win this race, and how I will look wearing what I assume is a laurel wreath you get from winning an A race. All questions you don't have to answer on lap 2 of a 5 lap race.
I'm sure you know where this story is going. Lap 3 they go HARD on one of the hills, and that is my race. I'm off the back with a couple B's… right where I belong. Luckily I was able to pull it together and get 13th. Solid finish in an A field for me (pay no attention to the number of people in the field).
Bright side – only 10 watts off of my all-time best 20-minute power, and still feeling really good. This was the best race I have had in a long time.
Finishing Place: 13th out of 13
Back to the B's where I should be. 3 laps of the ol' Park Perimeter Loop. I tried to prod a few of my teammates into this race, and for most of the day they were quiet – then I showed up to the line and there were five of them! Shout out to my guys Joe Thomas, David Charles, Curt Jansen, David Torrelio, and Derek D'Angelo.
This course has one defining feature, which is a climb that's about a minute long. So we get there on the first lap and everyone just BOMBS it. This was more than I bargained for. I ended up in group 2, but it all came back together pretty quickly. It was obvious that this was gonna be the key feature – the other hills might tail someone off the back, but they weren't gonna break up the field.
Lap 2 is more relaxed and I stay there no problem, but then on lap 3 a couple of people get a gap off the front before the hill and are pushing, and on the downhill leading up to it someone just flies off the front to bridge. Some people try to go but the pack is breaking. And I am tired. Then we get to the hill and I push really hard on the bottom and get into a great position – top 7 or so. We make the turn on to the really steep part, and that thing happens where your watts are slowly going down, and you are trying harder and harder, you stand up and sit down and just nothing is working and everyone is slowly moving away. I end up missing the back by 2 seconds. Crap.
From there it was a iTT to the finish to hold off a couple of guys. Good day, hard effort. Very close to my max 1-minute power from 2021.
Finishing Place: 14th out of 30
One lap of Greatest London Flat, Chase Race… let's get it. I didn't do the one last week so I was excited to try it. This was only 12 hours after the last race, so I was still kind of tired but not terrible. Pretty standard chase race, but the people in my group were really encouraging, which was cool. The hard part was the hill, but there was never a chance of getting dropped, either because the group wasn't pushing (likely) or I was really strong (less likely). I did feel like I helped the group up the inclines, but in general just wheel sucking.
Had a very good sprint for being tired (8.9 w/kg for 15 seconds) and was really happy with that. Finished with the top group to finish off the week.
Finishing Place: 13th out of 47
Weekly Wrap
This was a really fun week, much more fun than I expected. I honestly got more excited to race as the week went on. It really focused me and I am excited to race more.
This was the first week I've ridden all 7 days in well over a year. My power was good at the end and really felt strong. Looking forward to the next 7 days.
Week 1 Stats
Average Finishing Place – 17.9
Finishing Percentile – 48.9%
Kilometers Raced – 191.7 km
Time Raced – 280 minutes
Average W/kg – 3.4 W/kg
If you see me in a race this month do me a favor and don't push the hills.
See you next week for days 8-14!