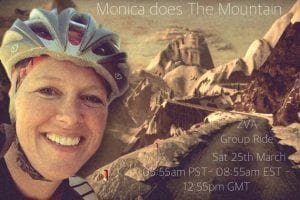 Five weeks ago I rode up the dreaded mountain in Watopia for the first time. I wrote about this life-changing experience for Zwift Insider and the feedback from it has been INCREDIBLE! Many people deciding that they too would now ride the mountain, others said they could relate to cycling to combat their depression.
Even the group of misfits (of which I'm one) on Facebook took kindly to the post and our friend Al Clewley, who I've only just met asked if he could organize a ride to get me to the radio tower. I've also been invited to talk a bit on Simon Schofield's Zwiftcast. What?!?! These responses have floored me. I wonder if this is what Rockstars feel like.
So I invite you all to join us this Saturday: my first time up to the radio tower! We roll out at 5:55am Pacific, which is 12:55pm UTC. It sounds like it's going to be kind of a big deal…which seems weird to say as it's just people riding slowly up a mountain and then slowly up to a radio tower. But the slower we go the more time we have to send each other Ride Ons, encouragement or jokes, right? If you're a strong rider we hope you'll still join us and use it as a time to race to the top and then back to us, then to the top again, or reverse weight dope and add 50-100 lbs to your avatar for a challenge.
When we get to the radio tower we're going to stop and take a group shot, hopefully making it the largest group at the radio tower! Come on, friends. Let's try to break Zwift together!
(If you're like me and have never done an official group ride, go here to see how to sign up for this one or here to find out some of what to expect in a group ride.)