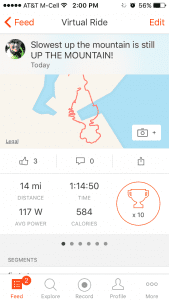 Ever since the mountain route on Watopia came out in March 2016 I've been annoyed by it. The size of the mountain and the times people were getting defeated me mentally before I even tried. Because of this as I've ridden around Watopia this winter I would always choose a flat route. "More miles," I'd tell myself. The problem with that is, I was still letting that mountain defeat me.
My reasons for cycling have been two-fold: exercise to lose weight and exercise to combat my depression. To stick to the flat routes, for me, was a cop-out. I was getting exercise, but I was losing the mind-battle on the flats. I worked hard on the flats so I could beat my previous times, but that mountain continued to stare down at me, almost mocking me. "Only strong cyclists ride up this mountain!" "You're too fat to ride this far!" "You can't do it!"
So I decided a fictional mountain would not beat me!
I started a few weeks ago with a little mind game. I would ride up it until I got to the first bridge. I'd then turn around and ride back down, adding a few miles quickly on the descent as my reward for going up. The next time I rode up my goal was to ride until I hit 500 feet of elevation gain. With the reward of going back down. Then I did 600 feet, 700 feet, 800 feet.
Today I was supposed to do 900 feet. Because of my depression, it often takes me twice as long to recover than the average person, so I push myself, but I don't push so hard that I'm useless for 3 days. But today, I was SO close to the top I couldn't help myself. I had to finish. And I did! I finished the mountain today! Of the 108 people who went up, 107 of them were faster than me. By a lot. But I wasn't trying to be fast. I was staying the course. I went up the mountain!
And here's what I learned:
I'm stronger than I think. (My husband knew this, but I'm still trying to believe it.)
My cycling journey looks different than other people's and that's neither better nor worse.
It's okay to stop riding for a few minutes to regain composure. I'm still making progress.
When I'm riding on narrow roads with huge drop-offs on Zwift I have great anxiety and fear and have to look away from the screen to remember I'm in a garage.
I have worth, both on the bike and off.
I feel so much better about life and am happier when I accomplish big things.
If you haven't ridden up the mountain go do it now! You won't regret it, even if you're the slowest to the top!