Welcome to the first post in a series aimed at helping you avoid n00b powerup mistakes in Zwift races.
Powerups add a fun element of randomness and strategy to Zwift racing. While some purists deride their use, most racers welcome their addition to an indoor racing experience which can feel a bit oversimplified since it has fewer variables than outdoor riding.
While experienced Zwift racers seem to understand powerups well, we see them used incorrectly over and over again.
You won't get in trouble for incorrect powerup usage, of course. When I say "incorrect", I mean the powerup is deployed at a time when it doesn't help you in any way. Some ill-timed powerups can actually hurt you, in fact!
Still learning? Read our "Guide to Powerups in Zwift" >
The Steamroller: How It Works

To understand the Steamroller powerup, you must first understand a bit about how Zwift works. The Zwift worlds feature different road surfaces: pavement (of course), dirt, cobbles, bricks, wood, ice/snow, and grass. Each of these surfaces has a set Crr (rolling resistance) which affects how fast your virtual tires roll.
To make things even more interesting, there are currently three types of tires/wheels in game: road, mountain, and gravel. Each of these wheels rolls differently on each surface type. So, for example, road wheels roller much faster than mountain wheels on pavement, but mountain wheels are faster than road wheels on dirt.
Want to dig deeper? Read all about Zwift Crr >
When activated, the Steamroller makes whatever surface you're riding roll as fast as a road tire on pavement. So if you're using road wheels, it is only effective when deployed on a surface other than pavement. Here's a table showing the Crr values for each surface and wheel type (lower is faster):
| Surface | Road Crr | MTB Crr | Gravel Crr (Namebrand) | Zwift Gravel Crr |
| --- | --- | --- | --- | --- |
| Pavement | .004 | .01 | .008 | .008 |
| Sand | .004 | .01 | .008 | .008 |
| Brick | .0055 | .01 | .008 | .008 |
| Wood | .0065 | .01 | .008 | .008 |
| Cobbles | .0065 | .01 | .008 | .008 |
| Ice/Snow | .0075 | .014 | .018 | .018 |
| Dirt | .025 | .014 | .016 | .018 |
| Grass | | .042 | | |
So if you're using road wheels and you encounter any surface other than pavement, the Steamroller will help you roll faster. It helps the most on dirt, since dirt has the highest rolling resistance of any surface for road tires. The ideal scenario for the Steamroller would be a short patch of dirt like you encounter when climbing out of the Ocean Boulevard tube heading toward Watopia's fishing village.
Using a mountain or gravel bike? The Steamroller will make any surface significantly faster, but helps the most on ice/snow or dirt. The savings for MTB wheels is substantial: a 75kg rider on a 7kg bike traveling at 40kmh (24.9mph) over dirt (perhaps in a Jungle Circuit race) will save 89 watts when the Steamroller is active!
The Steamroller lasts for 30 seconds, so keep that in mind when timing your deployment.
How It's Misused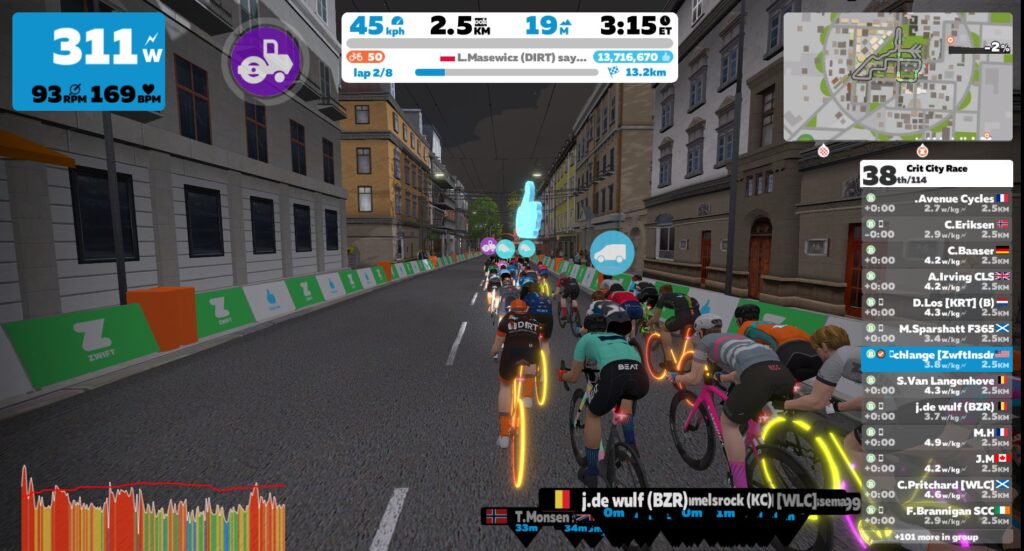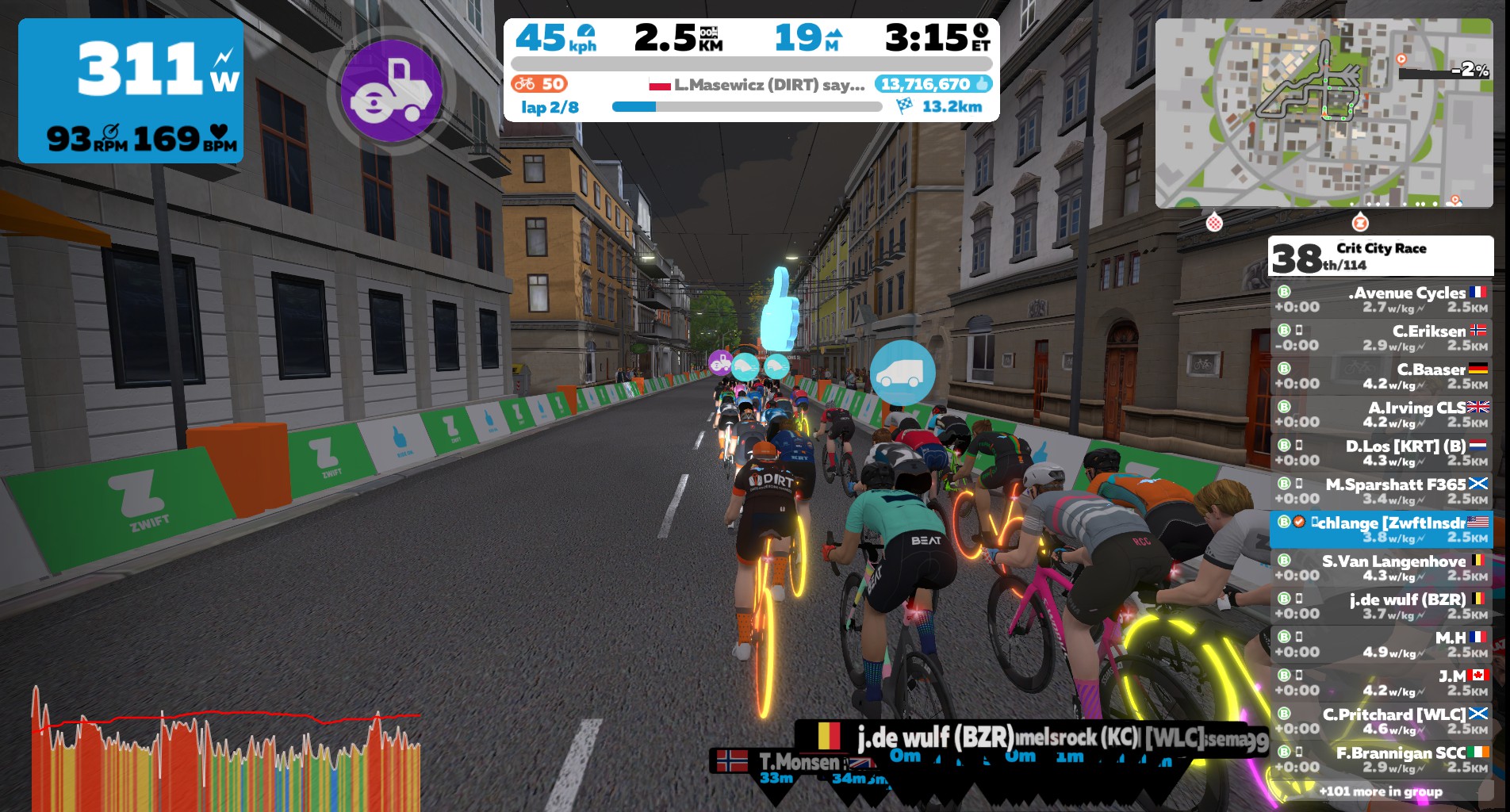 Of course, you've never misused a Steamroller powerup. But if you are looking to see one misused, join one of the daily Crit City races organized by ZwiftHQ. You'll see the Steamroller deployed over and over again when riders are on pavement – which means it's not helping them in any way.
Want to use your Steamroller effectively on Crit City? Use it on the bricks. Brick Crr for road wheels is .0055, compared to pavement Crr of .004. That means a 75kg rider on a 7kg bike traveling at 40kmh (24.9mph) will save 13 watts if they use the Steamroller to "smooth out" the bricks.
It's not much, but it's better than a kick in the pants.


Simply put, a misused Steamroller is one deployed by a road bike rider while on pavement. Using the Steamroller in any other situation will provide the rider some benefit.
To maximize your Steamroller benefit, use the Steamroller on surfaces which roll the slowest – those with the highest Crr. (See table above for numbers).
Event-Only
The Steamroller isn't part of the "regular" powerup distribution which Zwifters see when free-riding. It's an event-only powerup, and event organizers must request that it be added to the event's powerup distribution in order for it to be included.
Because of this, you won't see the Steamroller when free-riding, and you'll typically not see it in group rides or races, either. I'd love to see it used in Watopia races which include Ocean Boulevard, though, because it would make those dirt segments super-strategic!
Questions or Comments?
Share below!