Zwift's new Urukazi map brought with it the longest Makuri Islands route yet: the Makuri 40. It's a beautiful route, and we certainly love seeing longer routes in game.
But we also really like Tiny stuff.
Short routes are fun for crit-style races, and great places to chase Strava KOMs without destroying yourself. We published the 3.5km Castle Crit Rebel Route last year, but today, in the spirit of tiny things, we're publishing an even smaller Rebel Route. Introducing the Mangrove Circuit – the shortest Rebel Route yet! (It's also shorter than any official Zwift route, coming in just a few meters shorter than the Crit City routes).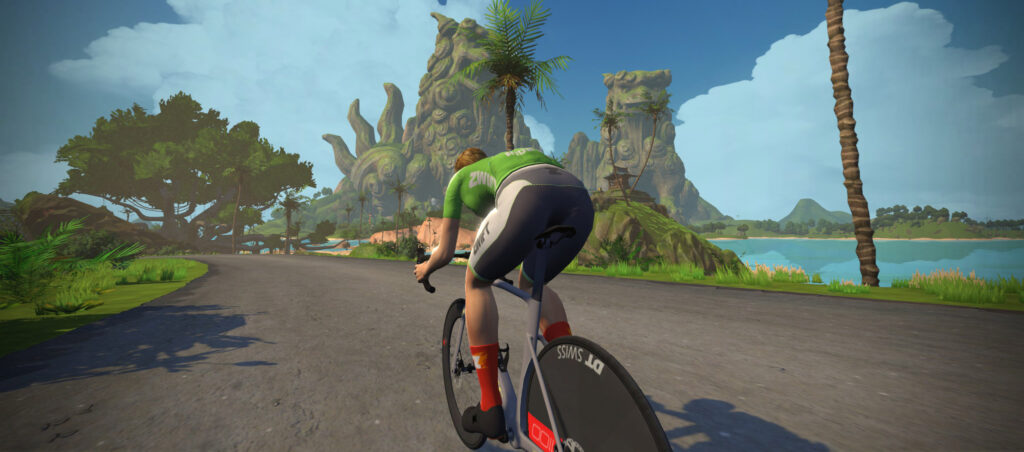 About Rebel Routes
"Rebel Routes" are Zwift rides not available on Zwift's routes list, thus requiring manual navigation.
The reward for your rebel ride? Exploring a new route, knowing you've gone where few Zwifters have gone before. And a Strava segment rank in the tens or hundreds instead of the thousands! They are included as a separate category on our Veloviewer Route Hunter leaderboard.
Route Description
This loop begins and ends at a big rock pile just as you enter the Mangrove Maze South section, coming from the boardwalk sprint area.
The route is simply a counterclockwise circuit of the Mangrove Maze area, beginning with the flat southern half, then hitting the short climb on the northern half before descending back to the start/finish line.
It's a very short circuit, which means you can make multiple attempts and try to set your very best time!
Profile
The circuit is quite flat on the first half (Mangrove Maze South) then begins with a bit of a climb (and dirt) on the Mangrove Maze North half, which then descends to the start line.

Getting Started + Lead-In
The easiest way to get started is choosing "Island Hopper" from your Makuri Islands route options. Follow the route's pre-defined turns for around 3km until you approach Mangrove Maze and are greeted with the option to turn left or right. Choose right (Mangrove Maze South).
Turn by Turn
Here are the turns you'll need to make to successfully complete Mangrove Circuit once you've done the lead-in described above:
Right to Mangrove Maze South (your first manual turn)
Left to Mangrove Maze North
Left to Mangrove Maze South
Pro tip: once you're on the circuit, just stay left.
Route details:
Distance: 1.88km (1.17 miles)
Elevation Gain: 13m (42′)
Strava Segment
Rebel Route Suggestions
Got an idea for a great Rebel Route? Share it below and maybe we'll publish a post about it!