I decided to do both a group ride and race on each stage of Tour de Zwift, but thanks to my son's crazy basketball tourny schedule I was running out of time to get the Innsbruck race done. It would have to be done on Sunday morning at 6am, and luckily the race was short since I needed to leave for church at 7:30.
Two laps of Innsbruckring. Let's rock!
Warmup
I began with my typical pre-race ritual: a piece of caffeine gum and some PR lotion on the legs. Hopped on early and got a nice 30-minute, ~10-mile warmup in on Tempus Fugit.
For my pre-race warmups I do best with 20-30 minutes, since it gives me time to slow ramp up my efforts. Once I've got a bit of a sweat going, I'll do some hard 30-60 second efforts to get my heart rate up to about 160bpm, where I feel like the ice has been broken.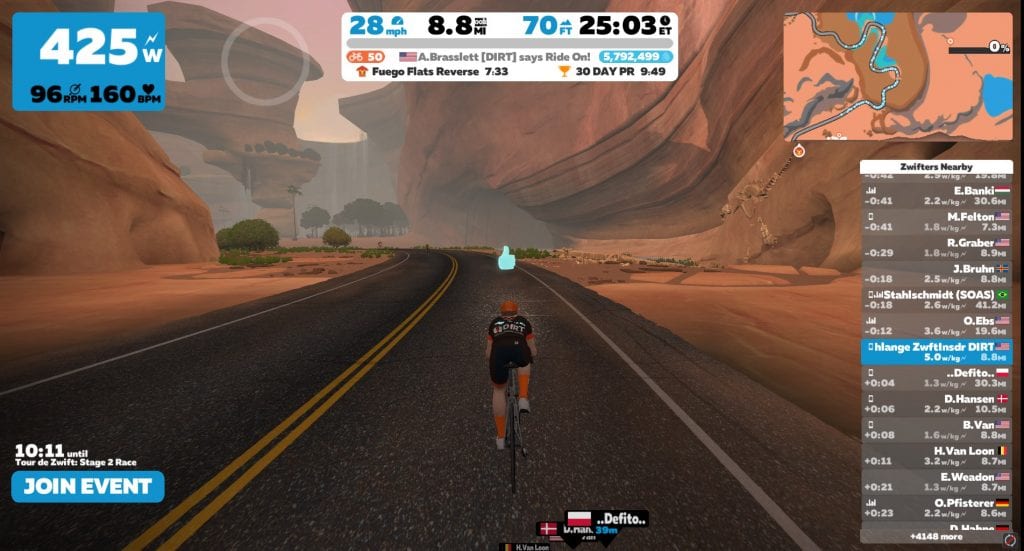 If you're looking for pre-race warmup ideas, check out "Pre-Race Warmups on Zwift".
The Start
I could tell after the warmup that my legs weren't feeling great–probably because I pushed it a bit harder than I should have the night before doing the group ride version of this race. (Actually, looking at that ride's numbers now, I see my weighted average power was only 14 watts lower than it would be in this morning's race. No wonder my legs didn't feel fresh!)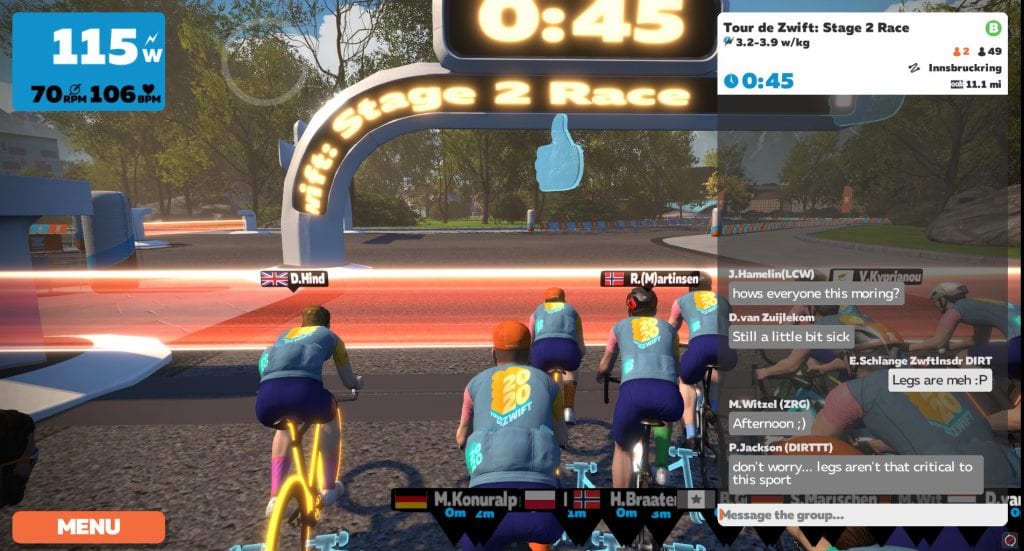 But it doesn't matter how you feel–harden up, buttercup. It's time to race! We had 52 starters in the B cat, and when the clock hit 0 we were off and riding. We quickly settled into a nice group pace, and by the time we hit the 5-minute mark our group of 52 had been reduced to a front pack of 25.
But the Leg Snapper was looming. Would I be able to hold on up this punchy climb? I was about to find out.
The Middle
We hit the Leg Snapper at full tilt, with riders battling for position as many wanted to start the climb near the front of the pack. This is a common strategy for climbs (both indoors and out): start at the front, then you can slowly drift back through the pack as the climb progresses. As long as you can hold onto a wheel near the back of the pack over the top of the climb, you'll still be in the pack, with less effort than it would take to hold a steady position at the front or at the back.
I wasn't sure how hard riders would be pushing up the Leg Snapper, so I stood up and hammered hard all the way to the top. It took almost precisely 60 seconds to finish the climb, and I averaged 456 watts for that time.

But as we crested the top, bad things started happening. I had finished the climb near the front of the group, but I was out of juice, and several riders continued to push it over the crest and down the descent. I found myself in 14th place at the bottom of the descent, with riders strung out up to 10 seconds ahead of me. And I didn't have the legs to chase.
As I crossed under the sprint banner for the first time, I threw in the virtual towel. I wasn't going to hold onto the front of this race. Not today. I would still finish, of course, but I knew I wasn't contending for the podium.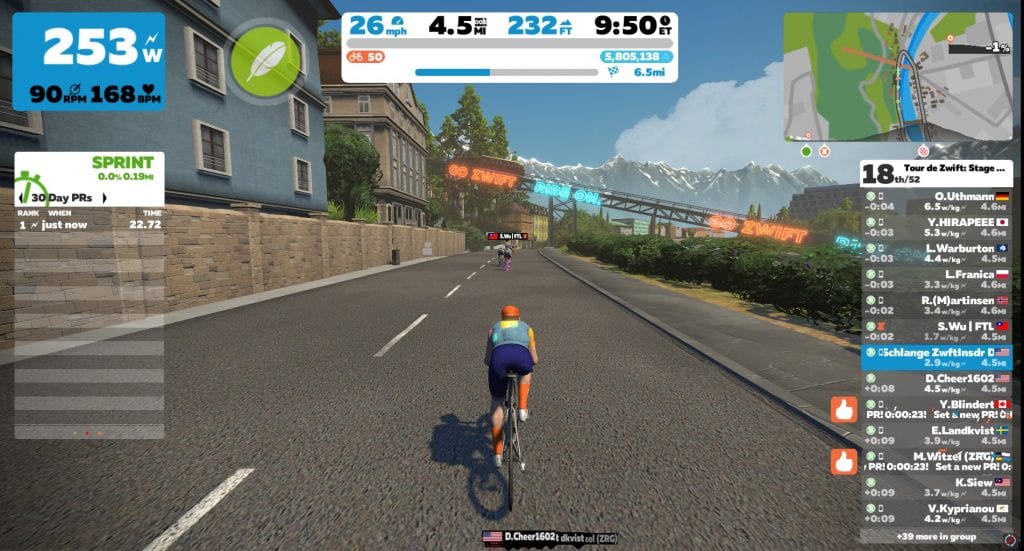 Knowing I wasn't going to stay away from the group behind, I eased up. Time to join the gruppetto. Our pack of ~10 riders would work together for the remainder of the race, then battle it out in a final sprint whose winner would still be a loser. That's bike racing!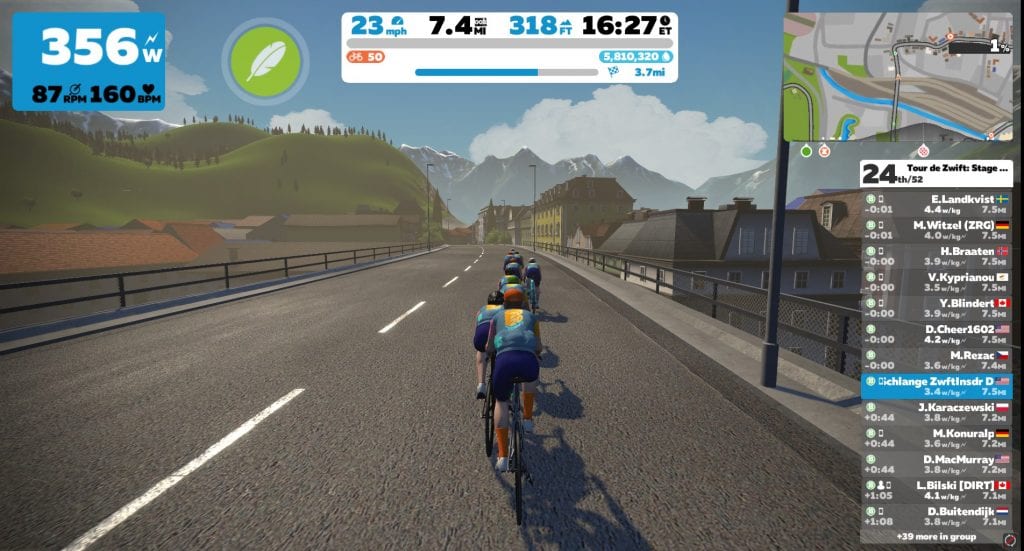 The Finish
Here's where I made my biggest mistake: I had a drafting boost (van) powerup going into the finish, and I used it as a recovery tool while the pack was approaching the finish line, instead of using it in the final sprint.
Hindsight is 20/20, but if I had waited for another rider to jump (instead of initiating the pack sprint myself, and doing that too early) I would have placed higher. As it was, I jumped, ran out of juice, and was passed by a few riders in the final meters. 20th place for me.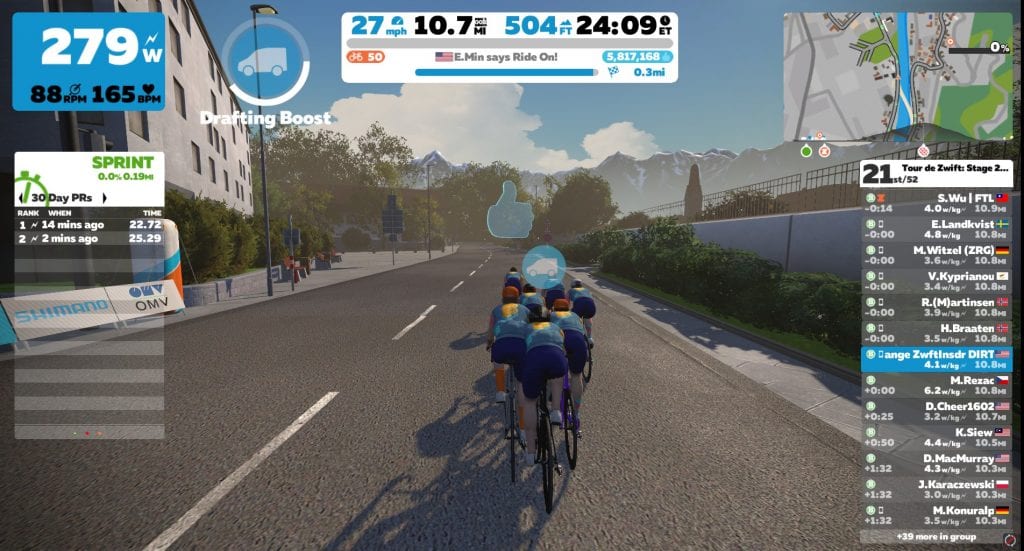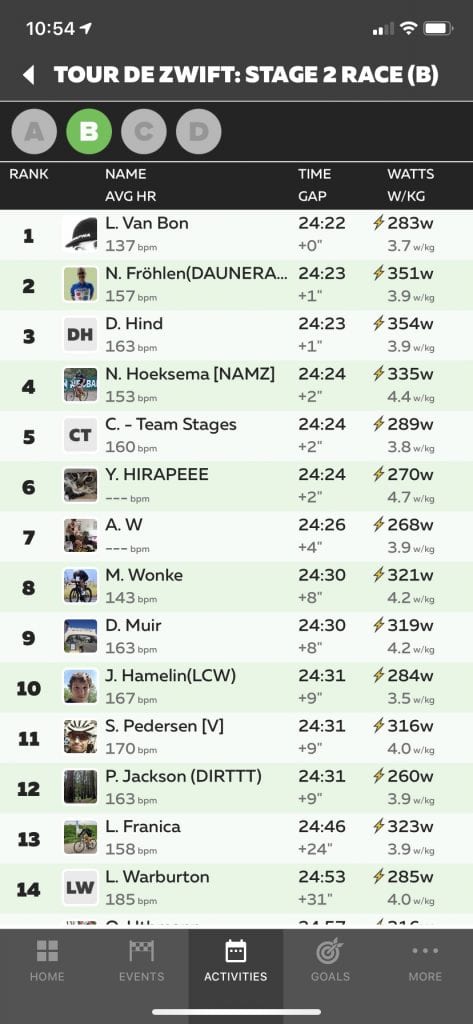 Interestingly, this race had way less sandbagging and more legit, ZwiftPower-registered racers than my stage 1 race.
Stage 1: 82 finishers, 53 on ZwiftPower (35% unregistered)
Stage 2: 42 finishers, 31 on ZwiftPower (26% unregistered)
I'm not sure why this was–perhaps folks are actually getting hooked up on ZwiftPower and learning which category they should be in? One can hope.
(Also: first place in my race was Léon van Bon, Tour de France stage winner in 1998 and 2000. That's pretty cool.)
See my race on Strava >
See results on ZwiftPower >
Takeaways
Two key learnings from this race:
Don't do a hard group ride 12 hours before a race. My legs can't perform well. Some people are able to perform well with repeated efforts and minimal recovery. I'm not one of those people.
If I've got a draft boost (van) for the final sprint, use it to easily follow the wheels of the first sprinters, then come around them once they're tired. (I included this in yesterday's "Advanced Usage Tips" powerups post.)
What About You?
Did you race stage 2's Innsbrucking? What was your experience like? Share below!