Update for Tuesday, July 27th: Zwift released a patch today with the following notes:
Fixed an issue which would cause FIT files to not be saved correctly in some cases.
Fixed an issue which would cause a crash when saving an activity if you started your Zwift session by fan viewing another Zwifter.
Fixed an issue with workouts that would cause power targets to appear higher than they should during rest intervals.
Fixed an issue which would cause a paired smart trainer or power meter to prevent other devices from being successfully paired.
Additionally, Shuji posted the following on the thread about avatars weaving: "Pack Dynamics were rolled back to the 1.14 version late yesterday on the server end."
Based on these notes, we're hoping that at least four of the five issues discussed below have been resolved with this patch. That's great news!
Not long after Zwift released their latest update, Zwifters began reporting significant bugs in the release.
Today, a week after the release, specifics about what each bug does, who it affects, and any possible workarounds are becoming quite clear. But that info is buried in forum topics on Zwift's site, some with over 300 replies! So we've put together this summary of the bugs, along with any information we could gather on workarounds and planned fixes from Zwift.
.fit File Data Problems
Zwift's release notes said they "Fixed an issue that would cause an activity map to show an incorrect path (very long line) when Zwifters moved between events, meetups and free rides in the same game session." But in doing so, they have introduced a bug for Apple TV, iOS, and Android users which breaks the .fit files for certain activities.
It appears what is happening is, if you do one activity, then jump into an event of any sort, the fit file saved for that event is a duplicate of your previous activity. So, for example, if you warmed up for a race, then joined the race, the resulting race activity's fit file data would simply contain your warmup. But the .fit file is also corrupted in some way on top of this.
This is a serious bug, as the .fit files are lost forever when the bug bites. Your activity isn't uploaded to Strava, TrainingPeaks, etc, and it's not retrievable from Zwift's servers or your local machine.
Platforms affected: AppleTV, iOS, Android
Workaround: there is a fairly simple workaround which seems to be get around the bug. Simply force-close the Zwift app before starting each event. Then re-open the app and join your event. This makes sure your previous session is terminated fully.
Status: Shuji posted in the forums 5 days ago that "Everyone – this bug has the highest priority. I'll update this thread as we make progress toward the patch to fix it." ZHQ is telling us this will be fixed in a patch which will hopefully be released in the next day or two.
Read the Zwift forum topic for this bug >
Riders Weaving On the Road
Zwift updated pack dynamics in the latest update in an attempt to keep us in a more consistent lateral position in the pack, and to avoid losing speed when colliding with others. And it seems to work fine… except on maps where we ride on the left side of the road! That includes Makuri Islands, London, and Yorkshire.
Riders in these worlds are complaining that when they overtake another rider, they swerve way too far to the right to ride around the rider. Multiply this by every rider in a pack and races get messy quickly! Additionally, riders are being placed on the center line of the road, meaning they're playing "chicken" with oncoming traffic.
Group ride participants are complaining that this is making sweeping impossible, and racers are saying it dramatically changes the dynamics of the race pack. Some riders have quit events because they can't watch the screen without getting motion sickness.
Here's a video showing the behavior in London:
Platforms affected: all
Workaround: none, except for avoiding riding in the affected worlds
Status: Zwift is still investigating this bug, so a fix is unlikely to appear in the upcoming patch.
Read the Zwift forum topic for this bug >
Can't Pair a Power Meter + Controllable Smart Trainer
Many Zwifters use a dedicated power meter such as the Assioma pedals as their power source, while also connecting to a controllable smart trainer for an immersive experience. After the latest update, Zwifters are finding they cannot pair a power meter, then a controllable smart trainer when using Bluetooth for all connections.
Platforms affected: all using Bluetooth connections
Workaround: there are multiple workarounds which should get you up and riding:
Use this specific sequence to connect your hardware: first, connect your smart trainer as the power, cadence, and controllable device. Then disconnect it as the power source. Then click to connect a new power source – your power meter should show up.
Some Zwifters have changed to connecting their power meter and smart trainer using the Companion app instead of direct-connecting their Zwift device.
Another approach available to Zwifters with ANT+ capabilities on their Zwift device is to connect using ANT+ for either or both the power and controllable connections.
Lastly, you can simply connect your smart trainer as your power source.
Status: Zwift is still investigating this bug, so a fix is unlikely to appear in the upcoming pat ZHQ is telling us this will be fixed in a patch which will hopefully be released in the next day or two.
Read the Zwift forum topic for this bug >
MacOS Crashes
Mac users are reporting app crashes before they can even get into the game. The message looks something like this: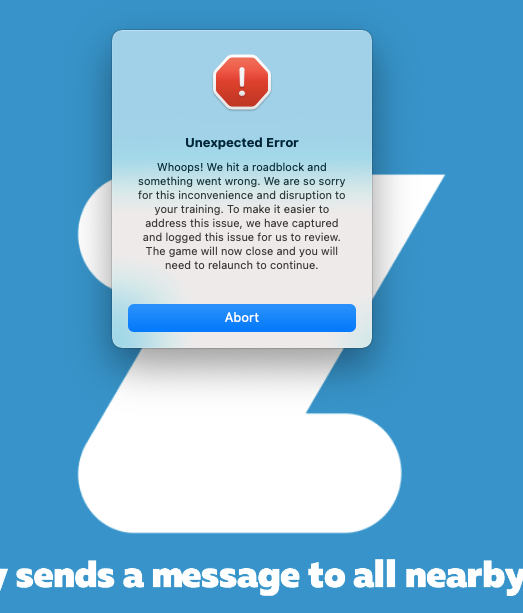 This appears to be a problem on multiple versions of MacOS.
Platforms affected: MacOS
Workaround: a completely fresh Zwift install seems to fix the problem for some. See the forum topic below for instructions from some Zwifters.
Status: Zwift is still investigating this bug, so a fix is unlikely to appear in the upcoming patch.
Read the Zwift forum topic for this bug >
ERG Intervals Incorrectly Displayed
The latest update included this bug fix note: "Fixed an issue during a workout where multiple watts values were displayed incorrectly."
Unfortunately, Zwift's "fix" introduced a new and obvious bug, in which on/off intervals are showed as using the "on" power for both intervals. That makes for a painful-looking workout! Is Zwift pranking us? Here's one example (the 2x and 15x blocks should have a hard interval followed by an easy one.)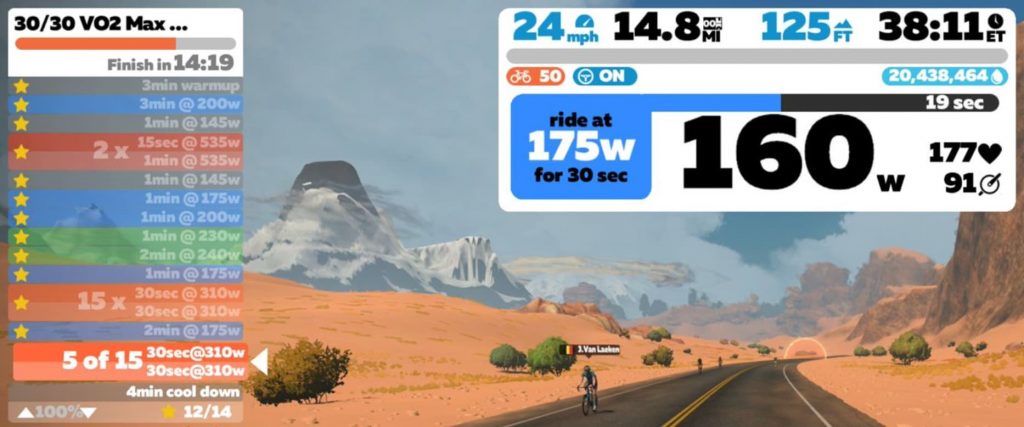 Fortunately, this is just a display issue – you can still do the workout and it will have you hold the correct wattage intervals. But it sure looks scary in that left-hand bar.
Platforms affected: all
Workaround: the Companion app still shows the intervals correctly, so run that with your ERG sessions to see what's coming up.
Status: Shuji said, "Yes, we are working on it!" in the forum topic. This looks to be a quick fix, so hopefully it'll be included in the next patch.
Read the Zwift forum topic for this bug >
Wrapping It Up
Zwifters have long joked that when Zwift releases an update, they create more bugs than they fix. And while this hasn't generally been true, Zwift's latest update clearly included some big bugs that severely impacted Zwifters' experience.
We can forgive silly small bugs like missing pedals or piggyback riding in spawn points, but when you're unable to complete or save your planned activity it's a super-frustrating experience. These issues should have Zwift's full attention because let's face it: big bugs are bad for business.
Hopefully, ZHQ learns some lessons here and releases more stable updates in the future. But first… we hope they can quick-fix the bugs above!
Tips, Questions, or Comments?
Got other workarounds for the bugs above? Share below!
(Questions or comments for issues you've encountered with the latest update can also be posted below, but will probably do more good posted on their respective Zwift forum topics.)