Last week Zwift began rolling out updated firmware to Zwift Hub owners. The big feature of the latest firmware (version 4.0.1) is auto calibration, and that's big news since the only auto-calibrating trainers on the market are the premium-priced Tacx Neo 2T, Wahoo KICKR, and Elite Justo!
How Auto Calibration Works on the Zwift Hub
Once you've updated to firmware version 4.0.1, your Zwift Hub will automatically calibrate throughout your ride whenever you coast for at least 5 seconds from a speed of at least 15kph/10mph. Essentially, auto calibration is the same as a manual spindown calibration… it just happens automatically every time you coast.
So whenever you supertuck down a hill, or hop off your bike to hit the loo between your warmup and race, the Zwift Hub will calibrate itself, optimizing power readings automagically.
Note: since calibration is sensitive to internal temperatures, auto calibration will not occur until you've ridden for at least 1 minute and gotten the internals of your trainer warmed up a bit. Additionally, auto calibration will not occur while you're in ERG mode.
Installing the Firmware Update
One Zwift Hub advantage is its direct integration with the Companion app. Updating the Hub's firmware is easy within Companion! Make sure you don't have Zwift running with the Hub already connected. Then just go to "Zwift Hardware" under your "More" menu in Companion and walk through the steps: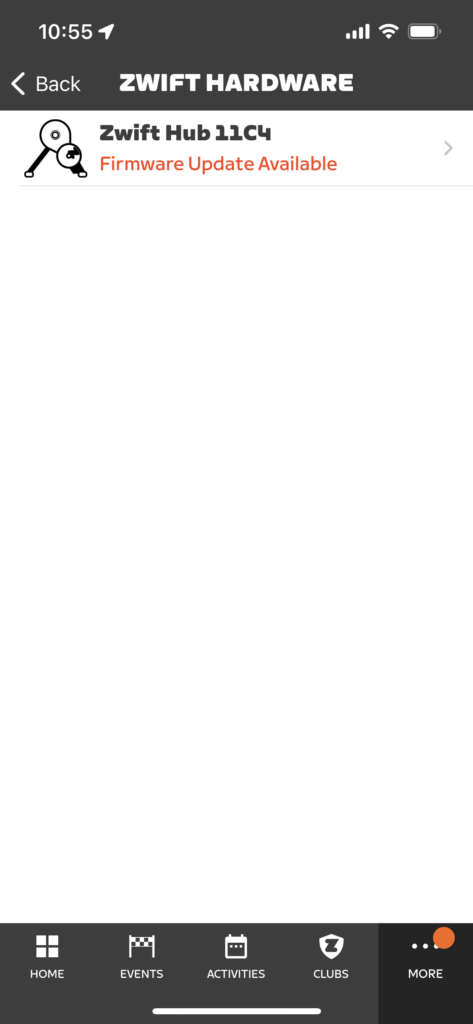 The update took ~2 minutes to install.
Does it work?
Yes. I've ridden on firmware version 4.0 and now 4.0.1 for several weeks, and everything seems to be working well. It just works.
For example, in this Zwift Fondo ride I took a short break at two different times, hoping to trigger an auto calibration. If you compare the power numbers before and after the first break, the Hub's numbers are measurably closer to the Assioma pedals. I assume this is due to auto calibration occurring (although there are no messages which pop up or logs I've found stating that an auto calibration occurred).
In the end, I'm of the opinion that auto calibration is always a good thing. It's too easy to neglect manual calibration, and it's even possible to cheat manual spindowns on some trainers. Auto calibration makes those cheats harder to pull off, requires no work on the user's side, and ensures a trainer is as accurate as its hardware allows.
Don't just take my word for it, though. Listen to the Lama:
Rollout Schedule
Firmware version 4.0.1 is available if you are already using v4.0.0.
For everyone else on older versions, Zwift began rolling out 4.0.1 to the first cohort (10% of Zwift Hub owners) on Monday, March 27. Their goal is to complete the rollout at the latest during the week of April 10th, so if you don't get an alert on your Companion app, just be patient – your time will come!
More to Come
In chatting with Zwift's hardware team, there are clearly more improvements to come in terms of Hub+Zwift game integration. Watch for more updates in the next few months!
Questions or Comments?
Post below!