Fans who follow cycling's world tour have been saddened to hear of many road races being canceled/postponed due to COVID-19 concerns. First the UAE Tour was cut short, and now Tirreno-Adriatico, Milan-San Remo, and Strade Bianche have all been canceled. (Officially, these races are "postponed" since the organizers are working to reschedule them for later in the year.) California's huge Sea Otter festival has also been postponed.
World Tour pro team Mitchelton-Scott made the call to withdraw from all racing due to COVID-19 concerns, and today announced the launch of an ingenious series held on Zwift called the "BikeExchange – Where the World Rides Series".
According to Michelton-Scott's press release:
The 'BikeExchange – Where the World Rides Series' is aimed at keeping riders and team staff stimulated during the non-racing period, as well as providing a unique opportunity for cycling fans to ride and interact with their favourite stars."
About Sunday's "Homage Gravel Ride"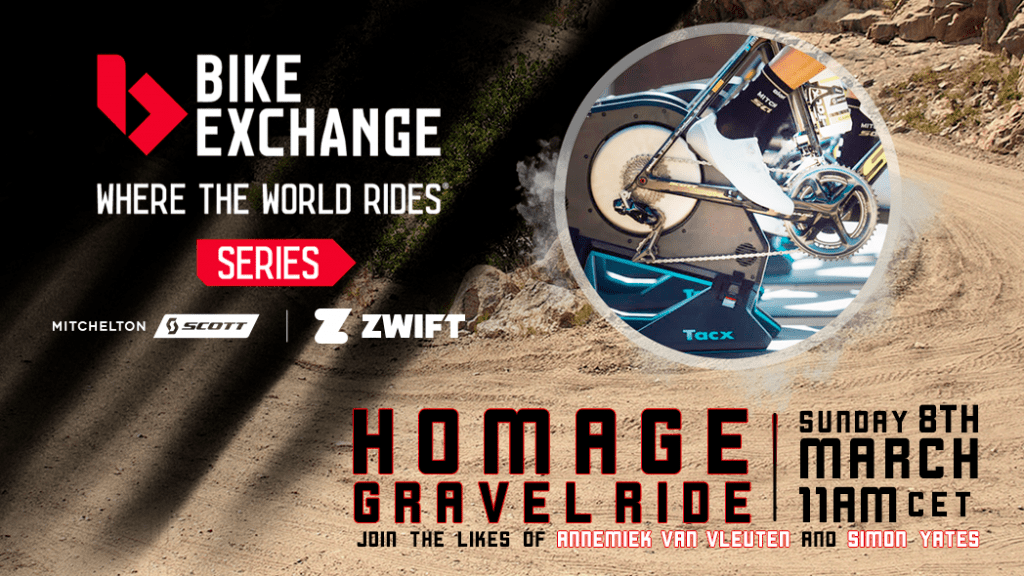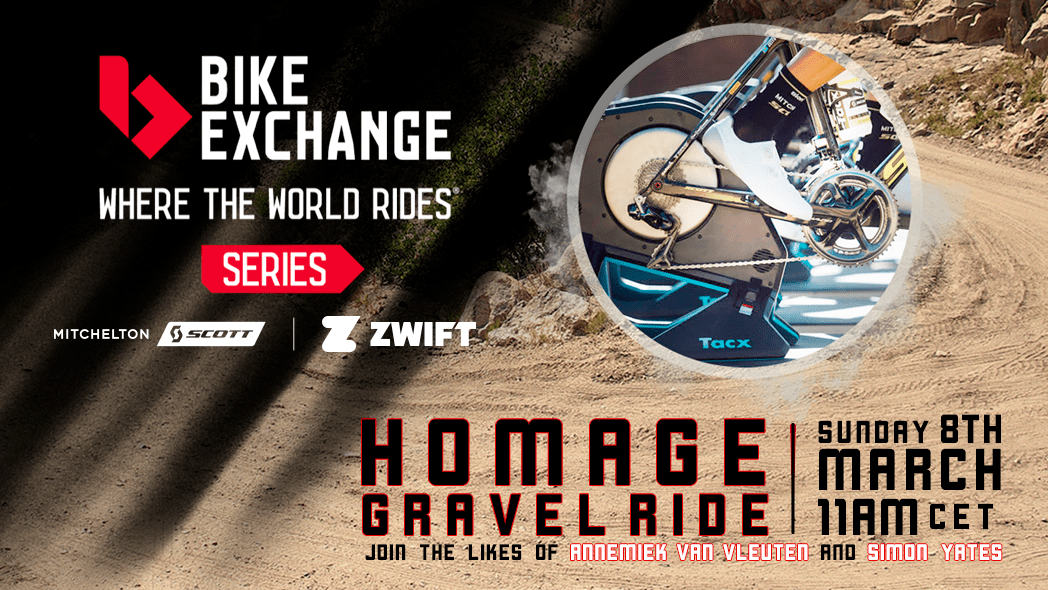 The series kicks off with a "spirited gravel ride" on the Jungle Circuit this Sunday in homage to Strade Bianche, the big Italian gravel road race which was supposed to happen on March 7th.
Hundreds of riders have already signed up! The ride begins at 11am CET.
See event details on zwift.com >
See event details on ZwiftPower.com >
Route Details
For the Zwift event riders will do 3 laps of the Jungle Circuit route, meaning we'll cover about as much virtual gravel (~27km) as the Women's Elite race would have covered for Strade Bianche. The overall Zwift event will be ~29km long.
(The planned Strade Bianche race course for the Elite Men in 2020 was 184km long, includes 11 gravel sectors, totaling over 60km. The Elite Women were set to race 136km, with 8 gravel sectors totaling 31.4km.)
Technically set up as a "group ride" and not a race, the event description says "The pace will start out around 2.5-3.0W/kg, but surely will pick up throughout." Ride at whatever pace you'd like, but you can be assured hundreds of riders will be going all-out by the end of this event!
Some top Michelton-Scott riders will be on the ride including world champion Annemiek van Vleuten and Tour de France stage winners Daryl Impey and Simon Yates. Check the signup list in Zwift Companion to see who is joining.
Shhh… here's a tip about bike choice
It doesn't look like riders will be forced to use a particular type of bike for this race, so here's a piece of advice: if you have the option, use a mountain bike! They roll much faster in the dirt, giving riders a significant advantage over those on road or even gravel bikes.
Learn about Zwift's fastest mountain bikes >
Series Schedule
The full series schedule will be announced after Sunday's opening event. The team's press release says the series will include "the following concepts and more":
Mixed team races
Race your heroes – see how long you can hold off our Michelton-Scott boys and girls in this unique race format
Fan race: where fans can enter to become teammates of one of their favorite riders, who will represent them as a captain 'on the road'
Training sessions – designed and led by specialist team coaches
A live-broadcasted race
Register with Michelton-Scott for email updates on the series >
Pure Genius
As we see it, this is a brilliant move by Michelton-Scott, Zwift, Bike Exchange, and everyone else involved. It will let the pros engage with their fans while maintaining fitness. It pushes the benefits of Zwift as a platform. And it honors these canceled/postponed races. Ride on!
What About You?
What do you think of this "Homage Series" idea? Will you be participating? Comment below!