It all started with a simple tweet from SRAM:
RED eTap AXS drivetrains look good in person, but how about in a virtual world? @GoZwift now offers select frames featuring the groupset you know and love. Who's on their way to upgrade their avatar's ride? 🙋‍♀️ #eTapAXS pic.twitter.com/pQfJtf85VB

— SRAM Road (@SRAMroad) December 17, 2021
SRAM RED eTap AXS in Zwift, you say? This was the first I'd heard of it. Cool – a shiny new groupset in Zwift!
But then I remembered what happened the last time a new groupset was introduced to Zwift. That would be Shimano's Dura-Ace 9200, which showed up in game in September's update, slowing every frame that had it installed.
(Putting the new Dura-Ace on Zwift framesets, it seemed, added a bit of extra weight to your setup, which slowed frames by 1.5 seconds over our ~50 minute flat test, and 19 seconds on our Alpe du Zwift climb test.)
Would the new SRAM RED eTap AXS have the same problem?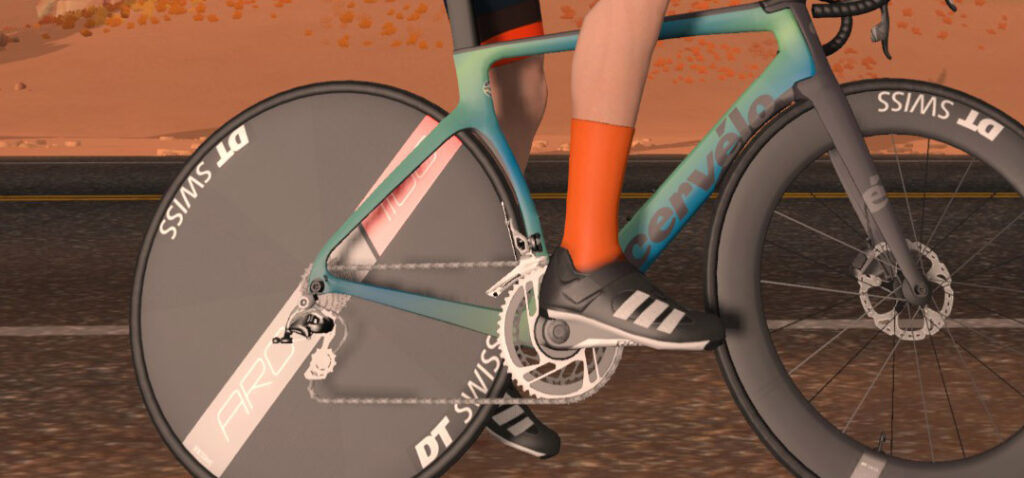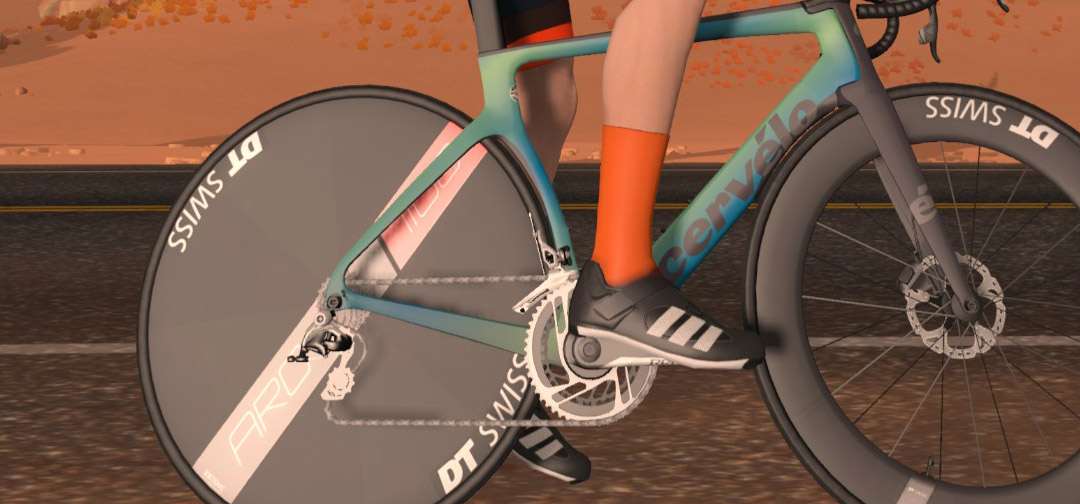 I scrolled through all the frames on Zwift, and only the Cervelo S5 2020 was using the new groupset. I sure hope they didn't nerf the Cervelo… that's a favorite of so many racers...
So out to Tempus Fugit and up the Alpe went the Cervelo S5 2020 frame with its shiny new groupset. And the numbers came back. The Cervelo S5 2020 had indeed been slowed – by 2.5 seconds on our flat test, and 21 seconds up the Alpe. Ouch!
You read it right, racers. The fastest frame has fallen.
Watopian Irony
I reached out to Zwift, and they said the groupset was upgraded at the specific request of Cervelo.
Do you suppose Cervelo realized that the "upgrade's" unintended consequence would be hundreds (thousands?) of racers placing the S5 2020 back in their virtual garages? Doubtful.
Groupsets in Zwift
One of the many fun ideas rattling around in the heads of Zwift's game developers is this: give Zwifters the ability to customize more of their bikes in-game. Right now all you can do is choose your frame (and sometimes its color) and wheels. But what if you could change your tires, groupset, pedals(!), brakes, seat, handlebars, even your bar tape?
Some of it would just be cosmetic, while other parts might actually affect your speed, like the oversized CeramicSpeed pulley wheel featured in a mission some time ago.
With that in mind, Zwift has (I've been told) coded the game so your bike's total weight and CdA is based on the sum of its parts. We can't customize those parts yet, but if the customizer is ever built, the physics are in place.
Without a customizer in the game, frames come with their associated parts already attached. So each frame has a groupset associated with it. Here are the groupsets currently in game:
Campagnolo SuperRecord
Shimano Dura-Ace
Shimano Dura-Ace 9200
Specialized S-Works
SRAM Red
SRAM Red eTap AXS
SRAM XX1 (MTB)
All this is good news. Further bike customization is a fun idea that many Zwifters would enjoy. Zwift hasn't built it out completely yet, but some essential parts are there, with the rest to be built sometime zoon.
A Bug Revealed
Until Dura-Ace 9200 arrived in September, all the frames that had been released on Zwift had kept their original release groupsets (as far as I know). That is: groupsets were never upgraded.
But when Dura-Ace 9200 came out, Zwift put that new groupset on a few frames which had previously been released with different groupsets. We had tested them with the old groupsets. Then we tested them with the new. And this revealed a bug or misconfiguration on Zwift's side, because the "upgraded" frames were now slower. Heavier.
What's actually going on here? Clearly Zwift didn't set up Shimano and SRAM's newest flagship groupsets to be heavier than the old ones. The only logical explanation is that, for some frames in game, some portion of the groupset weight isn't being taken into account.
So it's not that Dura-Ace 9200 (and now, SRAM Red eTap AXS) are overweight in Zwift. It's that some older groupsets are underweight, or their weights aren't being calculated correctly.
What's the Fix?
If I'm right about the bug above, a fix would involve, at a minimum:
Assigning all seven groupsets in game a proper weight and CdA value
Assigning all frames a specific groupset
Once Zwift made this change, all hell would break loose here at the Zwift Insider lab. Because we would need to re-test each and every frame to determine its performance, since we wouldn't know if that frame's old data was valid anymore.
It's quite possible that we'll see a major shakeup in frame rankings once this is fixed, because there could be many frames out there currently using "weightless" groupsets. Only time (and fixes)(and testing) will tell. Until then, all we can do as racers is ride whatever performs best in game, based on tests.
What Now?
After the Dura-Ace bug was revealed back in September, I had hoped Zwift would fix things quickly. But here we are three months later, with the much-loved Cervelo S5 2020 being nerfed thanks to a groupset upgrade.
So today I updated the Frame Performance Charts and Tron vs Top Performers chart. I'll be updating other pages/lists on the site soon, but for now I would recommend using those two pages if you're looking for current frame performance data.
Questions or Comments?
Post below!